Hello everyone! This is a friendly reminder that any of these fun places we may visit, we are a guest at. Please treat both businesses and trails with the utmost respect. We here at Hidden California follow the 'Leave no Trace' mantra, meaning whatever you bring with you comes back with you. If you see trash on a trail, please do your part to help remove it. Remember, we are not picking up trash from another person but instead cleaning up for Mother Nature. Happy adventures!
1313 Disneyland Railroad
Anaheim, CA 92802
33.810990, -117.921510
Dog-Friendly: No    Kid-Friendly: Yes
About Club 33
Located next to the Blue Bayou restaurant is a door painted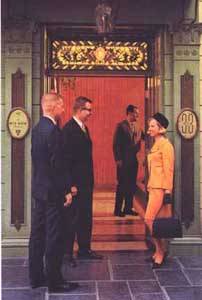 with Disney's exclusive Noseeum Green, a color they created to keep certain parts of the park as inconspicuous as possible.
All unattractive things such as trash cans are painted in this color so that they're less noticeable.  Doors to exclusive clubs for the rich and famous are also painted this color.
This specific door is quite special and what lays inside will only be seen by the lucky few.  This is the entrance to Club 33, an exclusive members-only club with a five-star restaurant and bar.
When Disneyland was in its its early stages, Walt knew that he would need a place to wine and dine important guests and associates.  He also realized that many dignitaries would be visiting the park and a more controlled, secure and elegant environment would be highly beneficial.
With this in mind, the small club-style restaurant began construction.  Sadly, Walt passed away prior to it's completion and before the club could be given a name.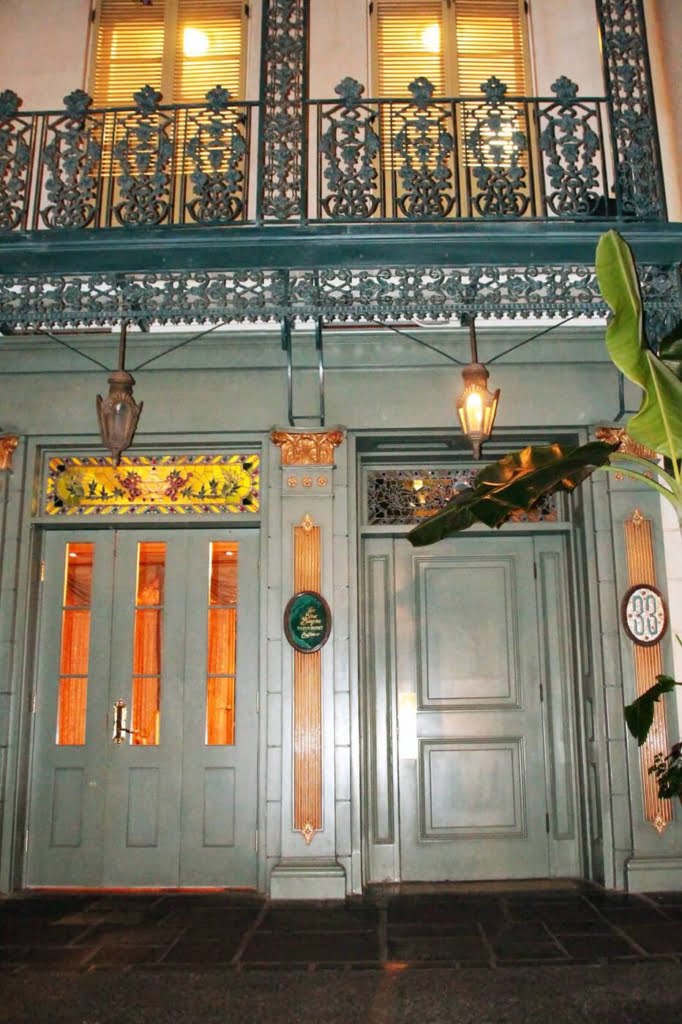 To enter Club 33, a guest must press a buzzer on an intercom concealed by a hidden panel in the doorway. (At one time, a member needed only to insert his membership card in a slot near the buzzer and the door would open. However, this process no longer works.) A receptionist will ask for his name over the intercom and, if access is granted, open the door to a small, ornate lobby.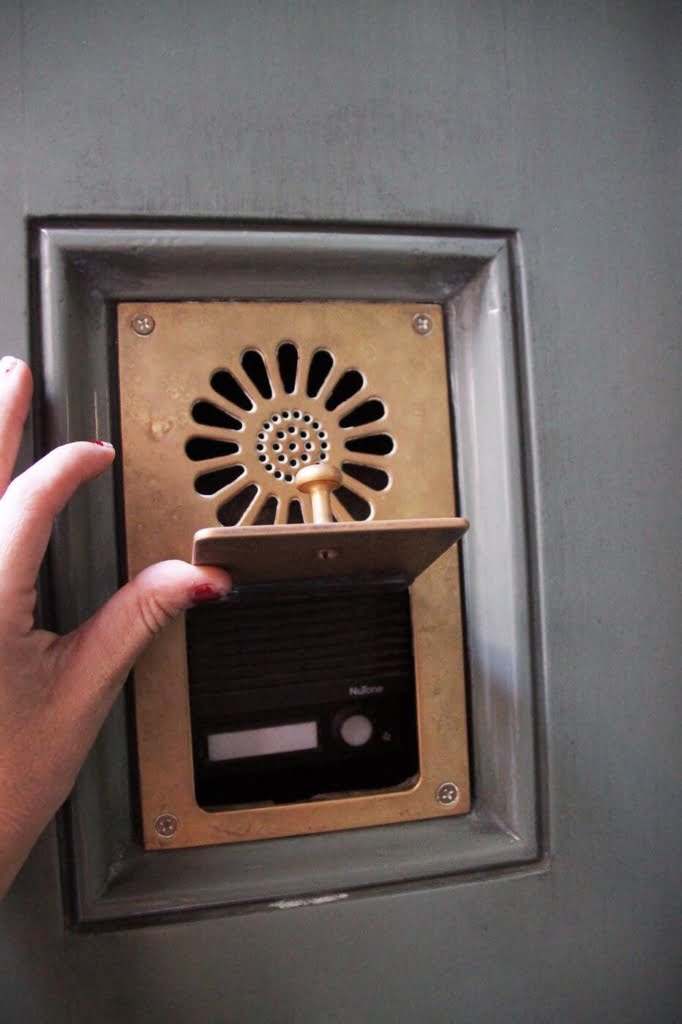 Interior
Guests have the option of going to the dining level via an antique-style glass lift or a staircase to the second level which wraps around it.  The lift is an exact replica of one Disney saw during a vacation in Paris, but the owner of the original refused to sell. Unphased, Disney sent a team of engineers to the Parisian hotel to take exact measurements for use in the creation of a replica.  A sample of the original finish was taken to ensure faithful reproduction.
The second level has two dining rooms. One room (the Trophy Room) has dark wood paneling; the other room (the Main Dining Room) is more formal but has a lighter environment.
Once at the dining level, guests can view antique furniture pieces collected by Lillian Disney. The walls are adorned, in part, with butterflies pinned under glass and hand-painted animation cells from the original Fantasia film.  Walt Disney also handpicked much of the Victorian bric-a-brac in New Orleans antique stores.
In the dining room area one may walk through a door leading to the balcony.  The balcony overlooks the water in the New Orleans area of the park.  The shows often put on there are also very visible from the balcony.
 Microphones
Walt Disney also wanted to make use of Audio-Animatronic technology within Club 33. Microphones in overhead lighting fixtures would pick up the sounds of normal conversation while an operator would respond via the characters.  Though the system was never fully implemented, it was partially installed and remains so.  An Audio-Animatronic vulture is perched in one corner of the club's "Trophy Room." The microphones are clearly visible at the bottom of each of the room's lighting fixtures. The animal trophies (Walt inherited them from a friend despite being anti-hunting), for which the room was named, have been removed by Disney family members.   Photos of the room with the trophies still installed can be seen on the walls now.
Membership
Membership is rumored to have 500 members total in the world.  This membership is designed for organizations to make Club 33 available to a number of their executives, and has a membership fee of $20,000. This entitles the corporate member to designate up to nine associate members. Dues for associate members are $2,250 per year. All memberships are transferable to other executives in the corporation.  Members no longer in the employment of the corporate member's company must surrender the membership cards to Club 33.  The corporate member may then designate another member of his company.
Limited Corporate Membership: This membership is designed for organizations wishing to make Club 33 available to one of their executives, and has a membership fee of $10,000. This entitles the corporation to transfer the membership to another employee whenever necessary.  For individual members, credit is extended based upon the membership fee initially paid if a transfer of membership is desired.  Dues are $2,250 per year.
Myths of the number 33:
Depending on who you talk to about the origins of the number 33, you will most likely get some very different answers.  Was Walt part of the Illuminati? Many claim that he was, although I must say that what I am seeing on the internet is really not swaying me to believe that he was. Disney is a whole team, not one person. Could there be artists screwing with people by adding subliminal messages into the movies without Walt knowing?  Most definitely!
Here are the 3 most popular beliefs on how Club 33 got it's name:
1.  There are rumors that Walt was a 33rd degree Scottish Rite Freemason.  The number 33 is also said to be the most powerful number according to conspiracy theorists.  You can read all about it here. It goes beyond just conspiracists believing this number holds the most power though.  Astrologists believe it does too:
2. 33 is merely the number of the club's address, 33 Royal St.
3. Disney had 33 sponsors to create the park. Below is an original pamphlet of the sponsors: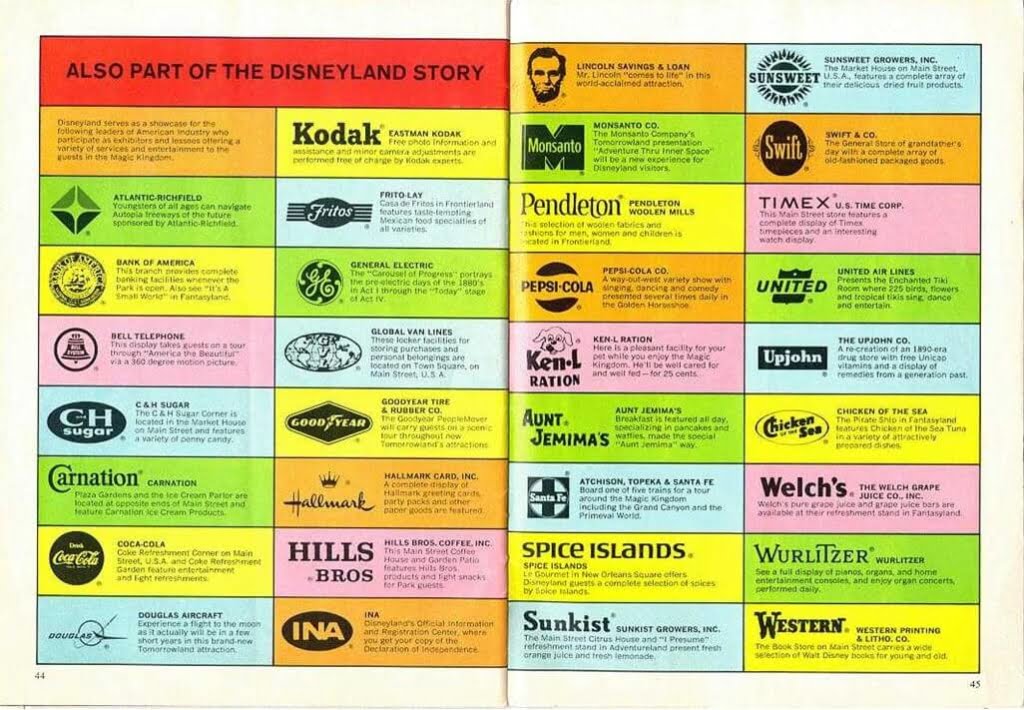 List of Sponsors:
**It has been revealed that a huge renovation is taking place at Club 33 and many changes will be made**
The Entrance
The entrance door that we know of today, located next to the Blue Bayou, will remain the same although it will no longer be the actual entrance.  The new entrance will be through a tiny gift shop directly across from the crystal shop.  The arched portico leading into The Court of Angels will be artistically sealed. The decor, food, music, etc. will all be upgraded.  We are not sure when all of this will take effect yet.
Personal Experience
It's funny.  I typed up this whole page before visiting Disneyland and wrote that I had never been to Club 33 so I had no actual experience.  Well, since going to Disneyland I actually DO have a story!  Read on…..
I am going to keep it vague so I don't blow up the location but we found a secret door that was unlocked!  We were poking around the area and found some stairs which I walked up.  The door was unlocked so I walked in.  Immediately I could sense that I was inside somewhere very important.  I told my partner to hurry up the stairs so we could explore!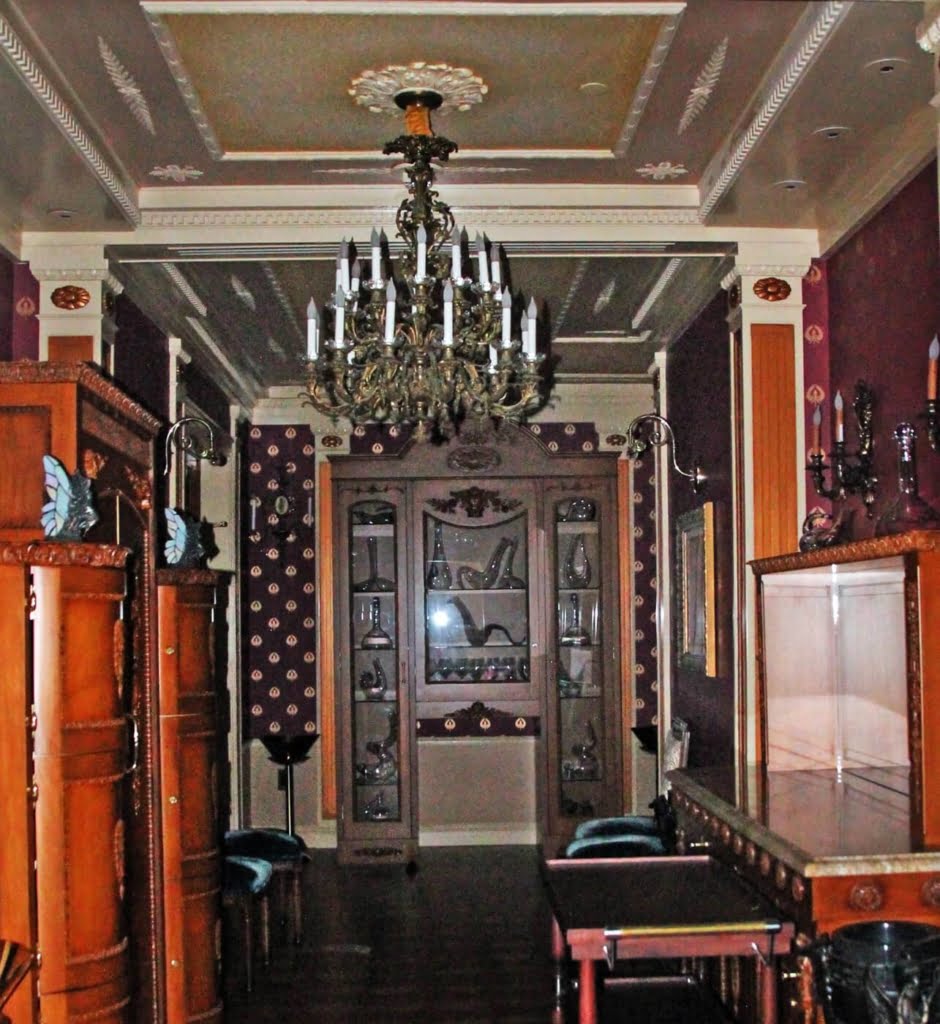 The hallway was dimly lit with a blue light emanating from glass cases with diamond-encrusted figurines inside.  There was also a chair with a painting in the hallway. The room gave off an old and creepy vibe which I actually loved!  The next room was pitch black but when I took a photo we immediately realized we had made it inside Club 33.
They have a themed wallpaper throughout the club that was also in this room.  Not to mention, we were in the exact vicinity where Club 33 is.  We walked to the back of the room and looked down another hallway that was lit red.  This is when we decided it was best to not get arrested and left!   I did take a couple photos though.  It looks like we were in some sort of lounge with fancy decanters in the glass case.
Notice the wallpaper?  This is the same pattern that can be seen throughout the club.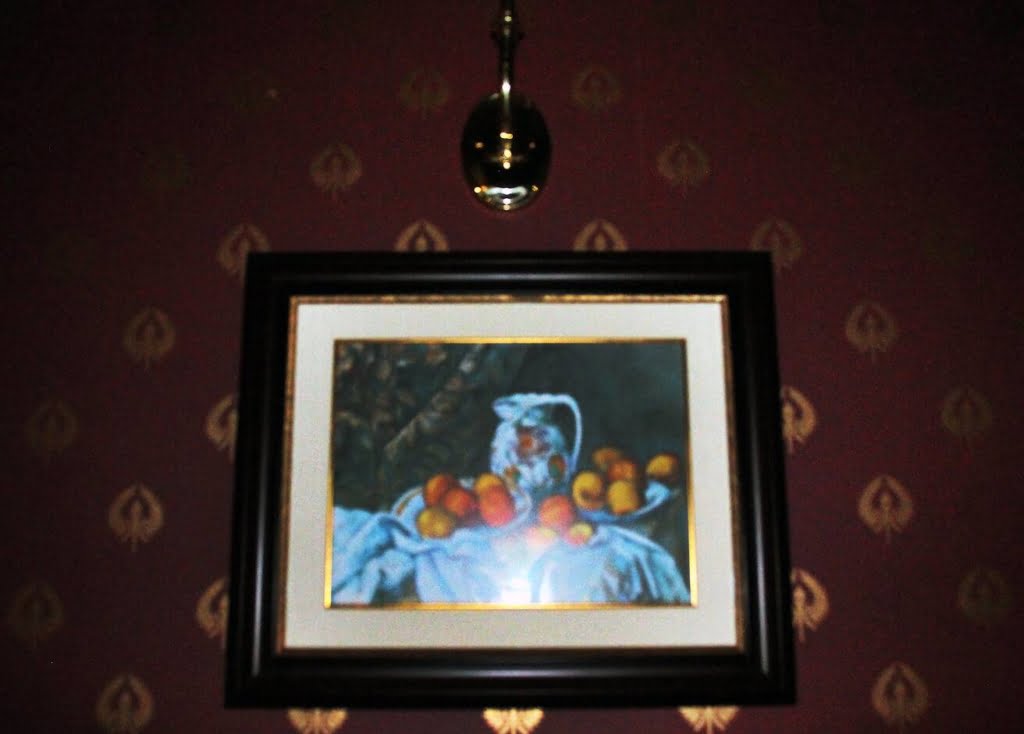 My thoughts on the club are that the VIP membership sounds like a bunch of pretentious fluff to me.  The food sounds like your standard fine dining from reviews I have read.  This place is exclusive, yes, but if you are part of the correct corporation or have the right friends, you can get let inside.  So essentially, any average person is allowed. If you get let inside, you will most likely not be surrounded by celebrities and the 1 percenters, but by everyday people just like yourself.  Props if you get invited though!
Check out our other site too!