Hello everyone! This is a friendly reminder that any of these fun places we may visit, we are a guest at. Please treat both businesses and trails with the utmost respect. We here at Hidden California follow the 'Leave no Trace' mantra, meaning whatever you bring with you comes back with you. If you see trash on a trail, please do your part to help remove it. Remember, we are not picking up trash from another person but instead cleaning up for Mother Nature. Happy adventures!
50770 Seminole Dr.
Cabazon , CA 92230
33.920266, -116.772924
(951) 922-8700
Dog-Friendly: Outside, yes    Kid-Friendly: Yes
ADMISSION: Adults $13 Ages 13-55 // Children $11 Ages 3 – 12 // Seniors & Military $10
About the Cabazon Dinosaurs
Anyone who grew up loving Peewee's Playhouse has probably seen the Peewee's Big Adventure movie. In that movie there is a scene where where Peewee is being chased by his love's boyfriend.  Peewee hides out inside one of the dinosaurs.  Ever since that scene I have always wanted to visit this spot.  I finally got that opportunity!  You can also spot these dinosaurs in music videos such as Tears for Fear's "Everybody Wants to Rule the World" .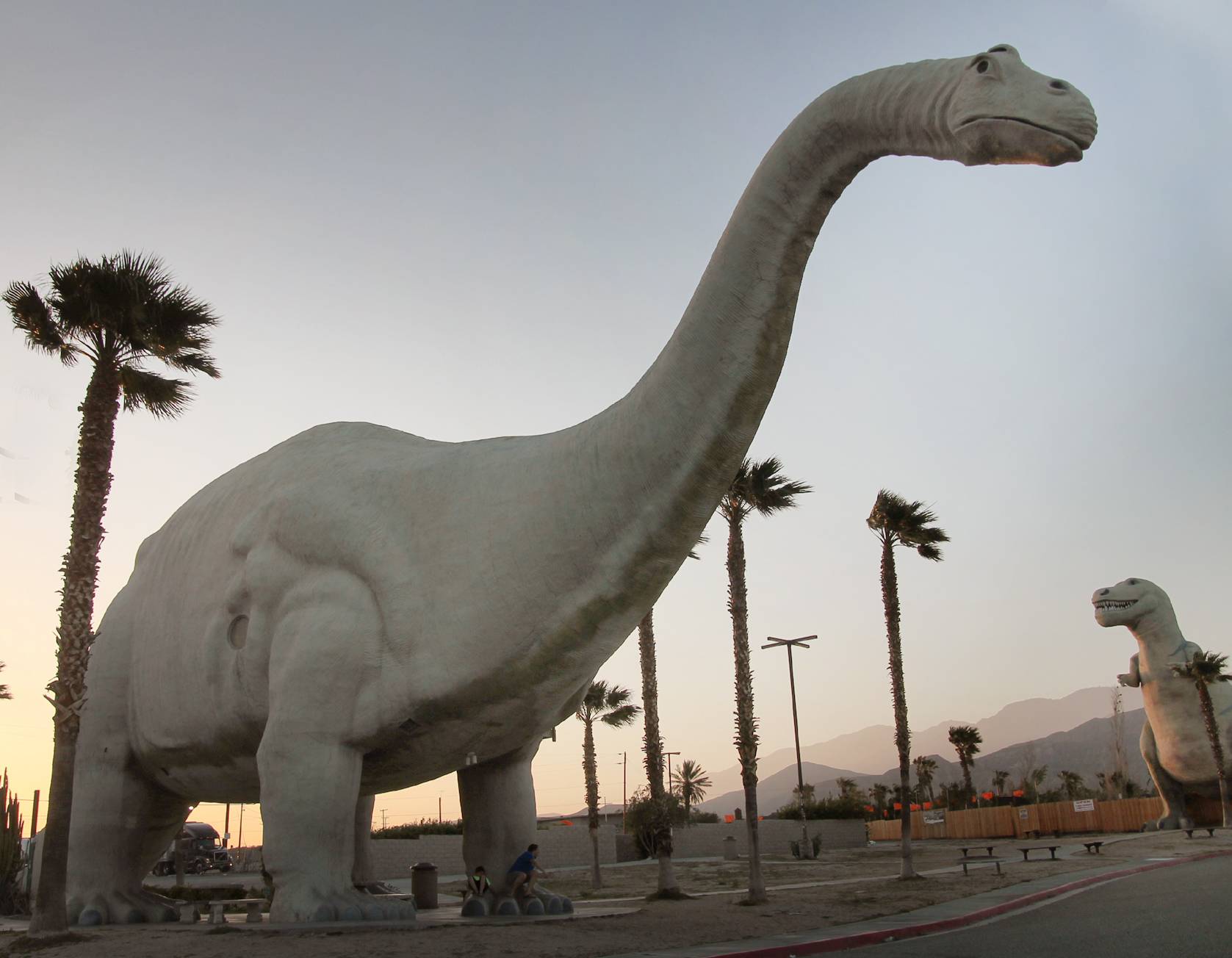 Claude Bell, a former Knott's Berry Farm sculptor, spent 11 years and over $250,000 creating the dinosaurs known as the Cabazon Dinosaurs.  Dinny the Apatosaurus id 150′ long and 145′ high.
The entrance inside her is inside her tail, which has stars leading up into what has been turned into a large gift shop.  There is also a tunnel leading up to her head which is used to adjust and fix the lights in her eyes.
Rex, the Tyrannosaurus Rex, is 65′ tall and also has a stairway leading up inside him which allows a view of the surrounding area.  You get a sweet view through his teeth!
There were plans for a slide to be created from the tail of Rex, but sadly those plans were never followed through due to Bell's passing in '88.  He had additional plans to build a Woolly Mammoth and rumor has it a Saber Tooth Tiger on the grounds.
Originally the Cabazon Dinosaurs were called "Claude Bell's Dinosaurs" although they are referred to as the "World's Largest Dinosaurs" by their current owners.  Sometime around 2005 the two dinosaurs were acquired by Creationists.  Although originally built with the intent to promote dinosaurs and natural history, evolution is now denounced in the new Creationist run-gift shop.
Scripture passages are hung throughout the gift shop and creationist pamphlets are passed out with each purchase. The motto, "By Design, Not by Chance" is now spread by the two dinosaurs. The group does plan on adding more attractions to the location such as a fossil dig. It appears that they have already added a large snake and a large turtle on the grounds. For more information on Creationists see the Museum of Creation and Earth History.
Also the below website shows off the dinosaurs and both the current owners' religious platform as well as their plans for the site. According to a Los Angeles Times article by Ashley Powers, the new owner, Gary Kanter of Orange County is working with a Pastor Robert Darwin Chiles to turn the dinosaurs "from tourist stop to place of worship".
Personal Experience: We got to roam around the outside parts of the museum but got there when they were closed so unfortunately were not able to explore inside the dinosaurs or the exhibits they have.  These dinosaurs are immense!  It is pretty incredible to see them in real-life, especially if you were a fan of them growing up through Peewee's Big Adventure!  Although the museums cost money, the grounds are free to explore.