Hello everyone! This is a friendly reminder that any of these fun places we may visit, we are a guest at. Please treat both businesses and trails with the utmost respect. We here at Hidden California follow the 'Leave no Trace' mantra, meaning whatever you bring with you comes back with you. If you see trash on a trail, please do your part to help remove it. Remember, we are not picking up trash from another person but instead cleaning up for Mother Nature. Happy adventures!
Los Padres National Forest, CA
34.582194, -119.052311
Hike:9.5 miles to Willet Hot Springs or approximately 15 miles to the Sespe Hot Springs   Level: Mildly Strenuous
Dog-Friendly: No    Kid-Friendly: Yes
About Willet & Sespe Hot Springs:
Article & Research by Tyler Buck. Photos by Jack Cure: This is the first of many guides highlighting hikes and backpacking adventures to Southern California natural hot springs. The Sespe River Trail is unique because the trail crosses the year-round flowing Sespe Creek ten times, boasts secluded and shaded campgrounds along the length of the trail, and best of all, is home to two natural hot springs.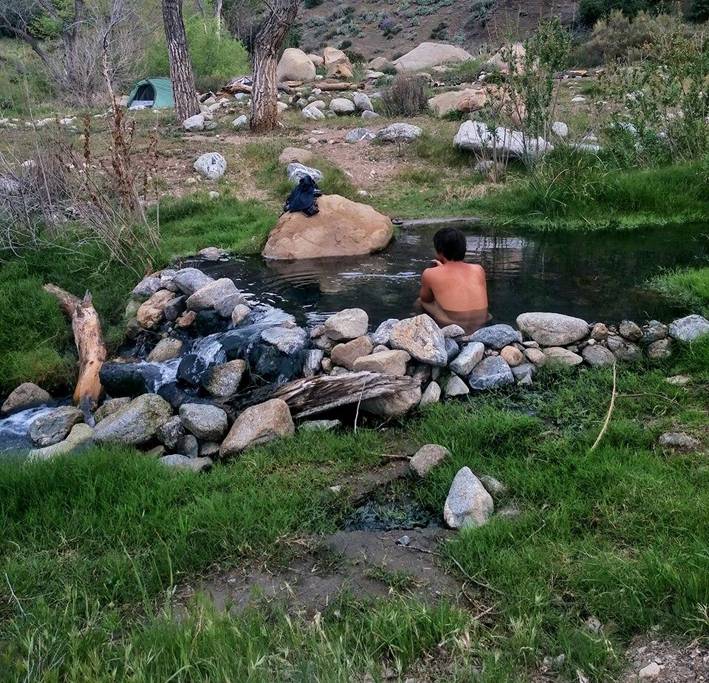 Willet Hot Springs is 9.5 miles from the Piedra Blanca trailhead. The trail is moderate with no major elevation gain. On weekends Willet Hot Springs and the Sespe Creek are a popular backpacking destination. Don't be surprised to find dozens of backpackers staying the weekend near Willet Hot Springs. I've heard this trailhead referred to as the "highway." The more secluded Sespe Hot Springs is another six miles from Willet Hot Springs.
Why you Can Do It:
9.5 miles to Willet Hot Springs or approximately 15 miles to the Sespe Hot Springs sounds far. In reality, the Sespe River Trail is easier than most long distance hikes in Southern California for the below reasons:
1) Weather
The Sespe wilderness typically experiences mild climates. During the spring and winter, temperatures will be too cold. Along the river trail there are also micro climates ranging from ten to fifteen degrees warmer or colder.
2) No Intense Elevation Gain
You won't be climbing summits. You'll meander and weave near and above the Sespe River.
3) Shaded Campsites
There are plenty of shaded rest areas to cool off. If you get too tired to continue you can always rest and camp for the night in the many primitive campsites along the trail.
4) Abundant Water
You won't need to be carrying in gallons of water. There is generally plenty of water year round along the trail since the Sespe River is also partially fed from natural springs and several watersheds.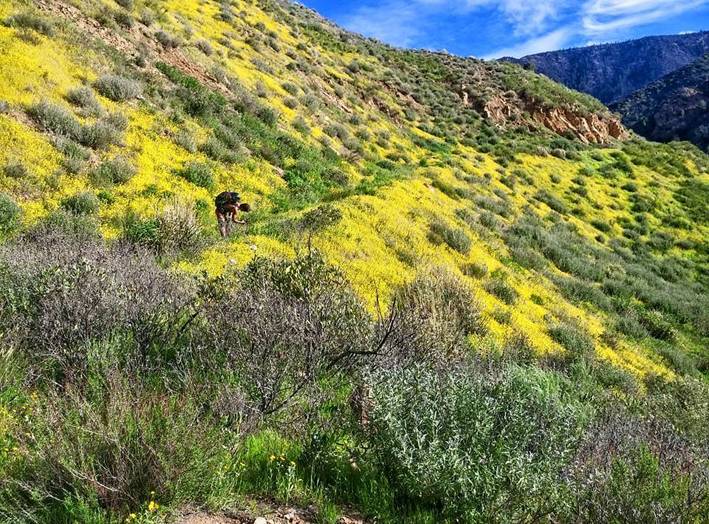 5) Swimming Holes
Cool off along the trail by jumping into the river. There are a number of spots deep enough to swim.
How to Get There:
The trailhead to Willet and Sespe Hot Springs is a trek from downtown San Diego. On average expect a four hour drive to the Piedra Blanca trailhead. The roads to the trailhead require no travel on dirt roads but Route 33 and the forest roads to the trailhead are windy. Cell phone reception is non-existent in Los Padres NF so plan accordingly.
Finding Willet Hot Springs:
At a main river crossing you will see a trail sign. The trail continues through the river and onto the other side. Instead of continuing, take a left, crossing rocks and primitive campsites. Depending on the season, you will cross a swampy area and further up you will see cabins. These cabins are available first come first serve. Before reaching a group of cabins, there is a large rock tower and the trail continues up into the hillside. Take this steep portion of the trail up and around the bend to Willet Hot Springs. A nice gentleman has been maintaining the hot springs. When I visited Willet, the water was crystal clear. Beware of mosquitoes.
Finding Sespe Hot Springs:
The further hot springs is much more rewarding. On our way out on a Saturday, only one other couple was headed towards the hot springs. Cross the Sespe River past Willet Hot Springs. Continue until you reach Johnston Ridge Trail and take it left. You will eventually cross a stream of warm water and notice a well established campground to your right. Continue upstream until you reach another trail fork. Before the trail fork, there will be a primitive campground and a couple Sespe Hot Springs Pools nearby. The pools become substantially hotter the further upstream you go.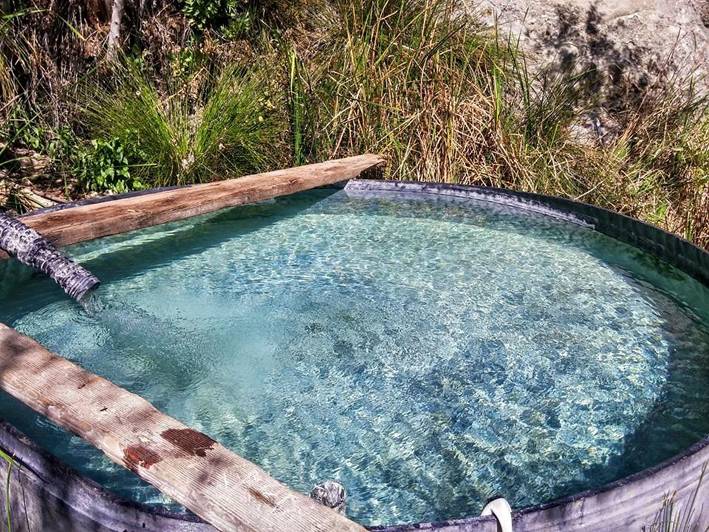 Required Permits:
An adventure pass is required to park at the often crowded Piedra Blanca trailhead. The visitor center closes early (3 or 4 pm), so plan accordingly if you need to purchase an adventure pass. The cost of a pass is $5.00. I would recommend purchasing an annual forest adventure pass for only $25.00 more. If you find yourself without an adventure pass and headed up after the closure of the visitor center, no need to worry. Your car will not be towed, but you may be issued a "Notice of Required Fee" as a warning. Simply go online to resolve the fee.
A "permit" is required for campfires and open flame cooking. To check fire conditions and print out your free permit, please visit the Los Padres NF website for more information.
Helpful Tips:
No Cellular Service
There is no cell phone service for AT&T. I'm not sure about Verizon. T-Mobile? Forget about it. Call, text, and download whatever you need before you reach Los Padres National Forest.
Potable Water: Water is in abundance throughout the Sespe River Trail. A water filter or chemical treatment of the stream/river water is required before drinking. For use in cooking, boiling the water is also a safe and effective method. During my 32 mile round trip hike to Sespe Hot Springs, I carried a liter water bottle and refilled at most of the river crossings.
Bugs: There will be bugs. Carry some sort of repellent or wear hiking pants and a long sleeve when near the hot springs or pool areas.
Trail Condition: The trail to Sespe Hot Springs is a bit overgrown. I would recommend wearing some hiking pants to avoid being scratched up by brush.
GPS: The trail is very well maintained to Willet Hot Springs. Follow trail signs to your destination. There is also a very nice map of the Sespe River Trail near the restrooms at the trailhead. However, it's always best to be prepared. Know how to read a map and carry topographic map of the area. In the alternative, you can download an offline version of the area by typing into your phone's google map search bar "okmaps." There are also many third party trail apps that provide good terrain/topography maps of the area.
Check out our other site too!