Hello everyone! This is a friendly reminder that any of these fun places we may visit, we are a guest at. Please treat both businesses and trails with the utmost respect. We here at Hidden California follow the 'Leave no Trace' mantra, meaning whatever you bring with you comes back with you. If you see trash on a trail, please do your part to help remove it. Remember, we are not picking up trash from another person but instead cleaning up for Mother Nature. Happy adventures!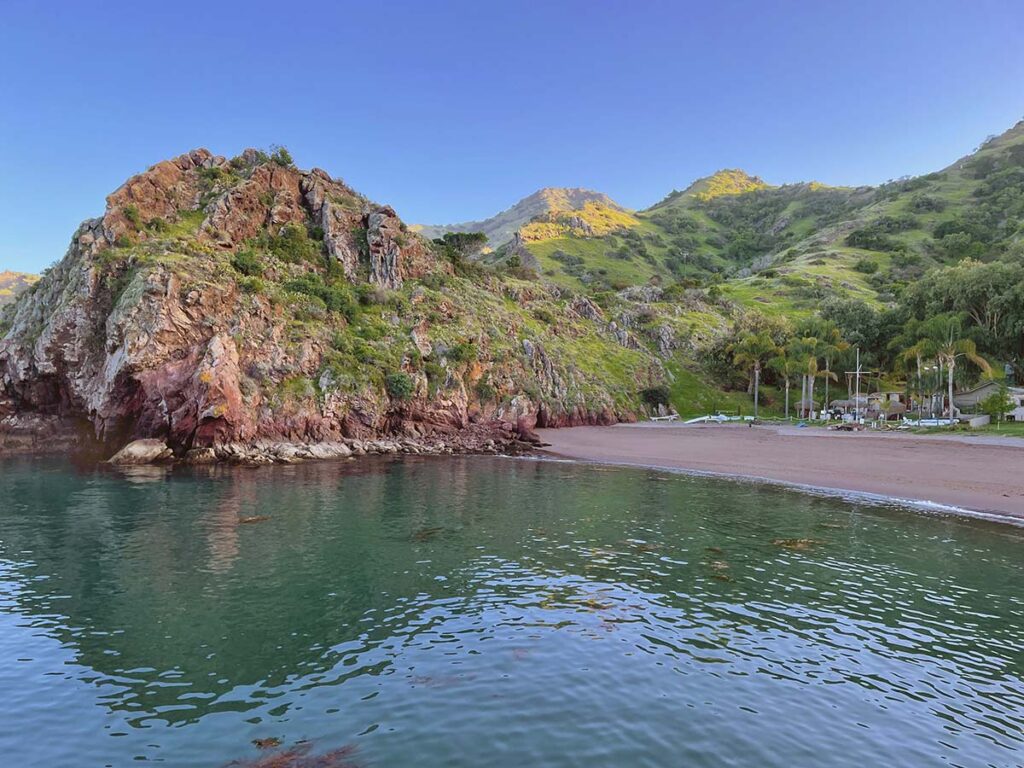 About Pimu Eco Village:
Pimu Eco Village offers lodging experiences to guests through the nonprofit organization Mountain and Sea Adventures. Their program is based out of White's Landing, which is a private beach on Catalina Island, and not open to the general public.  Their organization's mission is to transform the lives of those who visit while advocating for environmental preservation and restoration.
Mountain and Sea Adventures has primarily been a camp, specifically a 6th grade camp, since the 1990's.  More recently they have expanded their options to include lodging for guests such as you and I who would love to explore this part of the island!  Enjoy hiking, swimming, kayaking and just soaking in the majestic beauty of this island.
There is a clubhouse which is open 24/7 where they serve freshly-cooked breakfast every morning for all guests.  There are also bathrooms and even an outdoor shower which heats up very nicely!  Sleeping options range from you bringing your own tent, canvas tents with beds inside, cabins or bungalows.  Choose your own adventure!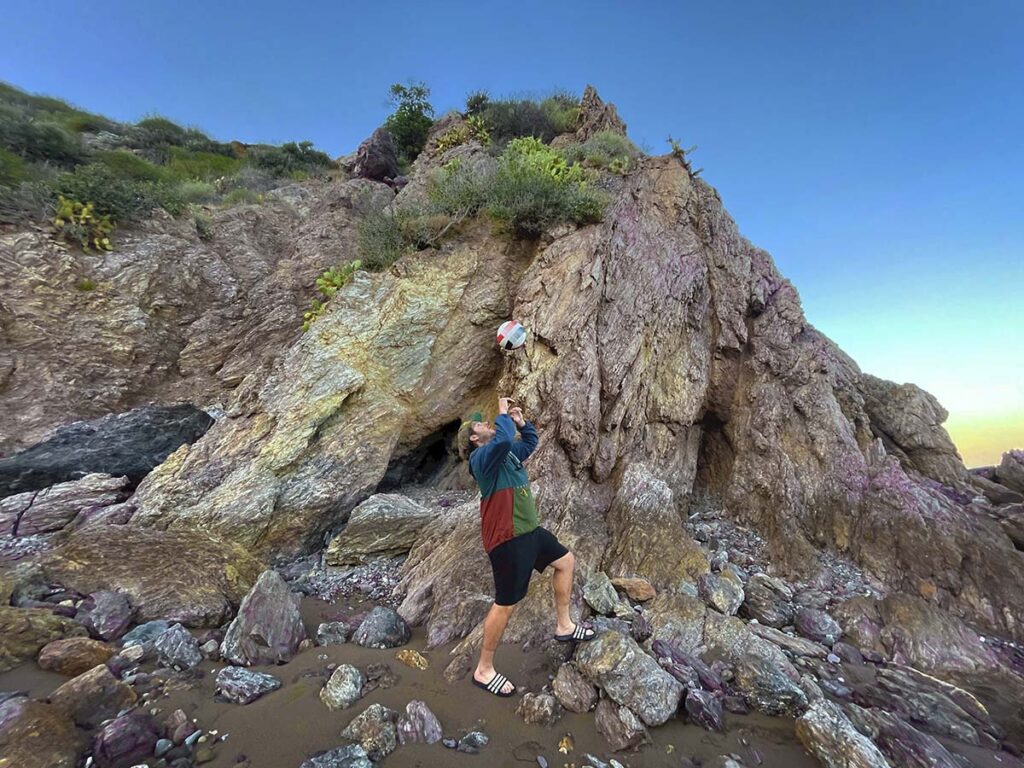 History of White's Landing:
Tongva Tribe: The entire island of Catalina is traditionally Tongva territory.  The Tongva call this island as Pimungna or Pimu.  It is estimated that between 2,000-3,000 Tongva lived on the island before colonization began. The Tongva were experts on the island's flora and fauna and made use of every plant in some way or form.
They lived in villages with extended families of between 50-100 people and slept in homes known as a ki'sh. A ki'sh was framed using willow branches or whale bones and then covered in tightly woven rushes or animal skins.
The tribe was forcefully moved from the island by Spanish missionaries & soldiers and brought to San Gabriel in the late 1700's. They were from then on known as Gabrieliños by the missionaries whose aim was to eradicate their culture and force them into Catholicism. Learn more about the Tongva tribe and how to support them here.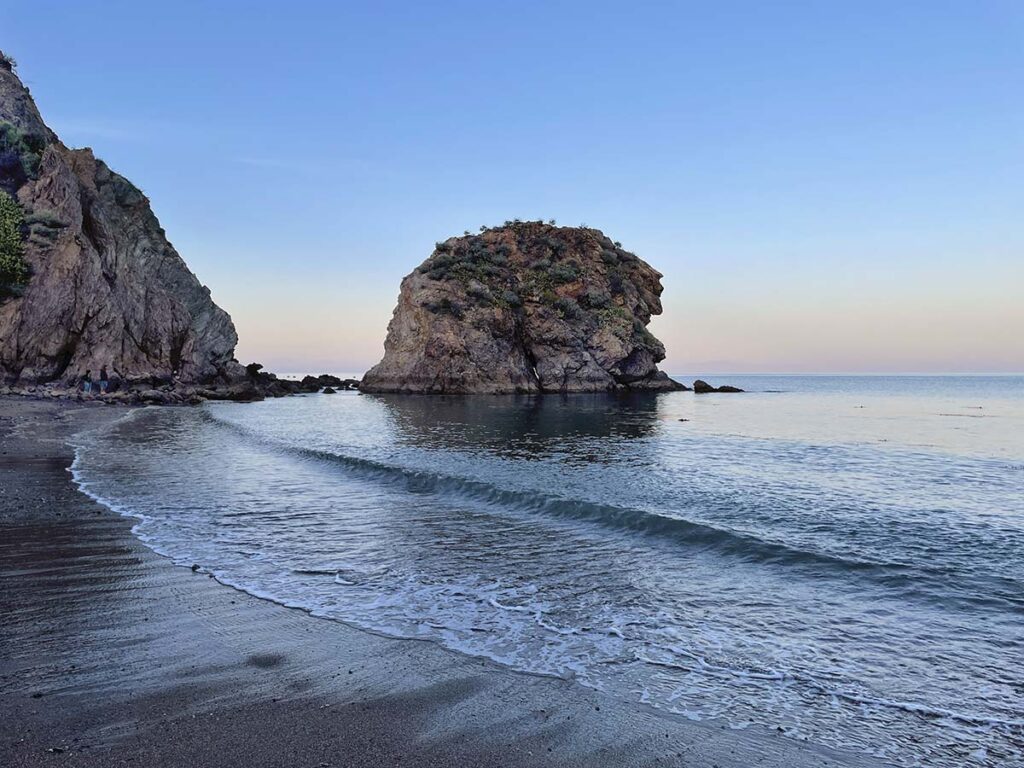 Mining Period:
Like all of the west, Catalina had about a century-long mining period. Prospectors were mostly mining for silver, lead and zinc but occasionally gold was found. White's Landing was no exception and deep in the hillsides are the old, forgotten mines (we didn't actually find them).
I kind of have a feeling the mines are so overgrown with brush that you wouldn't be able to see them unless you were pretty much right in front of them. Ticks live in this area, so I would let that be a warning to not bother trying to find them.
There are old remnants of the past which can be seen still, including an old ore cart right on the shore.  The cart lays mostly buried by the sand but sits as a testament to this period.  We took a small hike up one of the hills and found old cables that the men used to bring the ore down from the mountainside.  Cool stuff!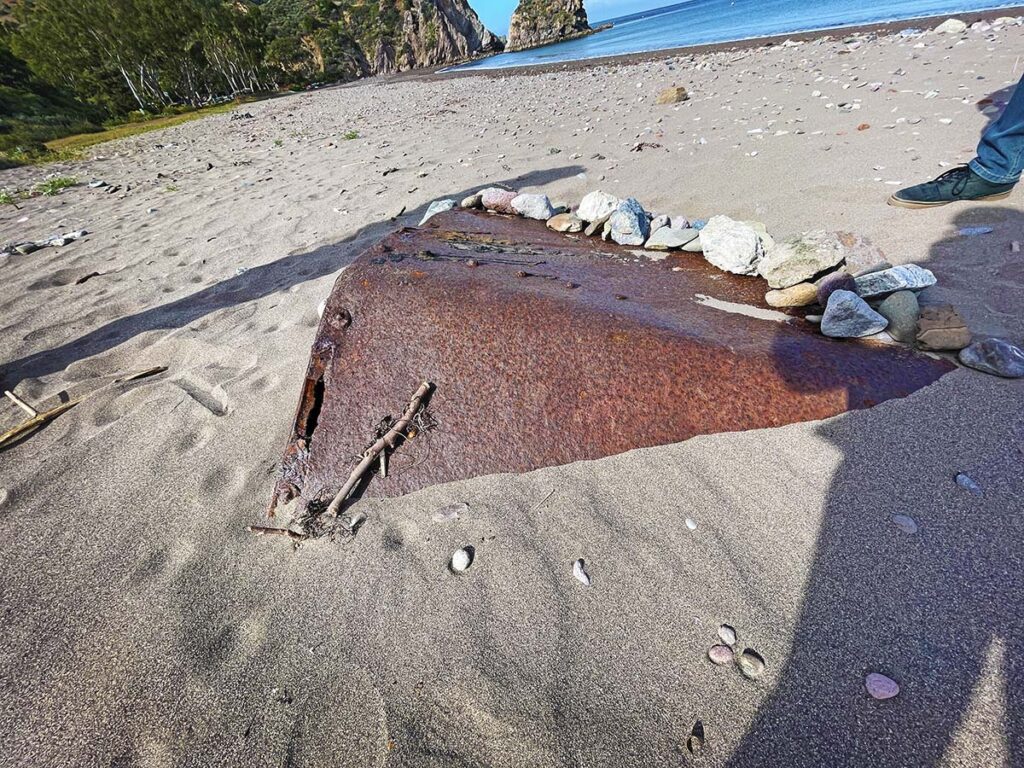 Personal Experience:
This was my first time visiting Catalina and WOW, I never could have imagined having such an enchanting first experience! The perception I'd always had of Catalina was of course narrow, but that of a condensed tourist town mixed with wide open land that must be back-packed through in order to visit.
That of course is accurate in many ways as the town of Avalon, where you get dropped off at, is condensed with tourism (it is so beautiful though and I will be writing more on it another day).  If you want to leave that immediate area though you must golf cart around or walk, which won't get you too far.
So if you want to venture deep into the island you must either back-pack or bike to get around or know someone with a boat or car.  I heard locals must be put on a wait-list for 30 years before they can bring a car over!
My friend actually helps manage the Airbnb's and Hipcamps at White's Landing and invited us to check out their slice of paradise.  I wasn't quite sure what to expect when visiting and it was definitely best that way.  When we got off the Catalina Express (which is what you will ride in order to arrive in Catalina) we headed onto a small pontoon boat to navigate through the sea to get to the private beach! Pimu Eco Village was a memory I will never let go of!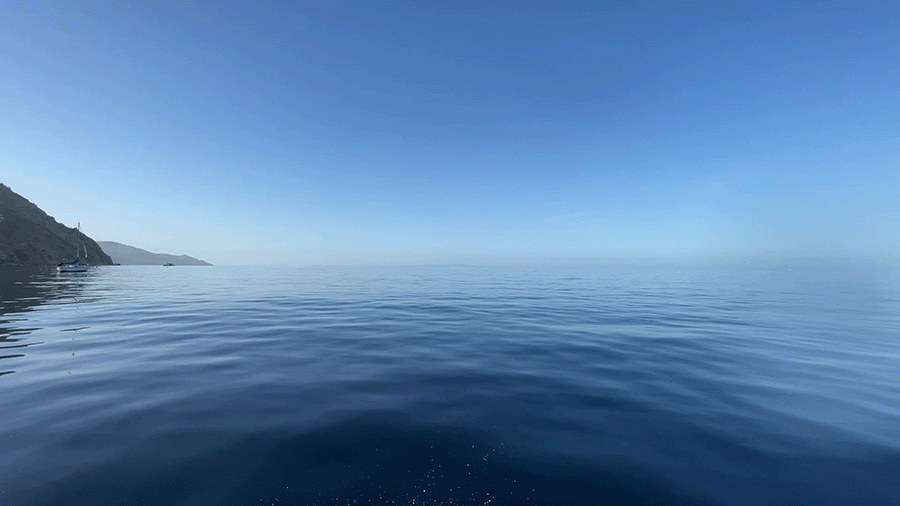 These were the other guests that would be staying at Pimu Eco Village with us: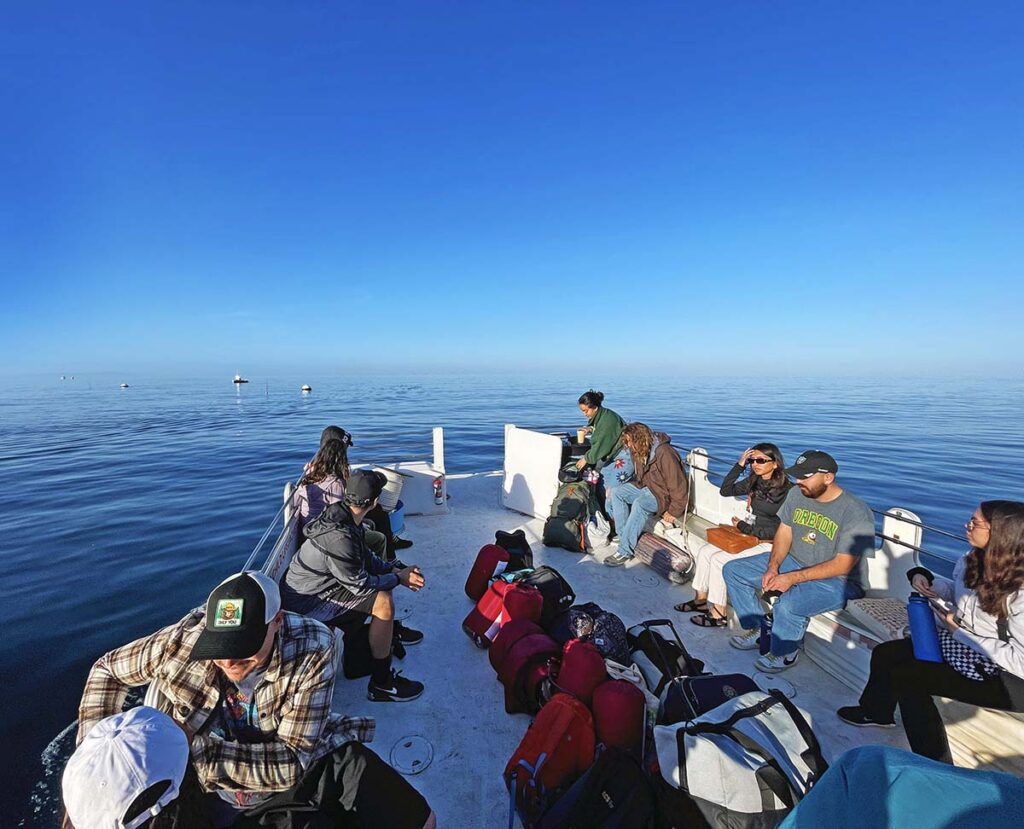 When we arrived it was nothing short of stunning.  It felt straight out of a movie, which isn't too far off of a description considering many movies have actually been filmed here! We visited in March when everything was at its greenest and I was told is the most beautiful time of the year to come. My friends who have been to Hawaii before told me that it felt like a mini Hawaii to them.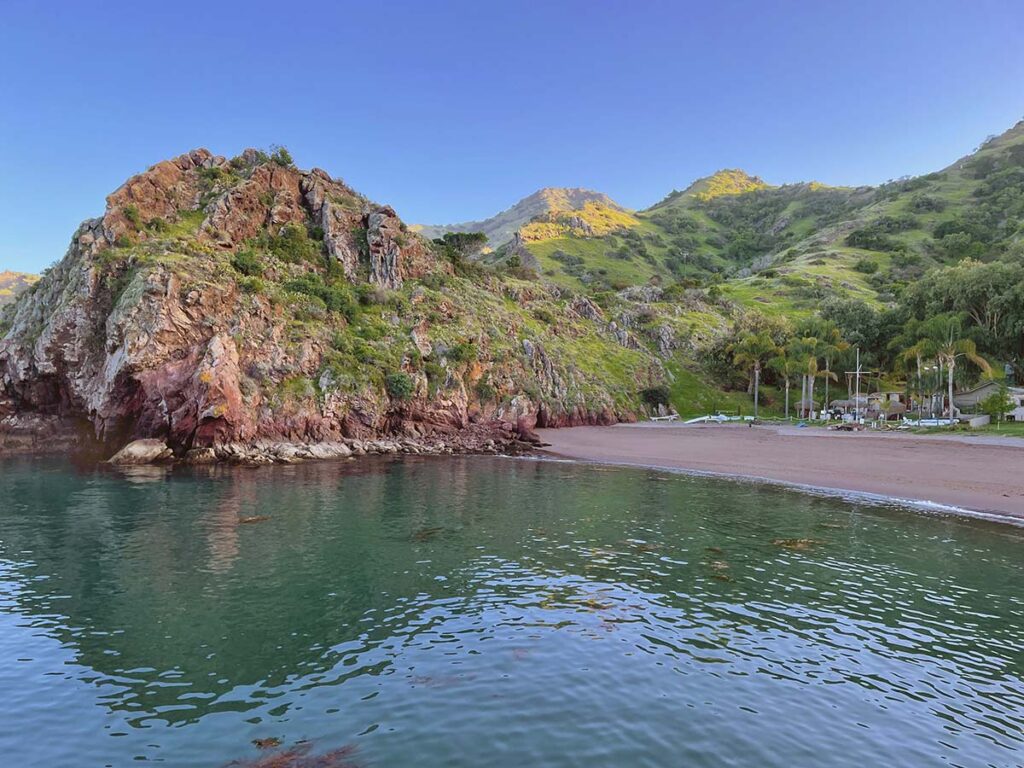 To the right is our awesome guide, Freedom!  If you stay here, there is a good chance you will meet him as well: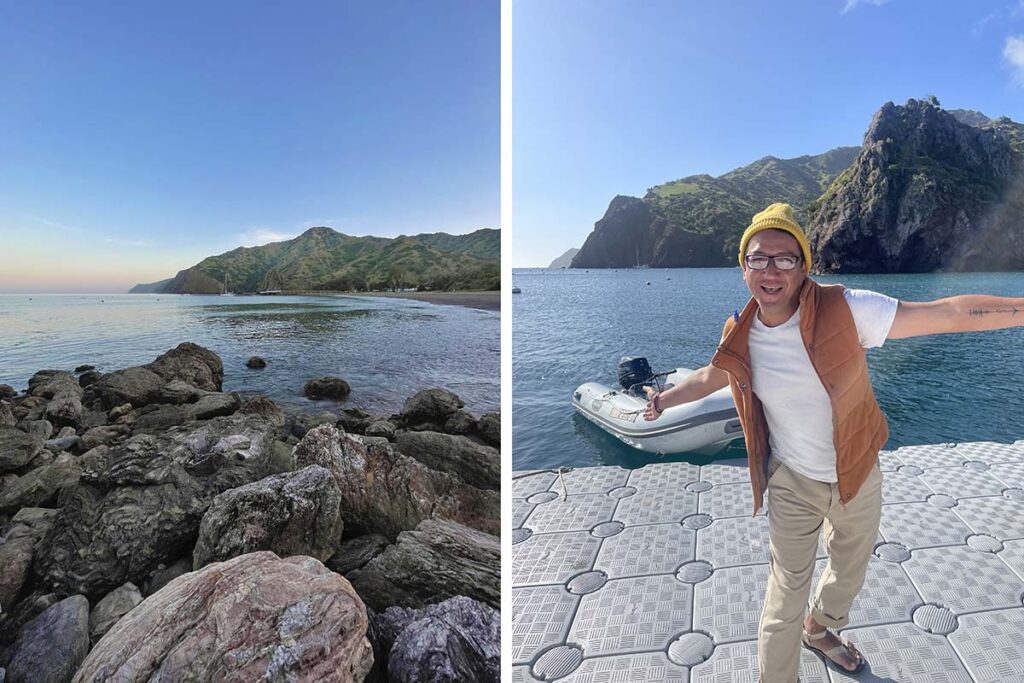 Right upon our arrival it was clear we had entered our own private paradise: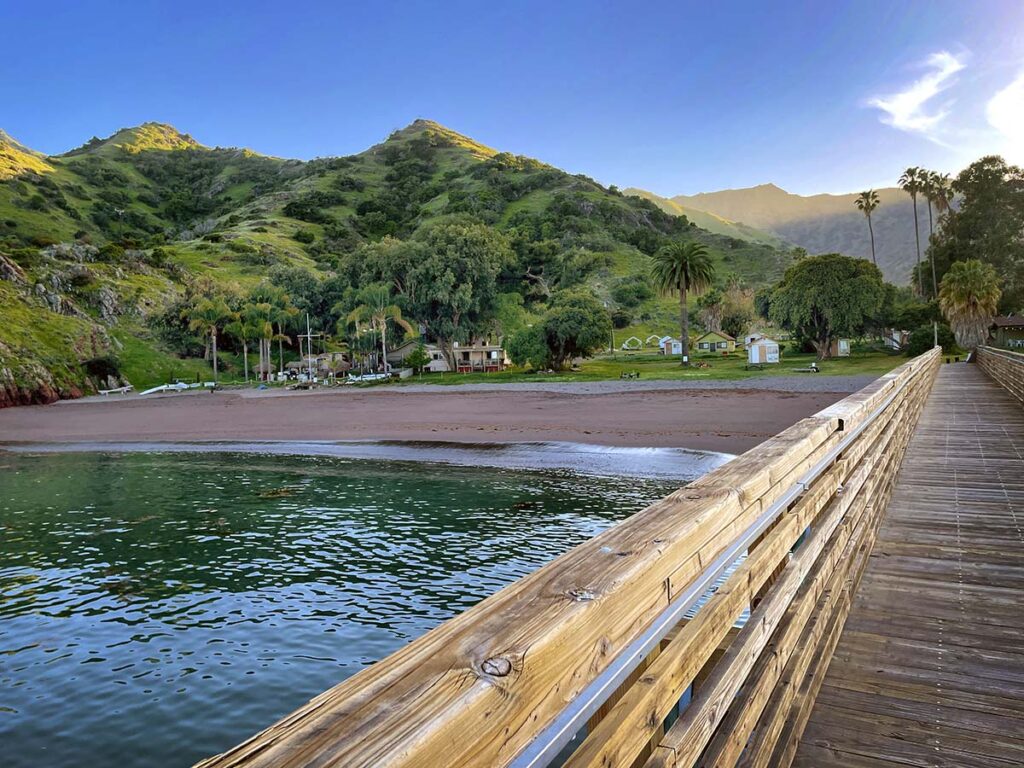 We stayed in their tiny cabins which I believe are usually the cabins used for chaperones during the children's camps. The cabin was decorated adorable but do not expect perfection or pristine conditions.  This is upscale camping, but still comes with many of the elements of camping in the great outdoors.  You are ocean-front though so not too much to complain about! This was my partner and mine's cabin for the weekend: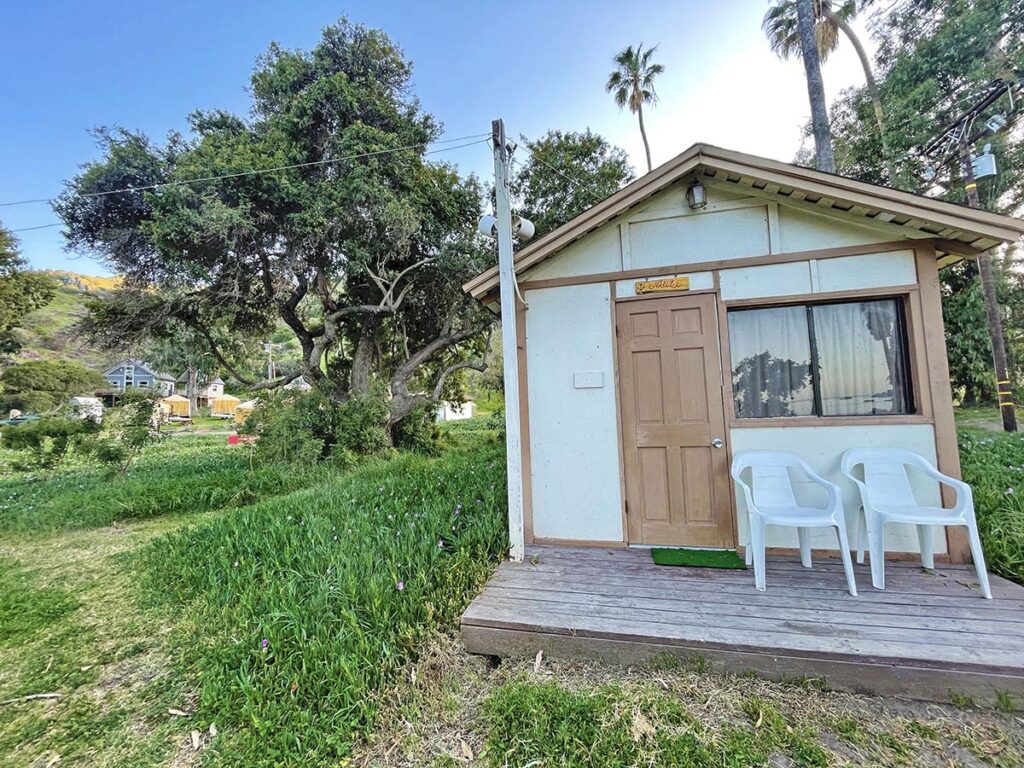 We were literally ocean front and fell asleep to the waves each night. This was the view from our cabin: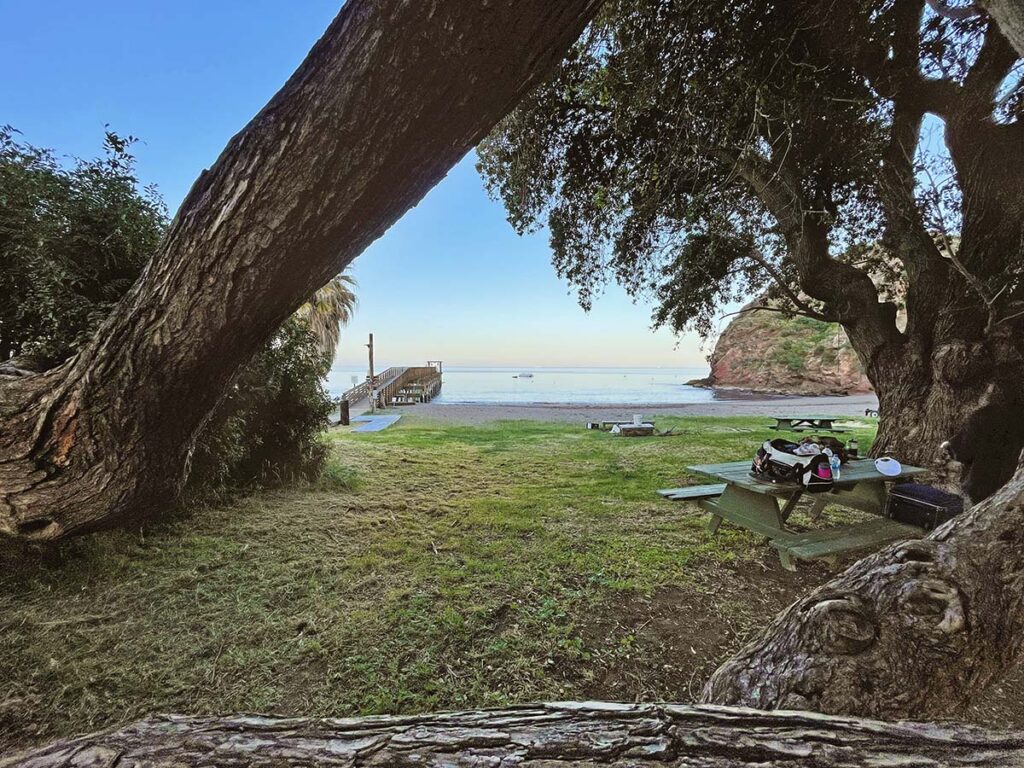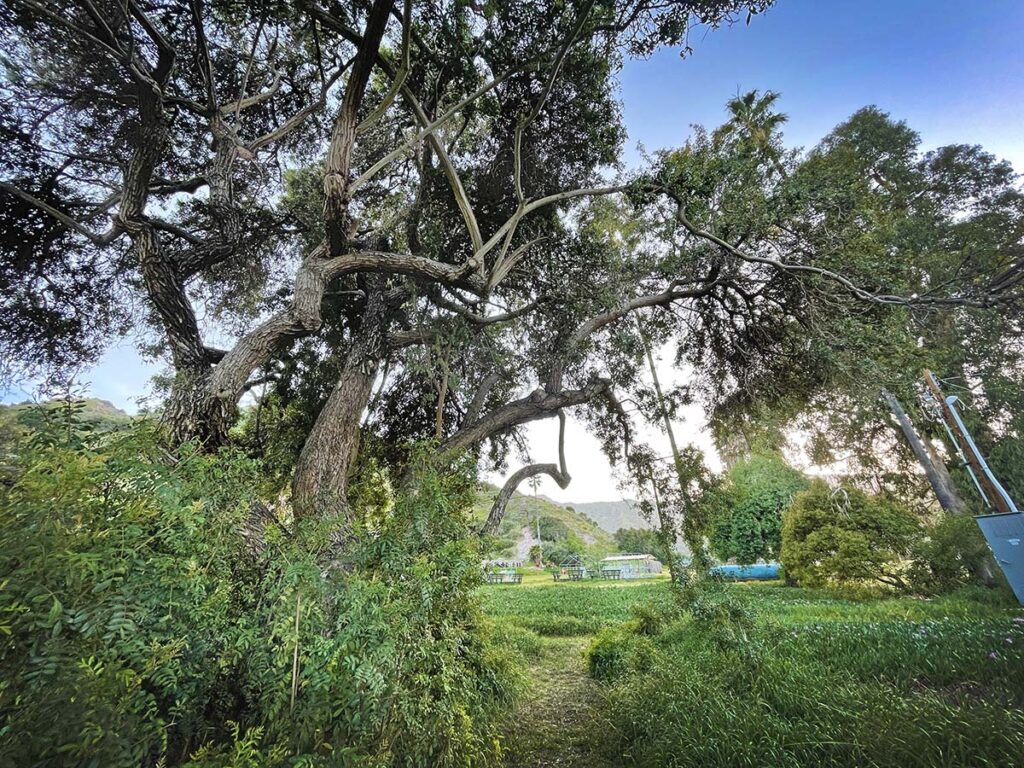 Sweet lupine was blooming: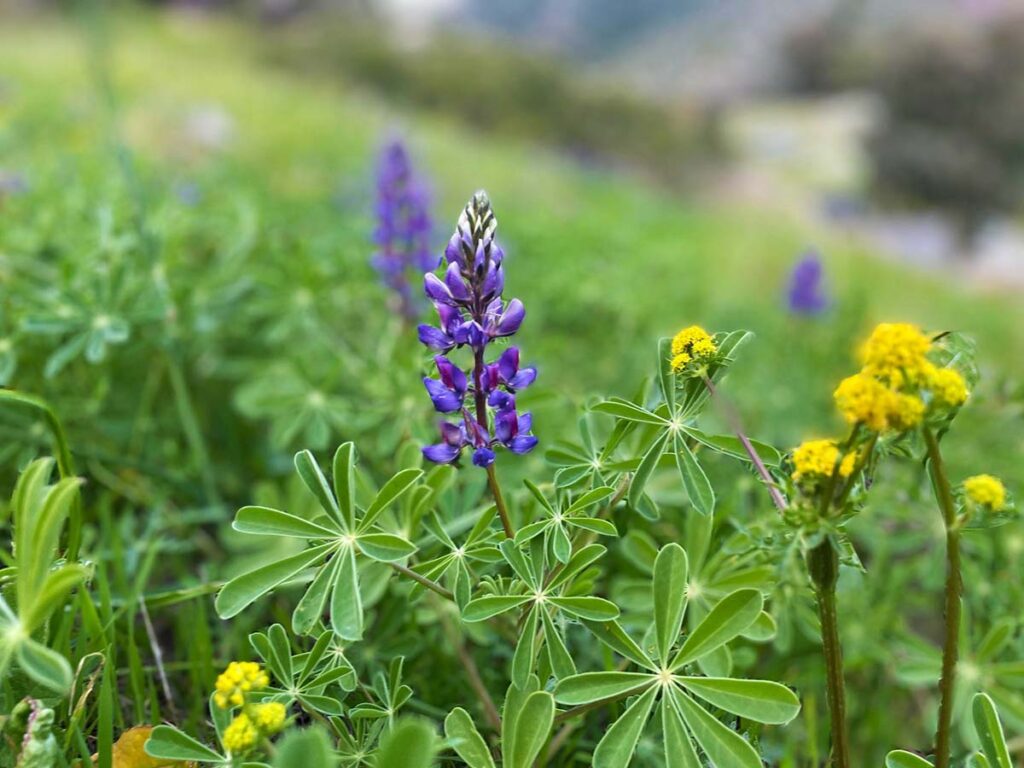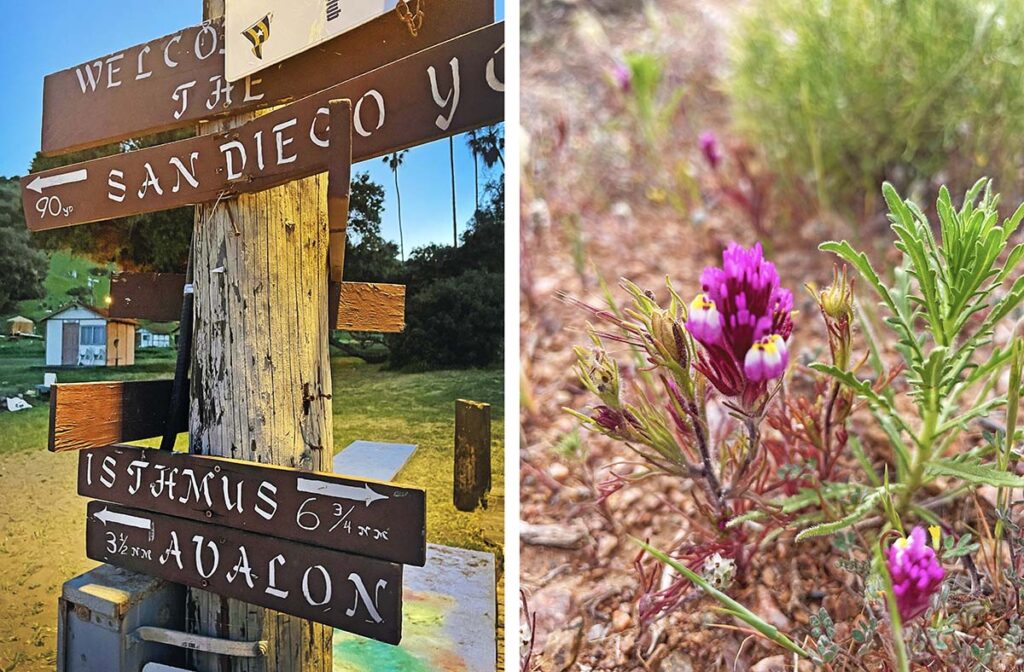 These are some of the adorable cabins of the camp counselors: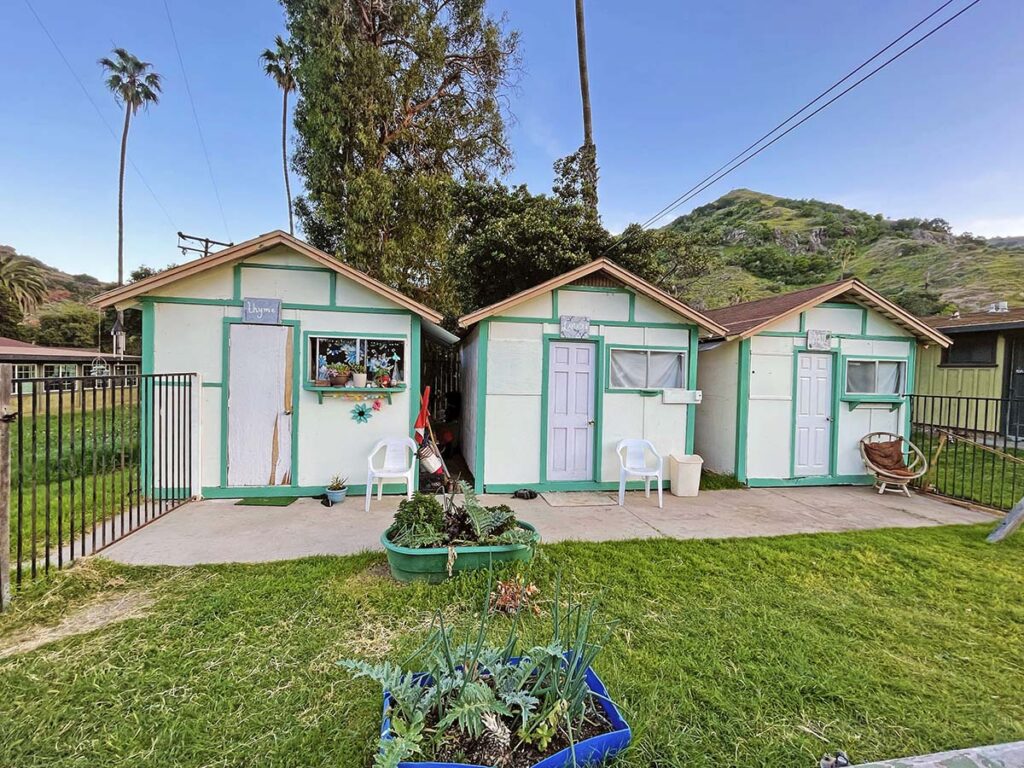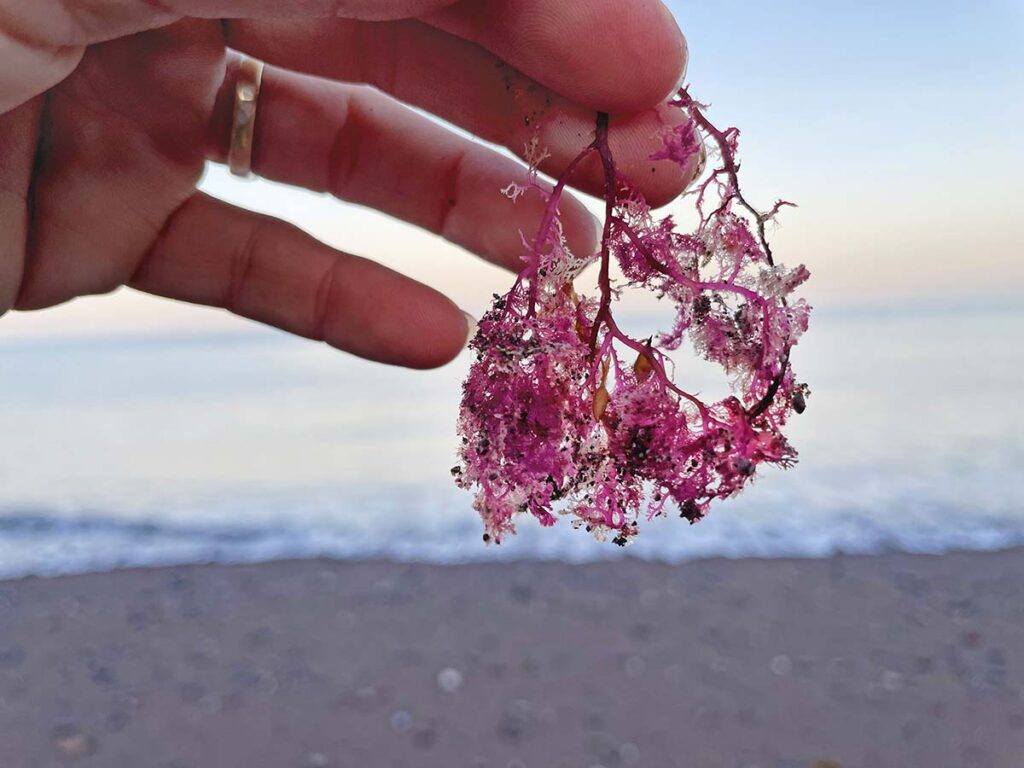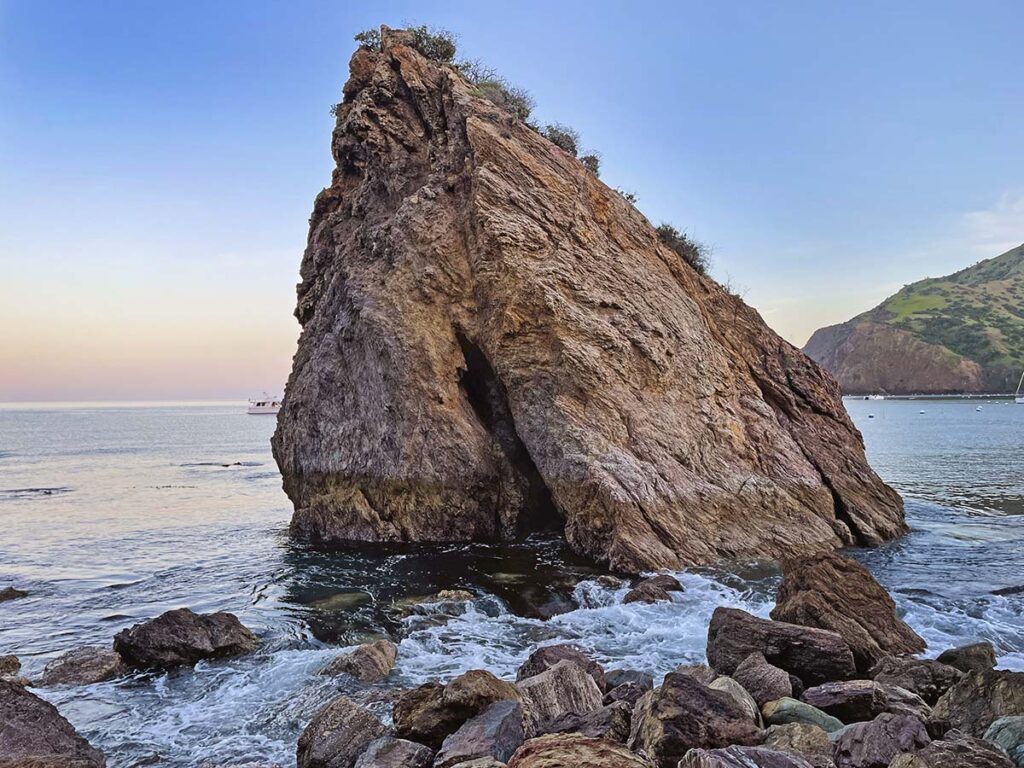 Another shot from our cabin: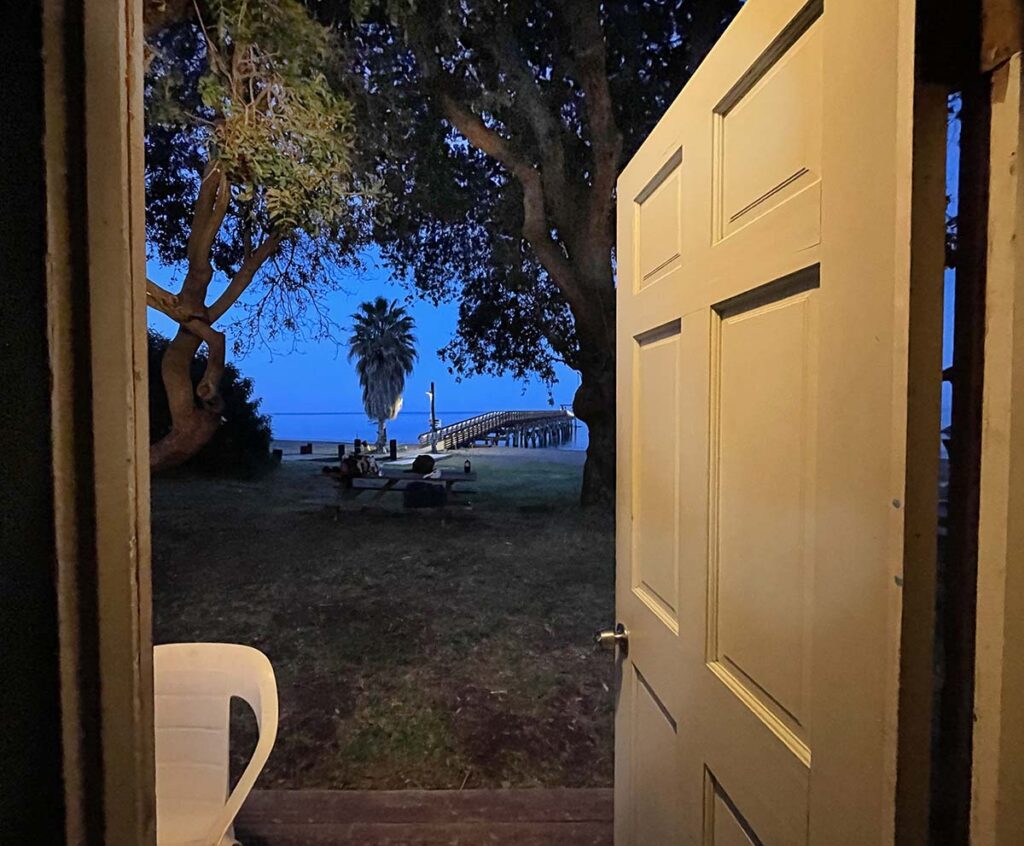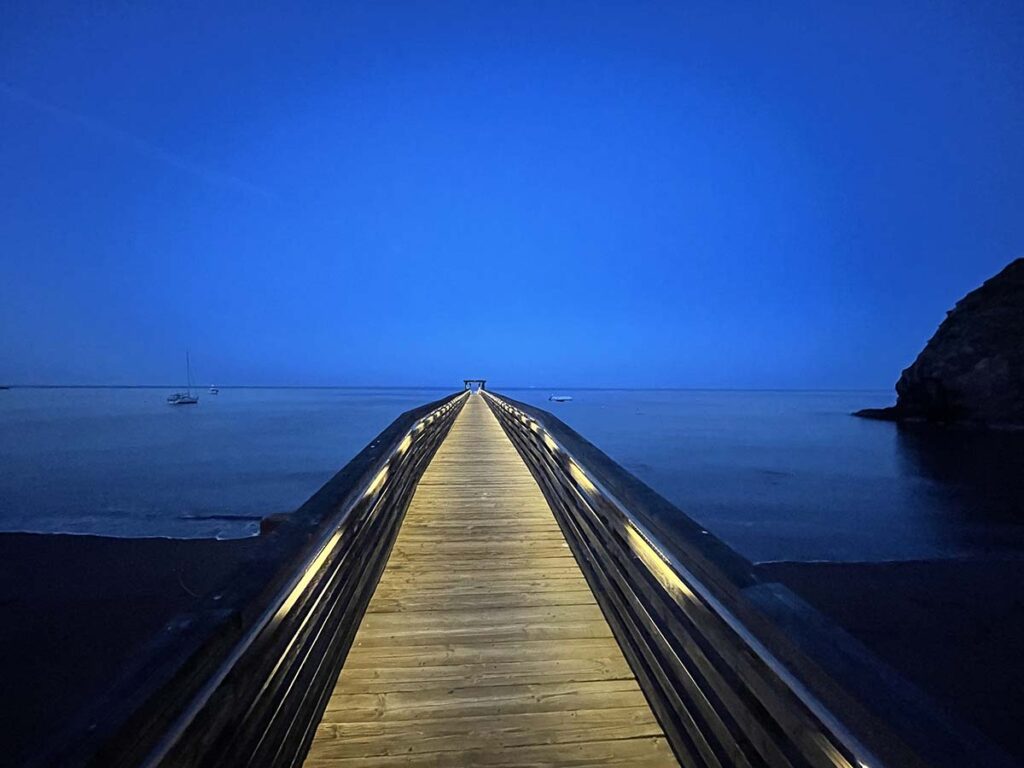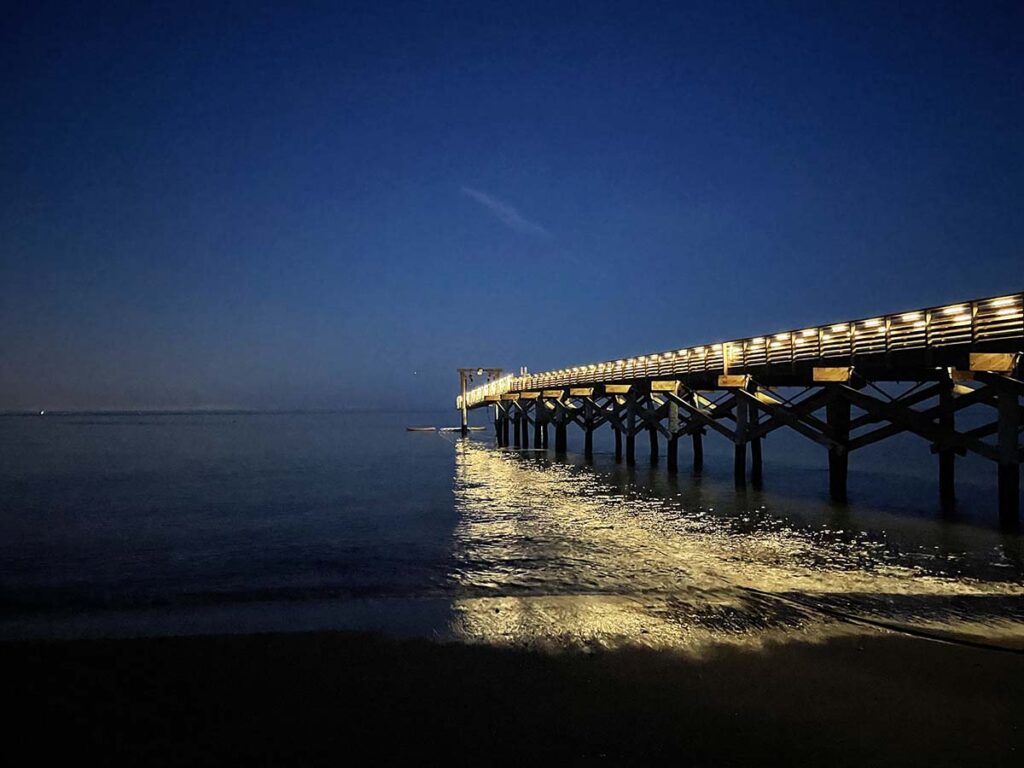 A shot of the clubhouse, which is where meals are served: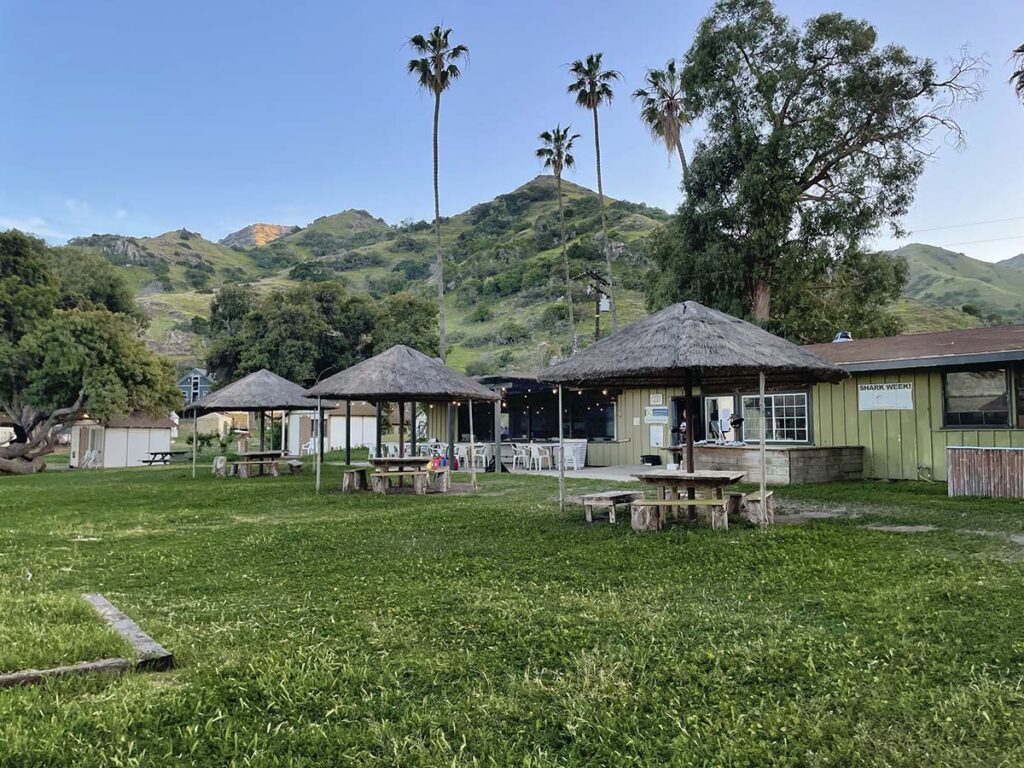 They serve breakfast every morning to the Hip Camp and AirBnb guests. This is not just a bowl of cereal mind you.  These are warm, freshly-cooked meals made with love!  Such a great, hearty way to start the day!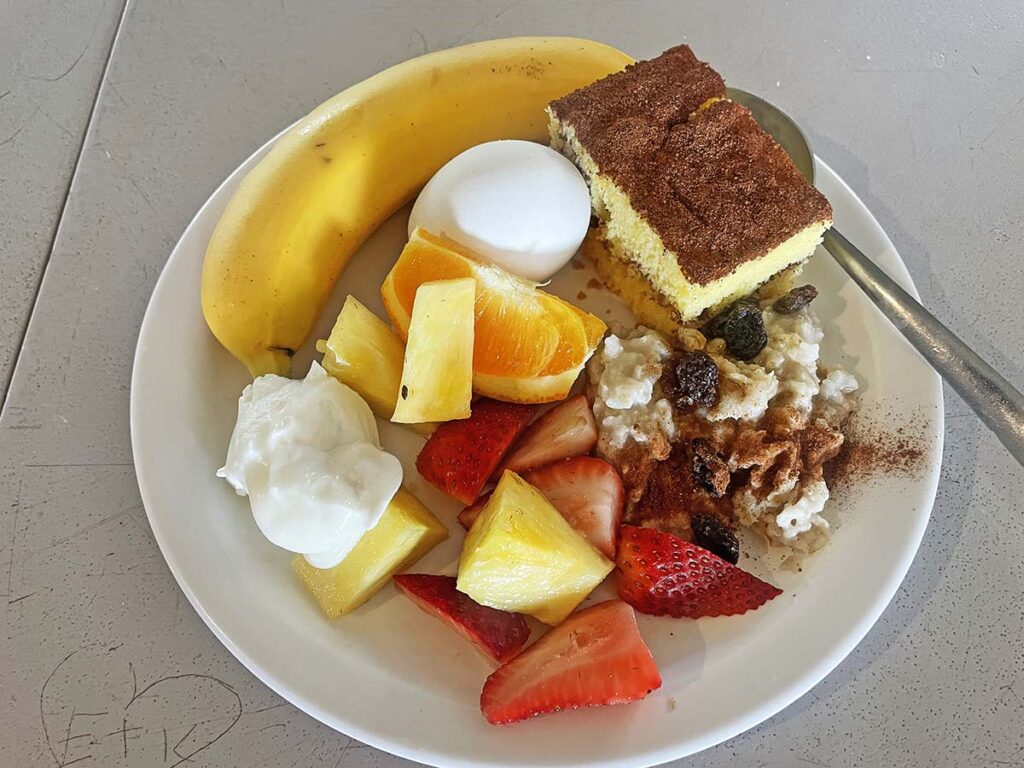 After we ate the next morning we took a short hike straight up a hill to revel in some unbeatable views!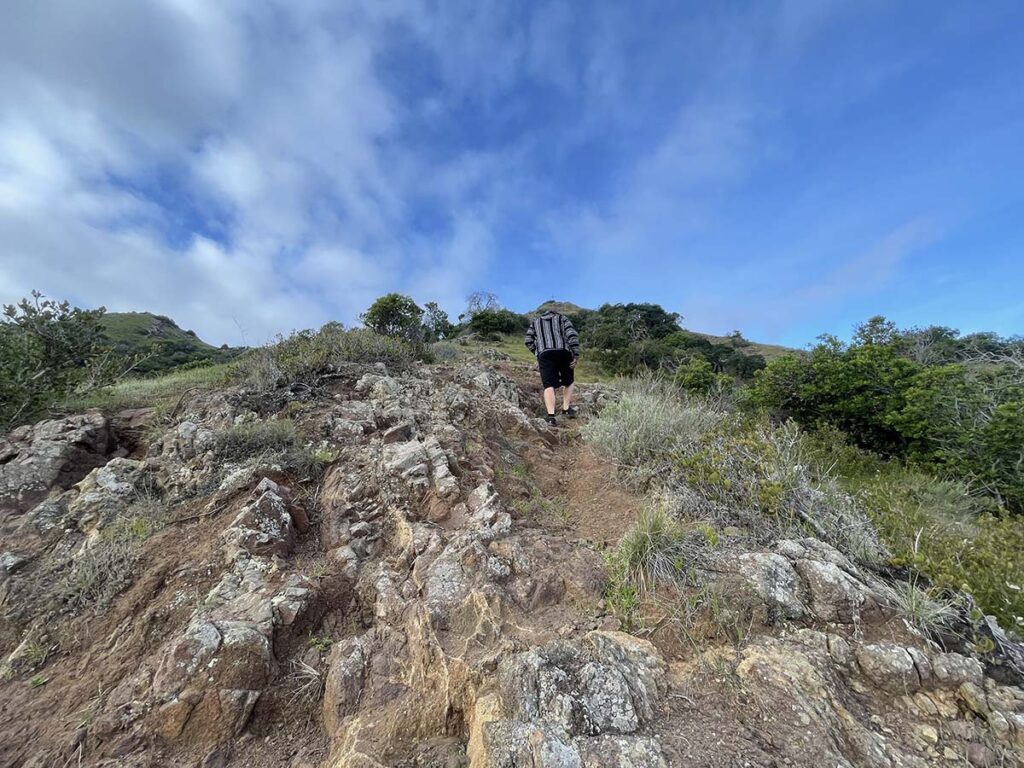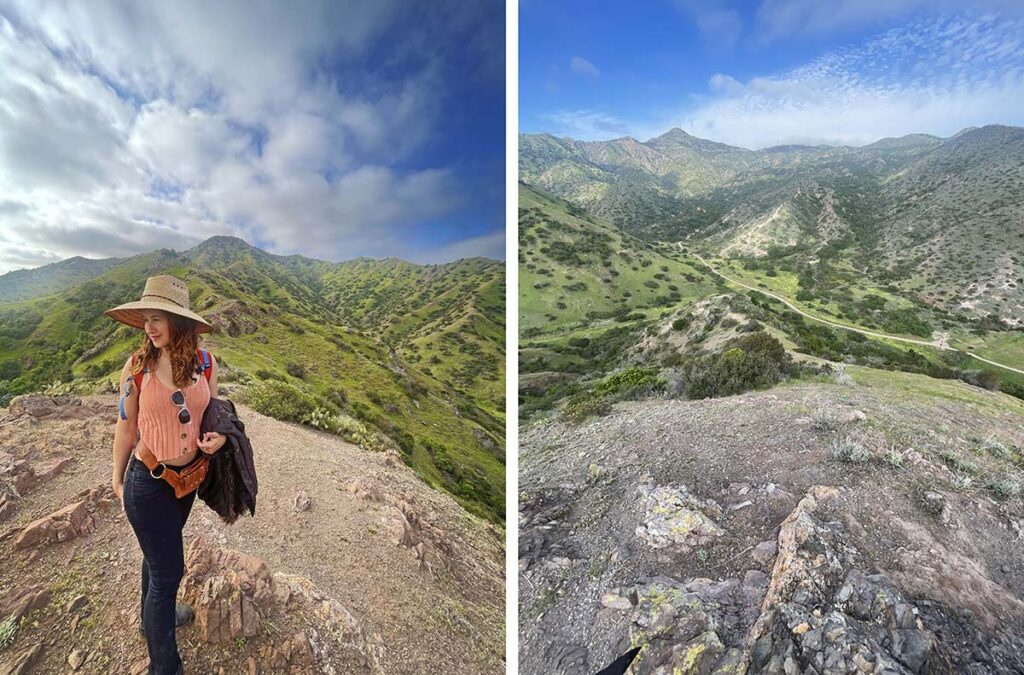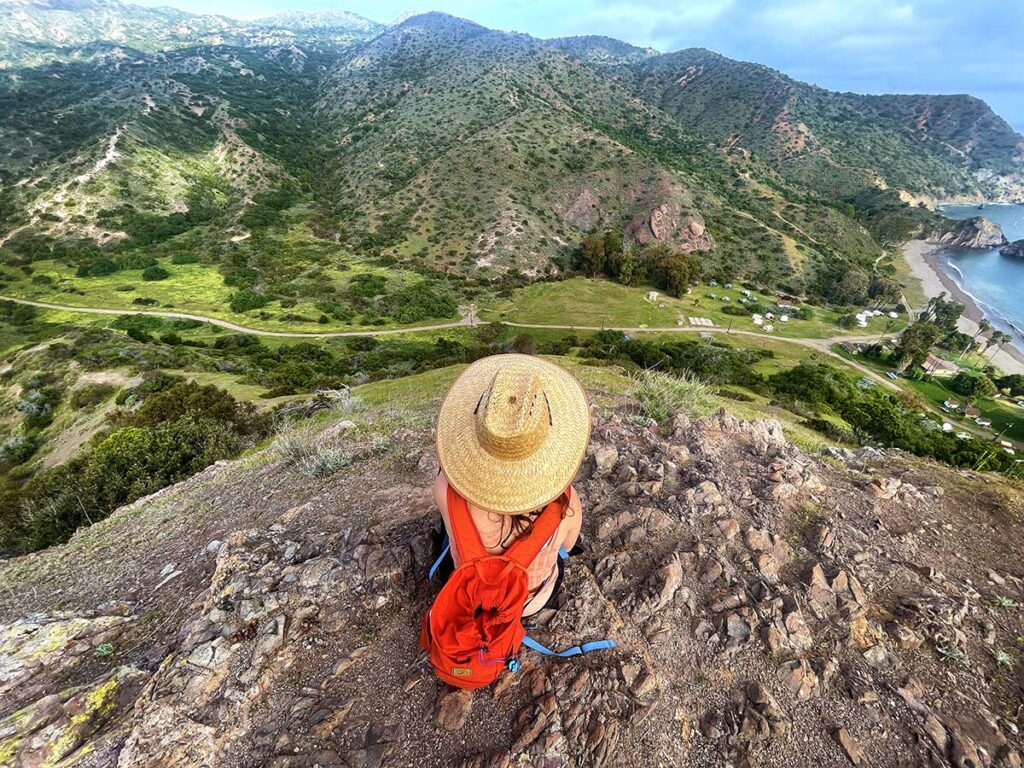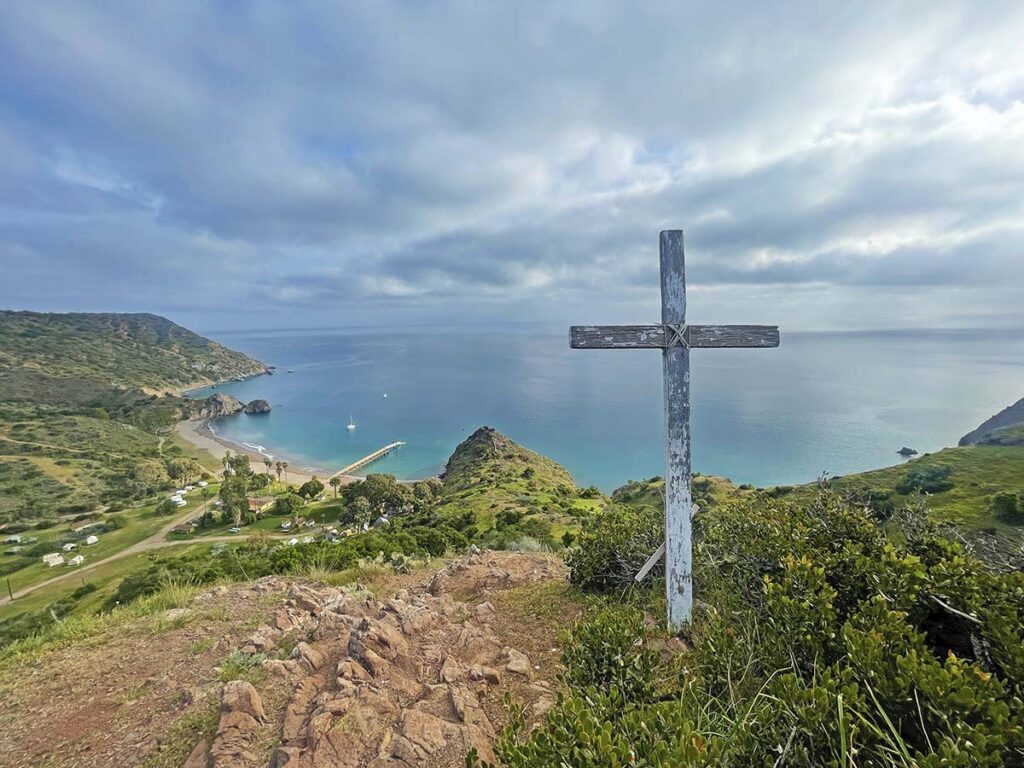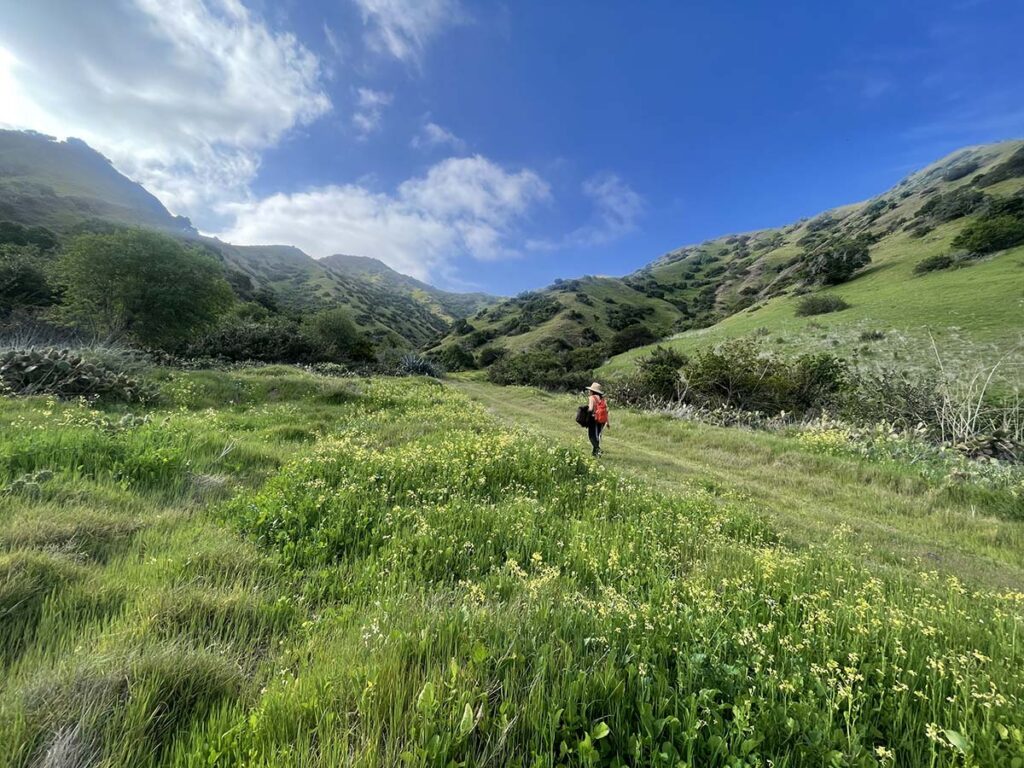 Ryan licking some lemonade berries: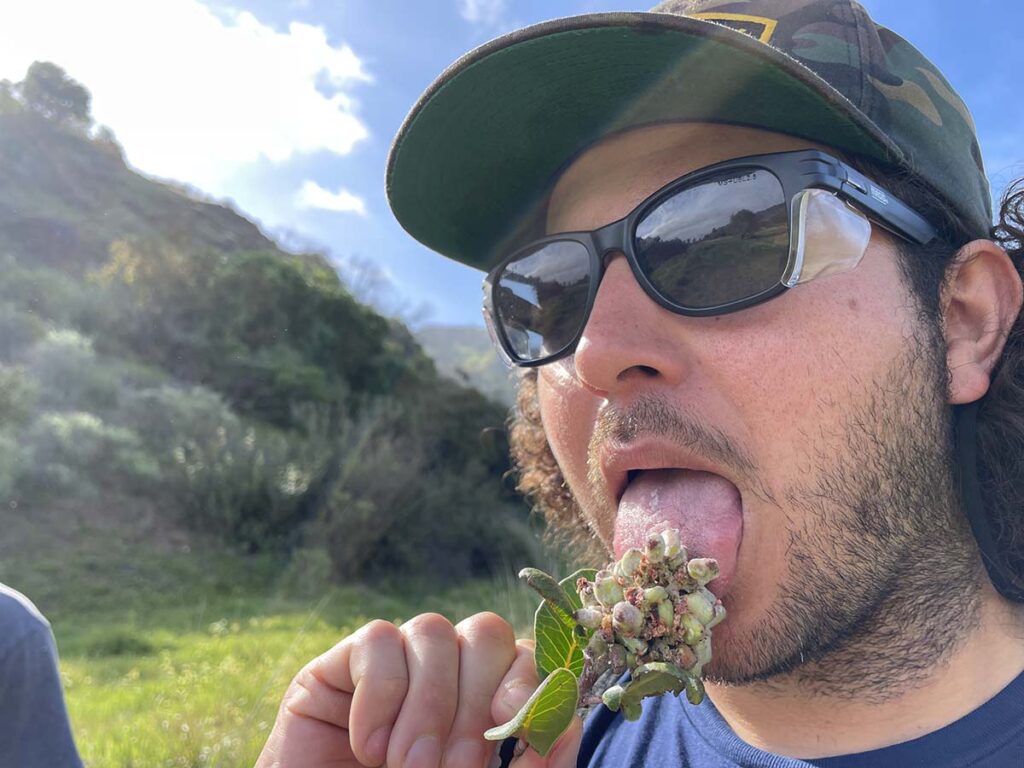 We got the opportunity to ride back into town one day while some girls were getting dropped back off at the port.  The ride was about 45 minutes on a dirt road through the back-country of Catalina.  It was such an awesome adventure!  The views were amazing and we even got to see bison!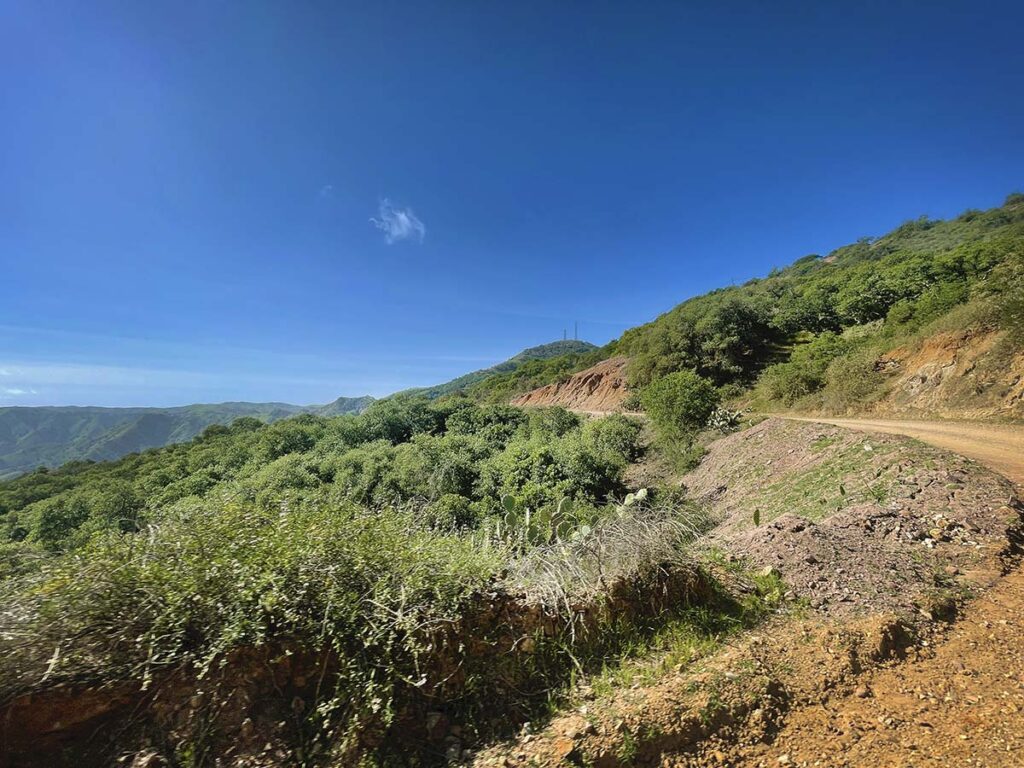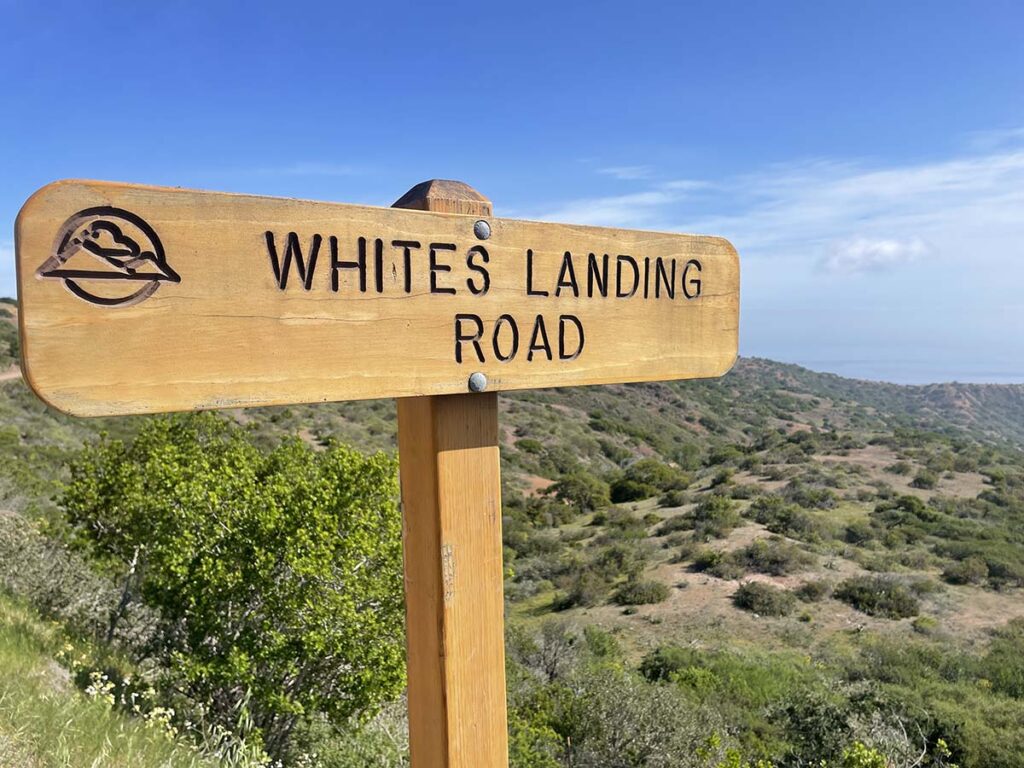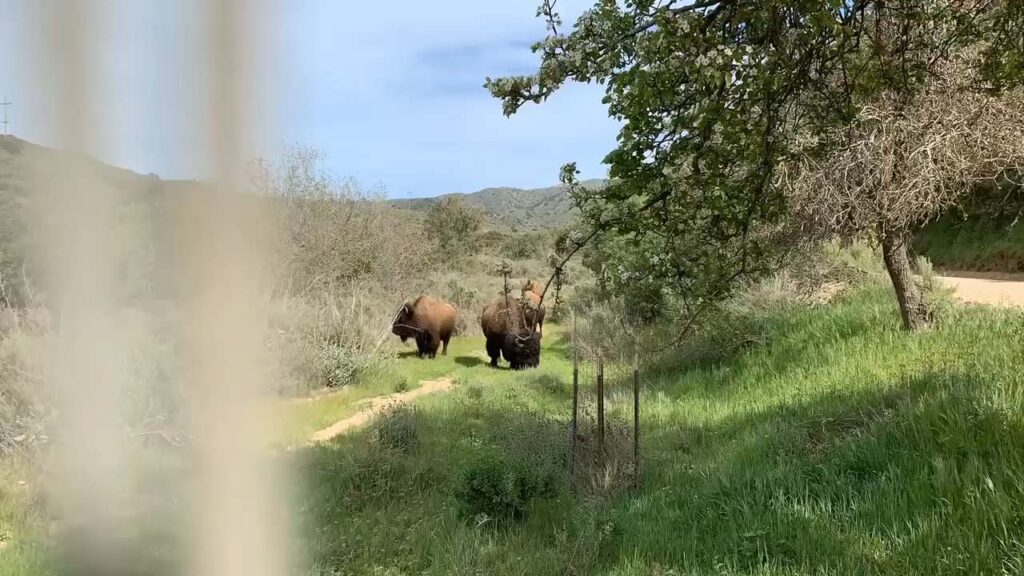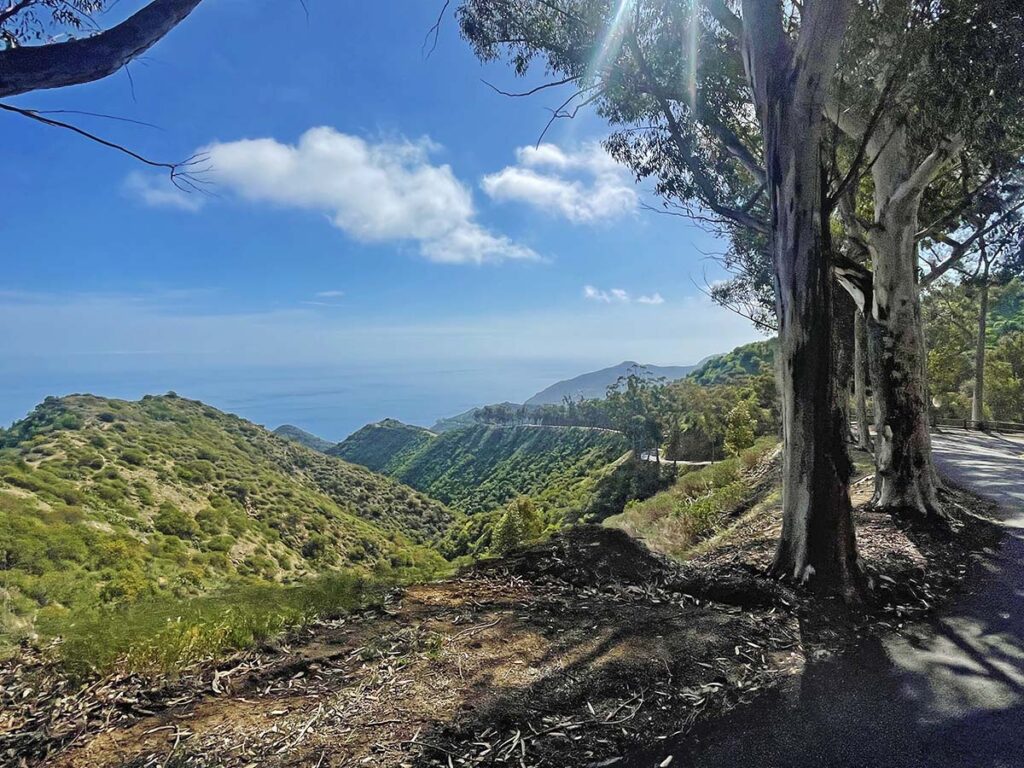 When we got back to White's Landing we decided to kayak!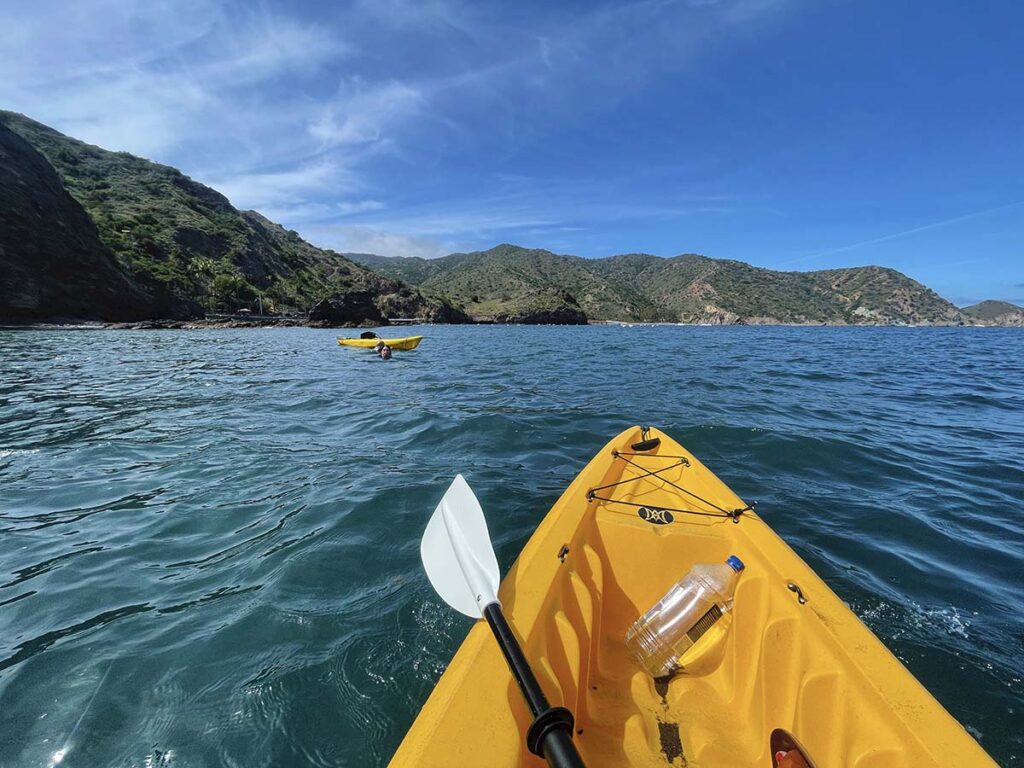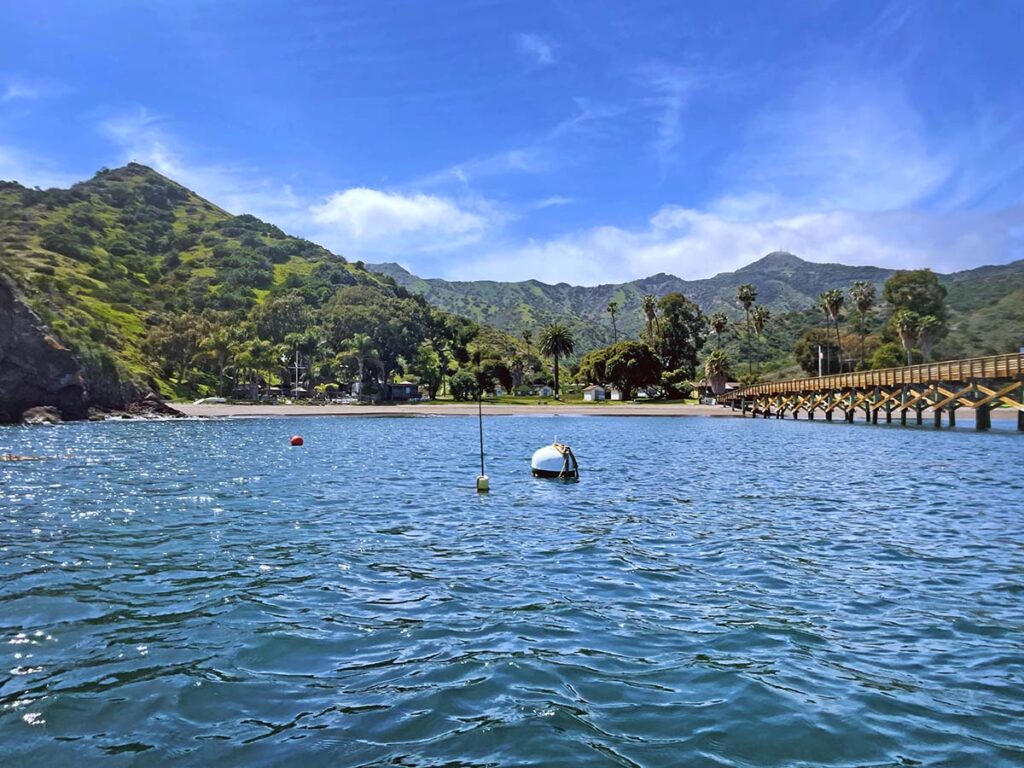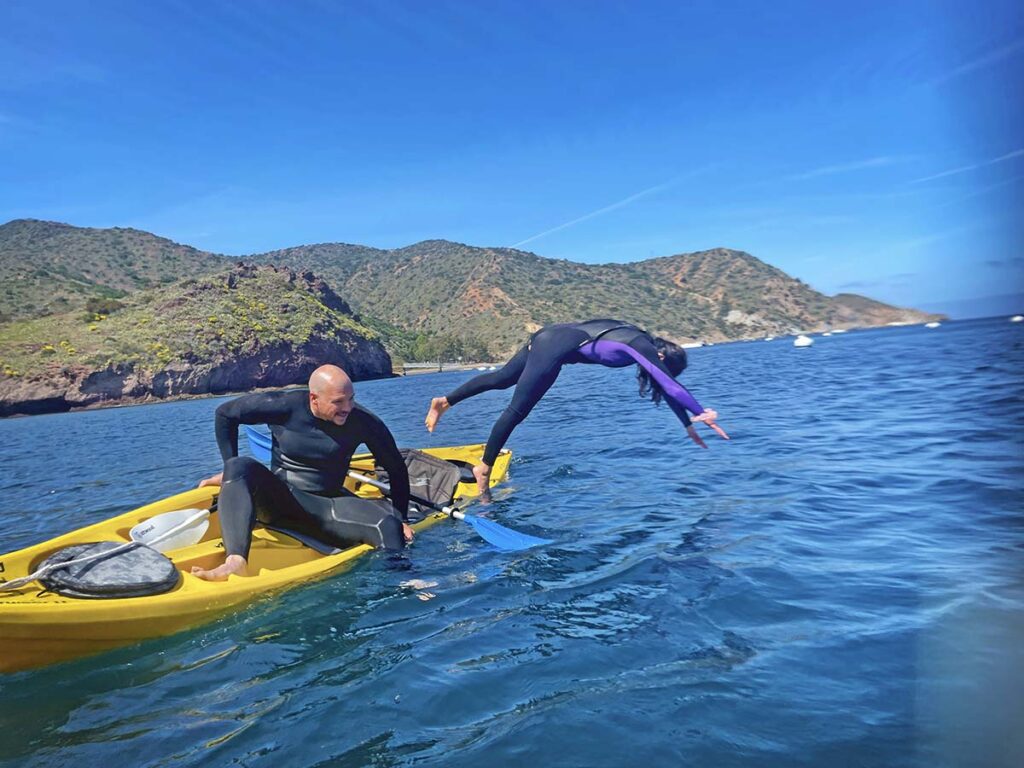 The minerals here are so unique and colorful.  It reminded me a bit of the hillsides at Artist's Palette in Death Valley: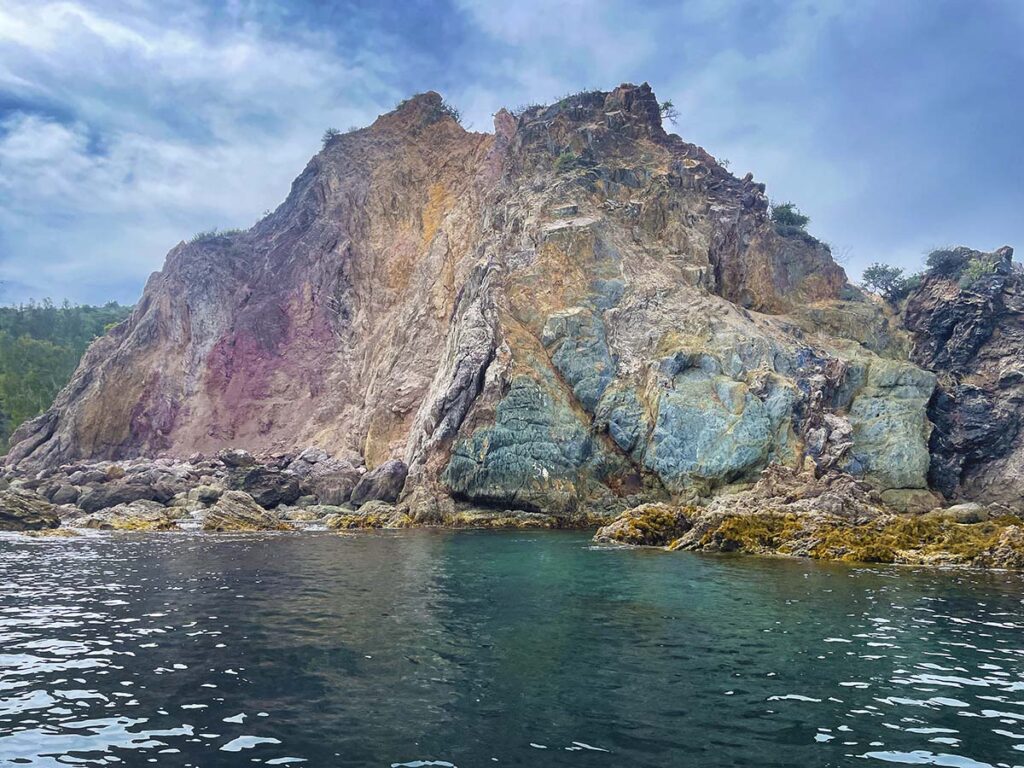 There are plenty of recreational activities to do here including basketball!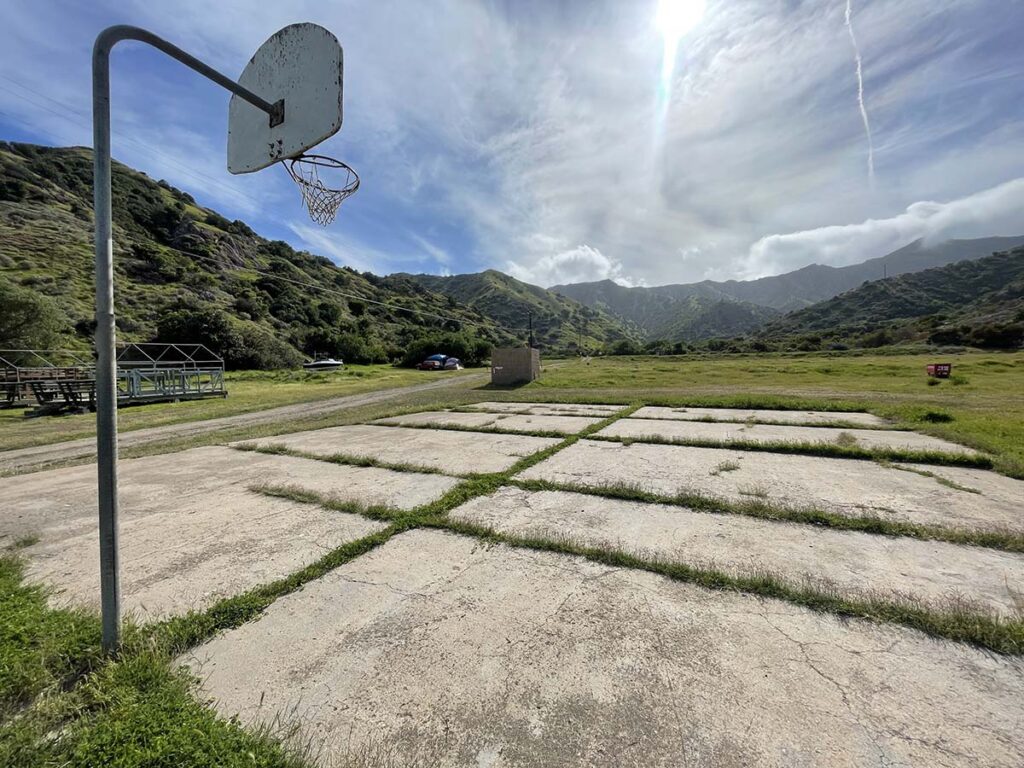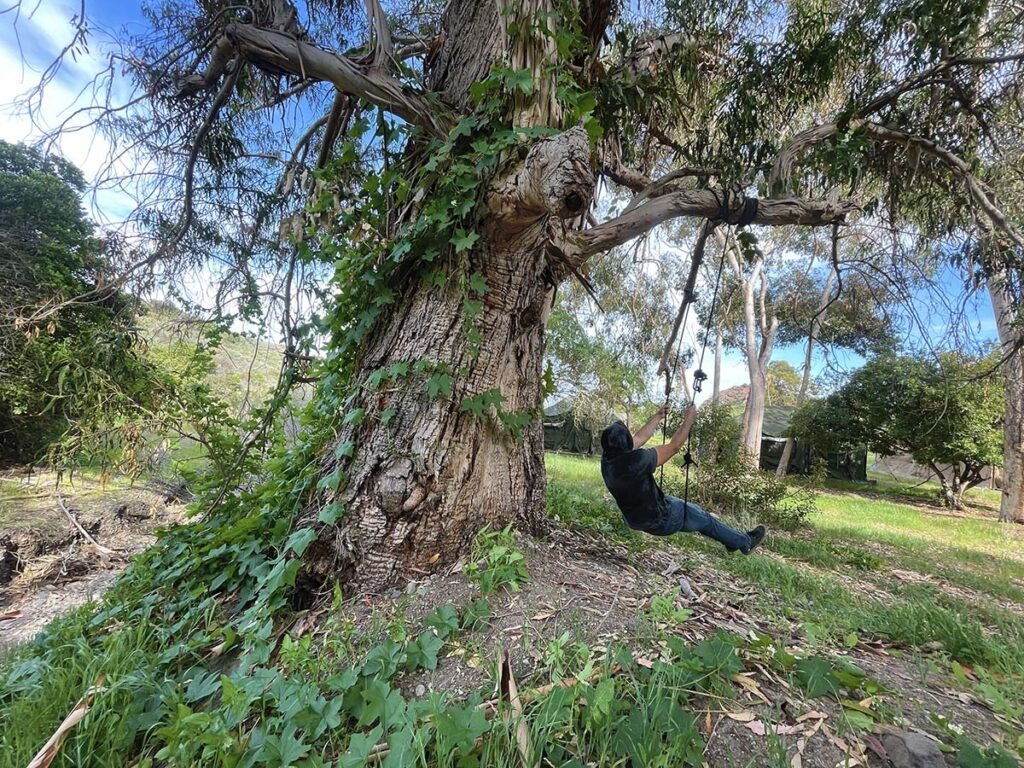 A few of the canvas tents available: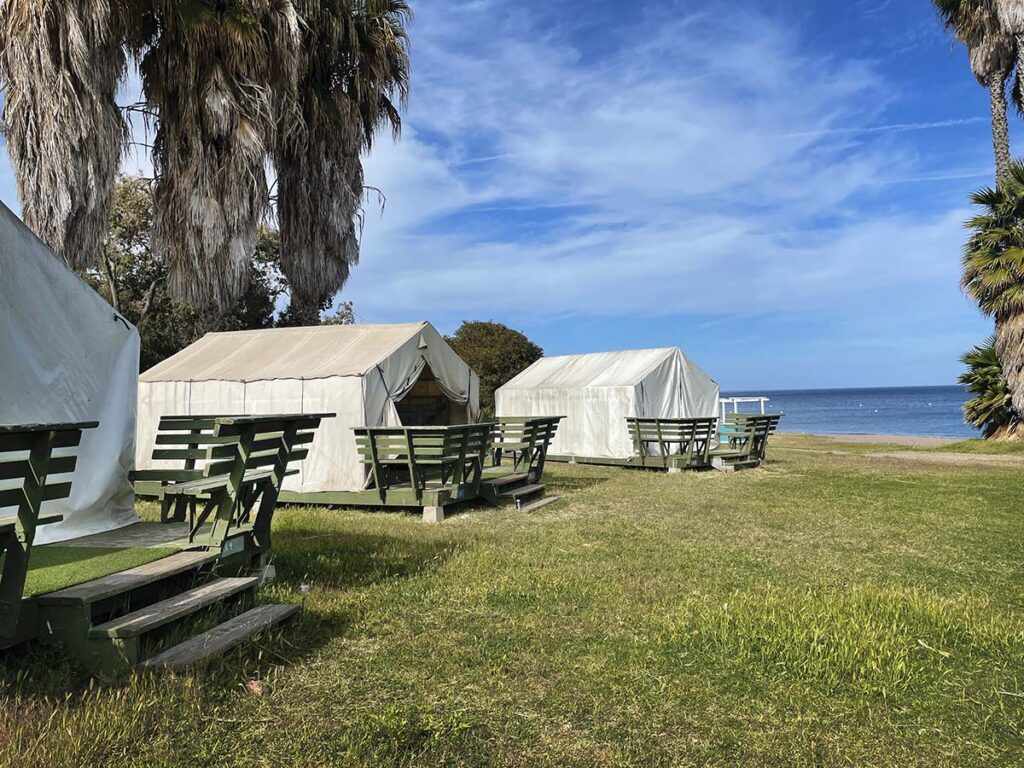 Our last evening here we took a second small hike up the other hill.  More gorgeous views awaited us!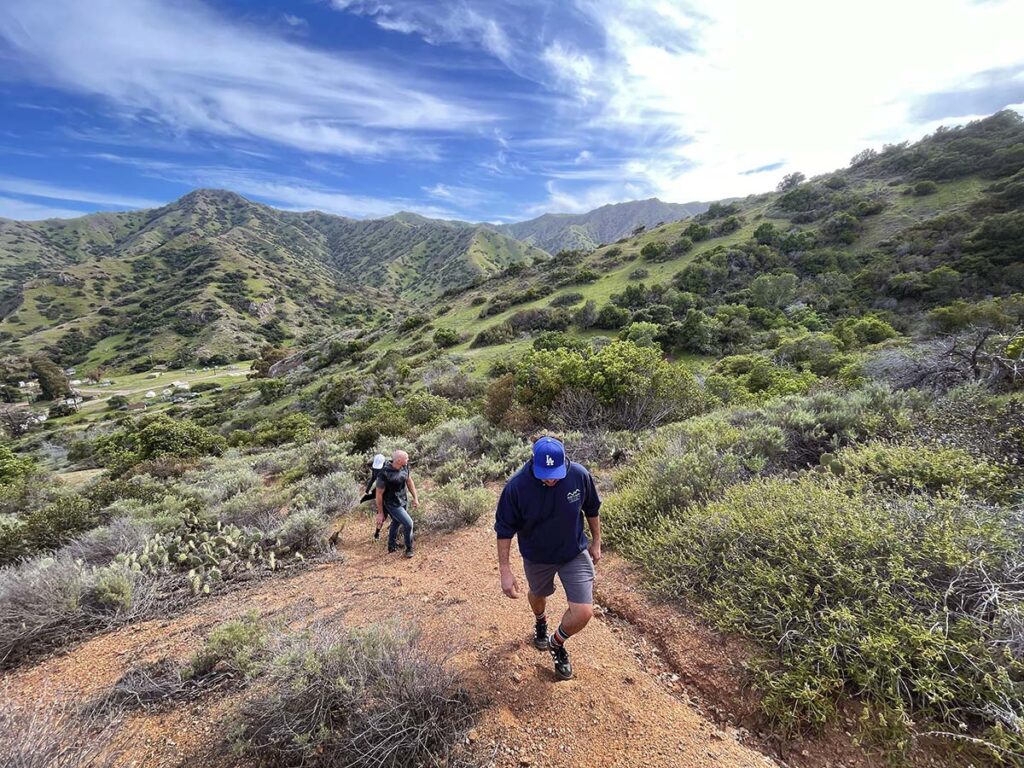 We even found a hidden swing up top!