Hello everyone! This is a friendly reminder that any of these fun places we may visit, we are a guest at. Please treat both businesses and trails with the utmost respect. We here at Hidden California follow the 'Leave no Trace' mantra, meaning whatever you bring with you comes back with you. If you see trash on a trail, please do your part to help remove it. Remember, we are not picking up trash from another person but instead cleaning up for Mother Nature. Happy adventures!
Inyo National Forest
Little Lakes Valley Trail
9001 Rock Creek Rd
Bishop, CA 93514
37.4348, -118.74600
760-935-4493
Hike: 3.5 miles 1-way  Level: Easy-mild
Elevation: 10,272 ft. at trailhead-11,109 ft.
Dog-Friendly: Yes    Kid-Friendly: Yes
Little Lakes Valley Trail
The easy access to this beautiful chain of lakes make Little Lakes Valley popular for fishing, day hikes and beginning backpackers. Glaciers carved this extensive chain of lakes, both large and small.
Wildflowers bloom in the high elevation framed by the spectacular 13,000-foot peaks of Bear Creek Spire, Mt. Dade, Mt. Abbot and Mt. Mills. Some evidence of historical mining equipment can be seen, along with an old road bed at Morgan Pass. This is an active bear area so you must use bear containers to secure your food and refuse.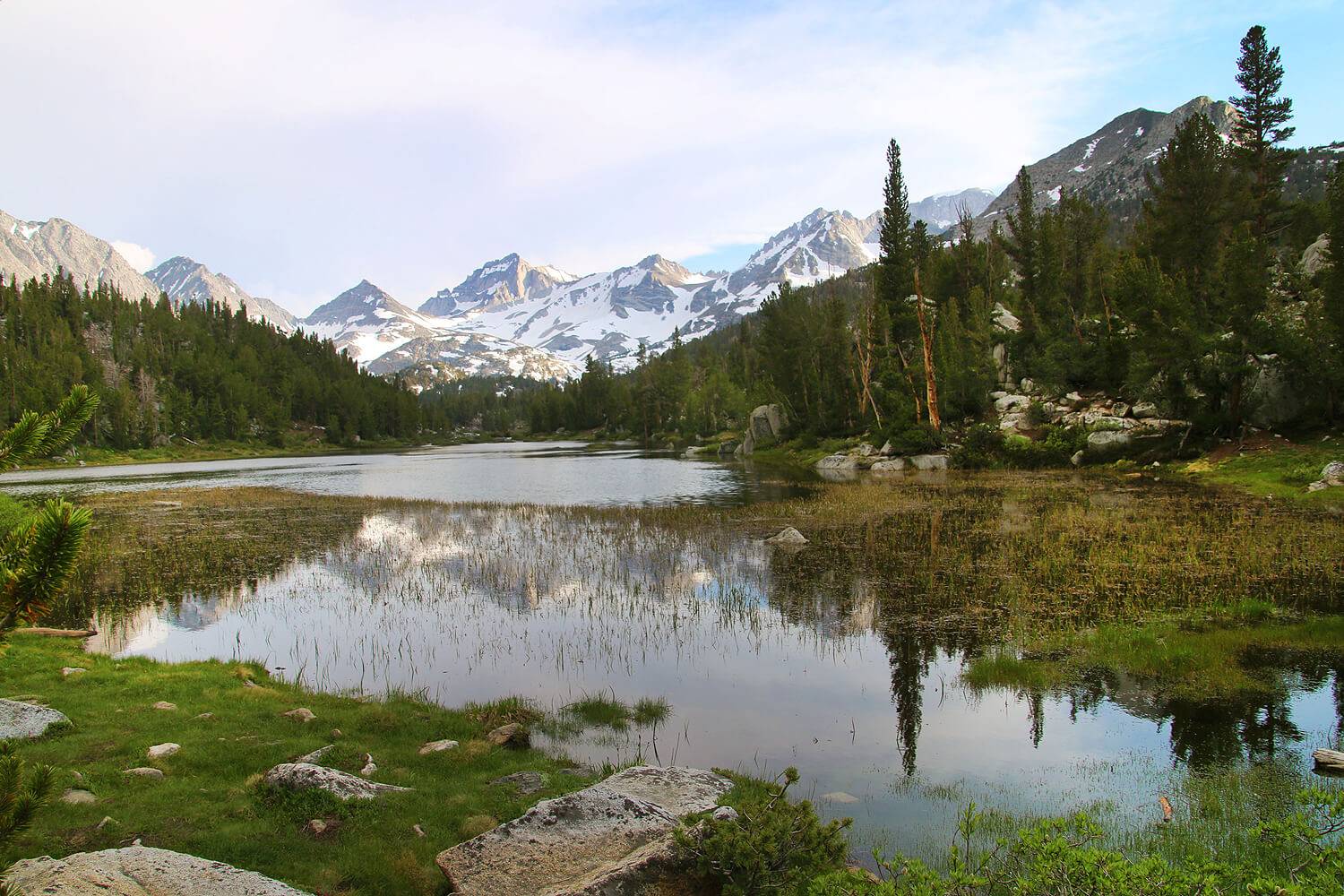 Personal Experience: All I can say is WOW.  Every second of this hike was filled with astounding beauty.  We hiked in mid July when the snow was melting, giving a raging river beside us the entire time.
Parking is at the Mosquito Flats Campground (which is free to camp here btw).  Mosquito Flats really lives up to its name so beware!  We must have each gotten bitten 20 times!  They are no joke around here!  Bring bug spray, cover up and even buy a mosquito-netting hat if you can.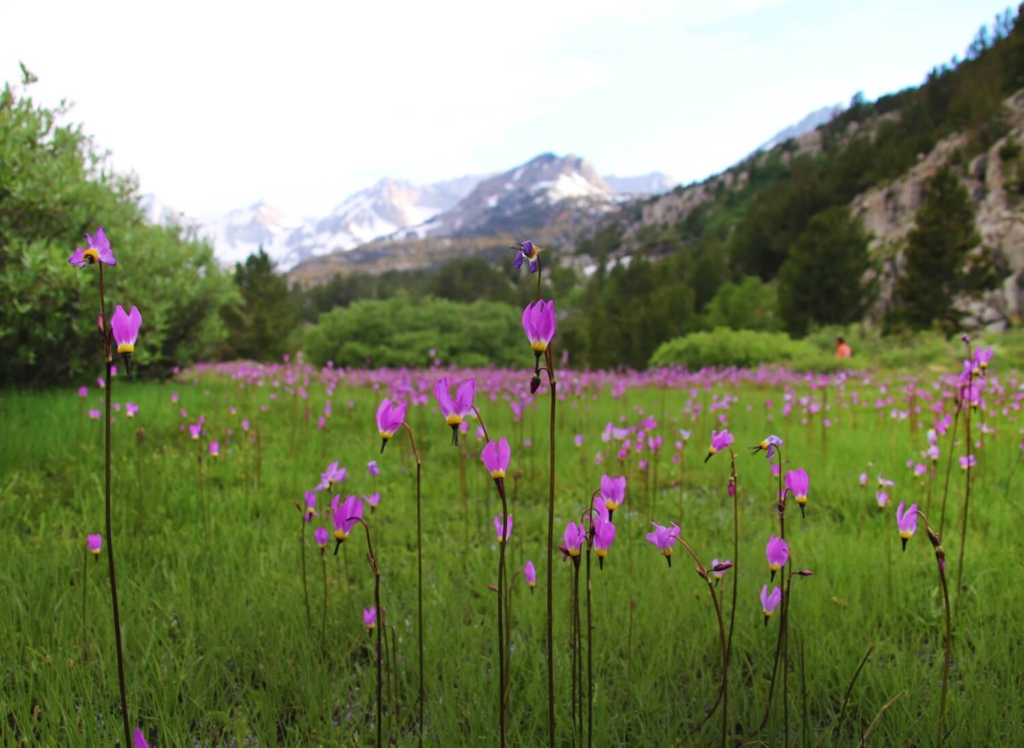 There are two trails here:  one that takes you up to Ruby Lake and a lower trail that takes you next to lake after lake after lake.  We took both trails but this specific page is for the Little Lakes Valley Trail which is the lower trail.  Make sure to keep your eyes peeled for the fork in the road and take the left side.
Looking at Google Maps, you can see the names of the lakes you will hike by which are: Mack Lake, Marsh Lake, Heart Lake, Box Lake, Long Lake & Chicken Foot Lake.
You start the hike off with a raging river welcoming you: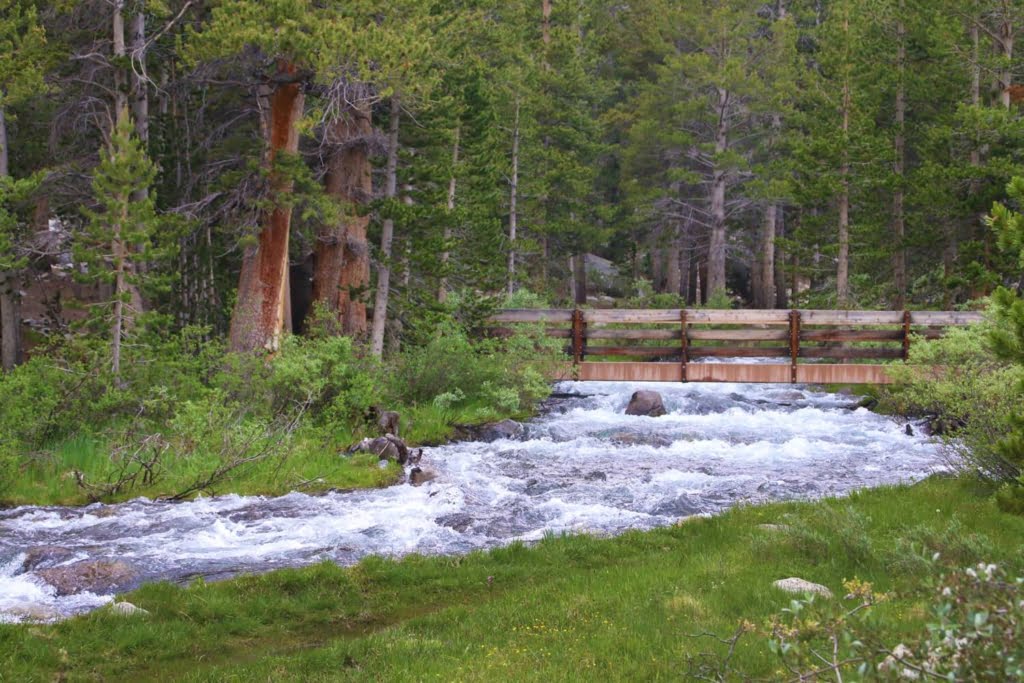 Into the wild we go!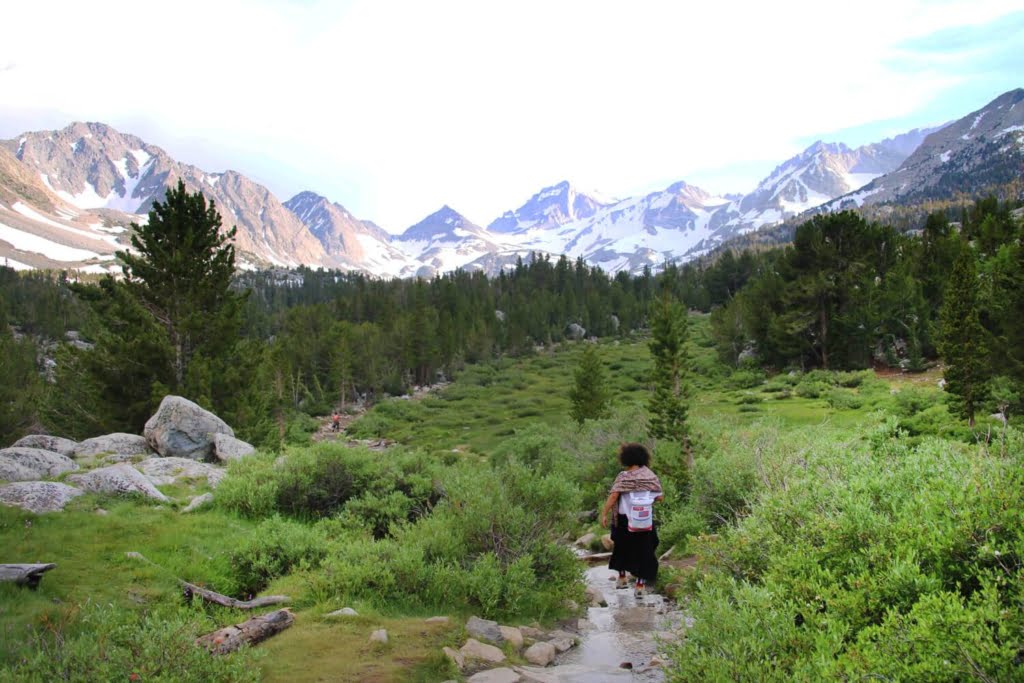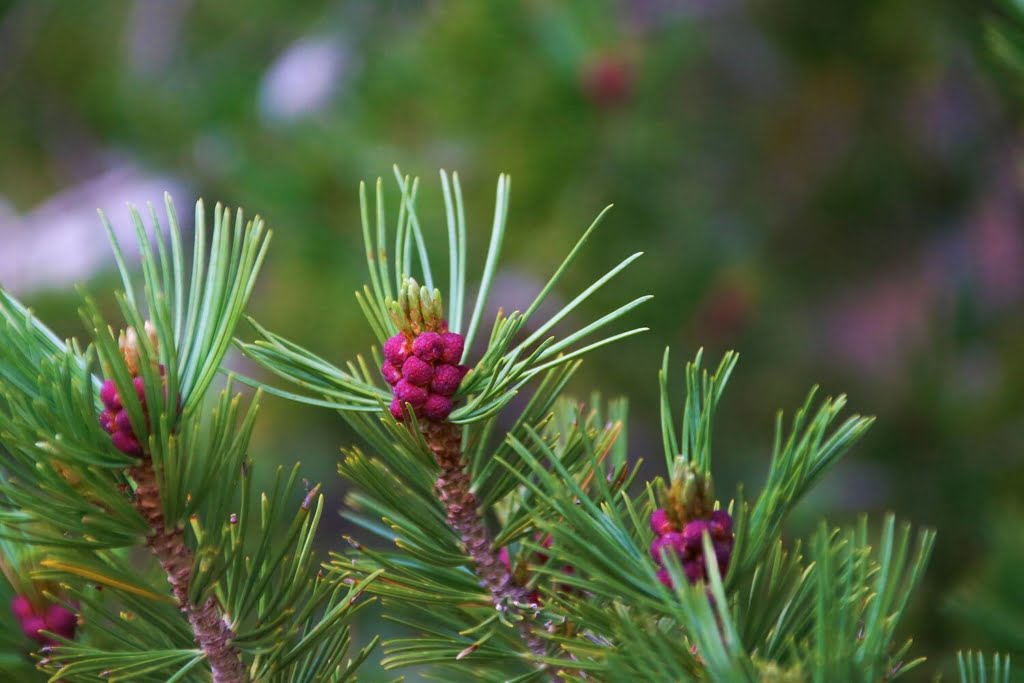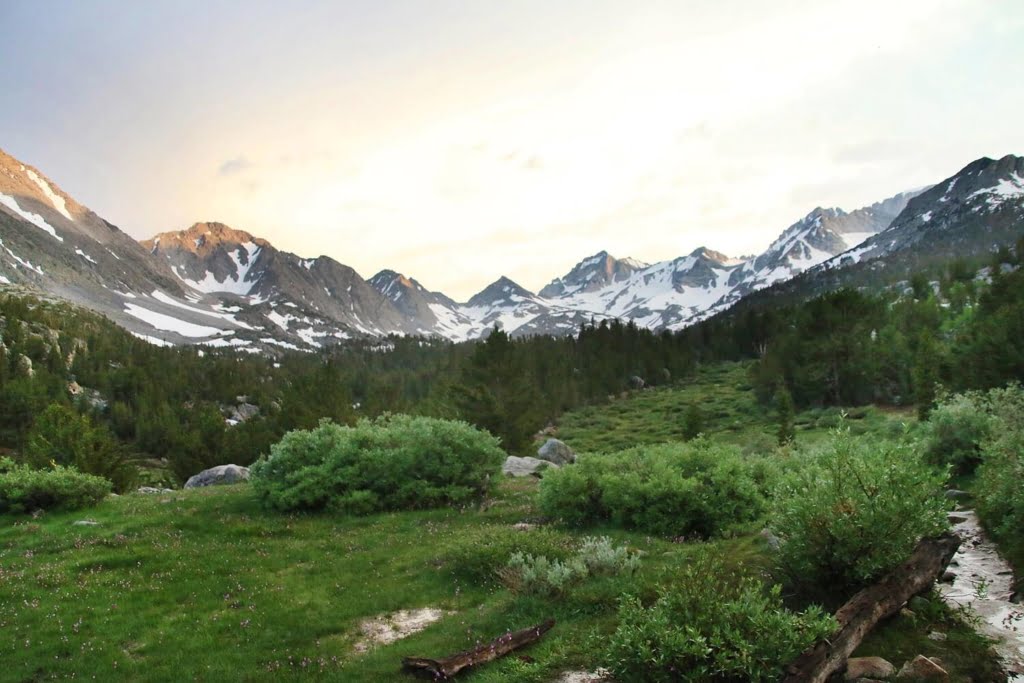 We got caught in a small thunderstorm.  Besides the worry for our cameras, it was so refreshing.
I think we all felt so ALIVE on this hike: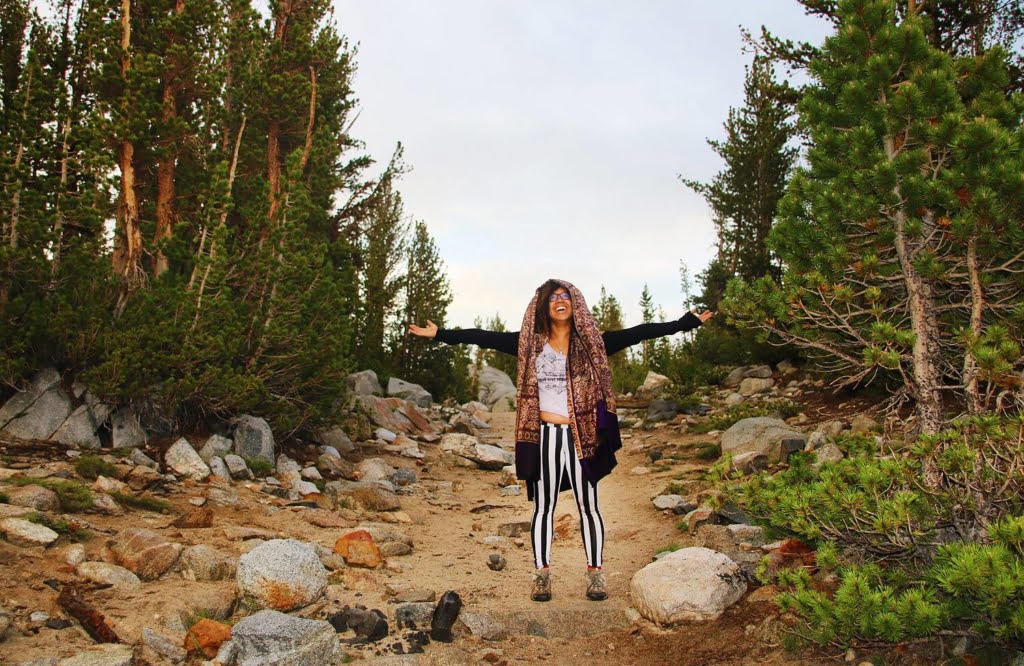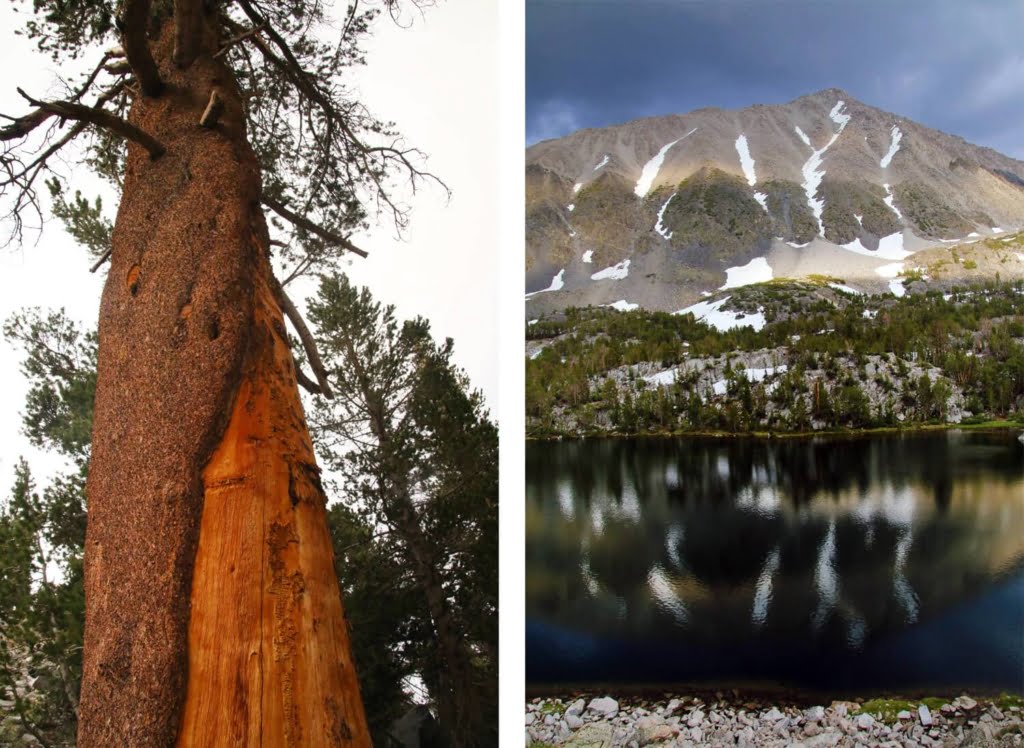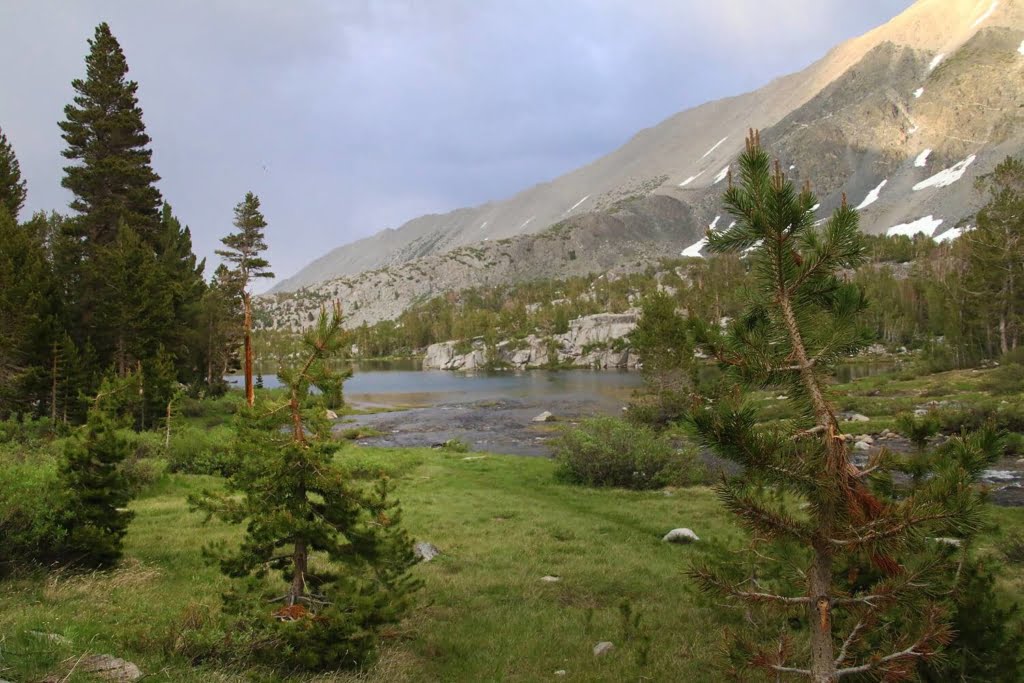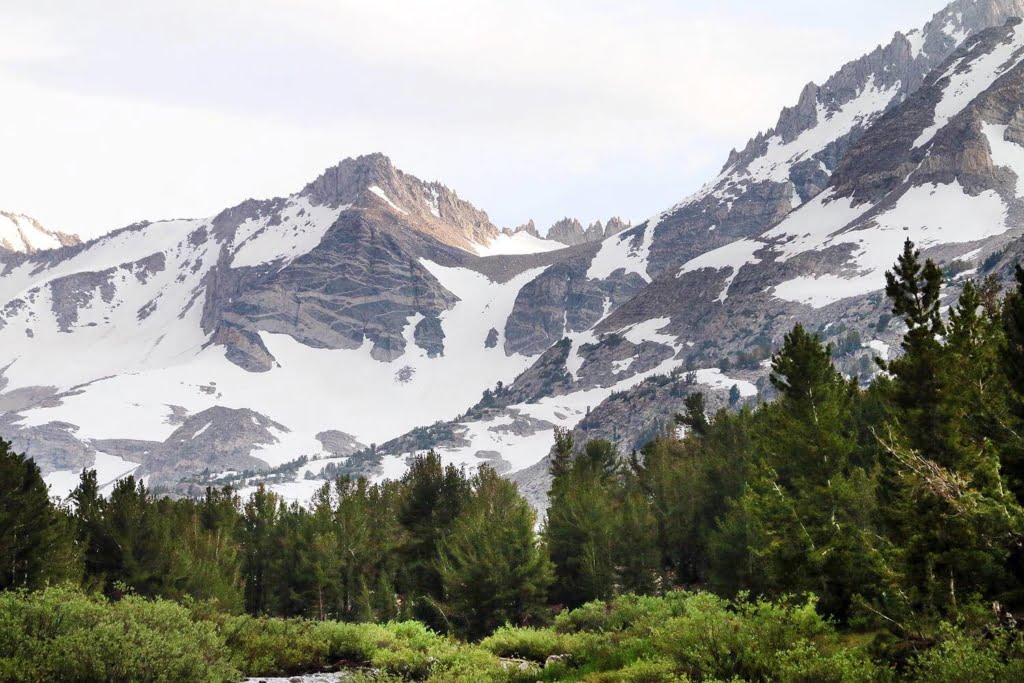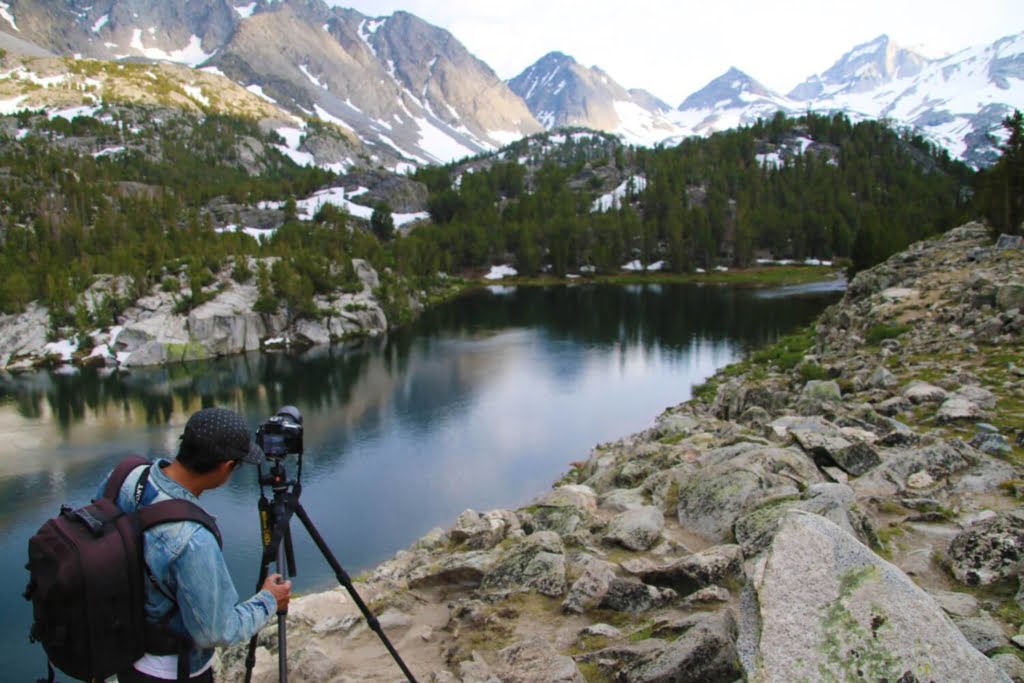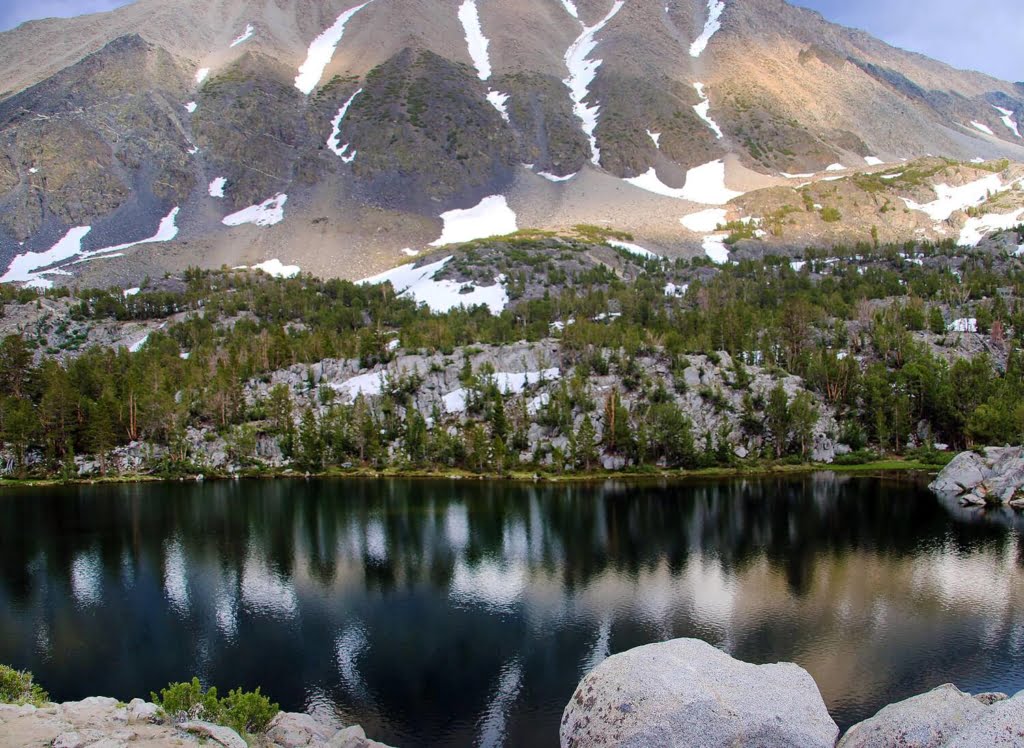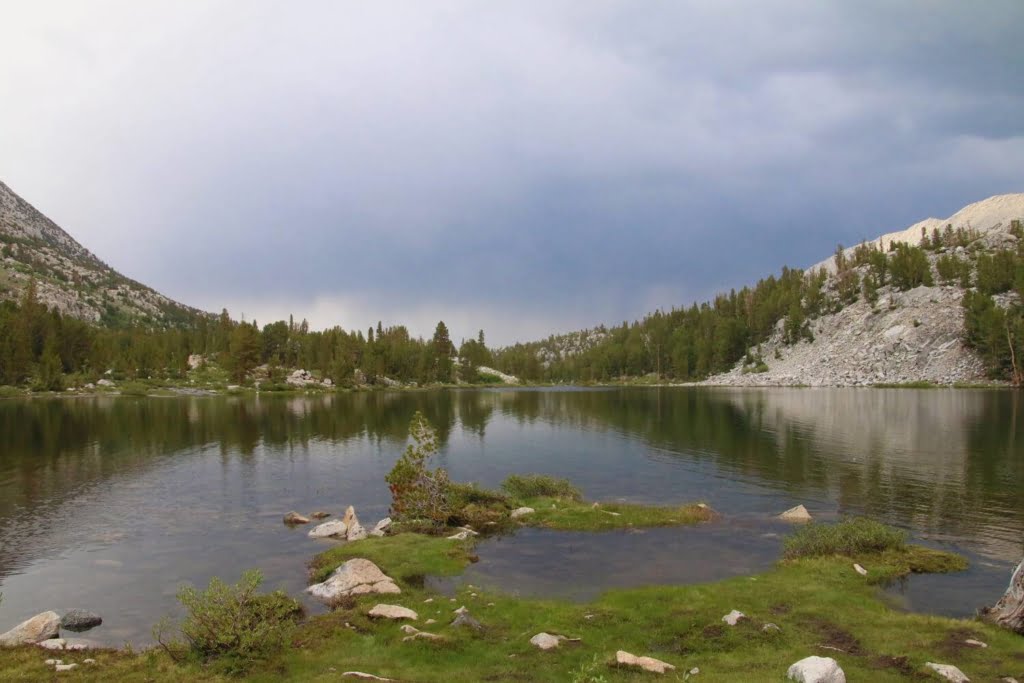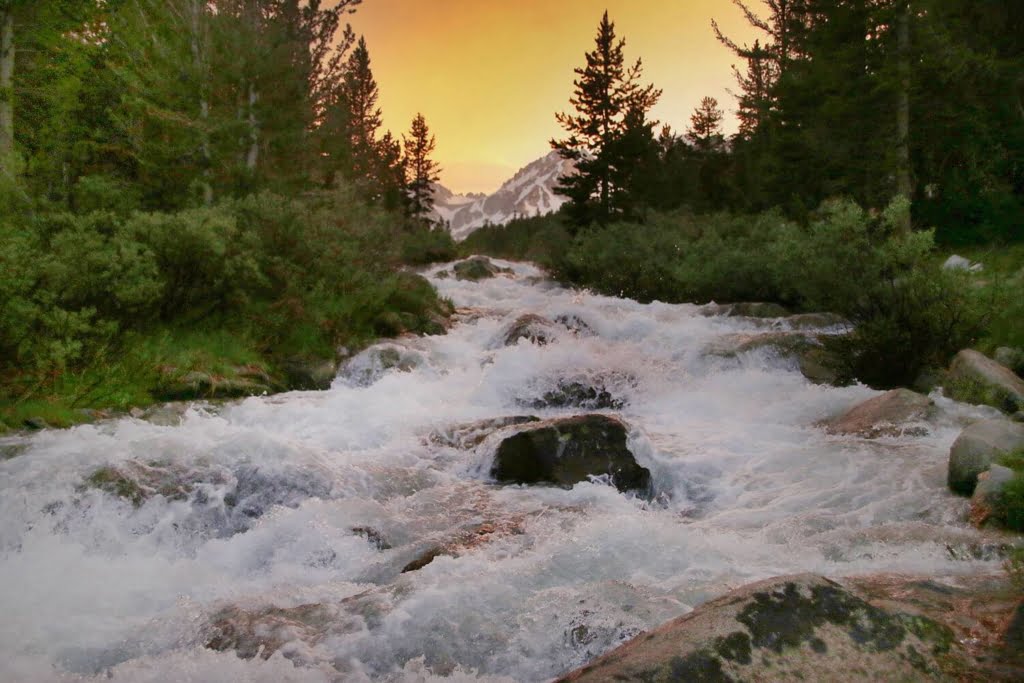 The sunset was pure magic: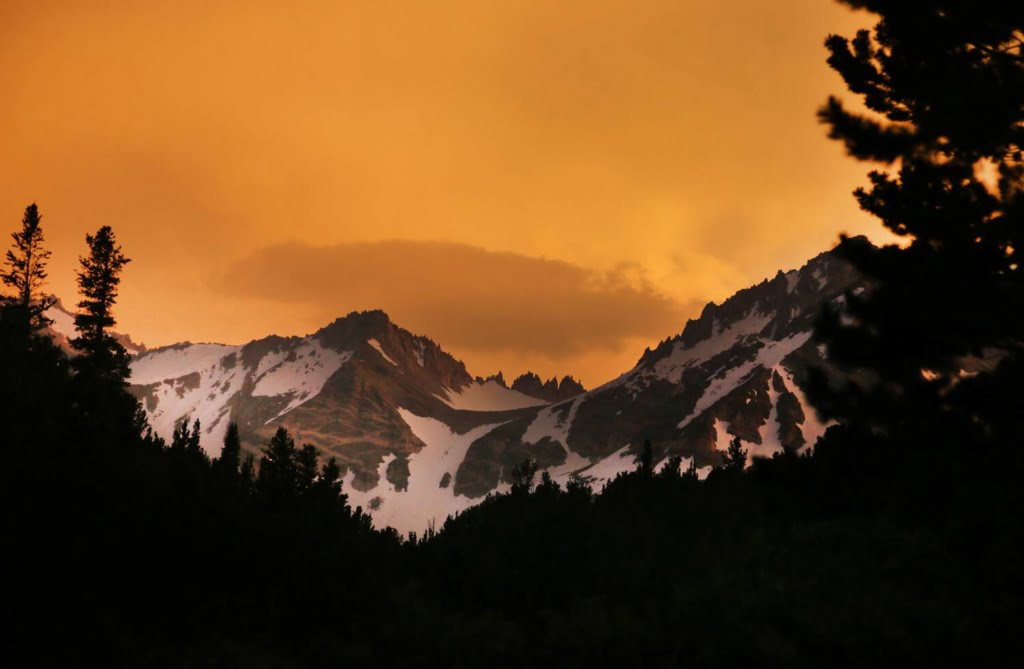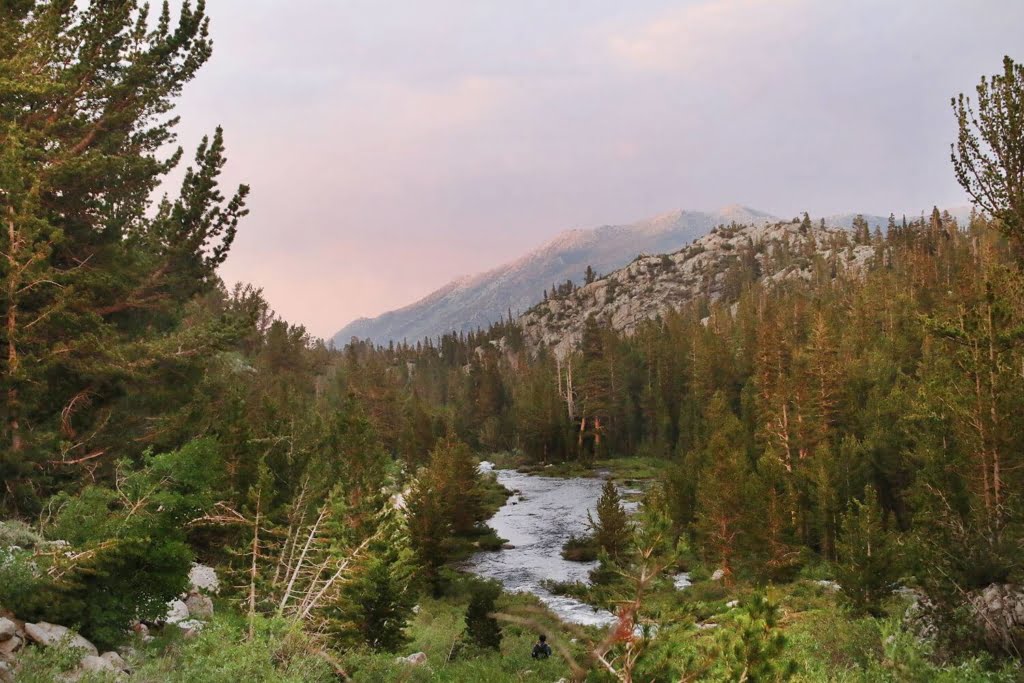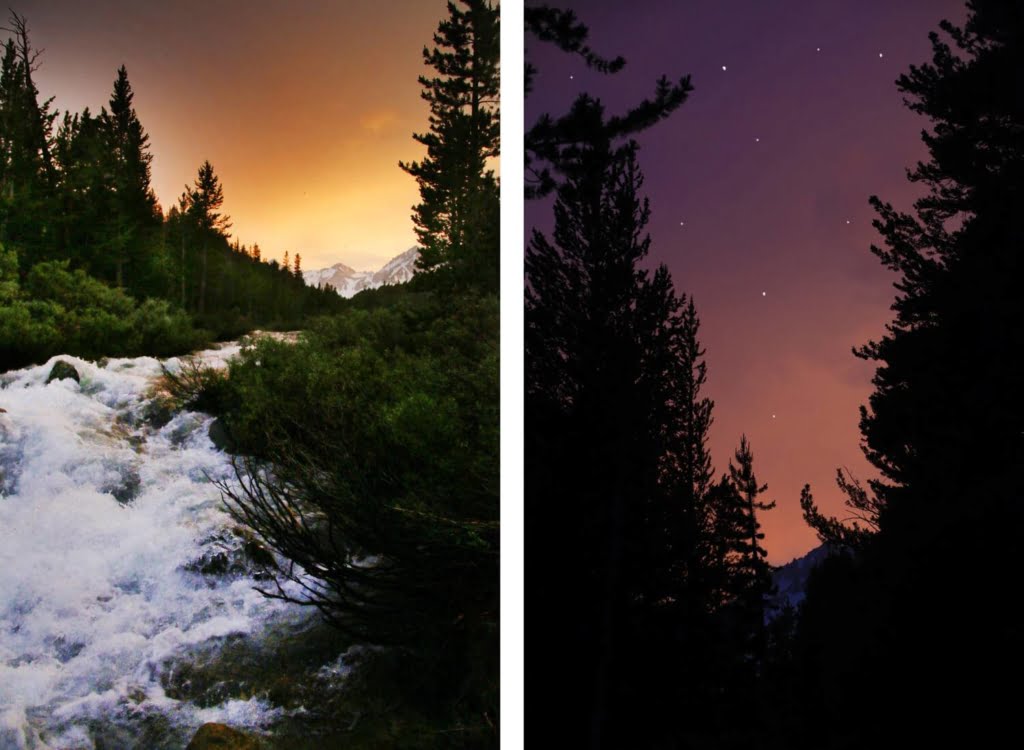 Check out our other site too!