Hello everyone! This is a friendly reminder that any of these fun places we may visit, we are a guest at. Please treat both businesses and trails with the utmost respect. We here at Hidden California follow the 'Leave no Trace' mantra, meaning whatever you bring with you comes back with you. If you see trash on a trail, please do your part to help remove it. Remember, we are not picking up trash from another person but instead cleaning up for Mother Nature. Happy adventures!
24266 National Trails Hwy
Oro Grande, CA 92368
34.690152, -117.339507
Dog-Friendly: Yes, but be mindful of temperature    Kid-Friendly: Yes
Hours: Sun-Thurs:7AM–6PM // Fri & Sat: 6:30AM–6PM
About Elmer's Bottle Tree Ranch:
Elmer's Bottle Tree Ranch is two acres of high-standing sculptures created from glass bottles and other oddities scattered around.  Elmer Long and his son, Elmer Long jr., are the creative duo behind this eccentric art forest. Long Sr. was an aviation engineer and had always been fond of the desert and all the mystique surrounding it.
He would take his son on excursions out here where they would camp, cook and shoot guns.  Long Sr. would spend hours researching the Mojave desert's ghost towns and mining camps and would mull around with his metal detector, unearthing old treasures.
In 1968, Long finally moved out to the Mojave desert where he met his wife, Linda.  It was also around this time that he got into collecting bottles.
A couple hundred bottles soon turned into a few thousand.  Once you have that many bottles, it's time to begin thinking of what to do with them all!
Today, Long says thousands of people visit his property annually.  "People come here and ask me to build them one.
I won't do it," Long says. "I've got no interest in money. I tell them, 'Build your own — there's my welding machine, you can use it.' How could it possibly mean anything to you if you don't make it yourself?"
Elmer's Bottle Tree Ranch is free to explore, although there is a tip box if you are feeling generous.  The years on the ranch of softened Long, who admits he once had a disdain of most people and was quick to anger.
Through the years of his artistic journey though, Long says he no longer has any worries or feelings of confrontation. "I'm not a people person," Long says, "But if you get a thousand people coming by to say howdy and shake your hand …. it changes you. It changed me. I'm a much better person than I was."
Personal Experience: We stopped by here on our way up Highway 395.  Keep in mind that in the summer this area gets HOT! The temperature was 100° when we visited which made for a short-lived adventure.  Regardless, the short time I did spent exploring I was deeply impressed.  It was more impressive in real life than all the photos I have seen!  Definitely a must-see location if you are road-tripping along this route!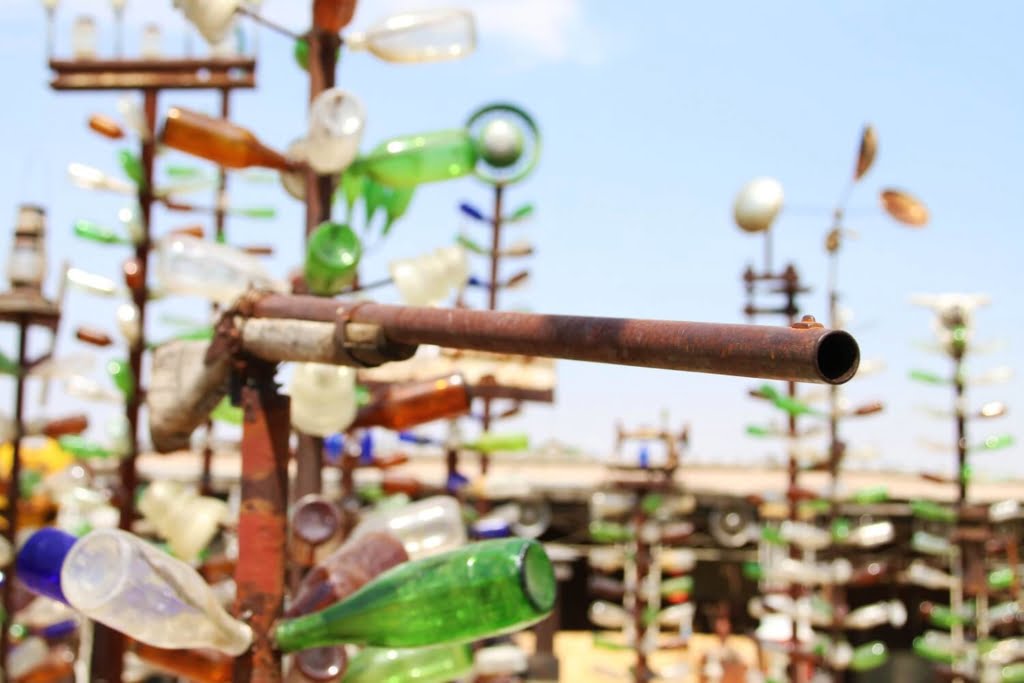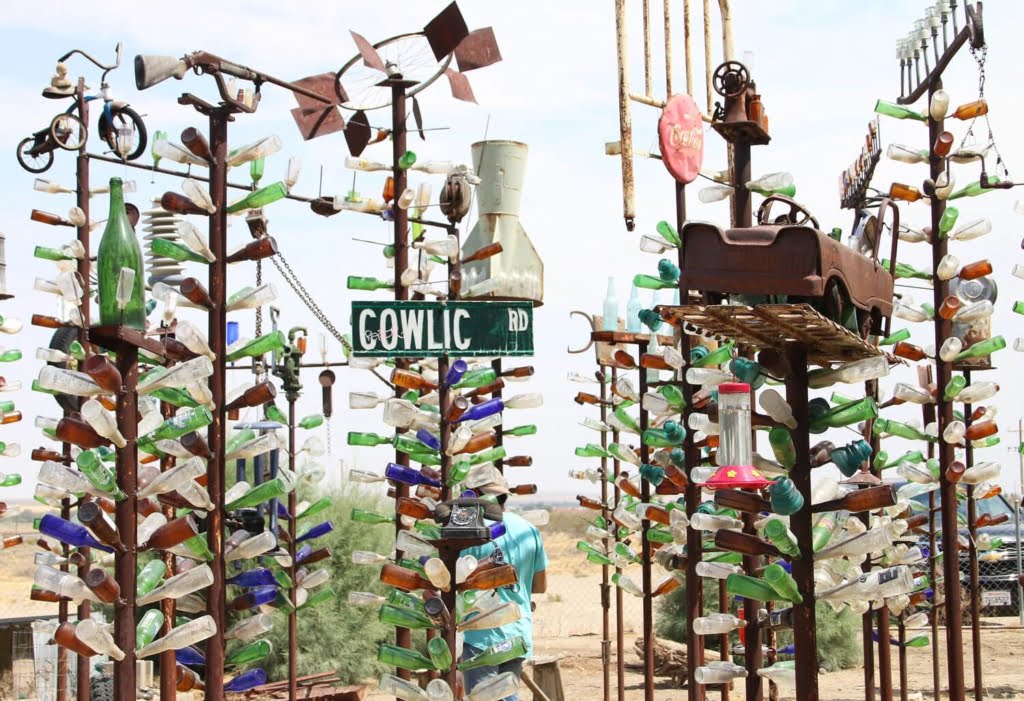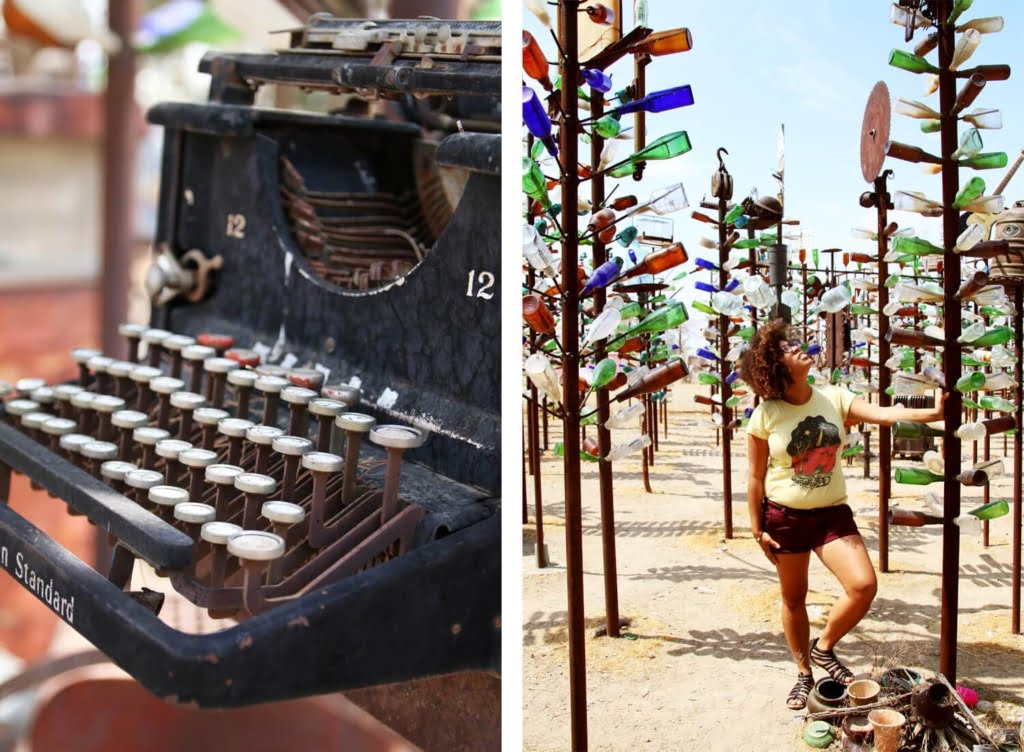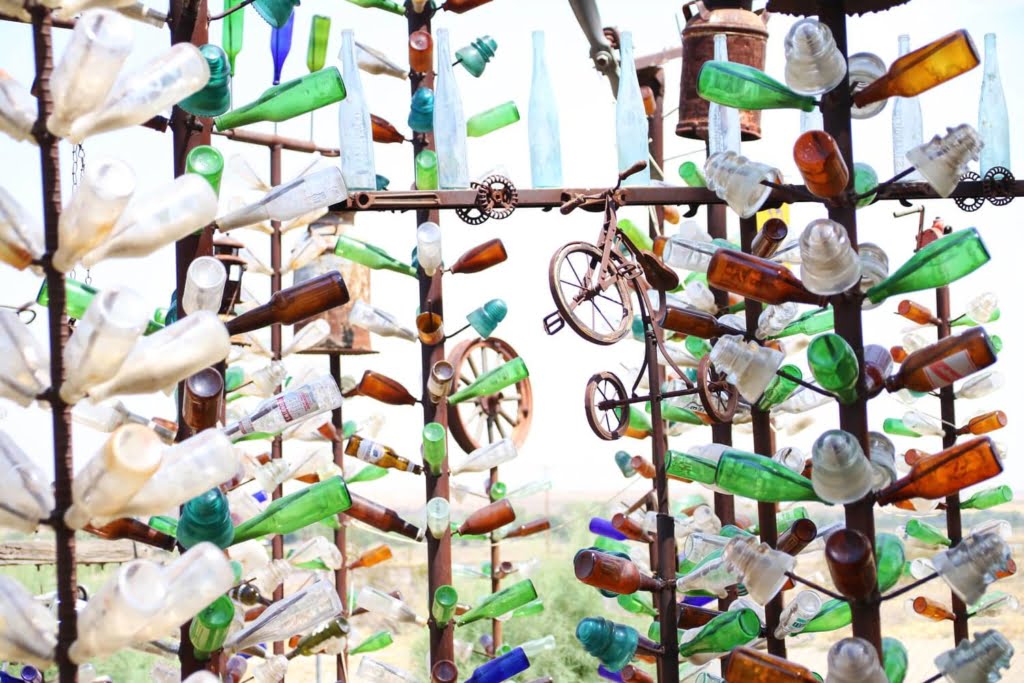 Check out our other site too!