Hello everyone! This is a friendly reminder that any of these fun places we may visit, we are a guest at. Please treat both businesses and trails with the utmost respect. We here at Hidden California follow the 'Leave no Trace' mantra, meaning whatever you bring with you comes back with you. If you see trash on a trail, please do your part to help remove it. Remember, we are not picking up trash from another person but instead cleaning up for Mother Nature. Happy adventures!

2594 Lillie Ave, Summerland, CA 93067
Hours: Open: Fri-Mo 11am-5pm // Closed: Tu-Th
(805) 565-5535    Website
Dog-Friendly: Yes    Kid-Friendly: Yes
About the Sacred Space:
I was really blown away by how beautiful the Sacred Space was in real life. It's definitely a spot that you must witness in person as photos can only do so much for the experience.  You would expect this spot to have an admission price, but instead all walks of life are welcome to explore their grounds.  Just make sure to come with respect!
It truly feels as if you've travelled to another country, with deep nods to Eastern culture. Every ounce of the Sacred Space is oozing with peace and beauty.
The property itself was actually built in the late 1800's and from what I read was an early settler's home.  There is a gigantic wisteria vine growing in the back that looks to be a century old. When we visited it was even blooming!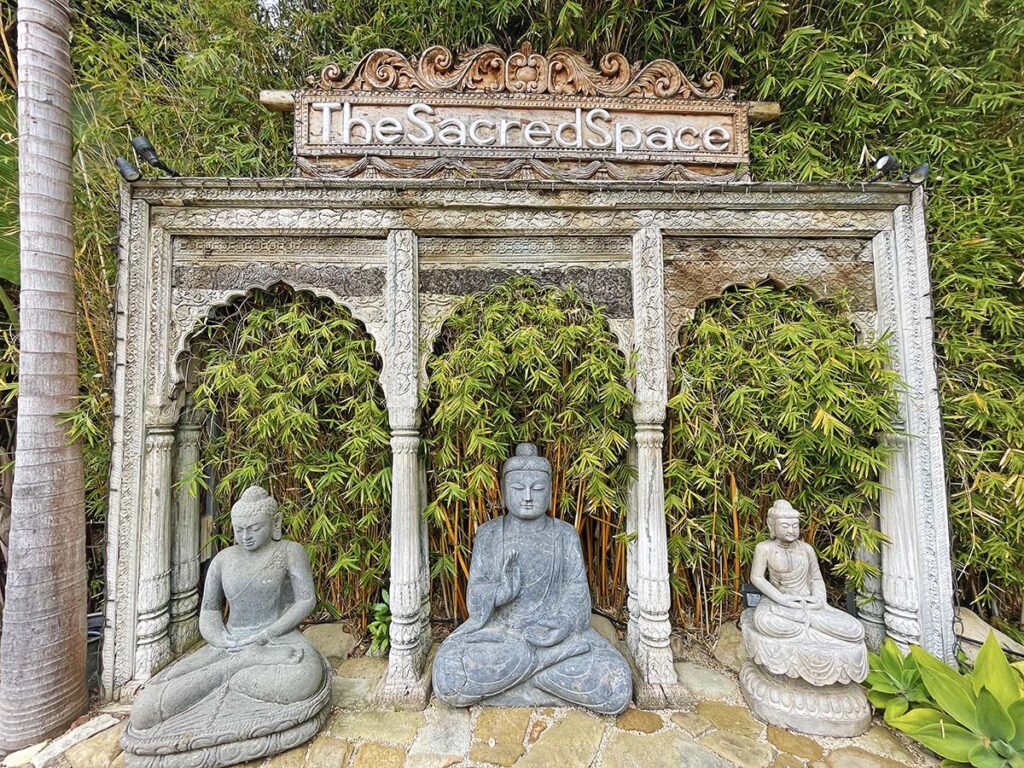 There is a boutique inside that is filled with beautiful treasures from all over the world.  Beads, stones, books, teas, incense and so much more. The shop has had a ton of celebrity visitors, by the way, as their photos are plastered on the walls.
While you're in the area, make sure to visit the Old Mission Santa Barbara!
The outside had several koi ponds and small waterfalls, statues, pavilions for meditating and I even heard they often bring out complimentary tea for your visit.  Although this spot is right next to the freeway, the tranquility of the property really pulls you away from that.  It is also a great practice for meditating to learn how to tune the traffic out.
They have yoga and other classes offered throughout the months so much sure to check out their website!