Hello everyone! This is a friendly reminder that any of these fun places we may visit, we are a guest at. Please treat both businesses and trails with the utmost respect. We here at Hidden California follow the 'Leave no Trace' mantra, meaning whatever you bring with you comes back with you. If you see trash on a trail, please do your part to help remove it. Remember, we are not picking up trash from another person but instead cleaning up for Mother Nature. Happy adventures!
Salvation Mountain
Beal Rd
Niland, CA 92257
33.254188, -115.472617
Dog-Friendly: Yes, in mild weather    Kid-Friendly: Yes
About Salvation Mountain:
Article & research by Allison Garton:
Leonard Knight loved God. He REALLY loved God and he wanted the whole world to know the message: God is LOVE. Leonard's devotion is an art installation over three stories tall, wider than a football field and covered by over 100,000 gallons of paint. Salvation Mountain is made entirely of locally-sourced adobe, straw, and donated paint.
The museum is fashioned from a conglomeration of found materials and covered in paint. Paint, paint, paint is the binding force that can withstand the harsh Southern California desert, sometimes applied with clothing to spread it wide and thickly.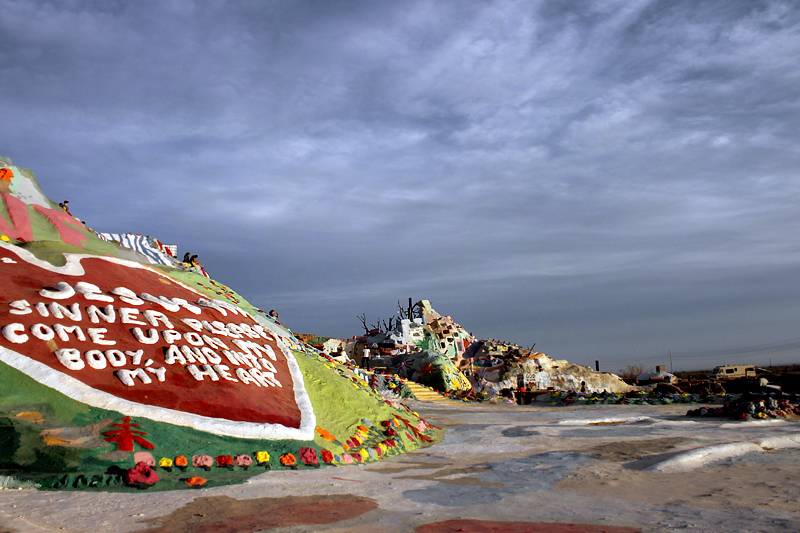 Leonard's thirty-year labor of love in the desert will continue to be maintained by volunteers after his passing in February 2014. When you visit, bring paint if you have any to spare. This mountain's not going to paint itself to keep out the elements.
This spot is more about the personal experience than the history which is well-documented, with another documentary in the works. During Leonard's cameo in Into the Wild, you can see the love and passion in his eyes.
That love shines like a beacon in the desert, and all should be blessed with the gift of standing before Salvation Mountain.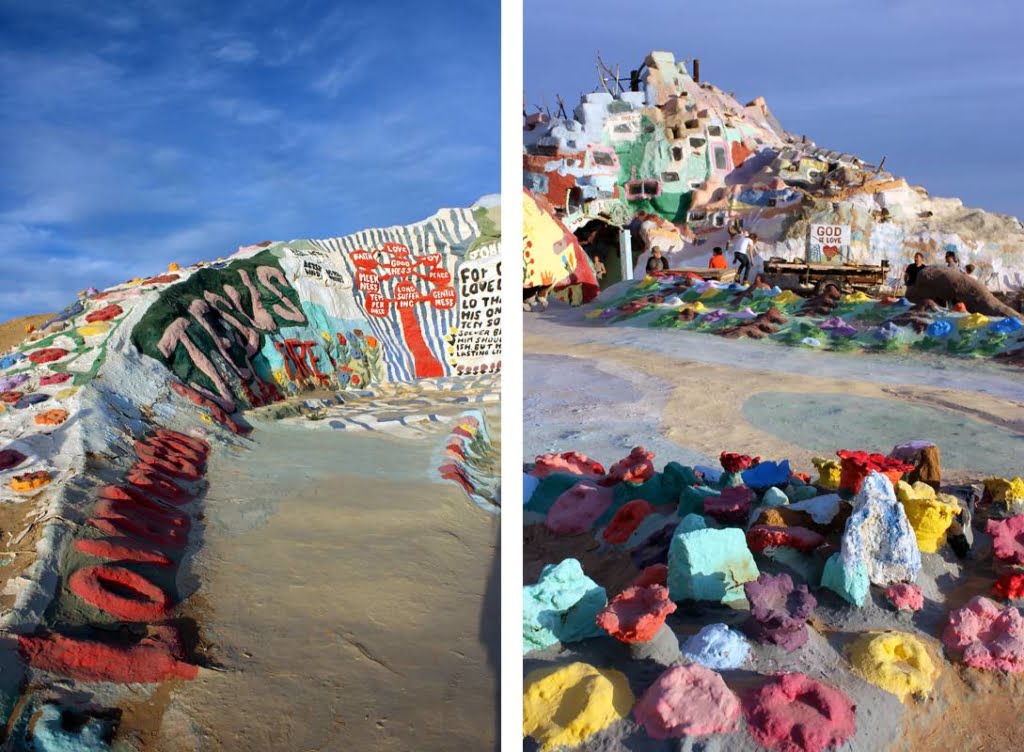 Personal Experience: After watching a Vice documentary on Slab City, the town which Salvation Mountain is part of, I completely understand why this huge monument is here specifically and why this man chose to do this.
In a city that smells strongly of rot & decay someone had to be the crusader! This town is absolutely fascinating. While you are reveling over this gigantic art installation, make sure to check out some of the abandoned homes of Salton City & the Salton Sea! You will not be disappointed (assuming you're into the strange & macabre).
Oftentimes it takes extreme situations to bring out extreme emotions. I have no clue what drove Leonard to this level of devotion to God, but I can imagine his surroundings had a large part to do with it. I feel this was a "Save us God" plea for him and the people of this town. I also feel like this is the universes way of getting us city folk out here to witness what these people are having to go through.
This is a place that many people and animals call "home" and it is truly disastrous. Why? Because it doesn't have to be this way. I am not just talking about Slab City but Salton City in general. I know many move here to get away and live off the grid and that is fine, but there are such dark and depressing undertones that you know something isn't quite right.