Hello everyone! This is a friendly reminder that any of these fun places we may visit, we are a guest at. Please treat both businesses and trails with the utmost respect. We here at Hidden California follow the 'Leave no Trace' mantra, meaning whatever you bring with you comes back with you. If you see trash on a trail, please do your part to help remove it. Remember, we are not picking up trash from another person but instead cleaning up for Mother Nature. Happy adventures!
Paramount Ranch
Paramount Ranch Rd.
Agoura Hills, CA
34.115573, -118.756310
818-597-9192
Dog-Friendly: Yes   Kid-Friendly: Yes
**UPDATE** Paramount Ranch burned down in one of the recent wildfires**
**Paramount Ranch was destroyed by the 2018 Woosley fire, but restoration efforts have since begin**
What now appears to be a ghost town tucked away in the Santa Monica hills of L.A. was once a very popular film set for almost every Western film in the early to mid 20th century. For over 60 years, this spot was used to mimic all types of locations such as Tombstone, AZ, Laredo, New Mexico, even Tom Sawyer's Missouri! Producers have even passed it off as 13th century China and colonial Salem.
Western movies used to be extremely popular in Hollywood but it's rather challenging to create a convincing Western set in the studio especially with wide open spaces needed. Instead of flying the cast all over the country, Paramount created a full-on fictitious town, known as a movie ranch.
Paramount Ranch is a 2,700 acre parcel of land in the hills between Malibu and the Valley. The property had rolling grasslands, oak & walnut groves, streams, and canyons – everything needed to create the illusion of wilderness. The studio built numerous large-scale sets on the ranch, including a huge replica of early San Francisco, European village streets, and a Old West town.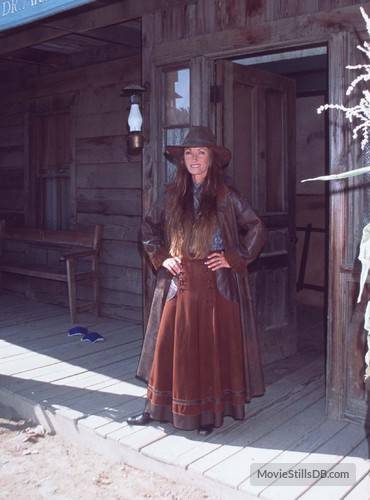 Today, many of those old sets are gone but a Western Town is here for visitors to admire, complete with a Main Street lined with typical storefronts, such with a Sheriff's office, a blacksmith/livery, a surveyors office, a saloon, a Post Office, barns, and a Wells Fargo office.
The streets were also filled with the numerous Hollywood stars who made movies here at Paramount Ranch, including Gary Cooper, John Wayne, Randolph Scott, Cary Grant, Henry Fonda, Alan Ladd, Burt Lancaster, Roy Rogers, Kirk Douglas, William Holden, Bob Hope, Jack Benny, Fred MacMurray, Charles Laughton, Glenn Ford, Robert Cummings, Basil Rathbone, Charles Ruggles, Cornel Wilde, Eddie Bracken, Joel McCrea, Ray Milland, Walter Brennan, Claude Rains, Robert Preston, James Garner and Warren Beatty.
Actresses who worked along side them at the Ranch included Lucille Ball, Barbara Stanwyck, Marlene Dietrich, Jane Russell, Helen Hayes, Susan Hayward, Paulette Goddard, Betty Hutton, Rhonda Fleming, Polly Bergen, and Diane Keaton.
There were far too many movies made at the Ranch to list here, but some of the more notable ones included: "Paleface" (1948) and "Son of Paleface" (1952), "Gunfight at the OK Corral" (1957), "Fancy Pants" (1950), "The Virginian" (1946), "Whispering Smith" (1948), "The Forest Rangers" (1942), "Miracle of Morgan's Creek" (1944), "The Perils of Pauline" (1947), "Geronimo" (1939), "The Streets of Laredo" (1949), "Buck Benny Rides Again" (1040), "Ruggles of Red Gap" (1935)," "Gunsmoke" (1931), "The Plainsman" (1936), "Hopalong Cassidy Returns" (1936), "Wells Fargo" (1937), "Union Pacific" (1938), "The Adventures of Marco Polo" (1938), "The Adventures of Tom Sawyer" (1938) and "Reds" (1981).
As Western films lost their lure, Paramount abandoned the ranch. Since 1980, the site has been part of a national park and reduced to 436 acres of land. The Western Town was rebuilt in 1984, and is still frequently used for Western filming.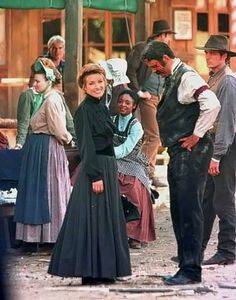 Best of all, the movie ranch is now open to the public, free of charge. In fact, this picturesque mountain ranch is also available for rent for weddings, group picnics, and other gatherings.
Many classic TV westerns such as "The Cisco Kid," "Gunsmoke," "Have Gun Will Travel," "The Rifleman" and "Bat Masterson" were shot here, plus more recent TV series such as "Charlie's Angels," "CHIPs" and "The Dukes of Hazard."
Paramount ranch is still a working movie ranch. For the several years, the Western Town was used on weekdays by CBS for shooting its recent Western hit, "Dr. Quinn, Medicine Woman" (starring Jane Seymour). Many of the "Dr. Quinn" sets remain to be seen today. (See the separate article about the tapings at the ranch.)
Other shooting goes on as well. Since the Dr. Quinn series stopped filming there, elaborate sets for 1999's "The Flintstones: Viva Rock Vegas" were built here (such as the Slaghoople mansion), and they also shot episodes of the TV series "Diagnosis Murder", "Sabrina, the Teenage Witch" and the 2001 season finale for "The X-Files" at the western town. Other productions included the TV miniseries "The 60's" (they shot the Woodstock scenes here), a Hallmark Channel movie, "Love Comes Softly", Vietnam scenes from the movie "Missing Brendan" (with Ed Asner) and a Volkswagon commercial (the one comparing the shape of the VW bug with arches of a Roman aquaduct).
The park also has restrooms, picnic tables (for about 100), and several hiking trails available, including a short 1/8 mile trail (to the south) overlooking willow shaded Medea Creek and the Western Town.
If you'd prefer to visit the ranch during a more festive time, try early May, when they hold the annual Topanga Banjo Fiddle Contest here at Paramount Ranch. It's a traditional music competition featuring live performances, dancing workshops, cowboy storytelling, food, arts & crafts. But while admission to the park is free, admission to this one day festival will cost you $9 (those under twelve are free). In 2000, the festival will be held on Sunday, May 21st. For more information about this year's festival, phone (818) 382-4819 or see the website below.