Hello everyone! This is a friendly reminder that any of these fun places we may visit, we are a guest at. Please treat both businesses and trails with the utmost respect. We here at Hidden California follow the 'Leave no Trace' mantra, meaning whatever you bring with you comes back with you. If you see trash on a trail, please do your part to help remove it. Remember, we are not picking up trash from another person but instead cleaning up for Mother Nature. Happy adventures!
About Casa Cody
When researching nice getaways and hotels, I am always looking for a unique experience.  Unique experiences tend to linger far longer in our memories than the average ones. We definitely satisfied those desires at Casa Cody.
Right away, what makes Casa Cody so unique is it is the oldest hotel in Palm Springs.  It is considered a boutique hotel, although on its way to becoming a resort as they are adding massage and facial services soon!
No detail has been left out here as you will quickly learn. They take both an eco and minimalistic approach at this hotel and have a keen eye for detail.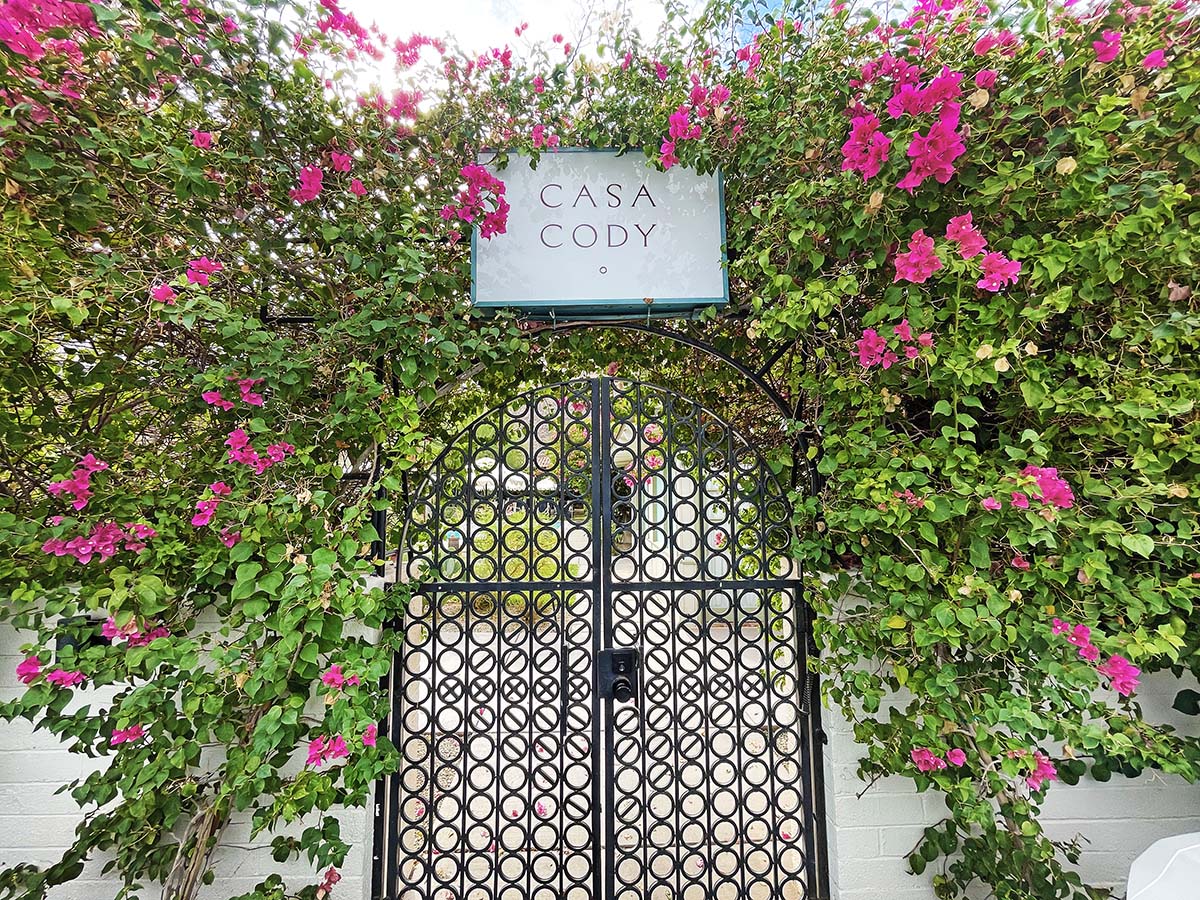 The History
The hotel is named after pioneer Harriet Cody, who moved out to Palm Springs with her architect husband after they were told it would help heal his health problems.
Many celebrities are said to have stayed here including the lovely Anais Nin and silent film star Charlie Chaplin.  I always love sitting back and imagining what it must have felt like during one of these fabulous gatherings over a century ago. Although time keeps pushing us forward, places like Casa Cody remain timeless.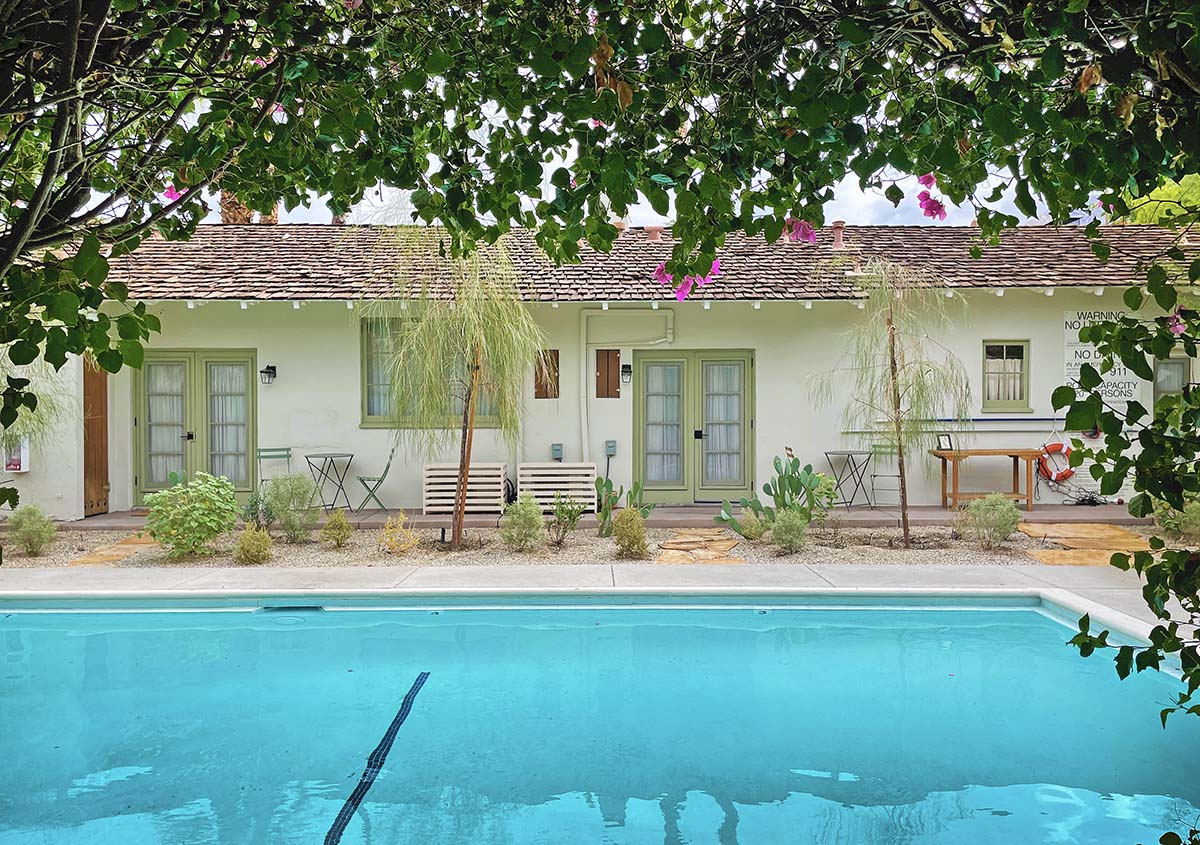 About Your Stay
The hotel has gone through many renovations and expansions since its beginning. Although it is much larger than it was during its humble beginnings, the original cottage still remains and early details have been preserved.
The layout is far from traditional, allowing you to stay in one-of-a-kind bungalows instead of a boxed-in hotel.
The décor is so well done.  I was taking a million photos not just for this article, but for the inspiration alone! There are simplistic elements throughout the grounds mixed in with modern Spanish revivalist touches.
The pools have minimal chlorine and I am HOOKED on their toiletry line.  Even after swimming my hair and skin felt SO amazing! There are two separate pools to enjoy, by the way, and a hot tub for the cooler months.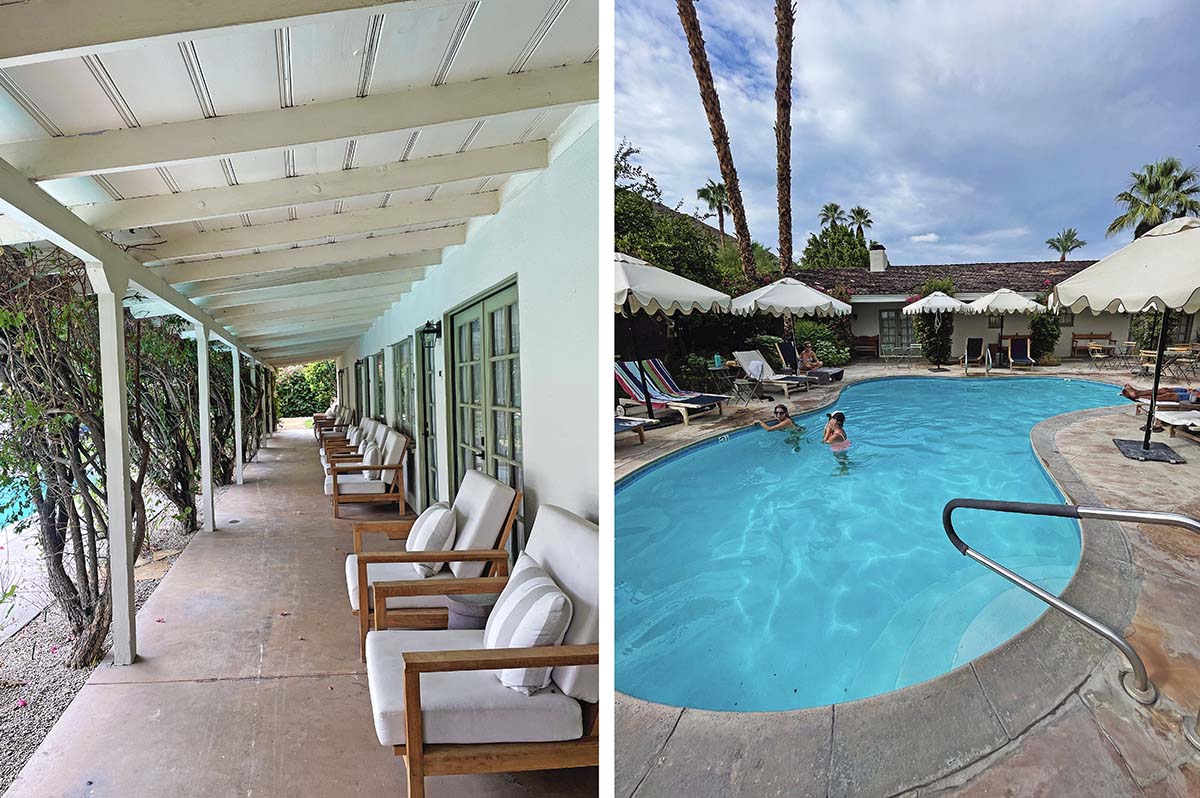 This is an extremely environmentally-friendly hotel as well. Just check out the toilet paper for instance! No dyes! Why are we having to use bleached toilet paper that's treated with formaldehyde anyway?
While you're in the area, make sure to visit the San Jacinto Mountains nearby!
And yes, they have AC in every room as this was a concern to me.  We visited in early September and although we got lucky and came right after a thunderstorm it was still hot!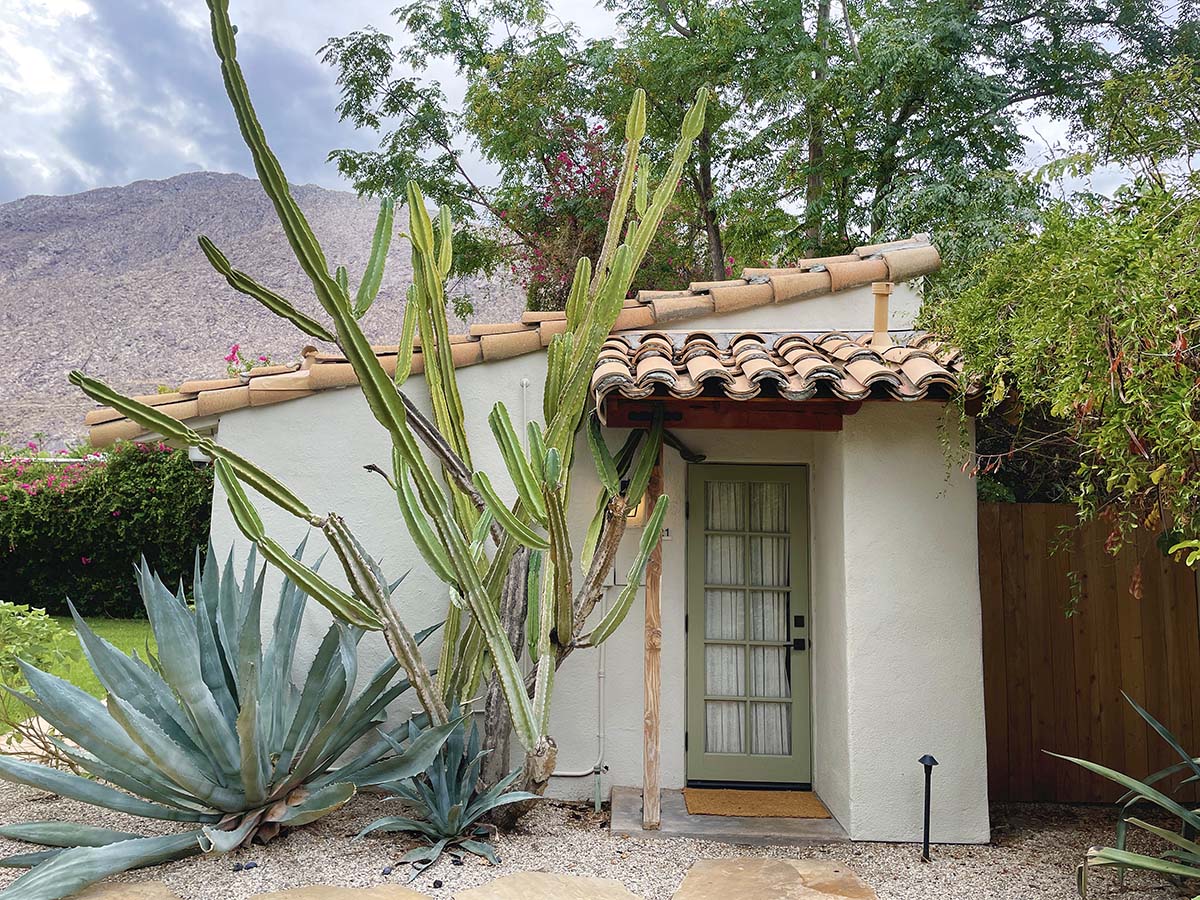 Since each room is unique, you will really want to comb over the details and decide which one is the best for you. None of these are a sub-par experience though and really it should just come down to how many beds you will need.  You can see the sleep options on this page.
A really special touch is that the entire property is filled with fruit trees.  Not only do they encourage you to pick a few pieces of fruit to enjoy, but you can then take the citrus to their marketplace and juice it! I've never seen this anywhere else I've stayed.  Such hospitality!
They also have beach cruisers you can borrow to ride around town (yes, they are 1 block from downtown)! This was another huge selling point as Palm Spring's downtown is full of life and interesting shops.  Definitely make sure to add it into your itinerary when visiting.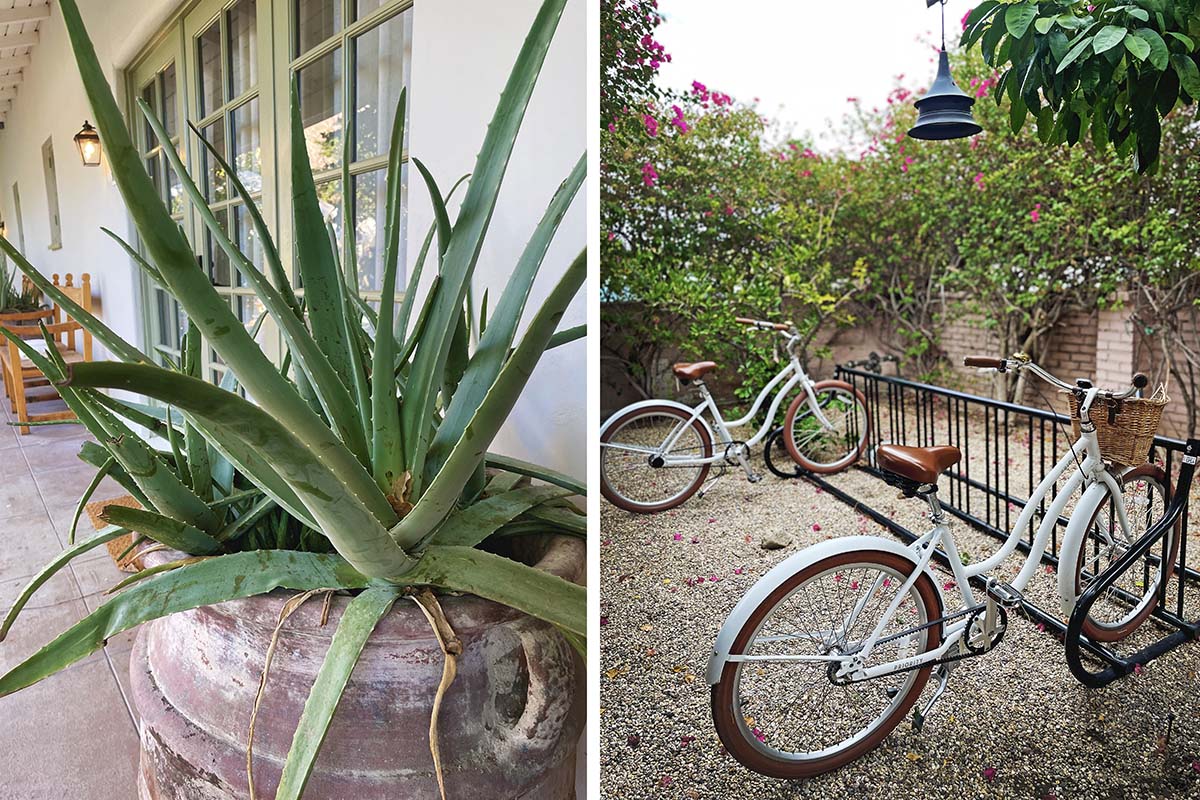 Their Marketplace
Whether you are in the mood for a delicious meal, a well-crafted drink (this includes mocktails!) or wanting to shop for some unique goodies, their marketplace has you covered!
First of all, absolutely take advantage of their free continental breakfast.  Those flavors will forever remain in my memory when I think back of my stay at Casa Cody. Everything is so fresh and gourmet all around.
Beyond that though they have a rather simple menu that is brimming with flavors that are sure to leave you satisfied.  We ordered food for both breakfast and a late lunch and left with full bellies and huge smiles afterwards.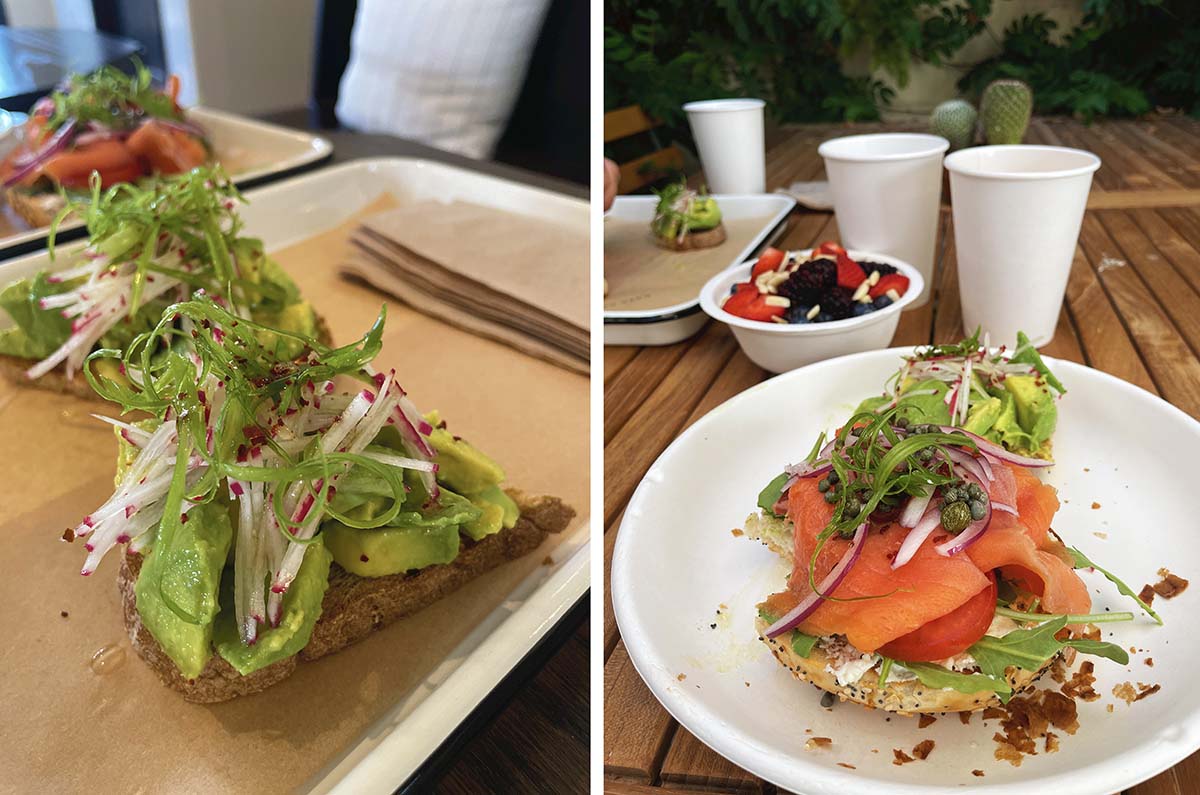 Here are some shots of our fabulous room, which really felt more like a studio home.  There was a special breakfast nook, fireplace and a huge bathroom with a seat in the shower & dual shower heads.  Very, very nice!
The kitchenette: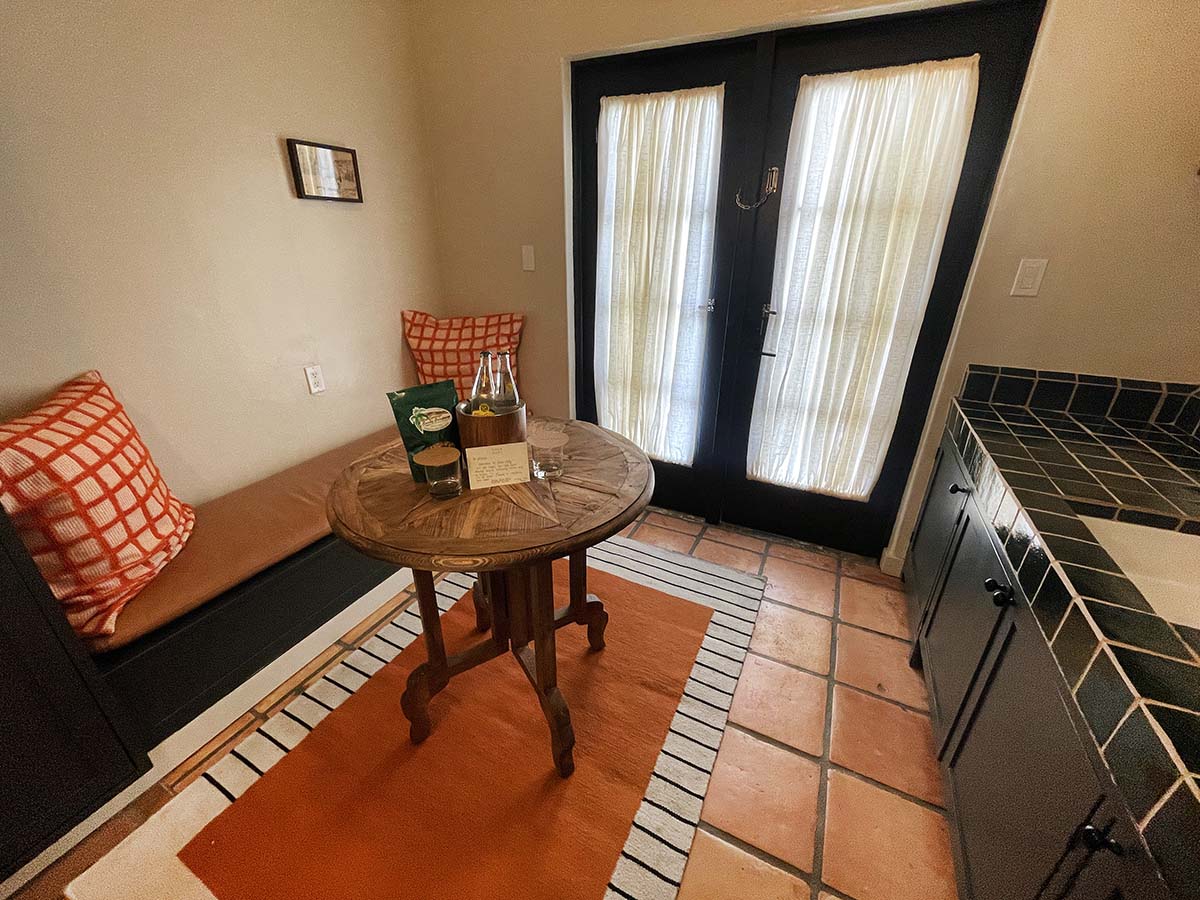 Eco toilet paper which I was really intrigued by.  Now I am wondering why all toilet paper is unnecessarily bleached!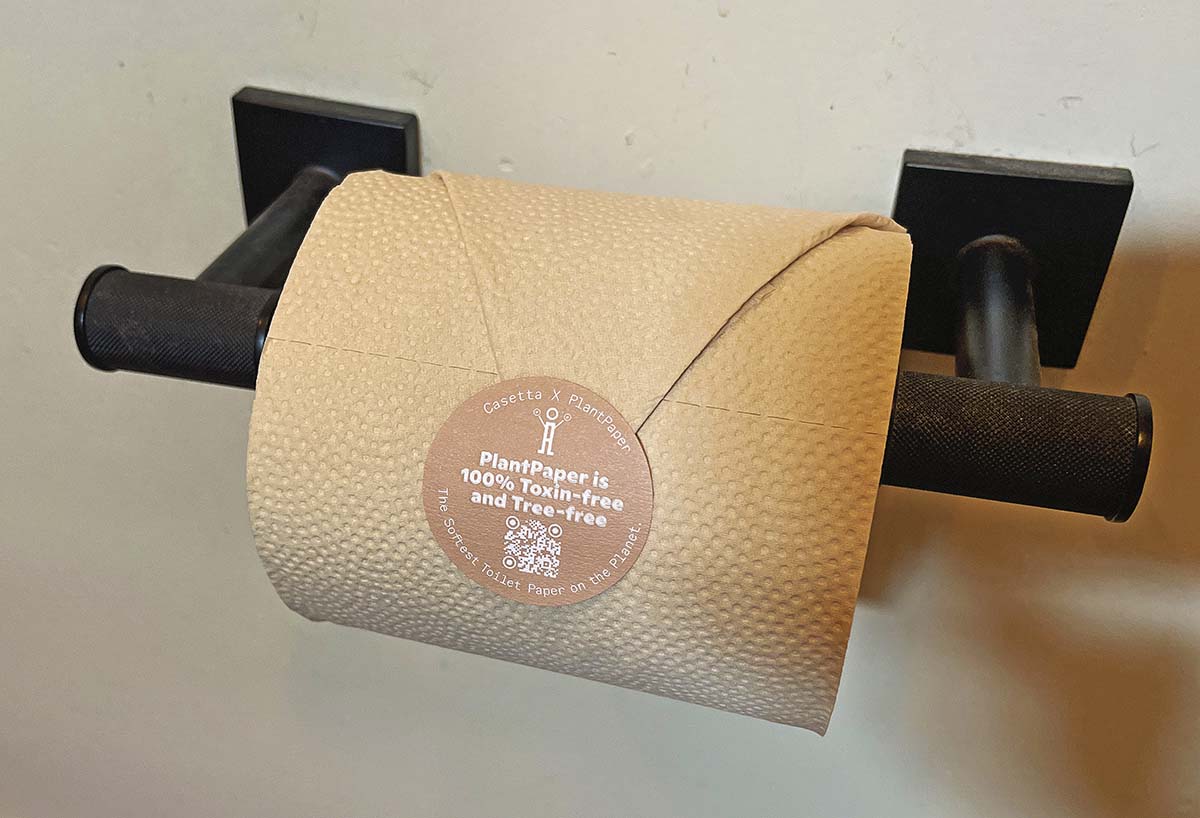 Patterns for days!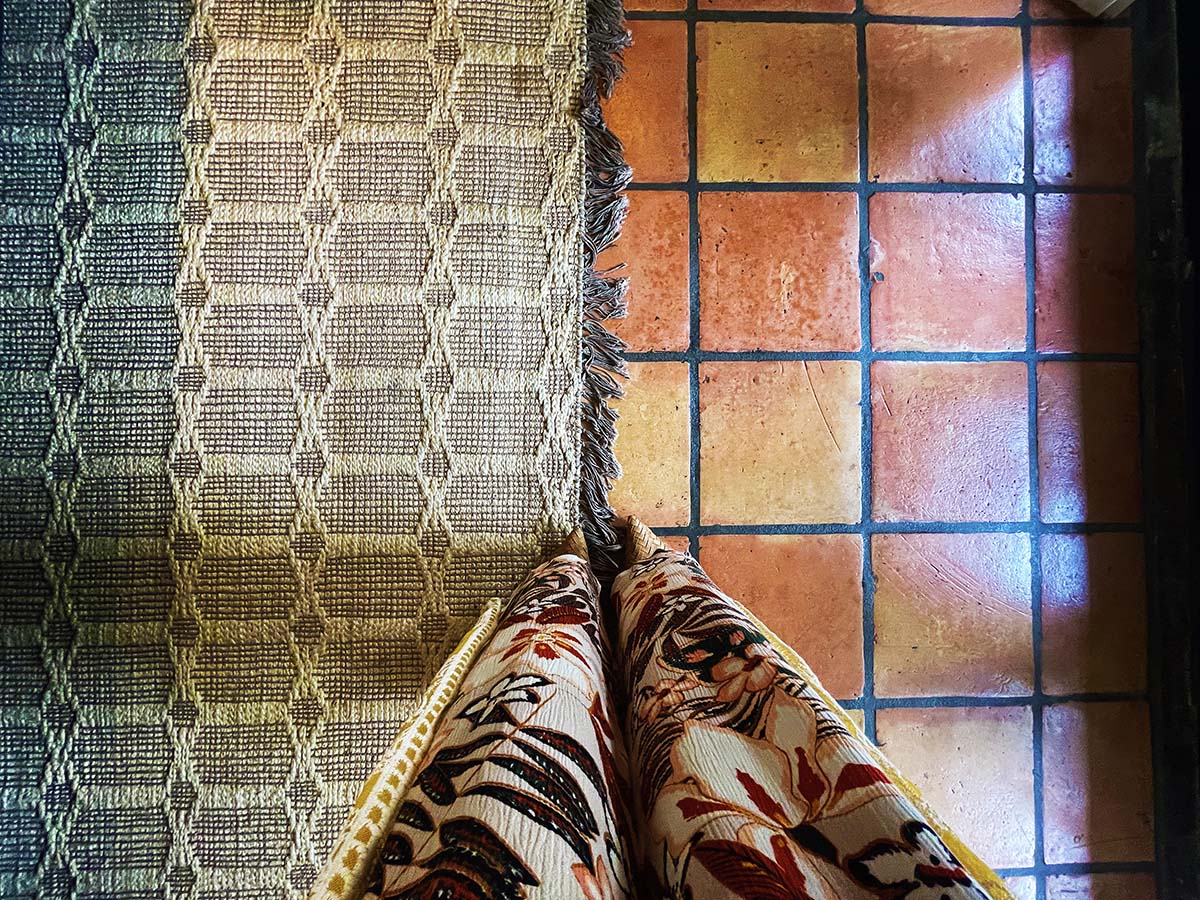 Their marketplace is also where the front desk is located.  The concierge here can really do it all!  Besides impeccable customer service, they are also amazing cooks and bartenders!  One of them even gave us an in-depth tour of the property along with the history of the place.  Make sure to tip them well!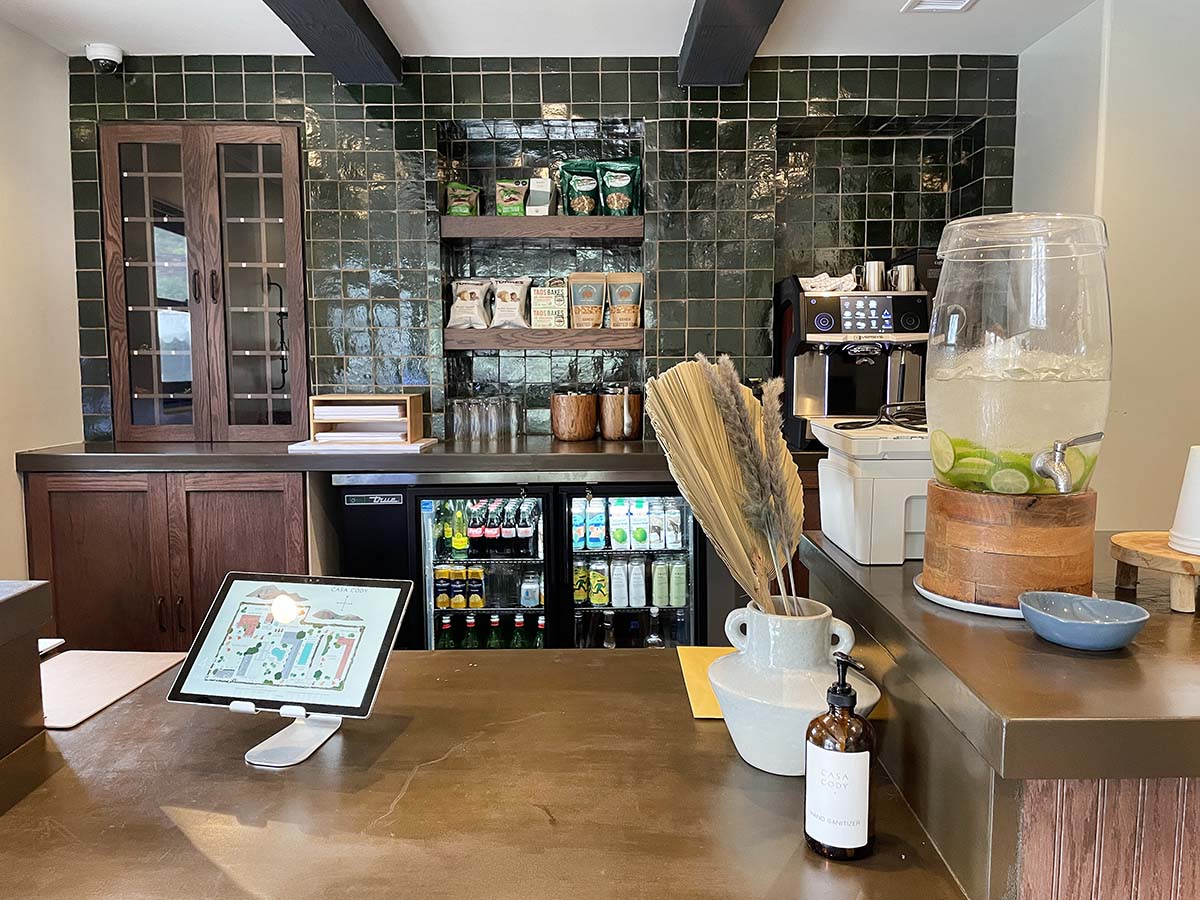 Our late lunch: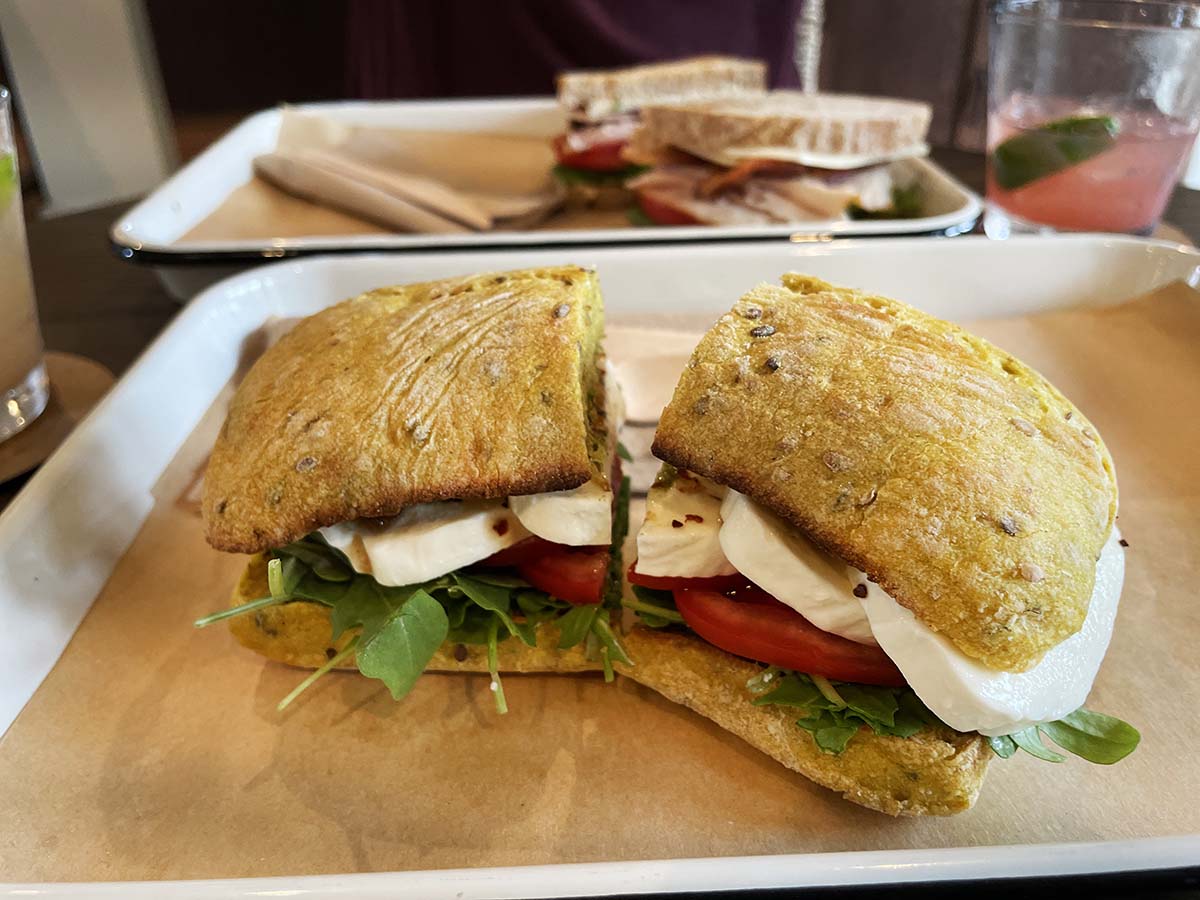 Look at their water dispenser!  It has options for sparkling, chilled, hot or alkaline.  These are the details I'm talking about!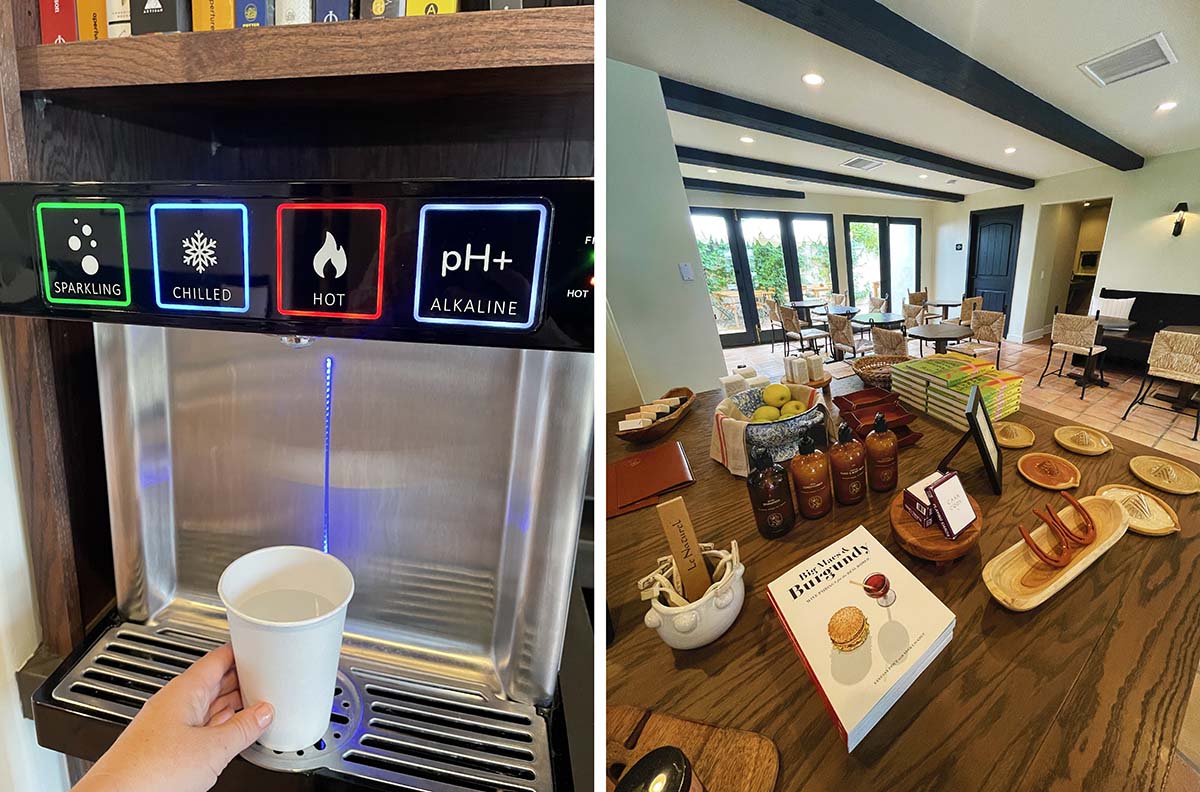 The shop is also in the same building with a ton of unique items that would make great gifts or purchases for your home: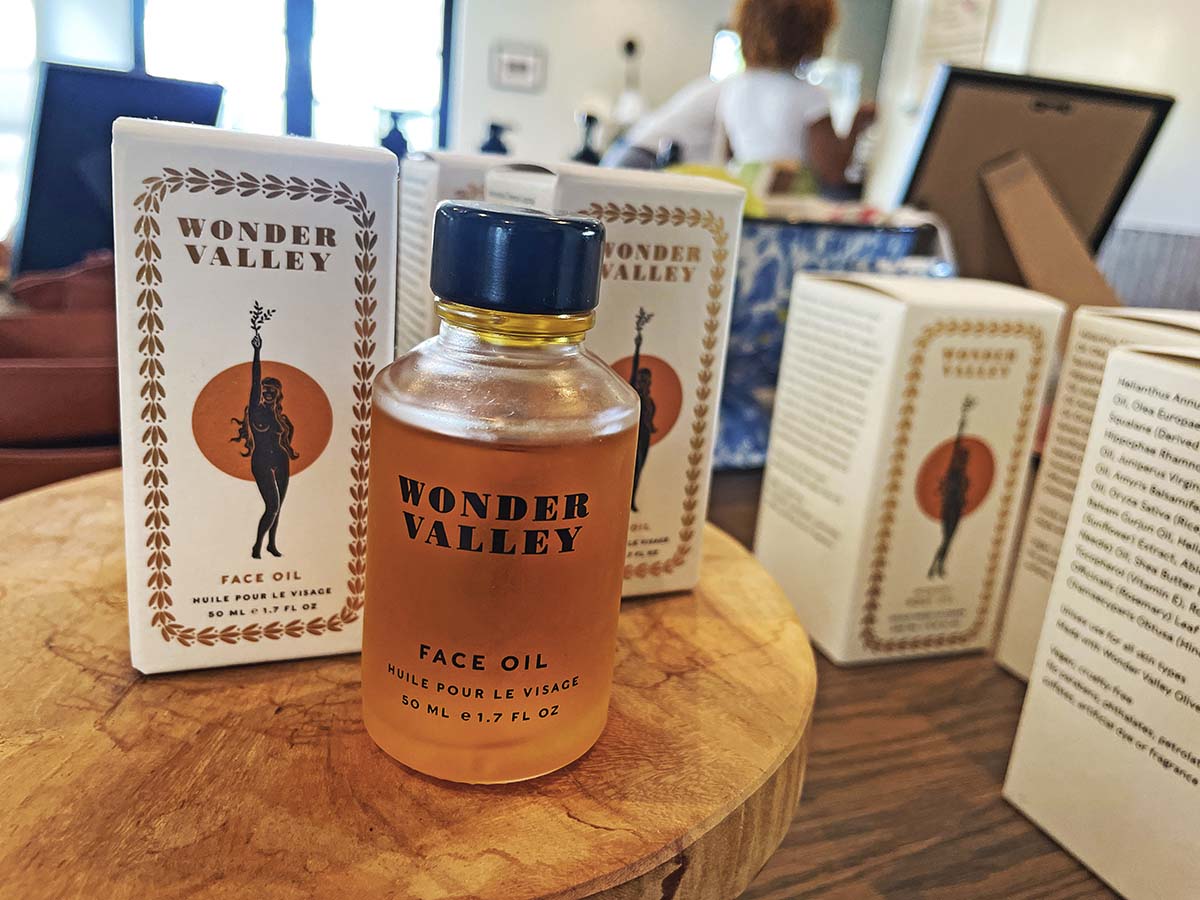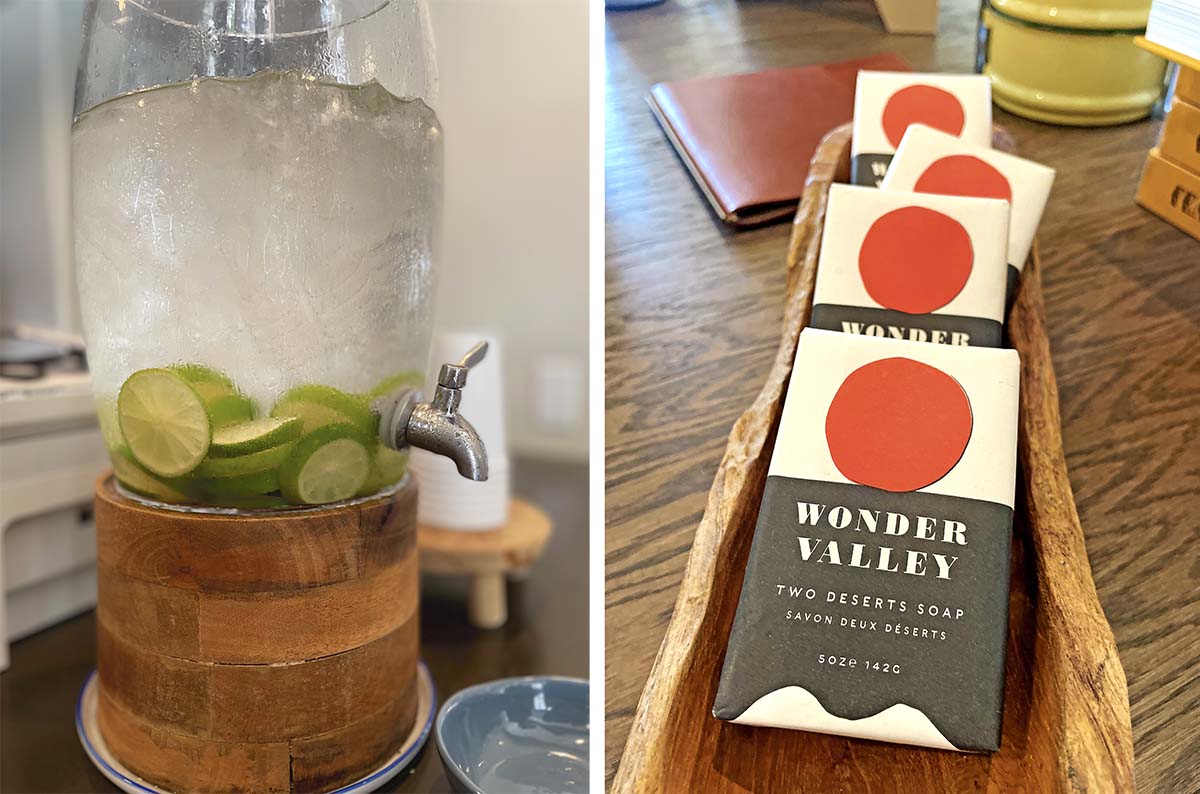 Our drinks were lined with volcanic salt.  So fancy!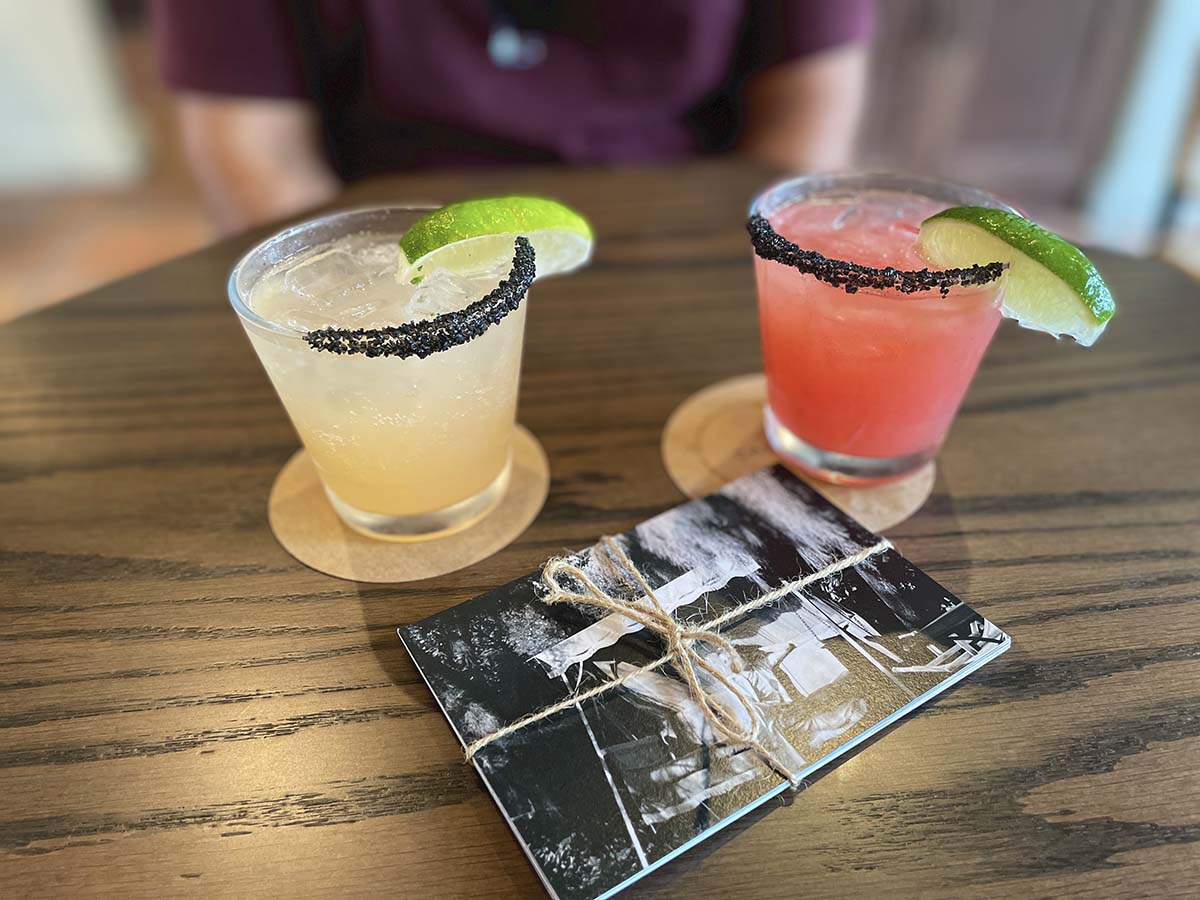 Large outdoor spaces make this the perfect spot to host a wedding or special event: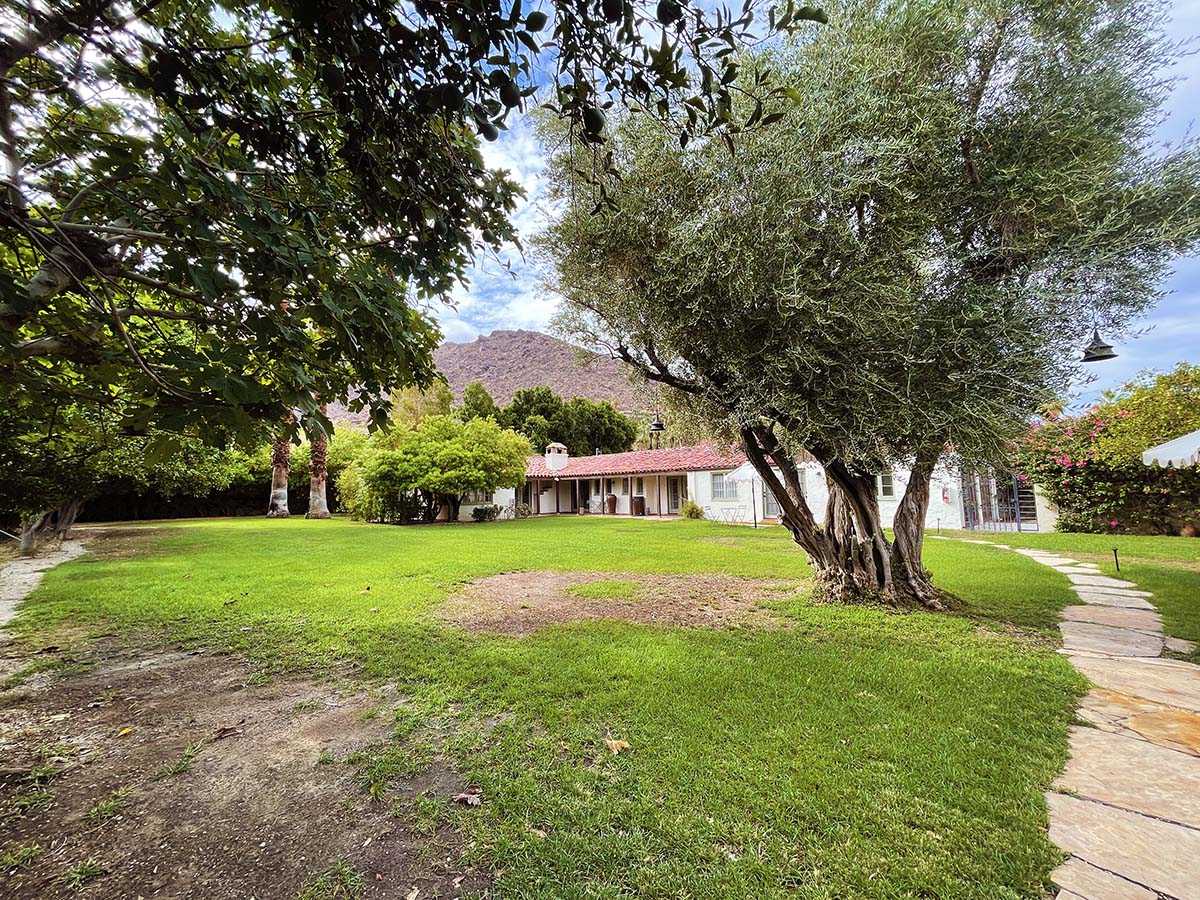 They have spa services coming soon so get ready!  We got to tour what is to come!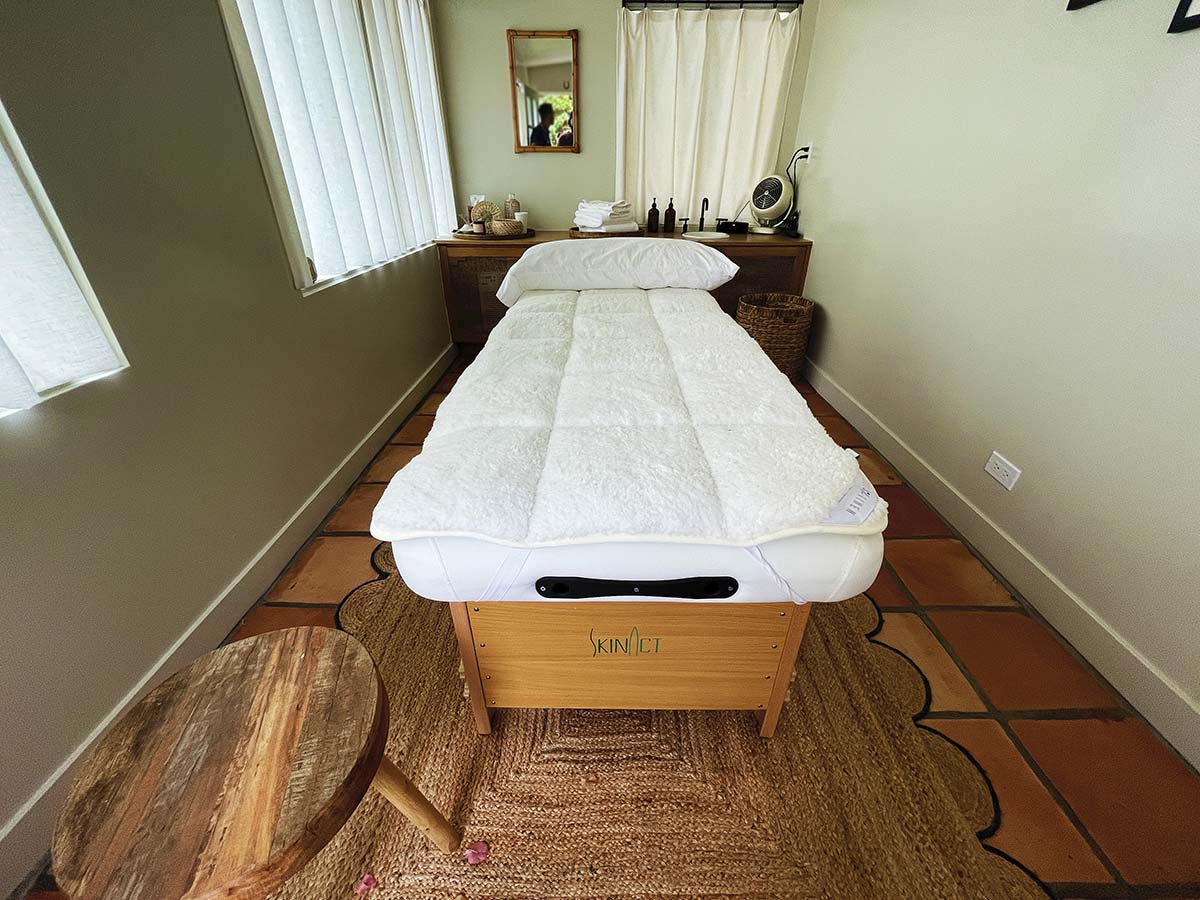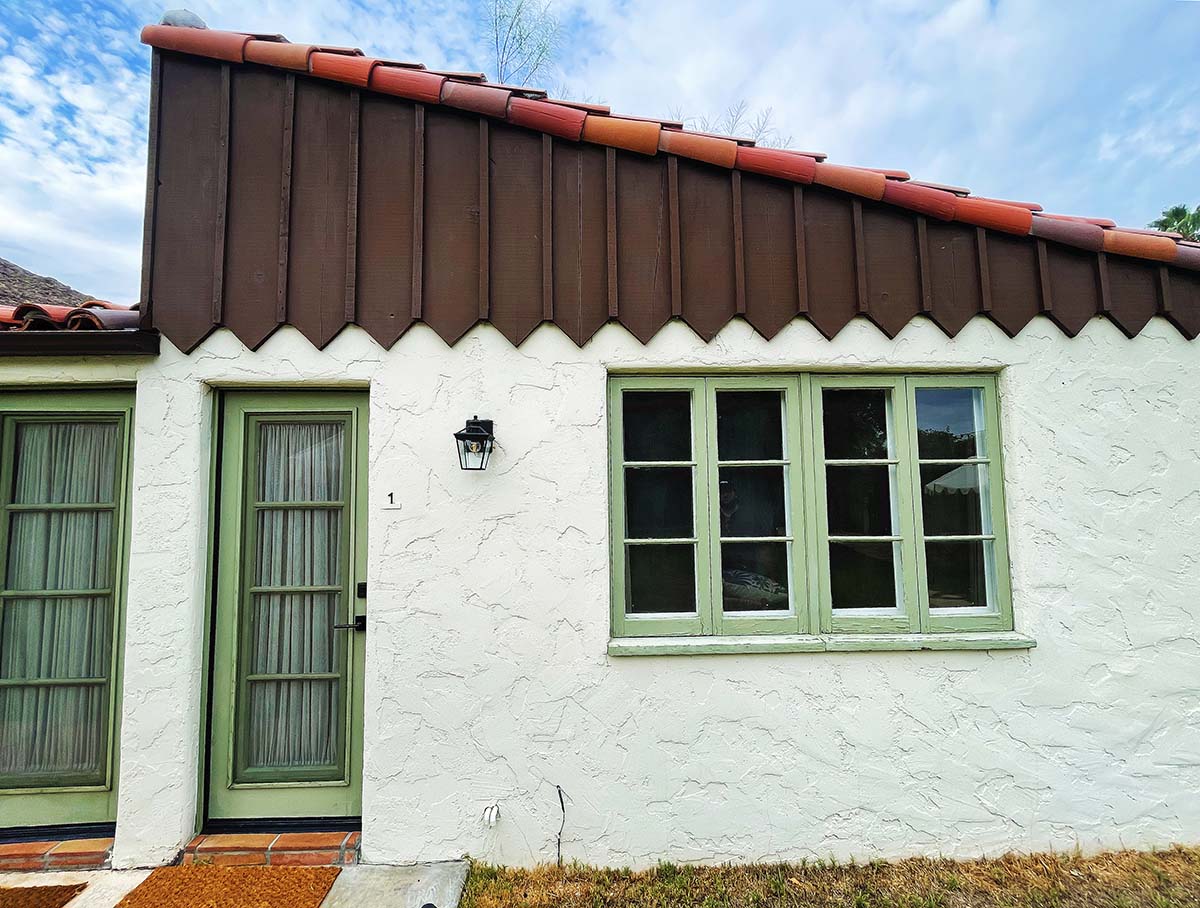 We also got to peek in several of the other bungalows. This is the Winter's House: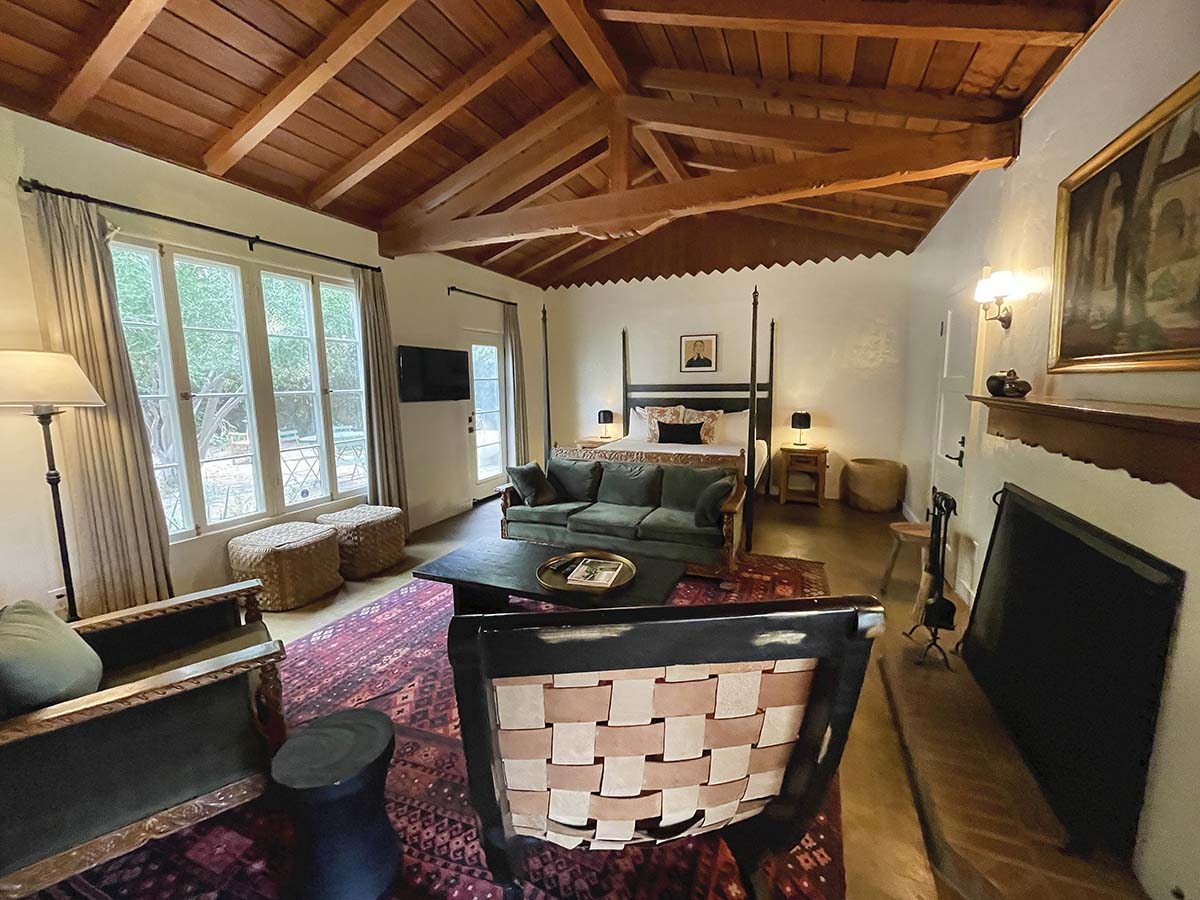 Yes, it has an outdoor tub and private patio!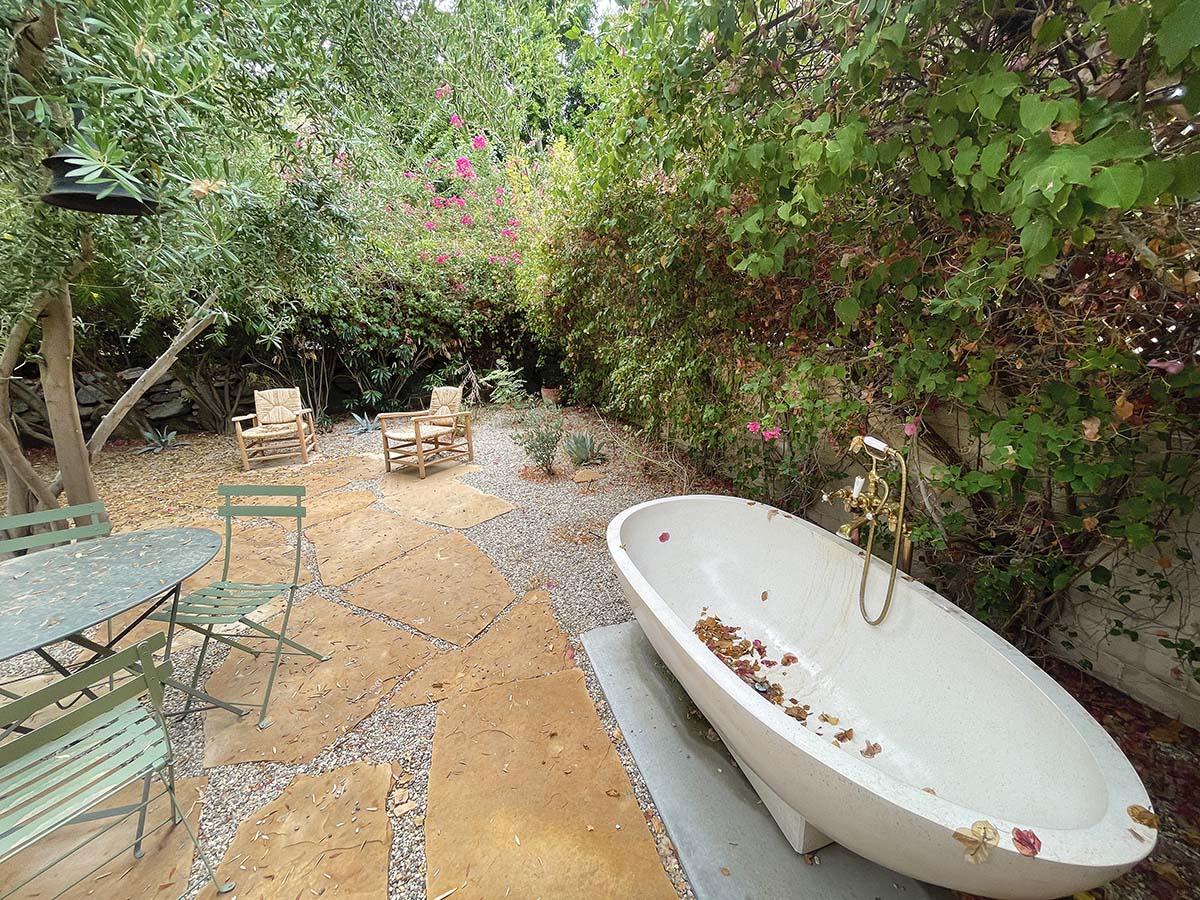 They have a small garden with fresh herbs and vegetables that they use in the meals they prepare: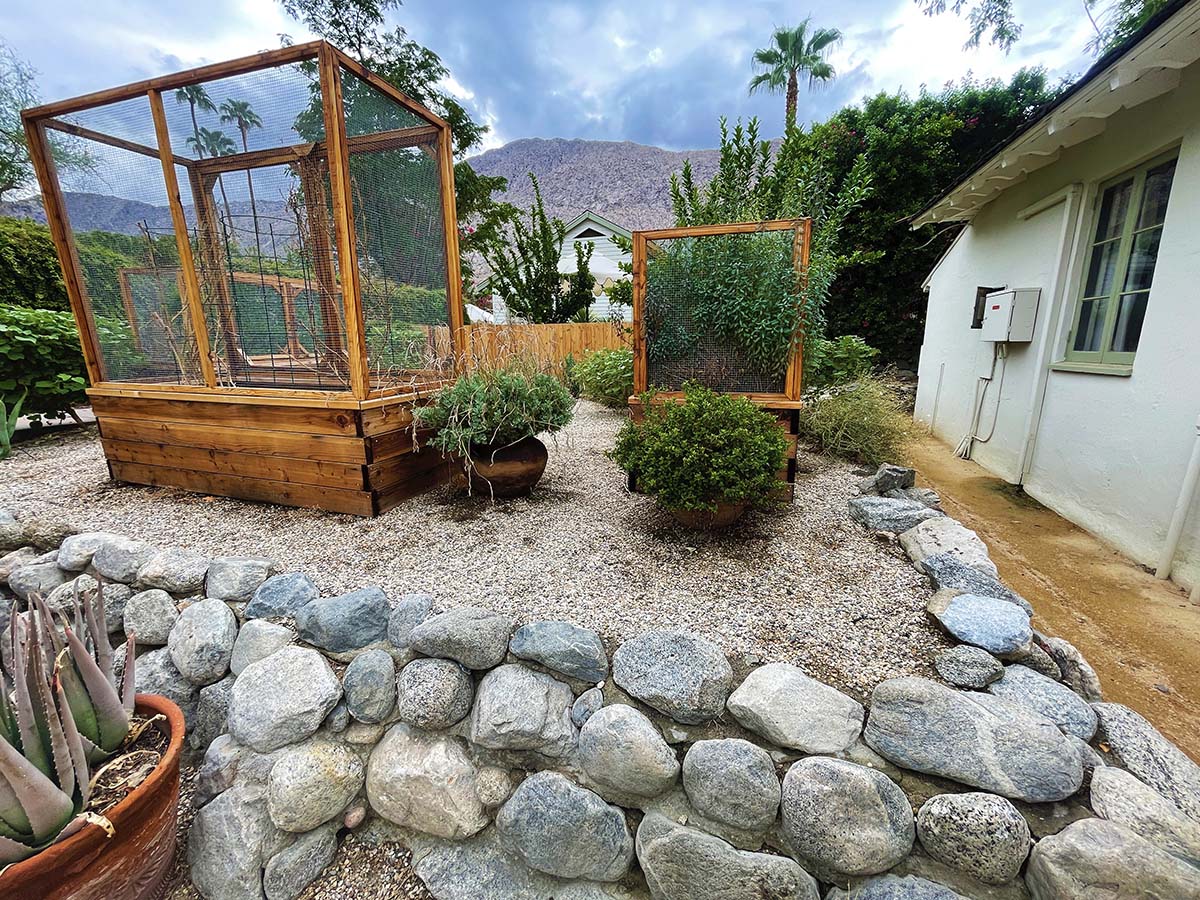 The hot tub:
Olympic Cottage: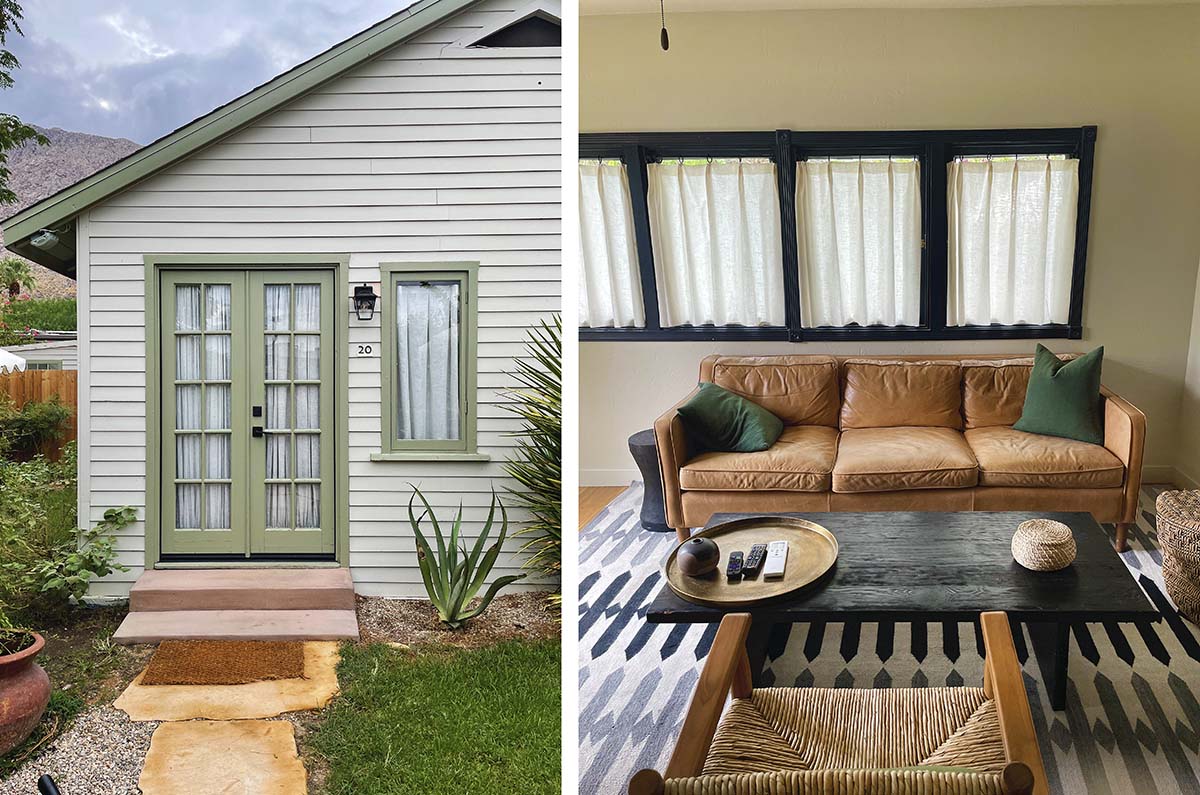 Which also has its own private patio: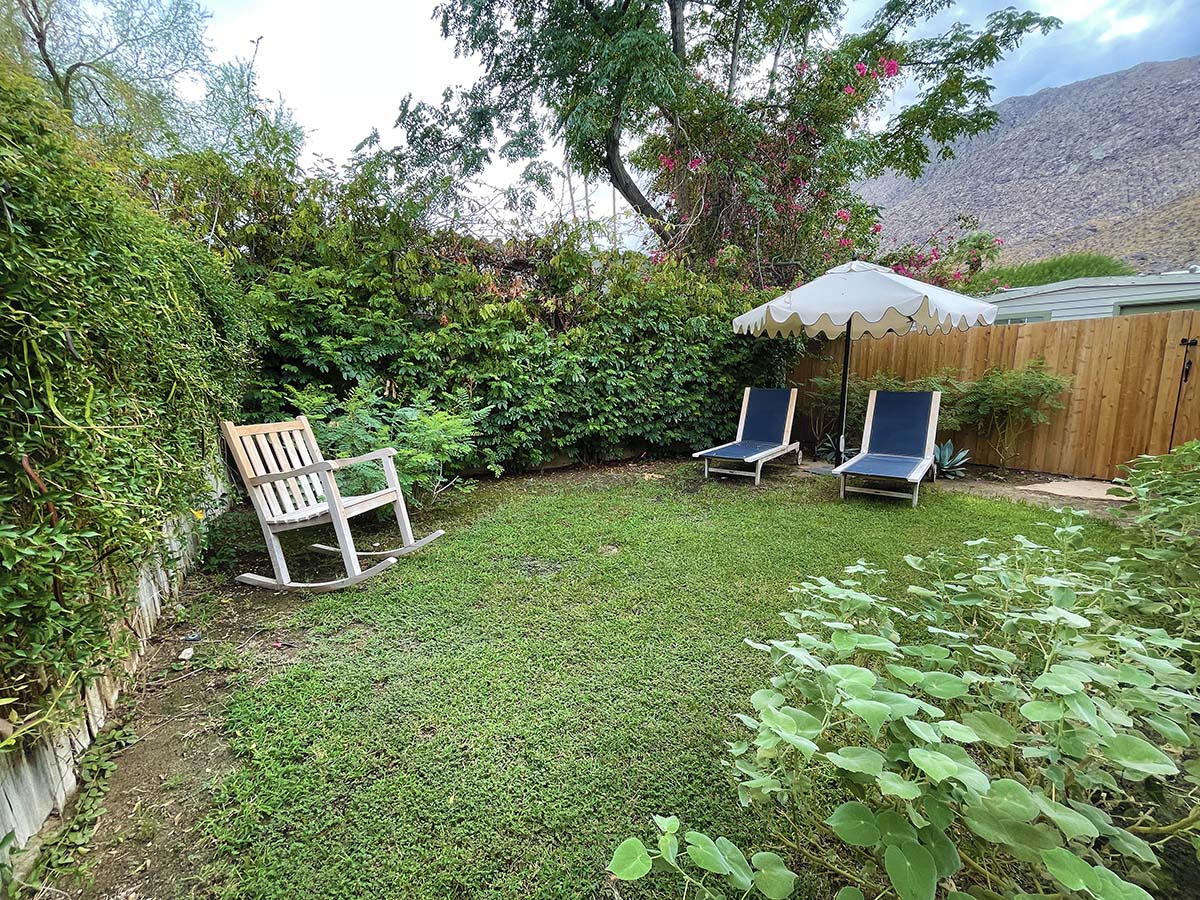 They have an underground wine cellar which I guess will soon be open to guests for a unique wine experience.  It was like exploring an underground bunker.  Super cool!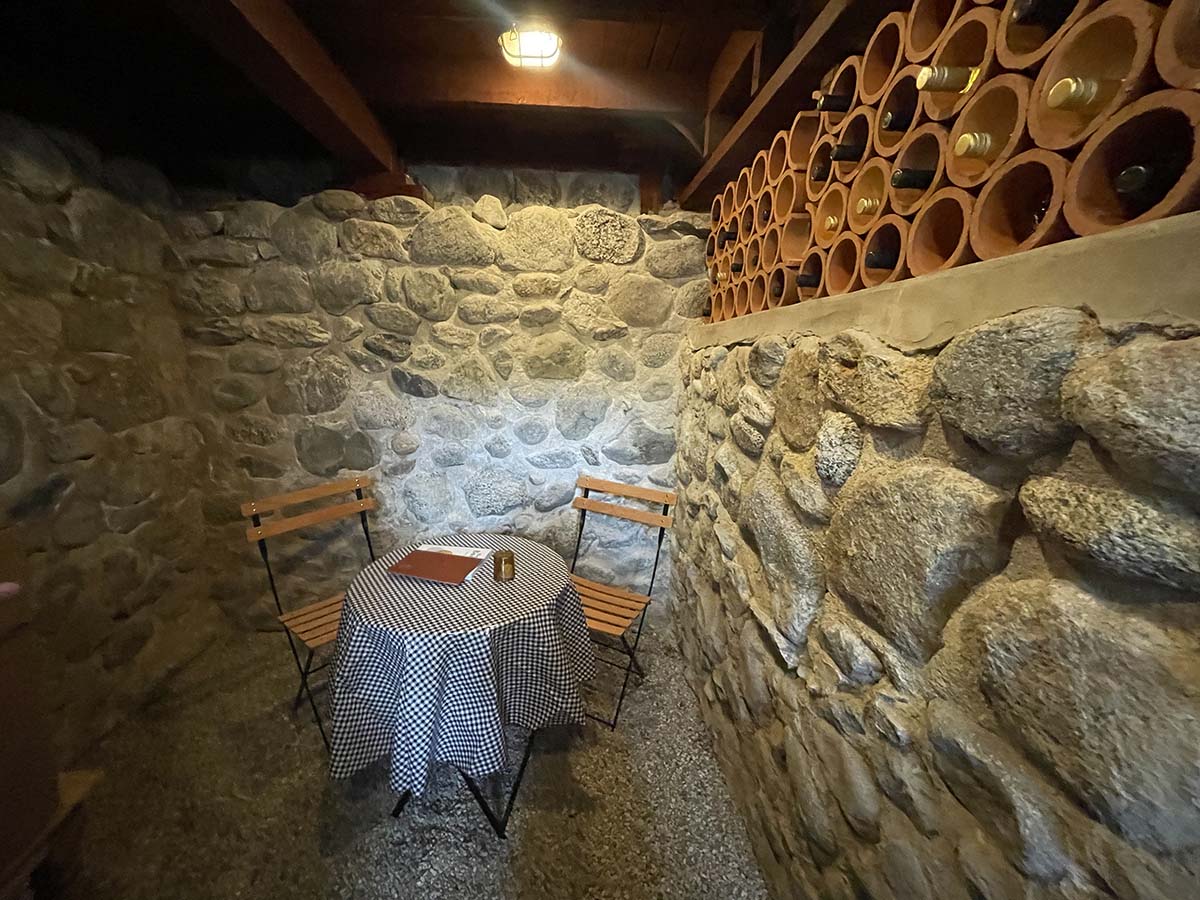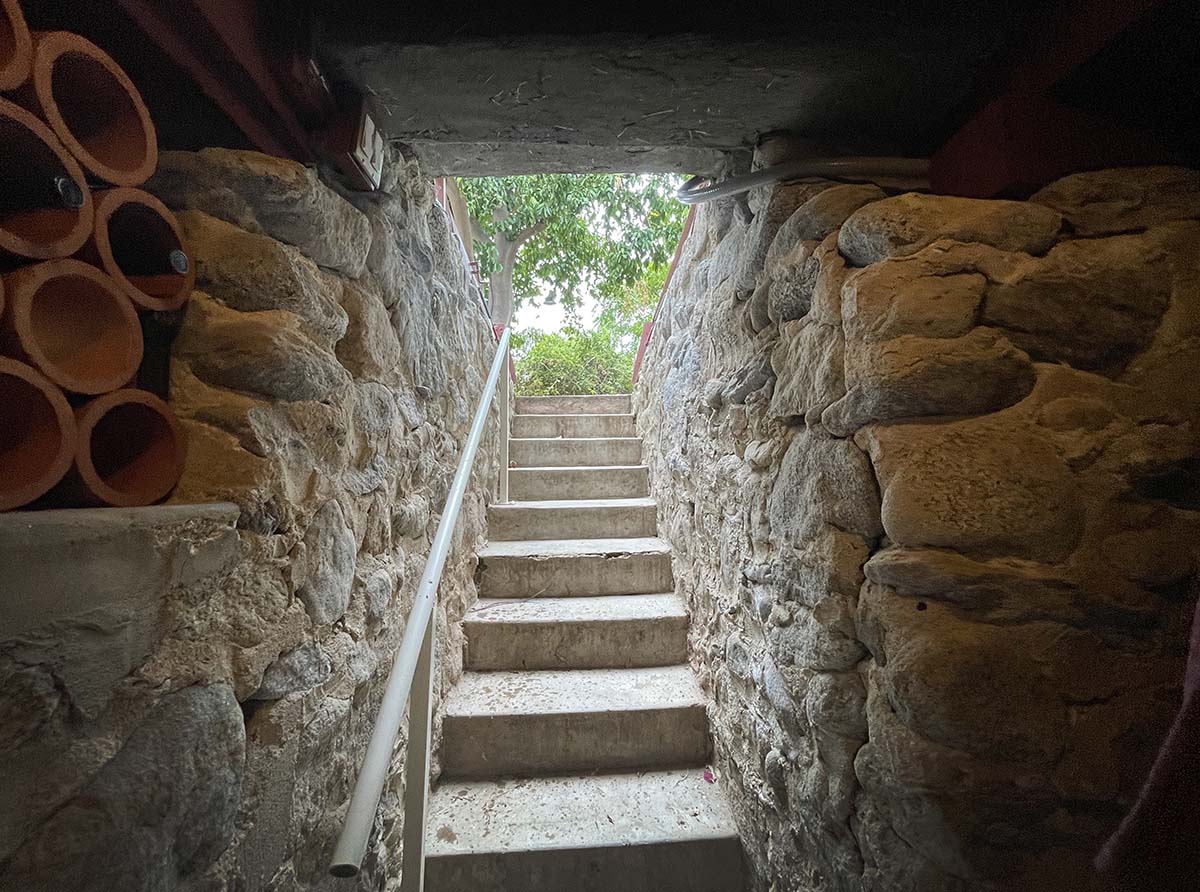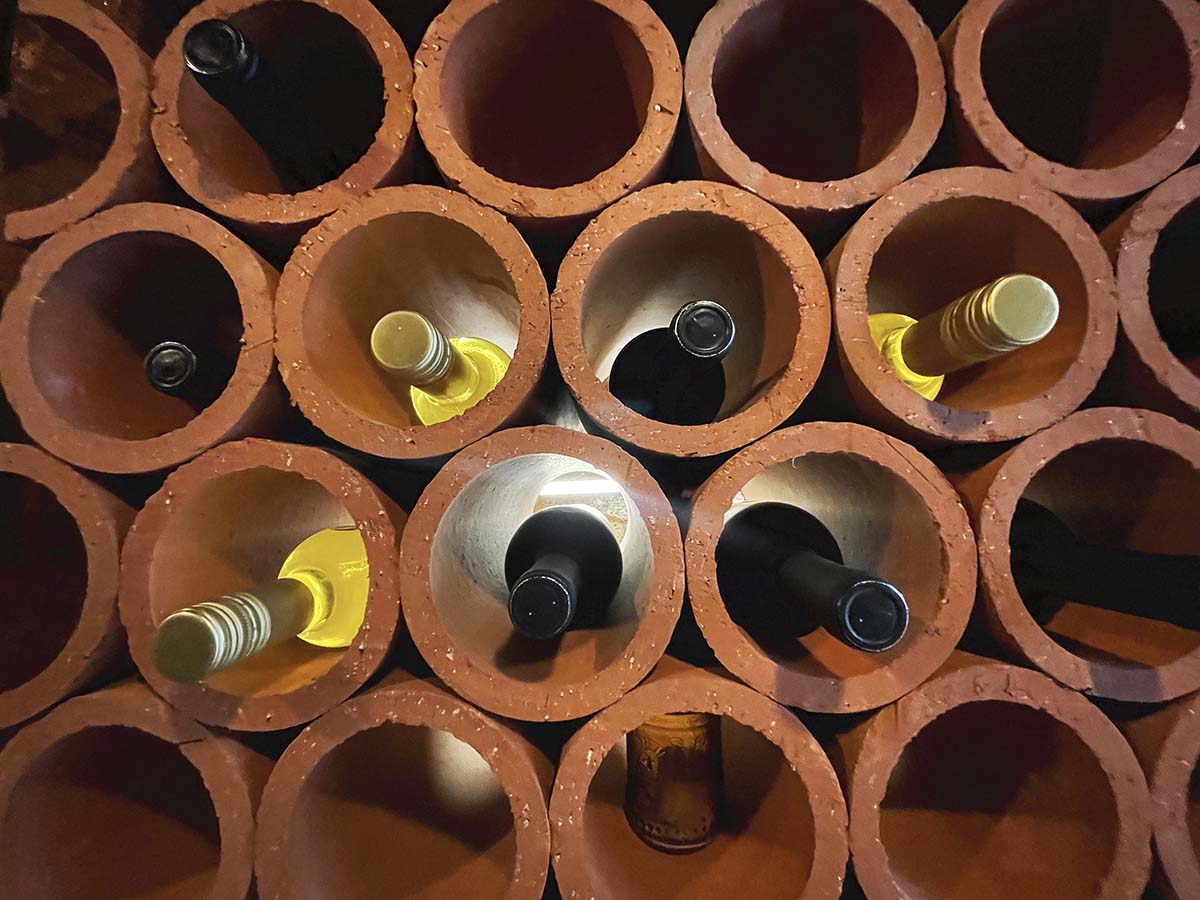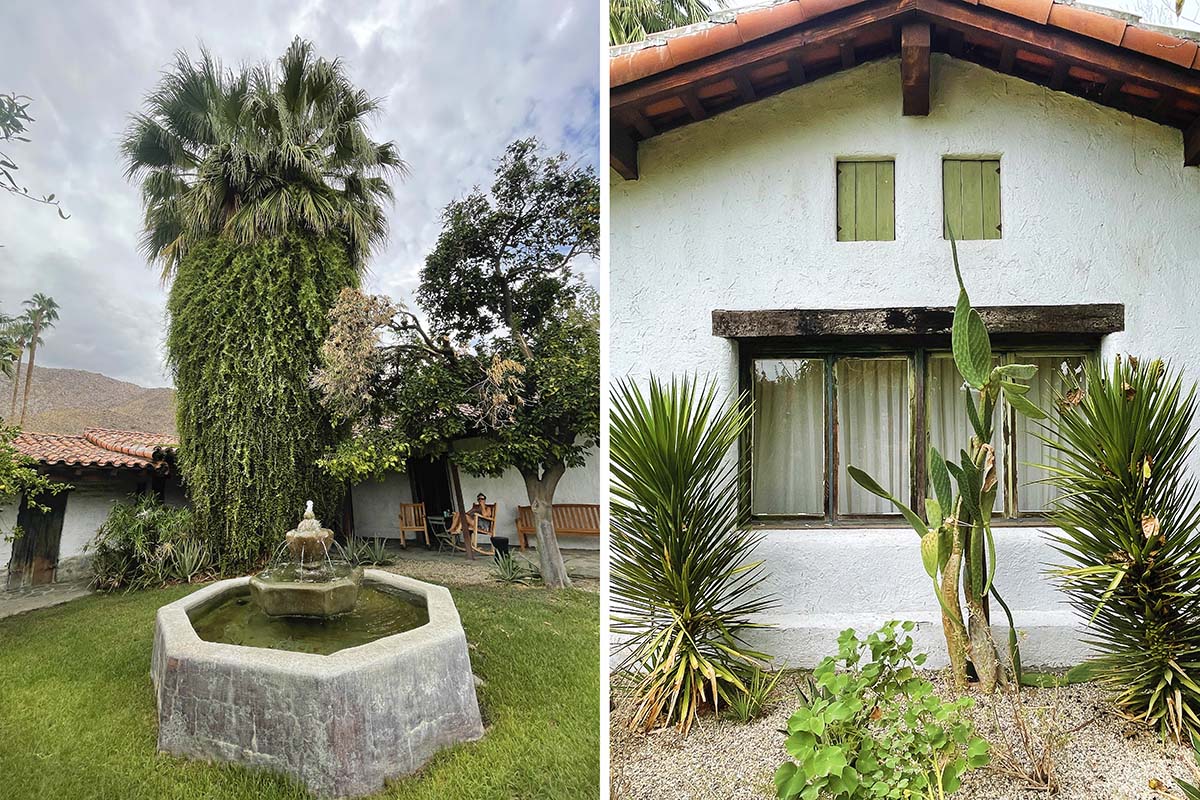 Casa Cody is literally 1 minute from downtown Palm Springs by the way.  So accommodable!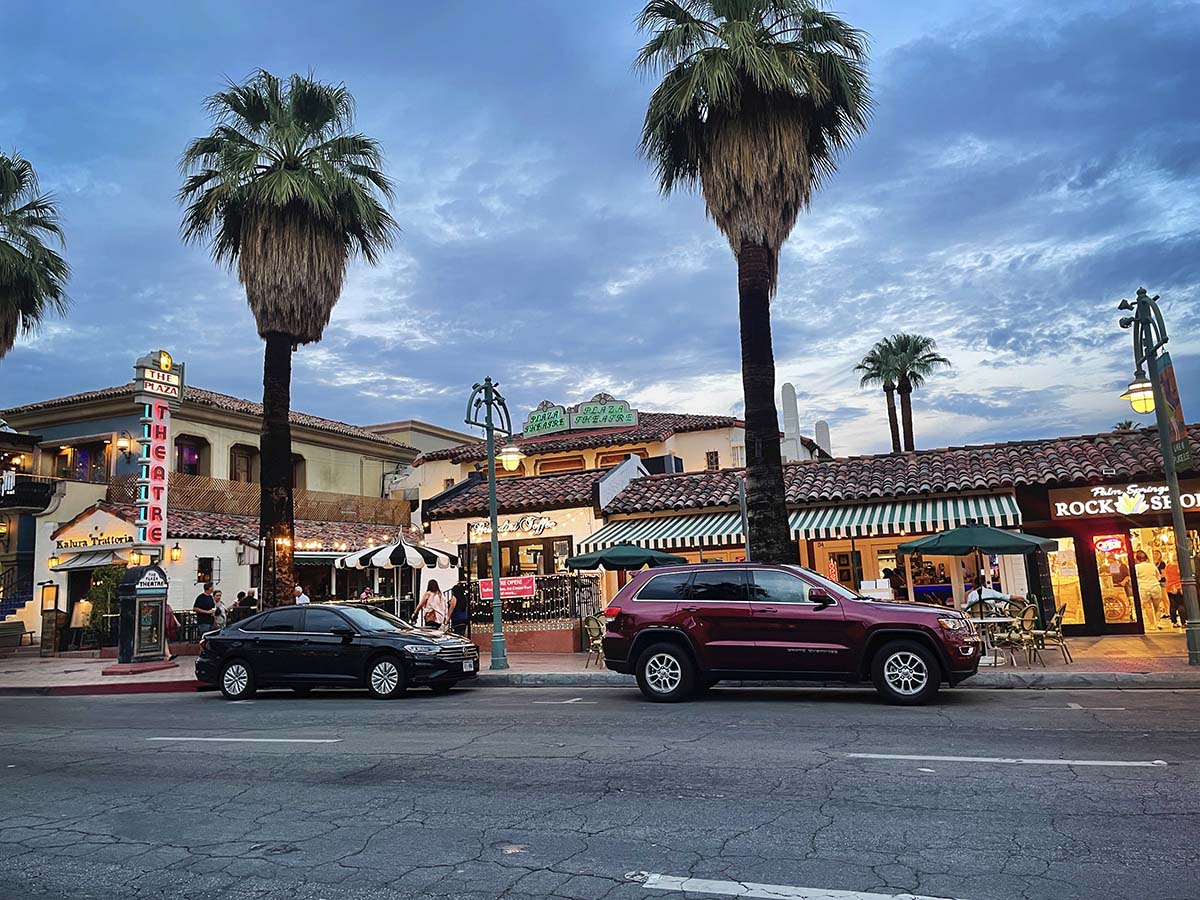 Night time was lovely and the perfect time for a quick dip in the pool!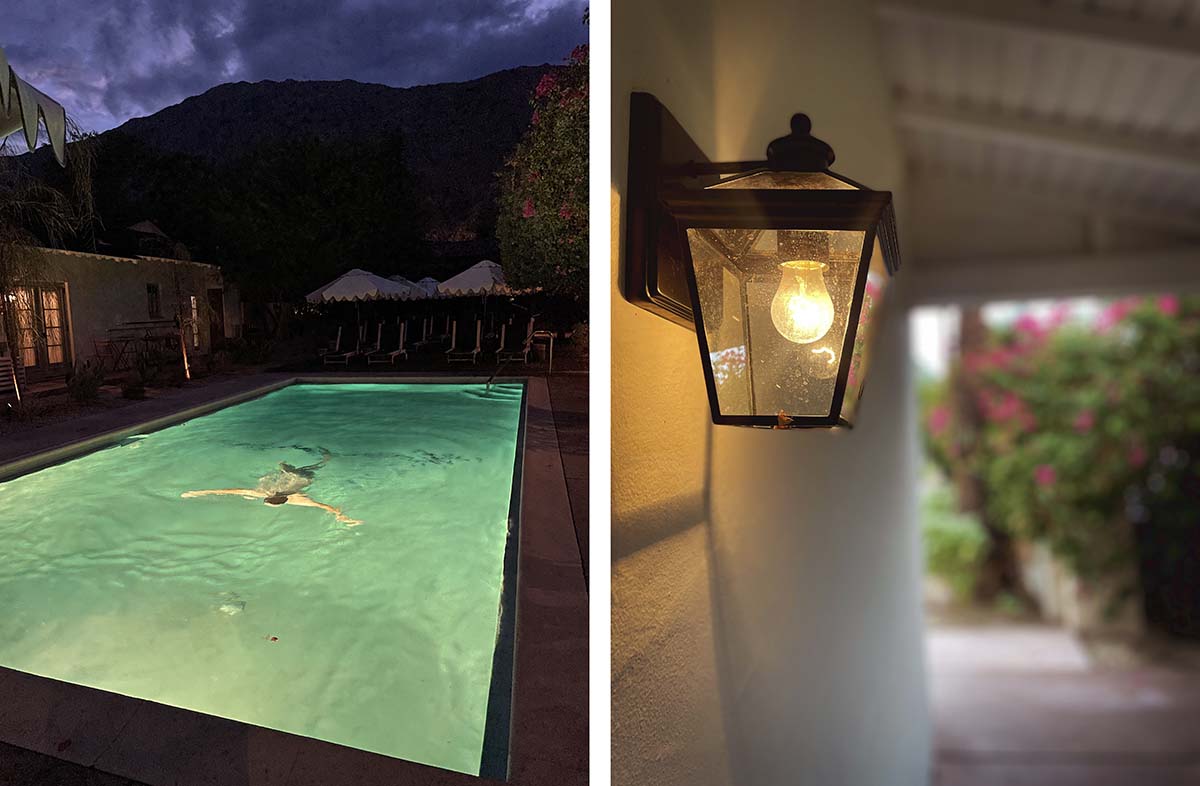 Til next time!