Hello everyone! This is a friendly reminder that any of these fun places we may visit, we are a guest at. Please treat both businesses and trails with the utmost respect. We here at Hidden California follow the 'Leave no Trace' mantra, meaning whatever you bring with you comes back with you. If you see trash on a trail, please do your part to help remove it. Remember, we are not picking up trash from another person but instead cleaning up for Mother Nature. Happy adventures!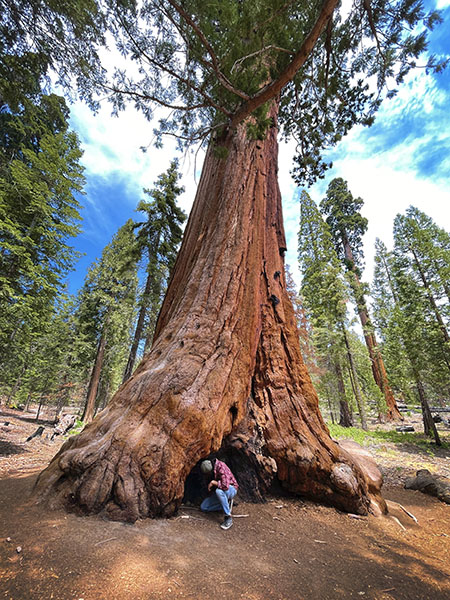 Co Rte 107, Porterville, CA 93257
(559) 784-1500
35.9777528510, -118.593733141
Dog-Friendly: Yes    Kid-Friendly: Yes
Fees $10 per vehicle/day
Open Season: End of May – Nov 15
Hike: 1.3 mile loop    Level: Easy

About the Trail of 100 Giants:
Trail of 100 Giants is a short but stunning loop that will take you through some of the areas largest sequoias, estimated at being 1500 years old.
There are interpretive signs along the hike giving more insight to the specific trees along with some interesting stories.  There are approximately 125 giant sequoias greater than 10 ft. in diameter and more than 700 sequoias less than 10 feet in diameter. The largest tree in the grove has a height of 220 feet and 20 ft. diameter.
Please note that this trail is only accessible during late spring to early autumn due to snow and other extreme weather conditions.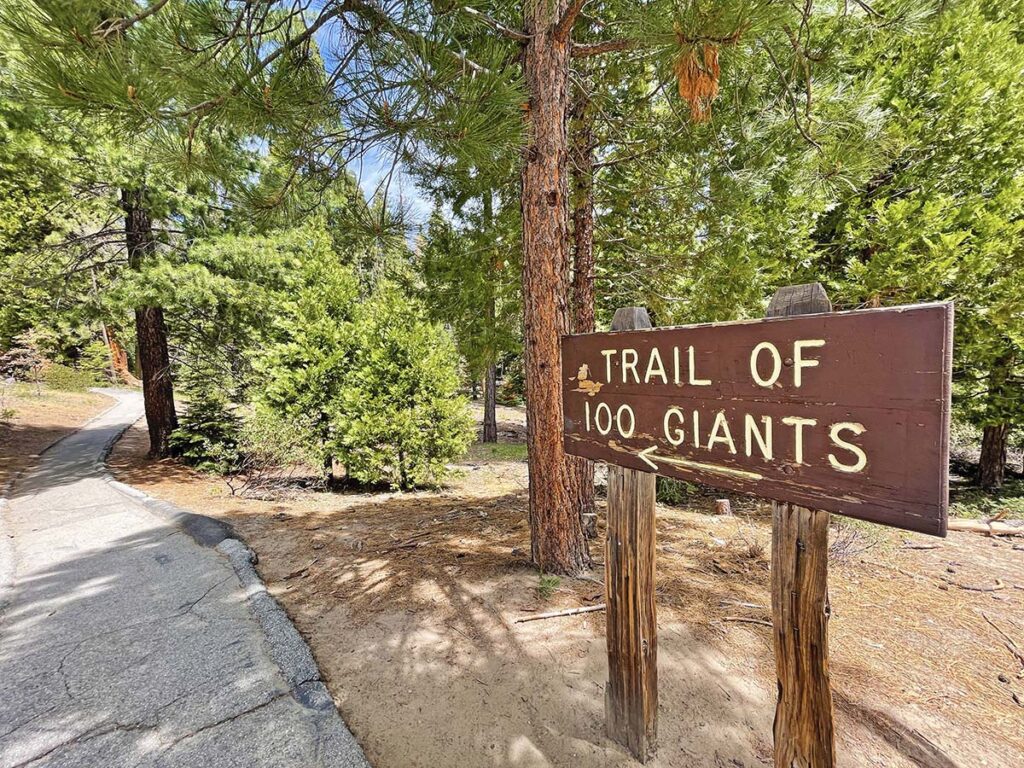 I did not expect to feel such a wide range of emotions when visiting this magical place.  We visited Tulare County in late May 2021.  It was already very hot and it was clear this area has not been receiving enough rain.  The plant life all around was so dry and you could tell that it could go up in flames very easily. It made me deeply concerned.
When we visited the Trail of 100 Giants, I was truly blown away.  I had never seen trees of these sizes before, even though I have longed to visit them my entire life.  To see them in person, to feel their loving energy….it is hard to put into words the way it made me feel. I felt such a deep love radiating from them.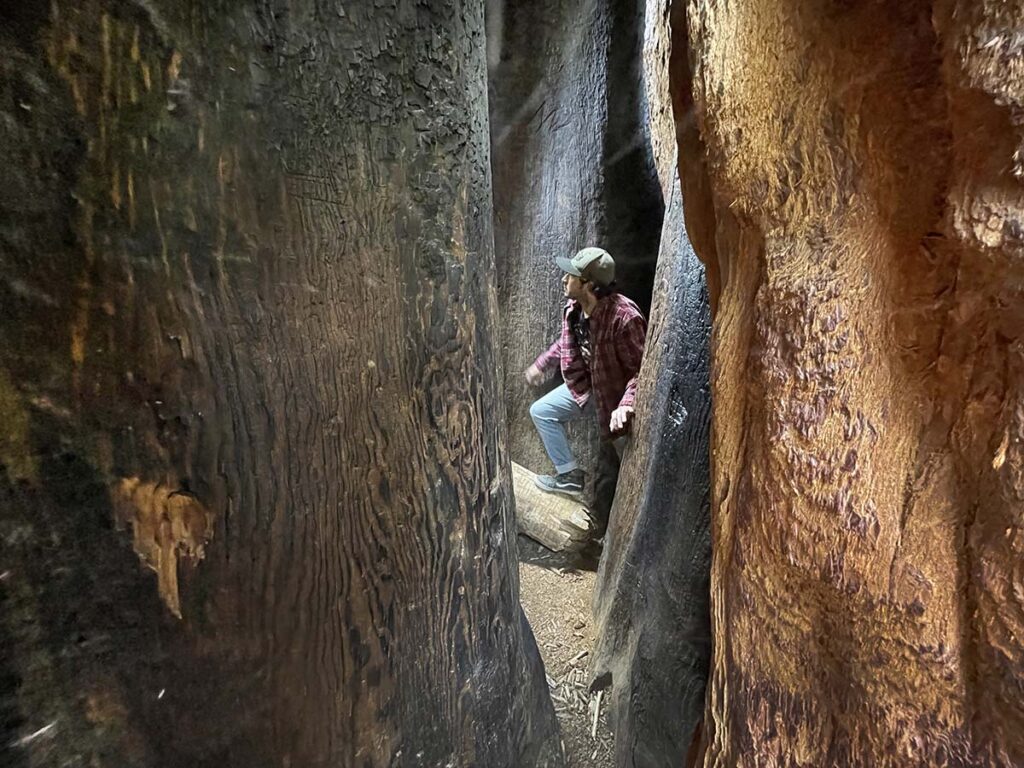 I could feel all the damage humans haver done to this earth, as we continue to do so.  I could feel the greater and greater threat being put on these trees.  But still, all I could feel from them was such a peaceful, deep love.  Very shortly after I was feeling all of these emotions, I came upon a very special tree.
This tree had some obvious signs of fire damage, but right in the center of her was a heart created from her burns.  It was the so crazy to see.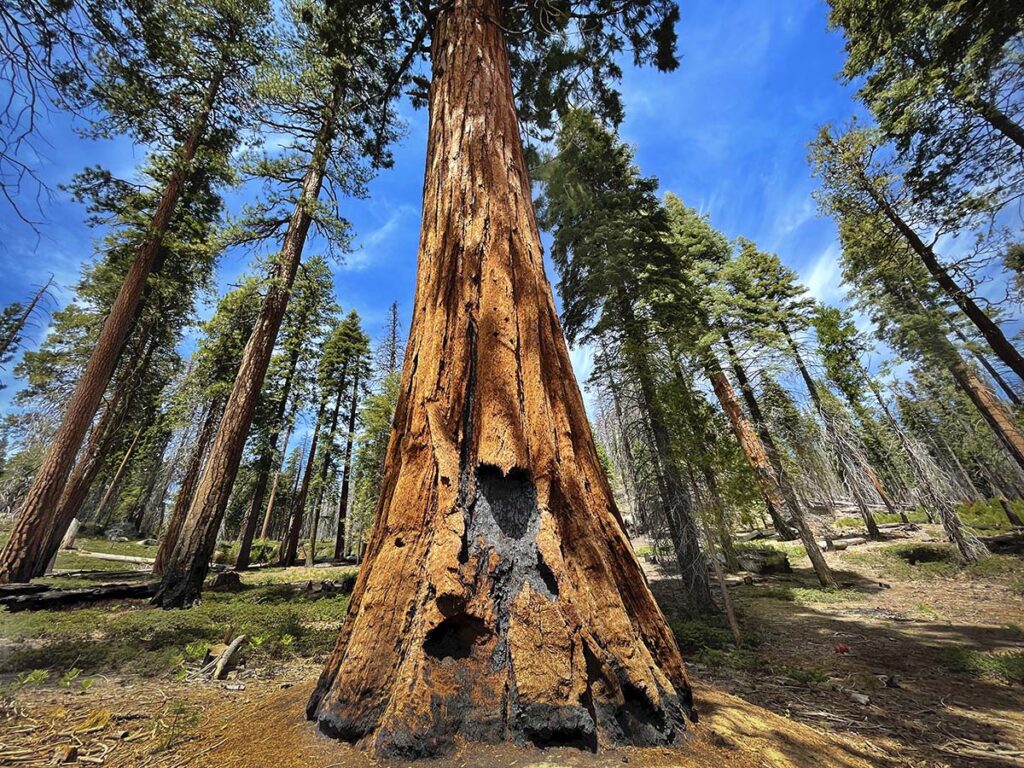 A couple months after visiting the Trail of 100 Giants, a huge wildfire hit this area with severe damage to 1/3 of the grounds.  I read that thankfully the fire fighters were able to save the majority of these gentle giants.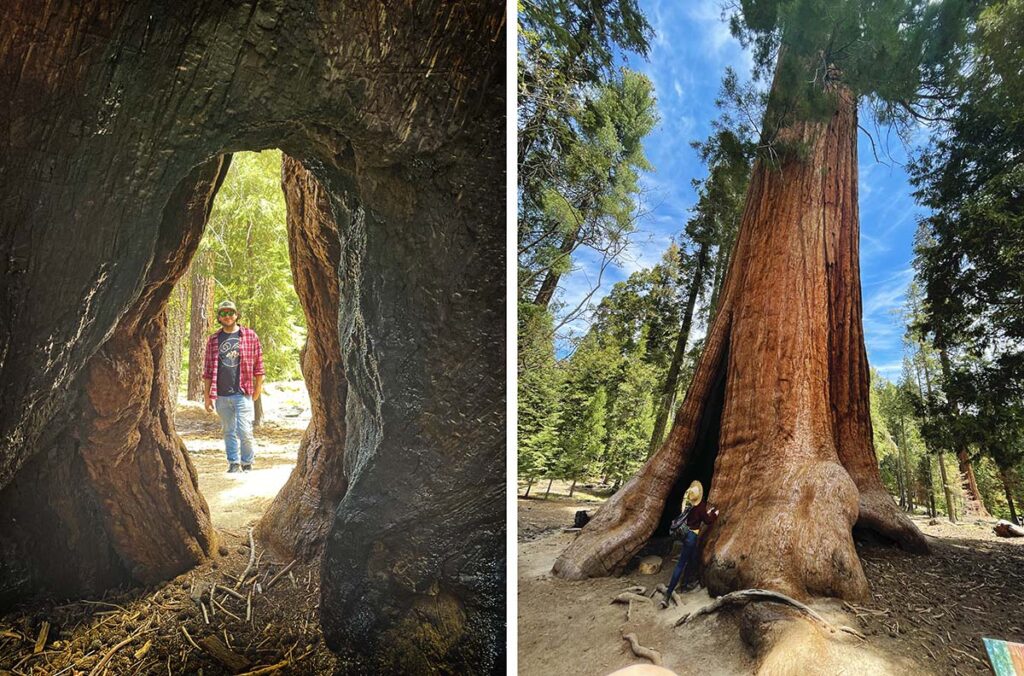 Apparently farmers used to use this tree as a pen for their geese at night to protect them from predators and the elements.  There is a sign that will teach you more about it if you visit: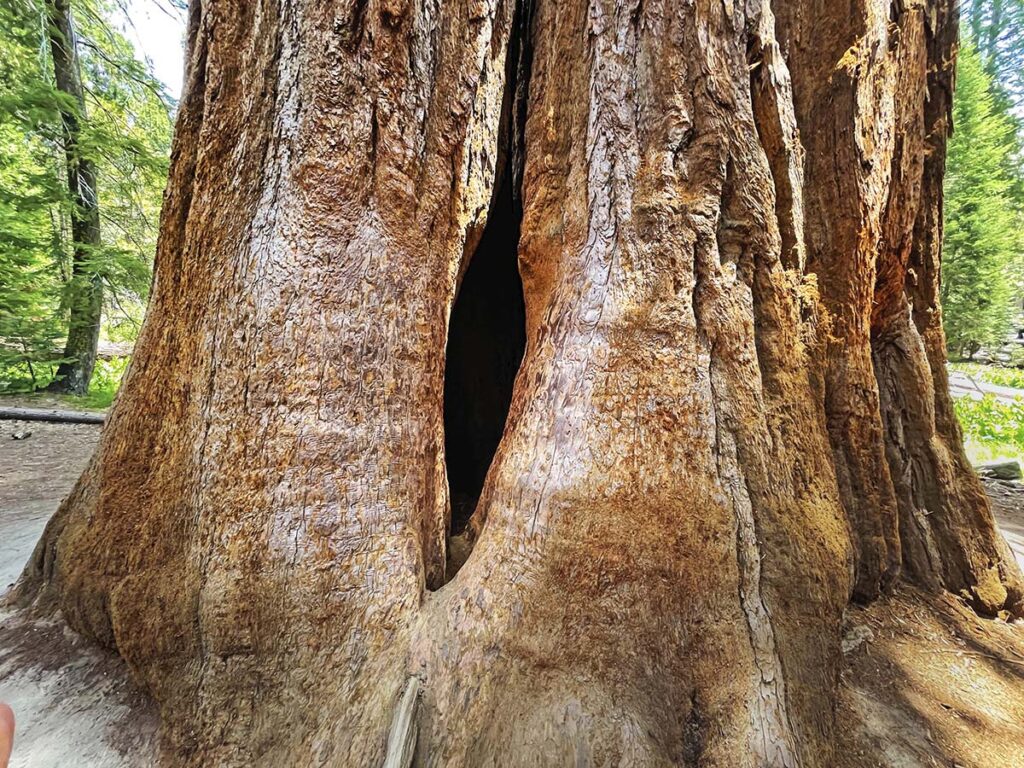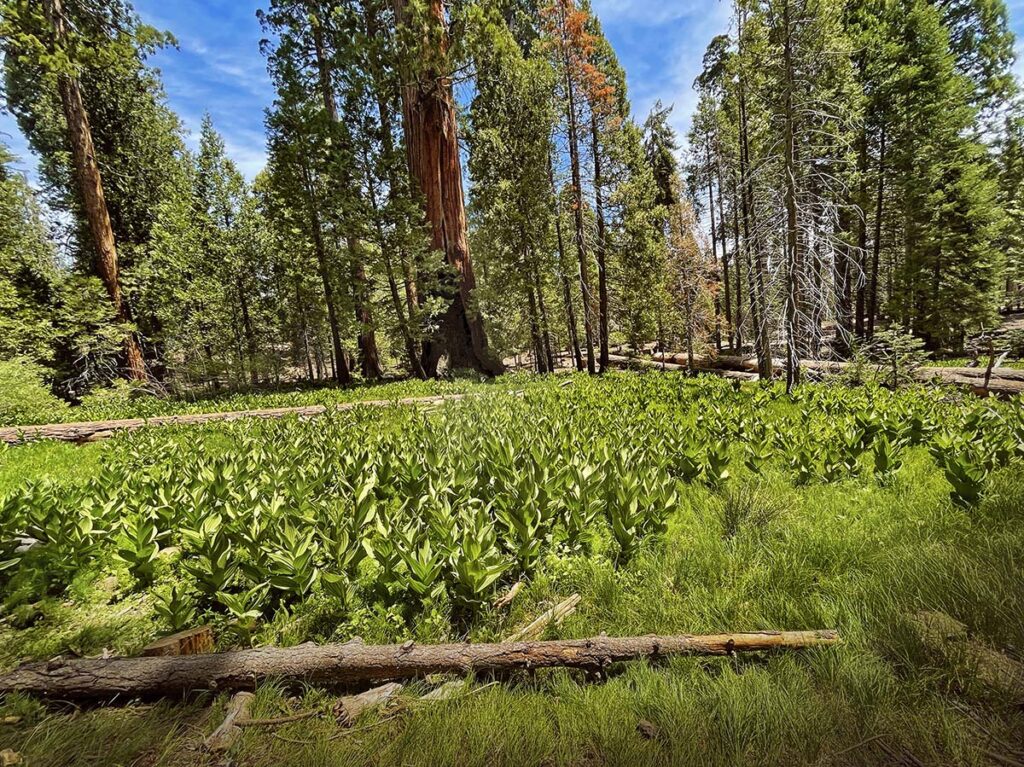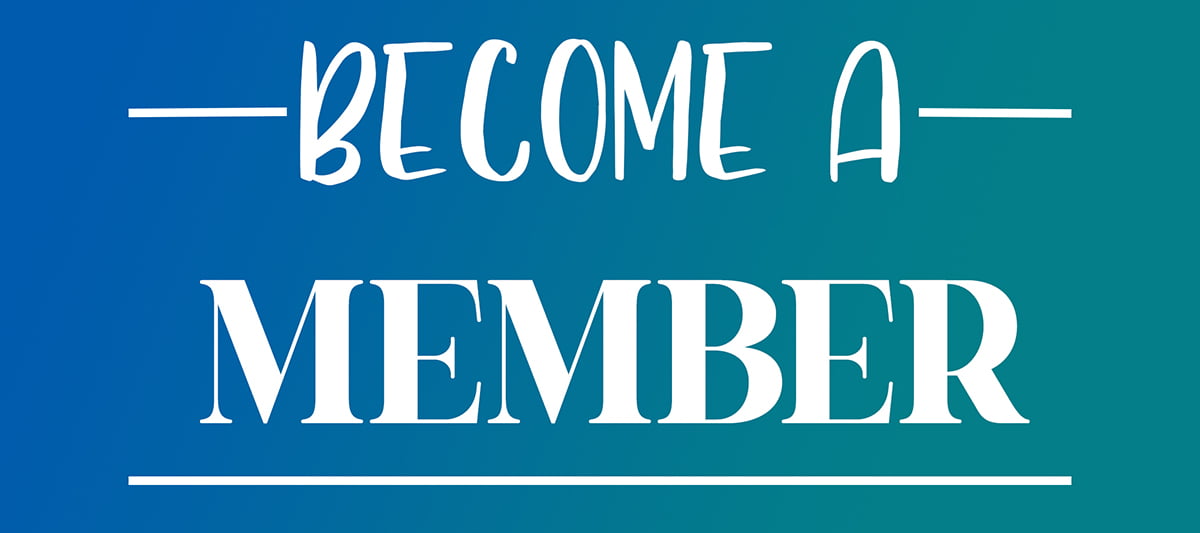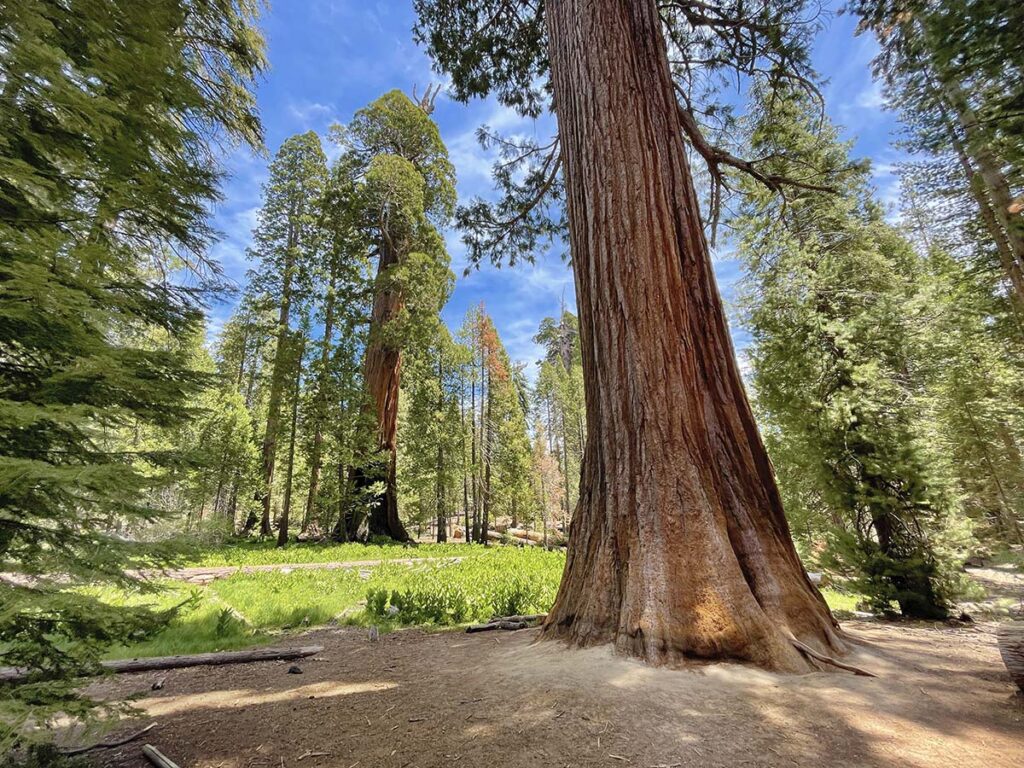 A fallen tree.  Look at that humungous root ball's size in comparison to my partner: