Hello everyone! This is a friendly reminder that any of these fun places we may visit, we are a guest at. Please treat both businesses and trails with the utmost respect. We here at Hidden California follow the 'Leave no Trace' mantra, meaning whatever you bring with you comes back with you. If you see trash on a trail, please do your part to help remove it. Remember, we are not picking up trash from another person but instead cleaning up for Mother Nature. Happy adventures!
Eréndira, Baja California, Mexico
31.332007, -116.454737
The area we camped at is part of our members section
About Punta Cabras
In 2020 we added Baja California to our site because afterall, it does have the name California in it and it is BRIMMING with exciting places to explore.  The first spot I added is the beautiful Punta Cabras, which is directly north of Ejido Eréndira.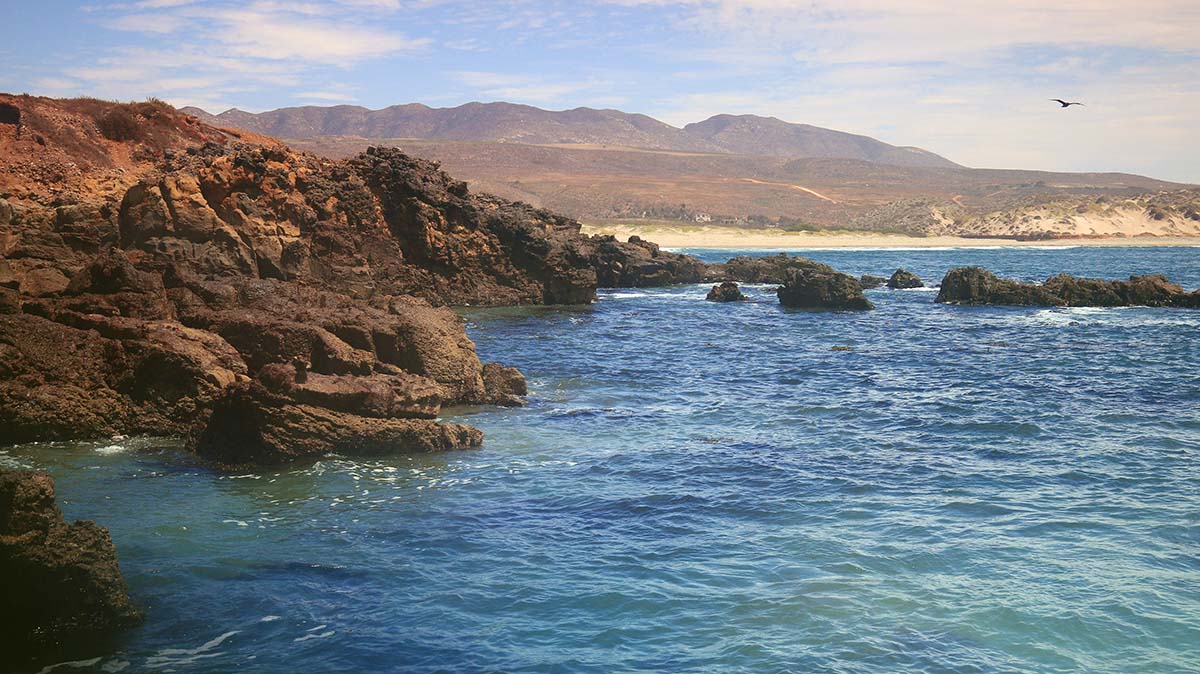 This is a small community located south of Ensenada with a population of 1,461 people. Most of the residents who live here make a living by fishing. However, in spite of this Eréndira is an isolated and undeveloped beach.
While it has areas with the rough, cold seas common on the Pacific side of Baja California, it also has very calm days where the Ocean is very relaxed.
There are rocky outcroppings that form pools of seawater that is protected from the open ocean, and a wide array of sandy beaches.  The fishing and local surf breaks are world class.
Extreme Caution should be used when approaching, paddling out, and dropping in at either coves as the shoreline can be littered with rough boulders, rip-currents, and heavy tidal swings.
Nearby there is an area that had been used by Natives that gathered seasonally here to collect shellfish such as clams, sea snails, mussels and other. They left a layer of shells over eight meters thick that Canadian archaeologists have dated back over 10,000 years.
The first Europeans arrived here in 1542 when viceroy Antonio de Mendoza sent Juan Rodriguez Cabrillo. Wildlife in the area includes migrating whales, dolphins, seals, pelicans, seagulls, sea anemones, limpets, sea snails and small fish, also a wide array of hawks, eagles, among others. Coyotes and an occasional bobcat can be seen in the hills that surround the area.
Eréndira has very little in the way of tourist services but there are small grocery stores and a small hotel. When we stayed here we did primitive camping, packing everything in that we brought and even eating fish that we caught.  It was a quiet, calm and beautiful weekend.
When we arrived at the primitive campsite, it was filled with trash.  As my friend Anh put it, we weren't picking up other people's trash but cleaning up for mother nature:
Abandoned fishing boats:
Here is a shot of the same area when the fog lifted:
The cliff sides were volcanic rock:
We definitely don't have sand crabs this size in San Diego!
The roads are dirt, so be mindful if you go out here, especially if it's rained recently:
Our campsite for the weekend! 
The boys went paddle-boarding and fishing during the day:
Anh caught our meal and cooked it an hour later.  Talk about fresh!
I captured the milky way! 
Next morning we were greeted by that sweet haze again:
What a lovely trip!