Hello everyone! This is a friendly reminder that any of these fun places we may visit, we are a guest at. Please treat both businesses and trails with the utmost respect. We here at Hidden California follow the 'Leave no Trace' mantra, meaning whatever you bring with you comes back with you. If you see trash on a trail, please do your part to help remove it. Remember, we are not picking up trash from another person but instead cleaning up for Mother Nature. Happy adventures!
Upper State Park Rd.
Morro Bay, CA 93442
Where to Park: 35.347642, -120.834953
Lookout: 35.358546, -120.831900
Hike: 2.5 miles out and back  Level: mild
Dog-Friendly: Yes    Kid-Friendly: Yes
About Black Hill
Black Hill is one of of nine volcanic plugs that lie between San Luis Obispo and Morro Bay (the last being Morro Rock itself). These plugs are considered sacred to the Chumash people with Morro Rock being the most sacred.  Many rituals have taken place at Morro Rock over the years. Chumash history in Morro Bay dates back roughly 10,000 years. Learn more about the Chumash and how you can support them here.
The hike to the top travels through Fleming's Forest–a hillside of Monterey Pine trees that were planted by John Fleming (a former park superintendent). It is rumored that Black Hill received its name due to the tar seep on the north side of the hill.

During our roadtrips, we are oftentimes doing long spans of driving before reaching our campsite.  To give our legs some movement and an opportunity to explore different areas along the way, we always make it a point to hit up small hiking trails. This time we stopped by Morro Bay in San Luis Obispo before making our way up to Mt. Diablo.
There are many different ways to get to Black Hill, the easiest being a .6 mile round trip.  We wanted to explore this vicinity a little more than that, so we opted for the Exercise Trail which is a 2.5 mile hike out and back.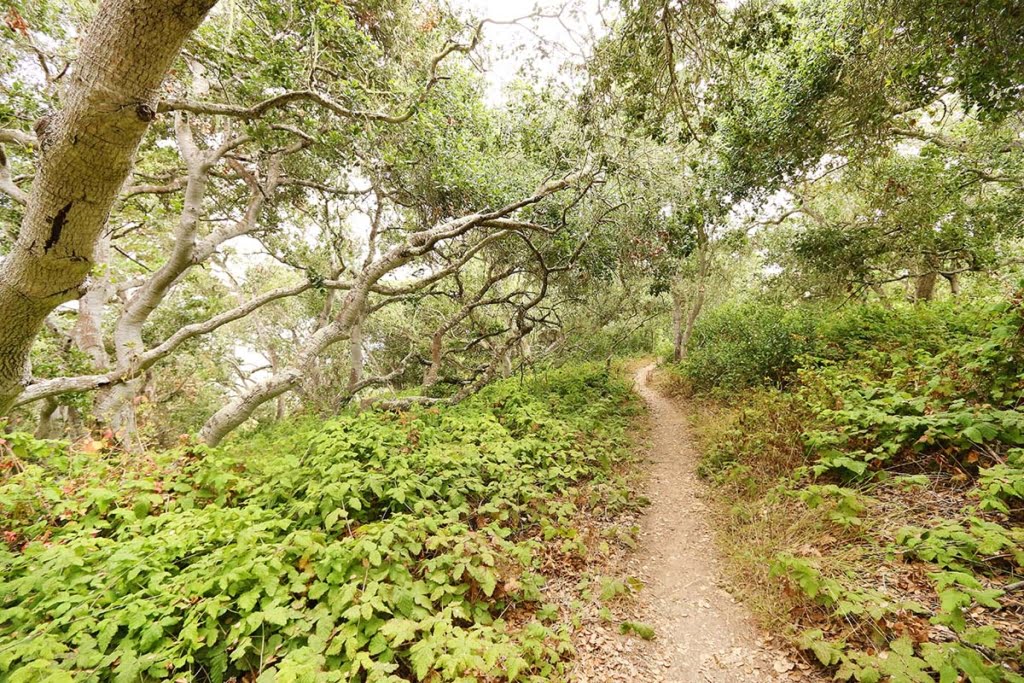 The trail did not disappoint!  We made our way through a variety of groves which included an old oak grove with Spanish Moss and later a Eucalyptus field.
We happened to go on a foggy day, but on clear days, you will get a panoramic view of the town below and Morro rock. Still, the fog is dreamy in itself and offered a cool hike which made this an extremely enjoyable experience.
We parked in a small dirt lot on the side of the road and took the Exercise Trail: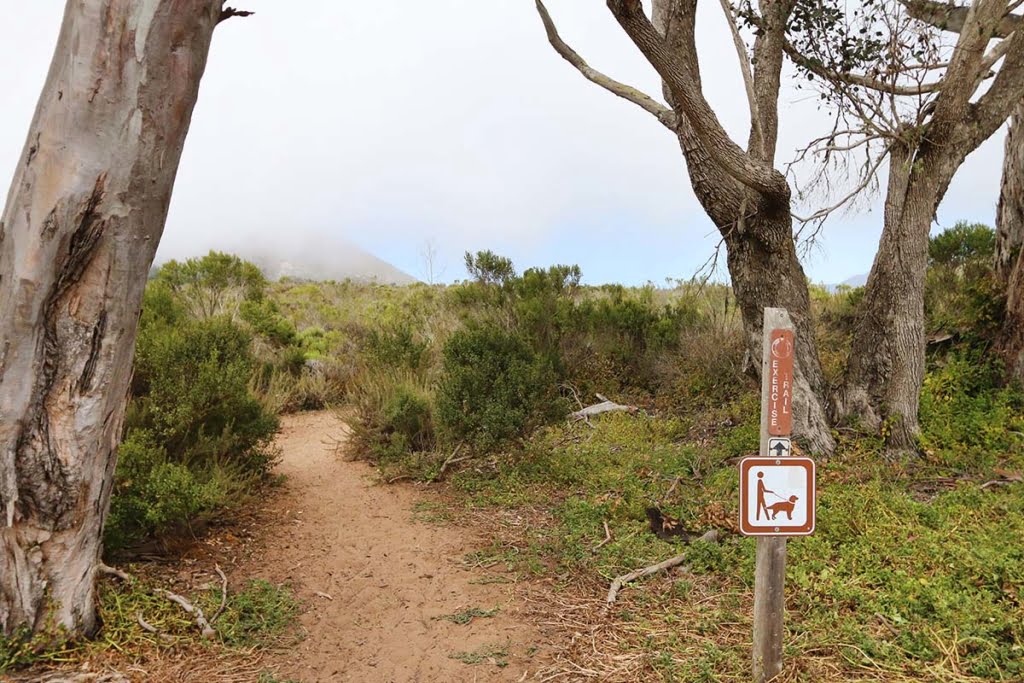 We came on a nice, foggy day which was great for hiking but does not offer much in terms of view.  That's okay though, because I LOVE the fog!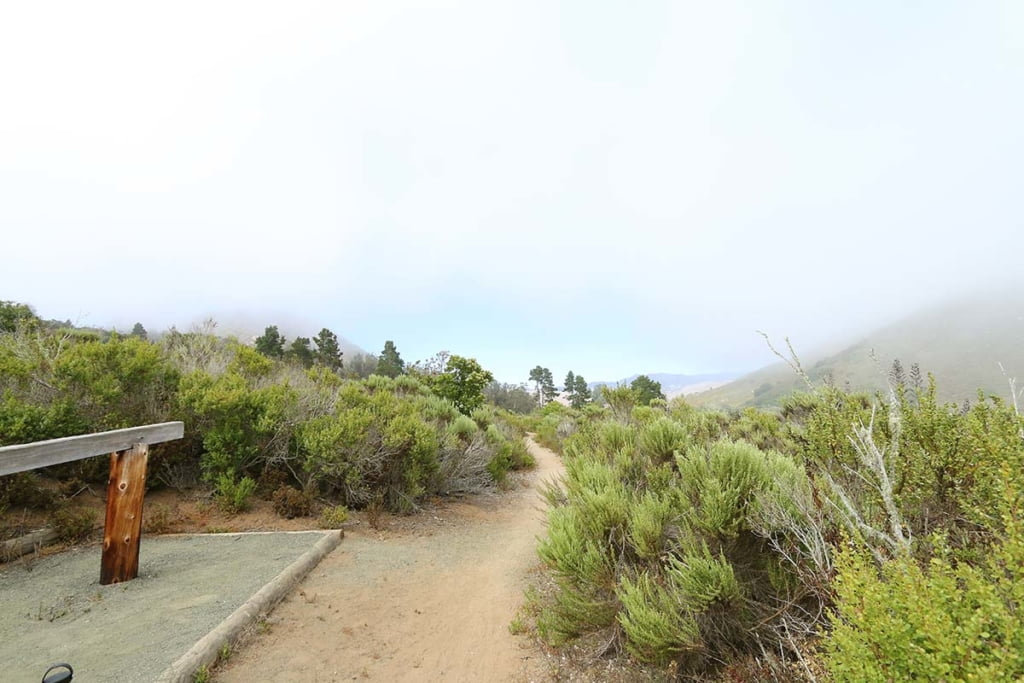 There's a part of the trail that takes you through windy oak trees that look to be quite aged!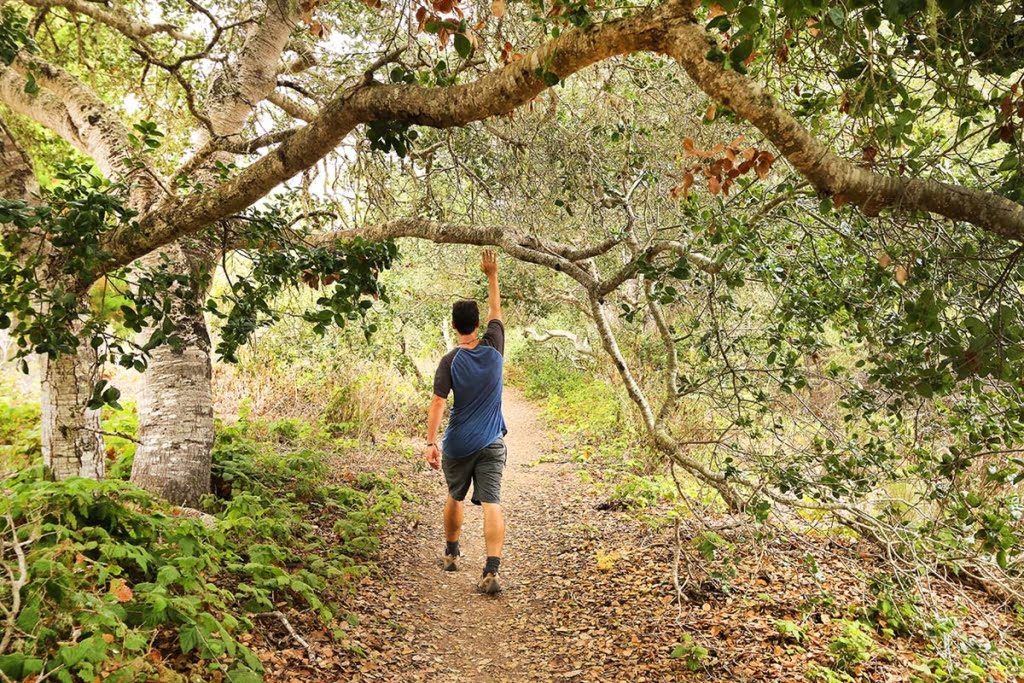 This tree, for example, looked to be at least a hundred years to me!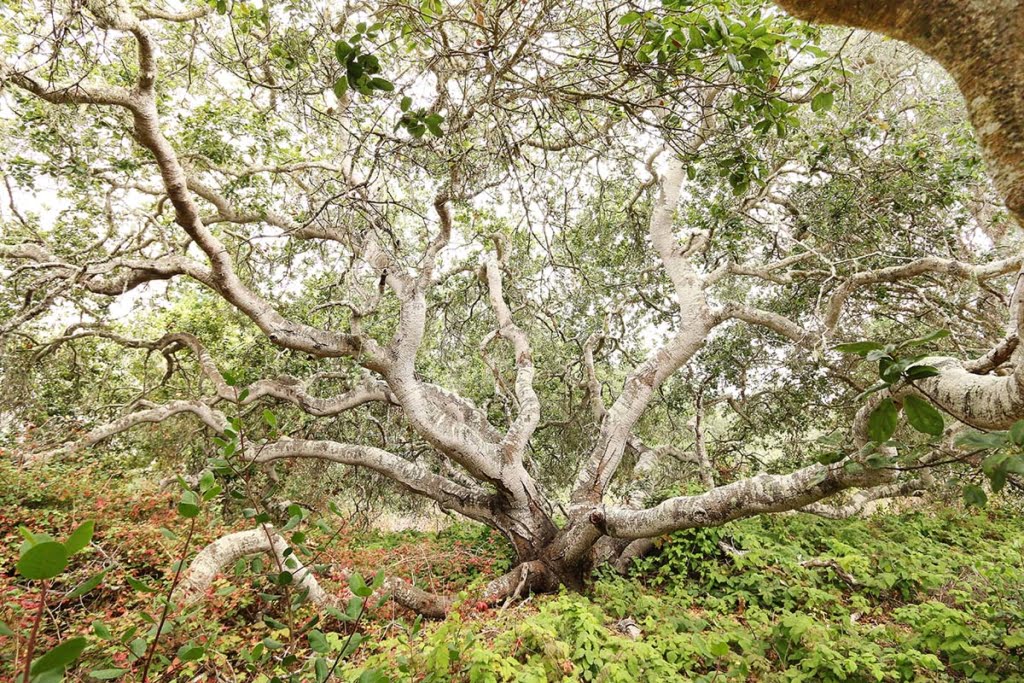 I love that there was Spanish moss growing here!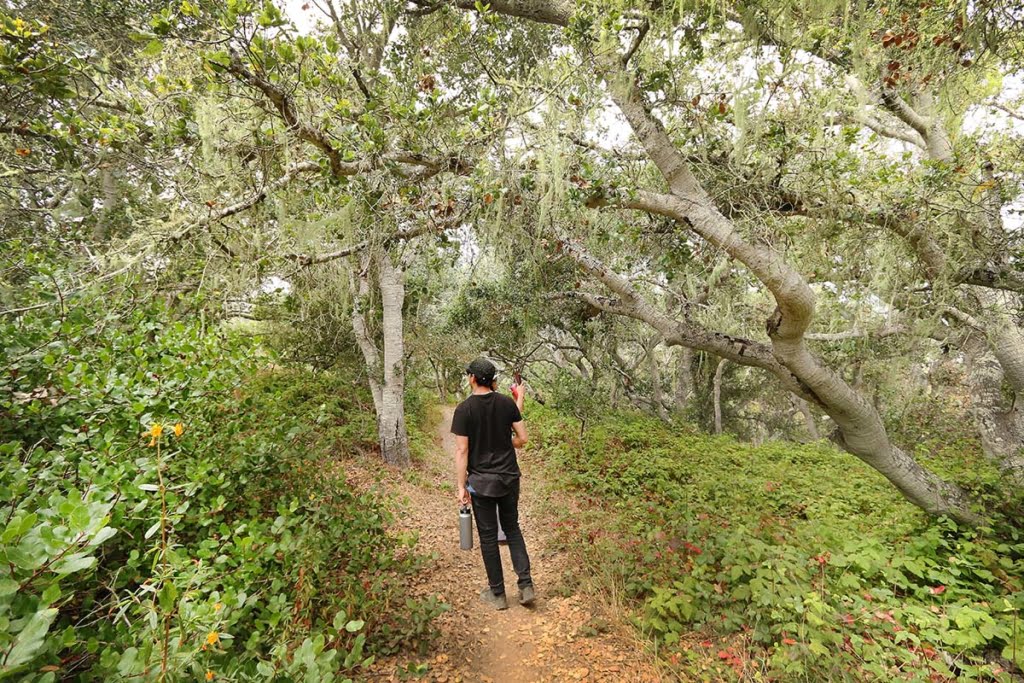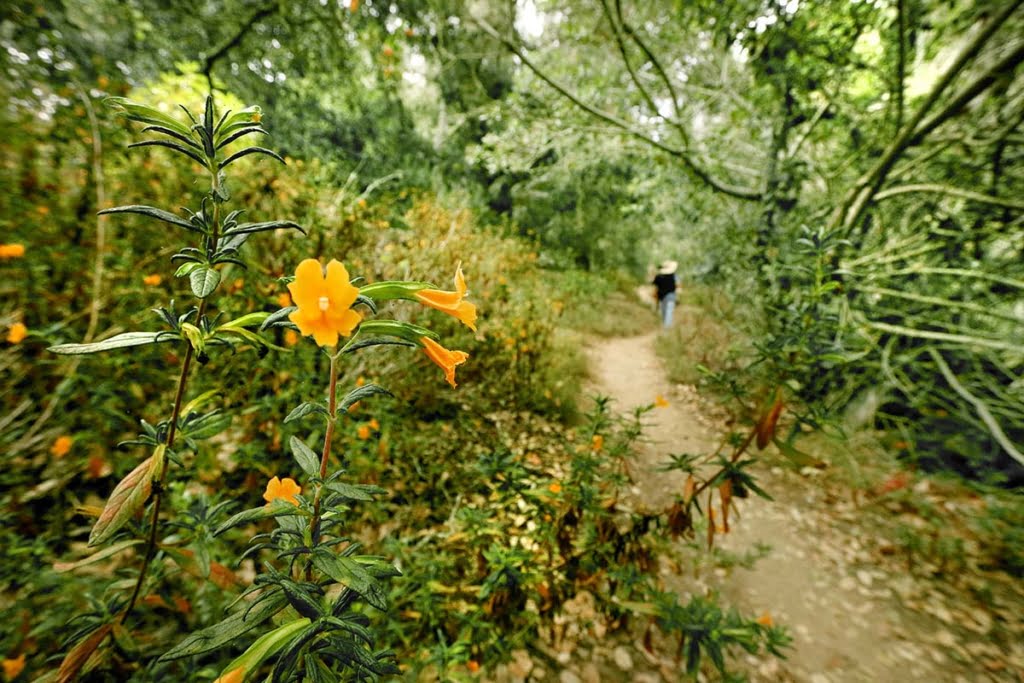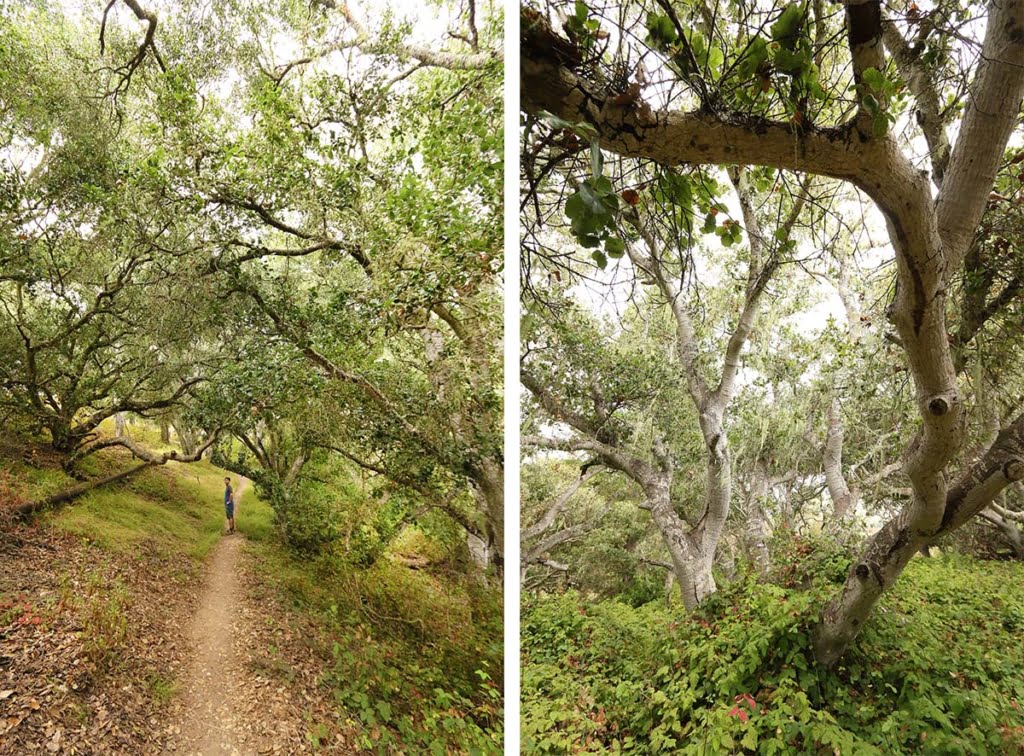 This old water tower is a good marker.  Take the trail right above it, which is the right fork in the road: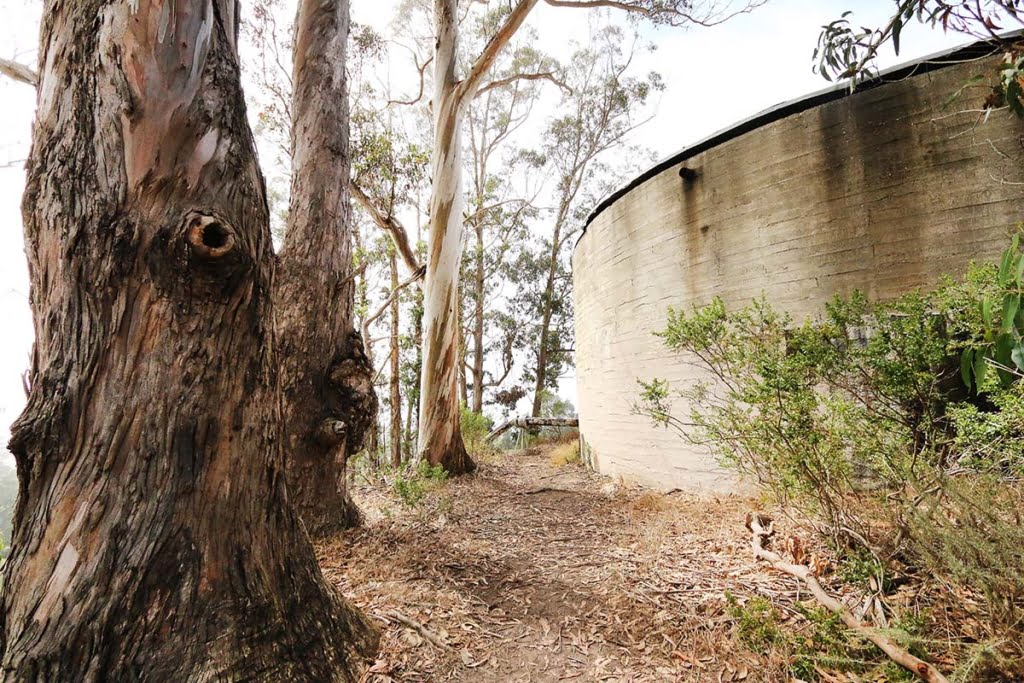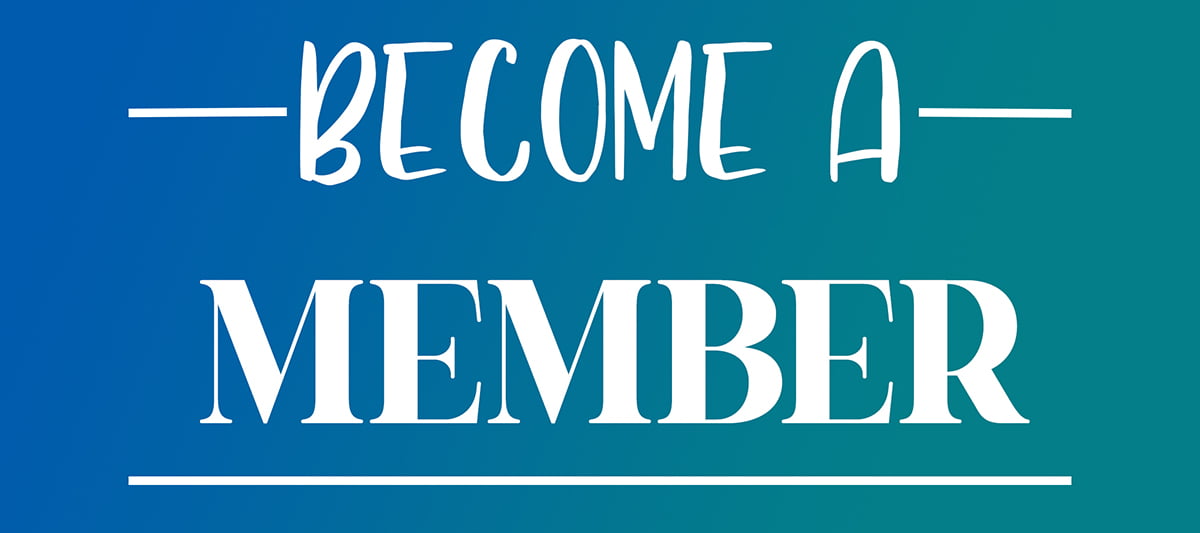 As you can see, not much in terms of views when we visited: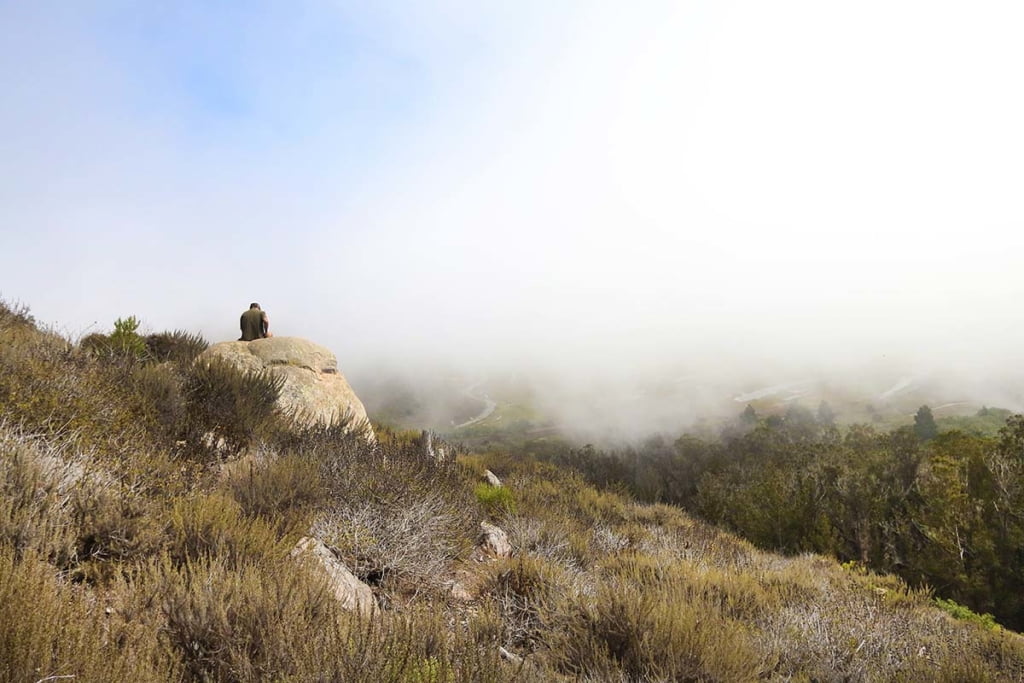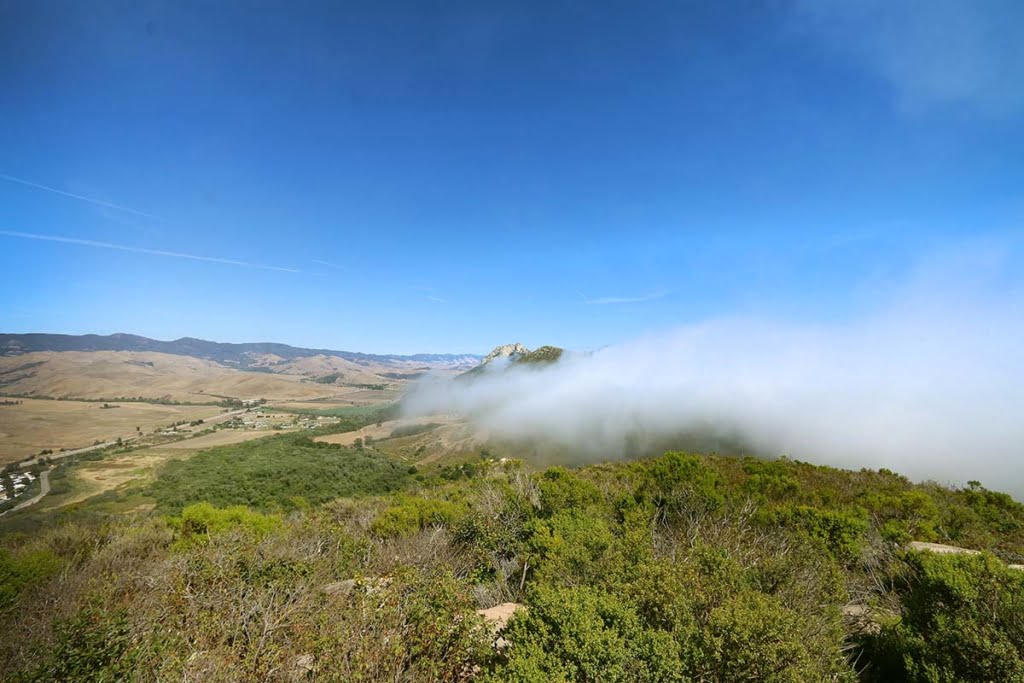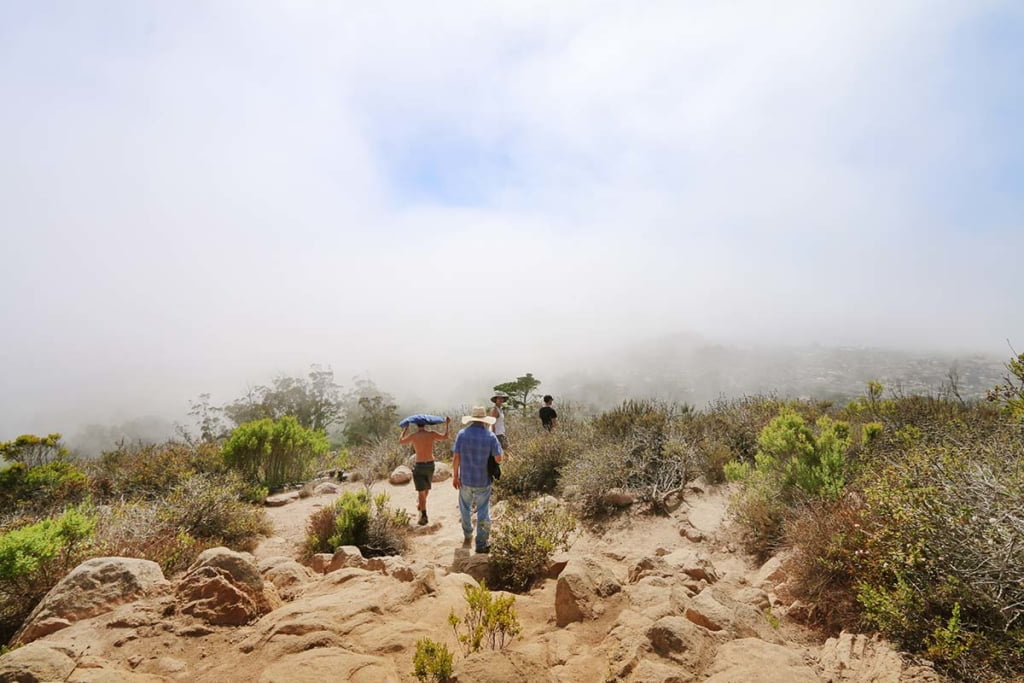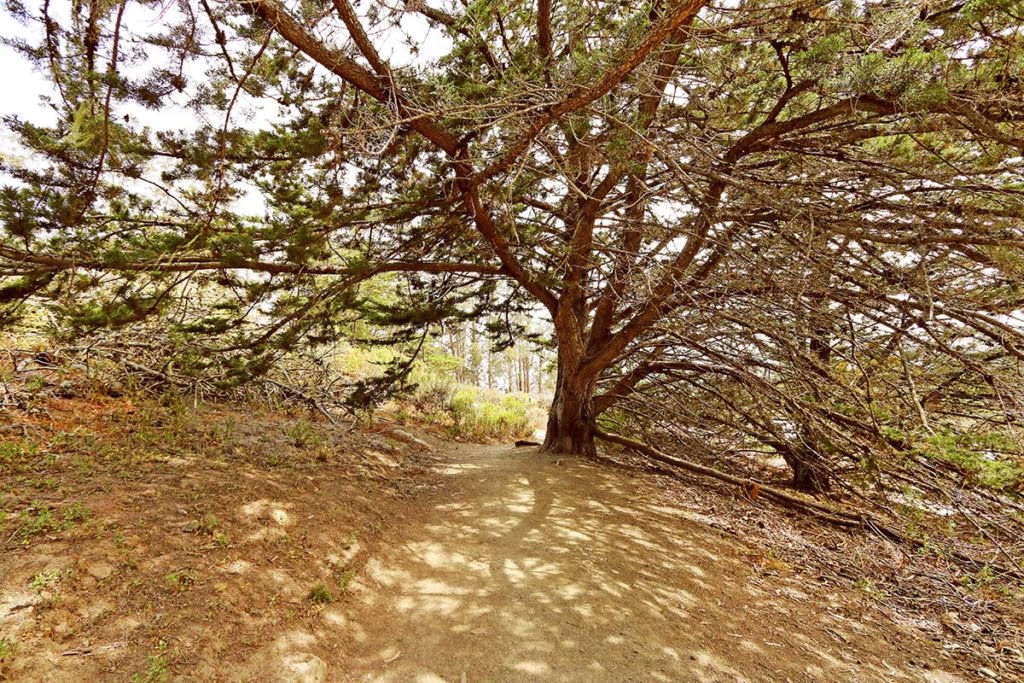 Back through the forest we go!
We took a different path back down and this time made our way through a eucalyptus grove: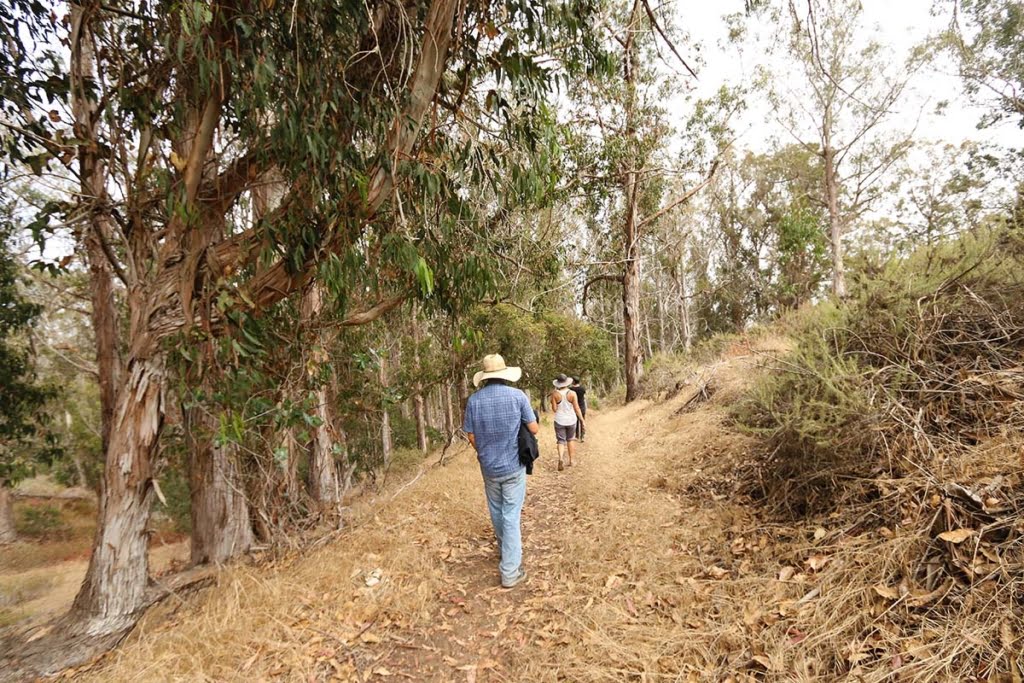 We even walked through a field of Lemonade Berries!  That was super exciting!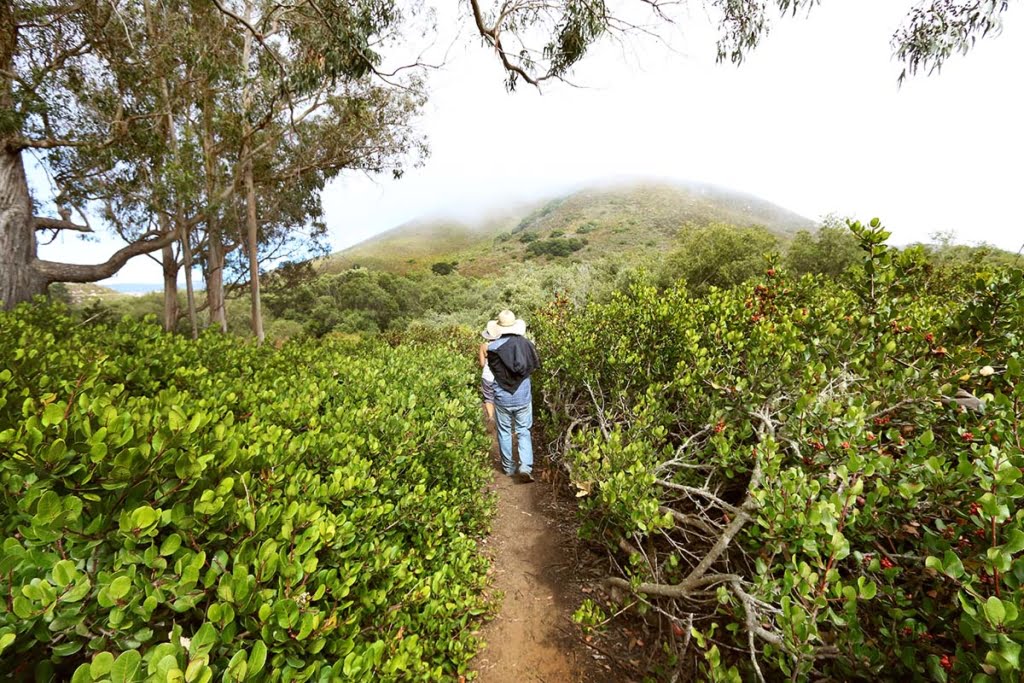 Here's Jesse of Fort Cross Adventures eating one!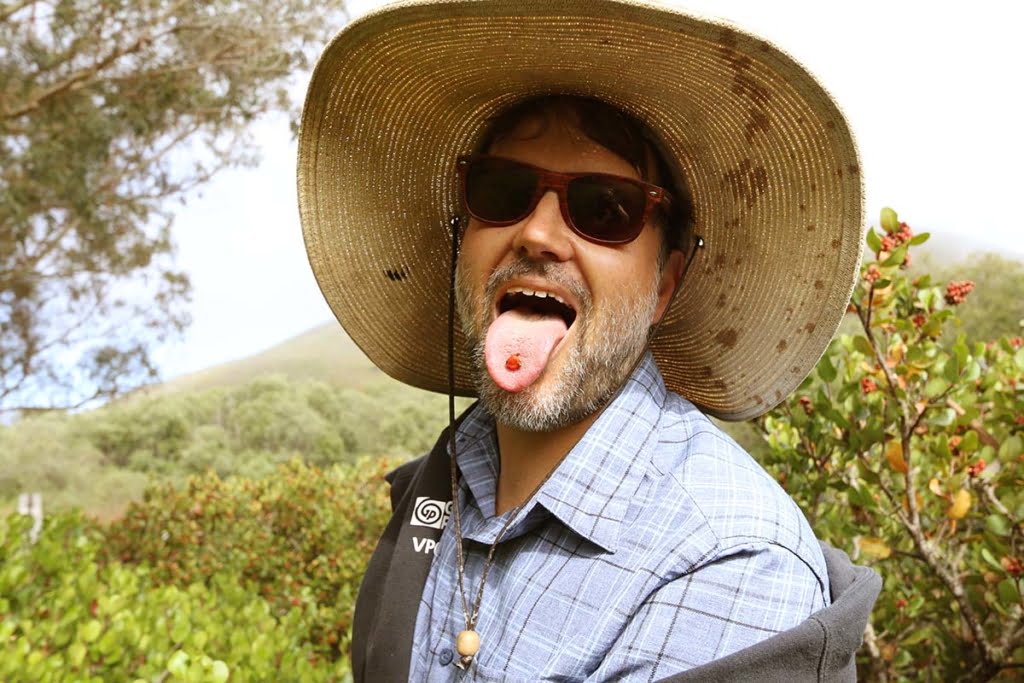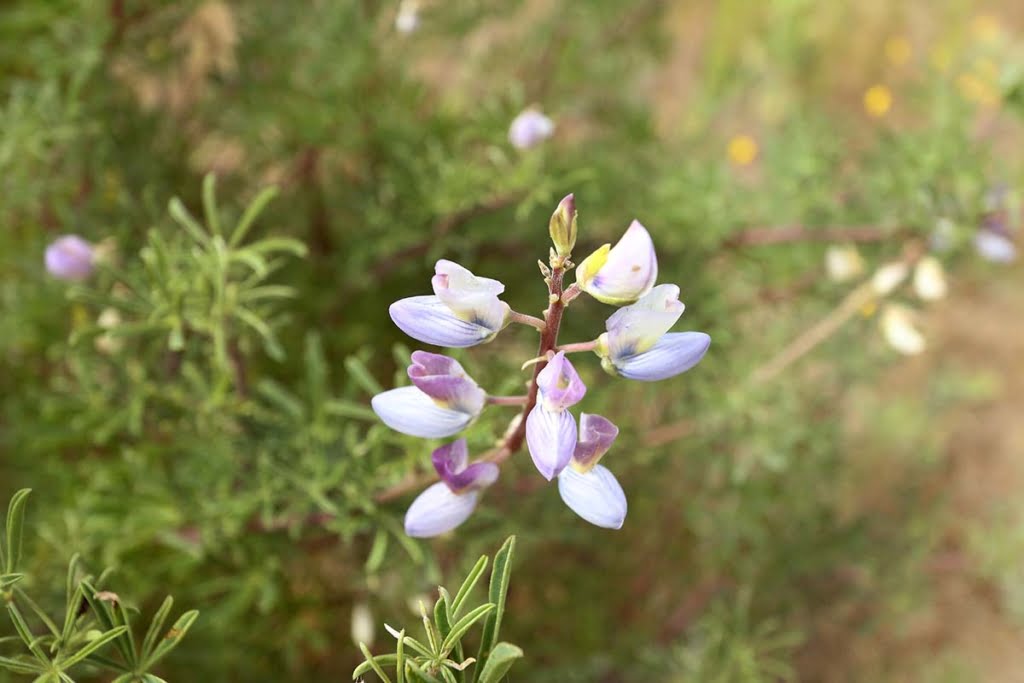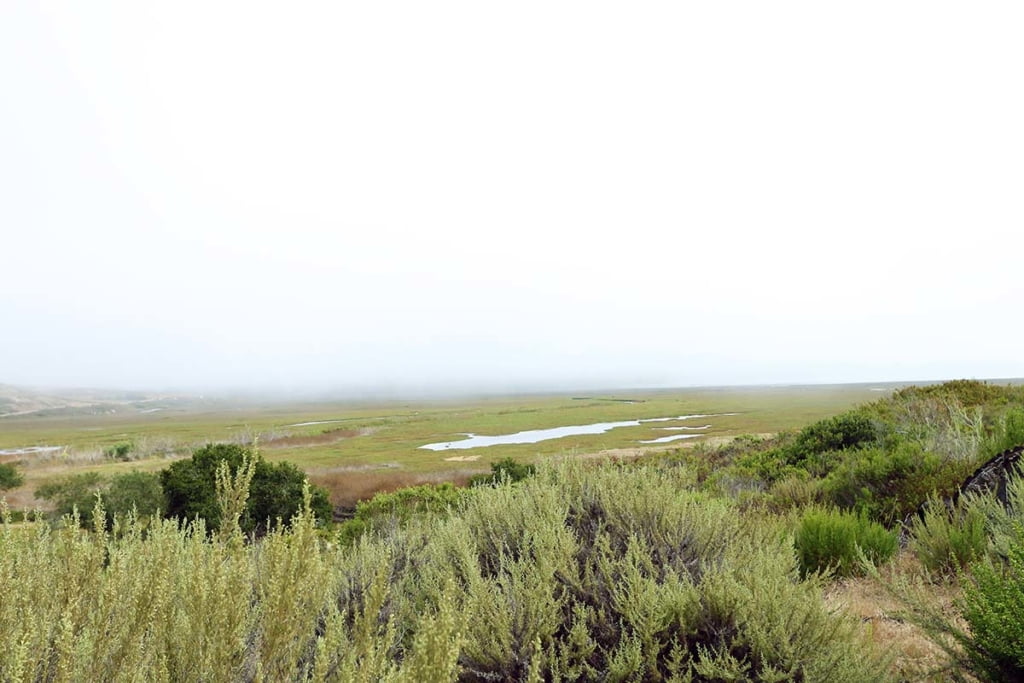 Check out our other site too!