Hello everyone! This is a friendly reminder that any of these fun places we may visit, we are a guest at. Please treat both businesses and trails with the utmost respect. We here at Hidden California follow the 'Leave no Trace' mantra, meaning whatever you bring with you comes back with you. If you see trash on a trail, please do your part to help remove it. Remember, we are not picking up trash from another person but instead cleaning up for Mother Nature. Happy adventures!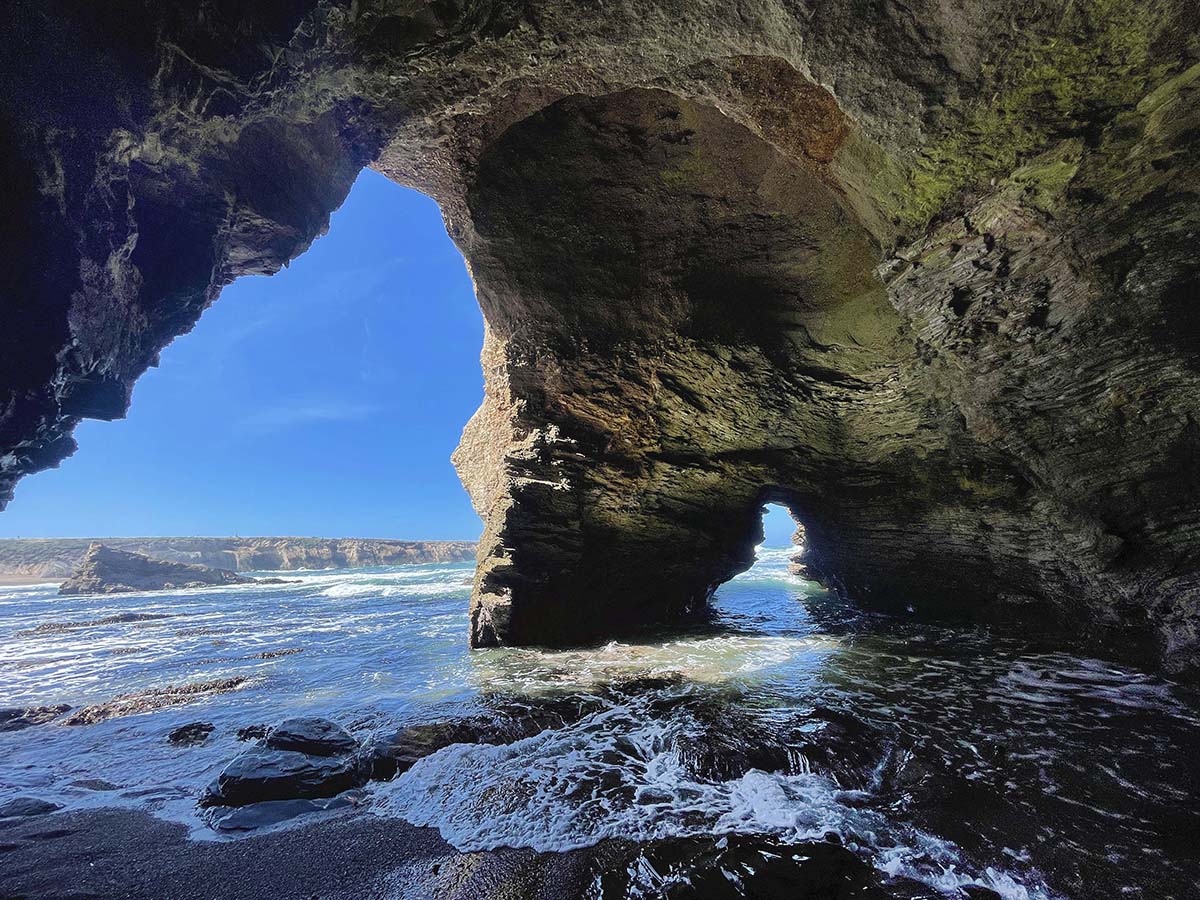 Hidden Gems in San Luis Obispo County
San Luis Obispo is one of those counties with the perfect climate: often foggy and temps in the 60's, Spanish moss growing from the trees and a thriving ecosystem.
The earliest human inhabitants were the Chumash people. The Chumash people used marine resources of the inlets and bays along the Central Coast and inhabited a network of villages, including sites at Los Osos and Morro Creek. San Luis Obispo was named tiłhini, Obispeño for "Place of the full moon".
San Luis Obispo was founded in 1772 by Spanish Franciscan Junípero Serra, and is one of California's oldest European-founded communities. Today, it has more than 180 historic buildings that have been designated as City of San Luis Obispo Historic Resources.
We have visited on many coastal road trips and have visited new, hidden gems each time.  Check them out!
1. Dune Hazard Trail
This is not a long adventure but it's definitely beautiful and very refreshing.  I am always astounded with how much beauty our California coast has to offer.We found several man-made huts of sorts in the eucalyptus grove that we hung out inside for a little before continuing our way to the beach.
This coastline offered its own unique flair with jagged rocks and tidepools. I read that this is one of the best tidepools in California so if that's your thing, definitely add this trip to your list of places to visit!
2. Pirate's Cove
Pirate's Cove (also known as Cave Landing or the Smuggler's Cave) is filled with rich legends with ties to pirates, bootleggers and early Native American settlers. During the Prohibition era of the 1920's and 30's, this cave was used to smuggle booze as well as other illegal activities for those times.

3. Black Hill Trail
Black Hill is one of of nine volcanic plugs that lie between San Luis Obispo and Morro Bay (the last being Morro Rock itself). The hike to the top travels through Fleming's Forest–a hillside of Monterey Pine trees that were planted by John Fleming (a former park superintendent). It is rumored that Black Hill received its name due to the tar seep on the north side of the hill.
4. Montaña del Oro Bluff Trail
Montaña del Oro State Park is a beautiful, coastal park in San Luis Obispo County. With a stunning shoreline and 8,000 acres to explore, this is a great day trip. During extreme low tide I imagine you can get into a lot of the remarkable sea caves which are visible from the trails. Some of the highlights of the hike will include Corallina Cove, Quarry Cove, Spooner's Cove and Grotto Rock.
5. Dorn Pyramid
The Dorn Pyramid has towered over the Oddfellows Cemetery for over 100 years now as a masonic symbol for the remains of a mother and child. This Egyptian Revival funerary architecture was generally an extravagance of American tycoons who wanted themselves remembered as long and as well as the ancient pharaohs. Pyramid monuments were also considered fashionable for wealthy Victorians who buried their families in these beautuful tombs in London's Highgate Cemetery.
If you're enjoying this post, make sure to also check out our list of hidden gems in Orange County!
6. Nitt Witt Ridge
Nitt Witt Ridge is a house on two and a half acres in Cambria, California, United States. Artist/recluse Arthur "Art" Harold Beal (d. 1992) bought his hillside lot in 1928 and spent most of the next 50 years carving out the terraces with only a pick and shovel, creating his own "castle on a hill".
7. Hearst Castle
I have never seen a more beautiful home in my life and probably never will again. The tours of this castle are divided in 5 different groups. We took the 'Experience Tour'. As an artist, I left this place feeling incredibly inspired and just wanted to go home immediately and *create*. It is $20 for an hour tour of many different rooms and completely worth it in my opinion.
8. San Luis Obispo Botanical Garden
Every year when I head up to Big Sur on highway 1, I pass signs for San Luis Obispo's Botanical Garden and every year we pass by it without visiting. Finally, I added it into our itinerary so we would have no choice BUT to stop by!
A huge purpose I feel this garden serves is as a little break from the road if you are doing a long road trip. It's nothing *too* spectacular, but it is special and most importantly, free!
9. Madonna Inn
The Madonna Inn will not be for everyone, but for many it will be spot on. It is delightfully tacky in the best ways possible. We were road-tripping up to Big Sur and did not stay here, but I managed to take plenty of photos to give you an idea of what it's all about. Sadly I did not realize there are pink tennis courts or I would have tried to photograph them too! The menu seemed ridiculously over-priced but that's just my opinion.
10. Eberle Winery
For you adventurers whom also love wine, this may be the place for you!  There is an underground here! Below is a CAVE.  Yep!  It is a man-made cave and created to store their wine, but it is rather extensive and really cool and they offer free tours!  SO, if you're already into wineries, in the area or are like me and enjoy wine & caves, stop on by! The view is beautiful too.
11. Cal Poly Architectual Graveyard
The 9-acre Experimental Structures Facililty has earned a new nickname over the years, which architectural engineering professor Ed Saliklis is truly saddened by.  He refuses to even call it by it's nickname: The Cal Poly Graveyard. The structures have fallen victim to vandals and neglect over the years, largely due to the fact that there is no longer a student caretaker looking over and protecting the land.
12. Bubblegum Alley
Some historians believe that the tradition of the alley started after WWII as a San Luis Obispo High School graduating class event. Others believe it started in the late 1950s, as rivalry between San Luis Obispo High School and California Polytechnic State University (Cal Poly) students. By the 1970s, Bubblegum Alley was well established. When shop owners complained that it was "unsanitary and disgusting", the alley underwent a full cleaning. The gum graffiti survived two full cleanings in the 1970s. In 1996, the BIA unsuccessfully attempted to have another alley cleaning.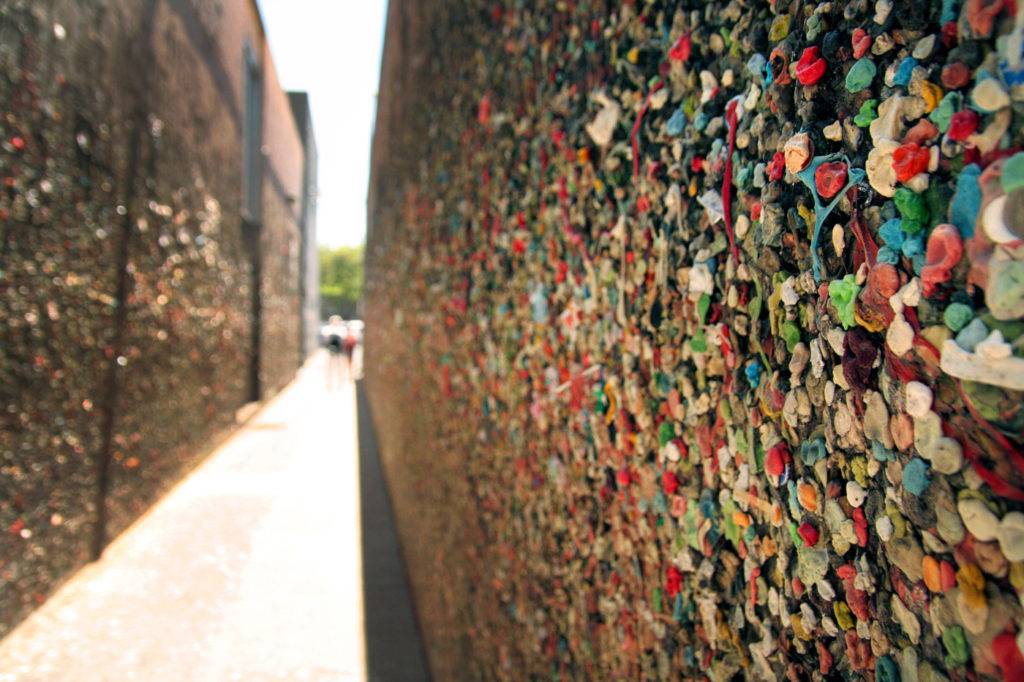 13. Avila Valley Barn
This spot reminds me a lot of Bates Nut Farm in San Diego.  It is extremely kid-friendly and a nice little spot to stop by if you are on a long road trip with the family.  They have fresh fruit from local farms and homemade ice cream.  There are farm animals you can pet and beautiful scenic views.  About 5 minutes away is the Sycamore Gardens which I will be creating a page for shortly.
14. Point Buchon Trail
Directly south of Montaña de Oro State Park lays this special trail that was only recently open to the public.  Oddly enough, the Point Buchon Trail is owned by Pacific Gas & Electric and therefore sits on private property.
You are legally allowed to hike the trail during open hours but must first stop by the small rangers station and put your name on a list.  Simple enough and then we were on our way!