Hello everyone! This is a friendly reminder that any of these fun places we may visit, we are a guest at. Please treat both businesses and trails with the utmost respect. We here at Hidden California follow the 'Leave no Trace' mantra, meaning whatever you bring with you comes back with you. If you see trash on a trail, please do your part to help remove it. Remember, we are not picking up trash from another person but instead cleaning up for Mother Nature. Happy adventures!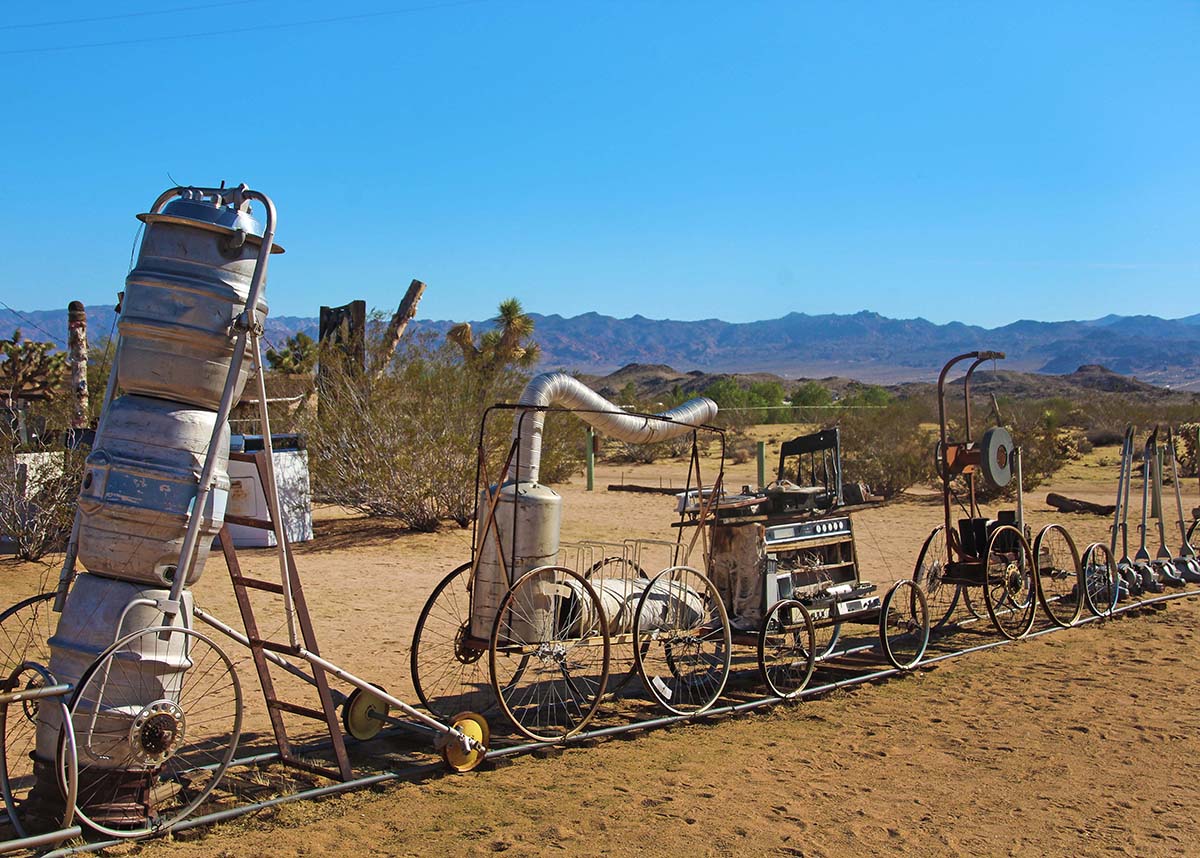 62975 Blair Ln, Joshua Tree, CA 92252
34.195793142, -116.2882232246
Dog-Friendly: Yes  Kid-Friendly: Yes
Hours: Open daily from dawn to dusk
For those that enjoy art and also visiting Joshua Tree, the Noah Purifoy Outdoor Desert Art Museum should be added to your list. Located on 10 acres in the Mojave Desert, this unique collection of installations was created by artist Noah Purifoy during the final decade of his life.
Noah was a well-respected artist in Los Angeles, who was known for creating art from trash and debris.  Shortly after he became the founding director of the Watts Tower, the Watts riot broke out creating an explosion of chaos.
The aftermath was destruction everywhere. Looking to find the silver lining in this tragedy, Noah began creating art pieces from the trash left behind.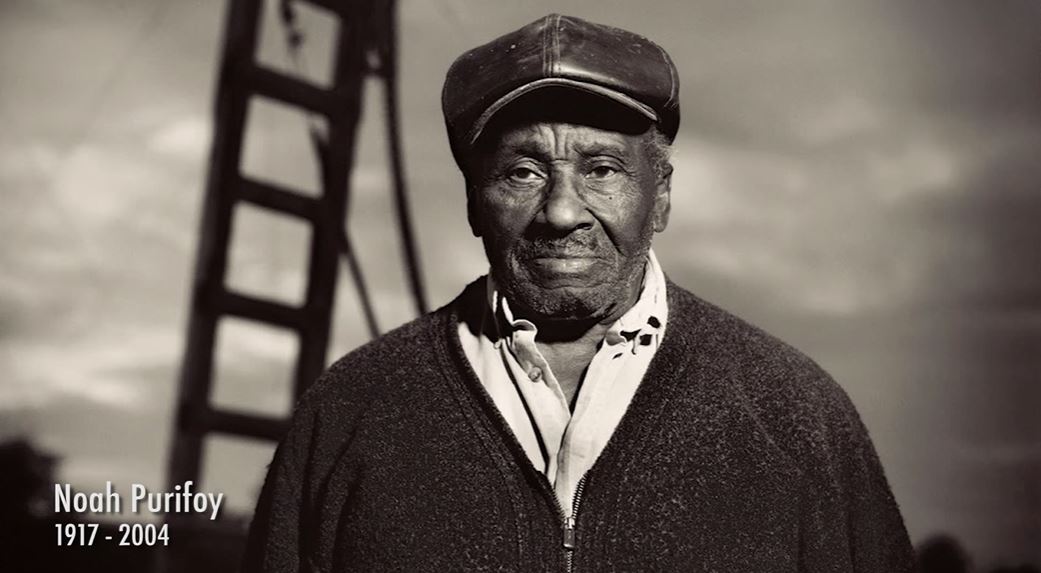 In the months after the Watts Riots uprising, Noah and artist Judson Powell organized the exhibition 66 Signs of Neon, composed of roughly 50 works of art made from salvaged materials as a way to "interpret the August event."
In 1972 Noah was becoming tired of the art scene and dropped out.  Shortly later, then governor Jerry Brown asked him to be part of the newly-founded California Arts Council.  He accepted the invite, but on his own terms, putting almost all of his efforts into both the school systems and prison systems.
Eventually he made his way out to Joshua Tree, most say to escape the city grind and high prices of living. He spoke of the silence of the desert and how it was the first time in his life he could peacefully just sit back and think.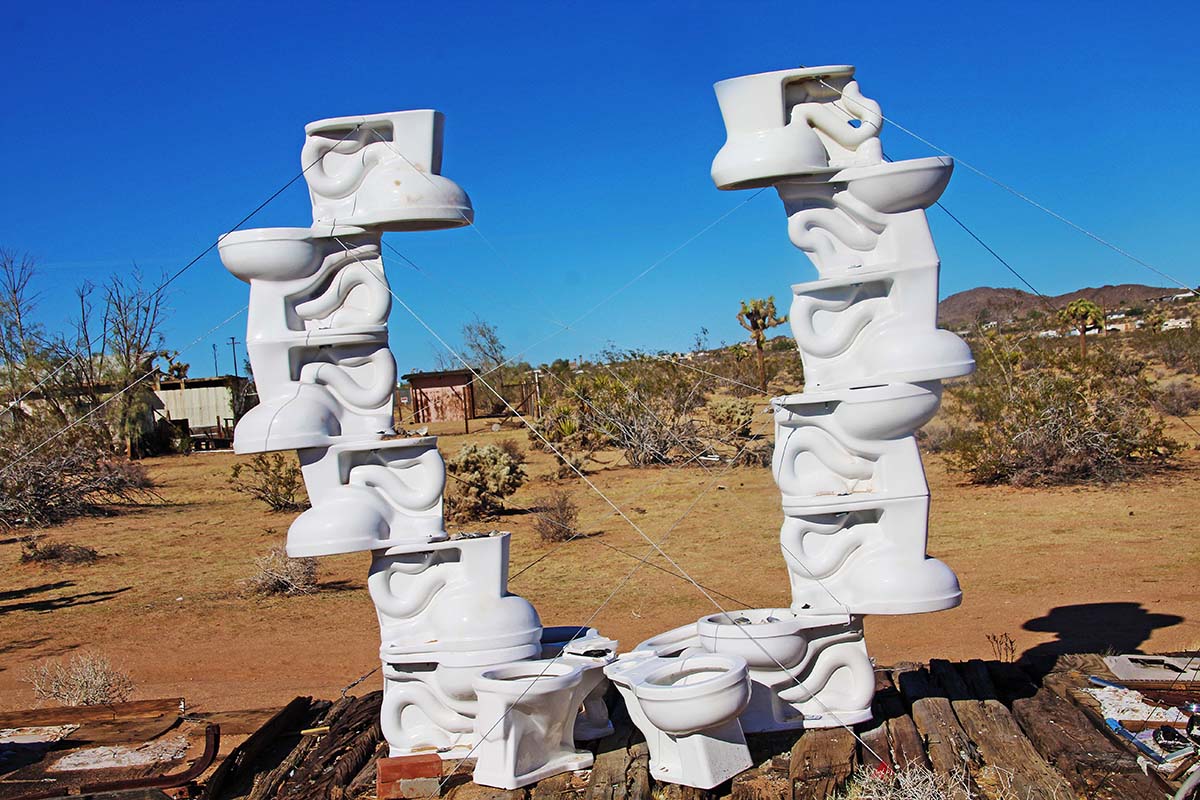 The site in which the Noah Purifoy Outdoor Museum sits was not only his art gallery but also his home and studio. He continued the theme of creating art through found objects throughout the rest of his life.
Being this is both outdoors and in the harsh environment of the desert, this combination only accelerates the rate at which everything decays. In 1999, the Noah Purifoy Foundation was established to protect Noah's work.
In 2004, Noah passed away in his studio. We are fortunate that his museum is still around and open to the public for free as these pieces were created by an incredible man who is no longer with us.  I hope when you come here to visit that you will be impacted by these pieces now knowing a little more of their background.
Walking around, I feel his style is aligned with the pieces at both East Jesus near the Salton Sea as well as the Cal Poly Architectural Graveyard in San Luis Obispo.