Hello everyone! This is a friendly reminder that any of these fun places we may visit, we are a guest at. Please treat both businesses and trails with the utmost respect. We here at Hidden California follow the 'Leave no Trace' mantra, meaning whatever you bring with you comes back with you. If you see trash on a trail, please do your part to help remove it. Remember, we are not picking up trash from another person but instead cleaning up for Mother Nature. Happy adventures!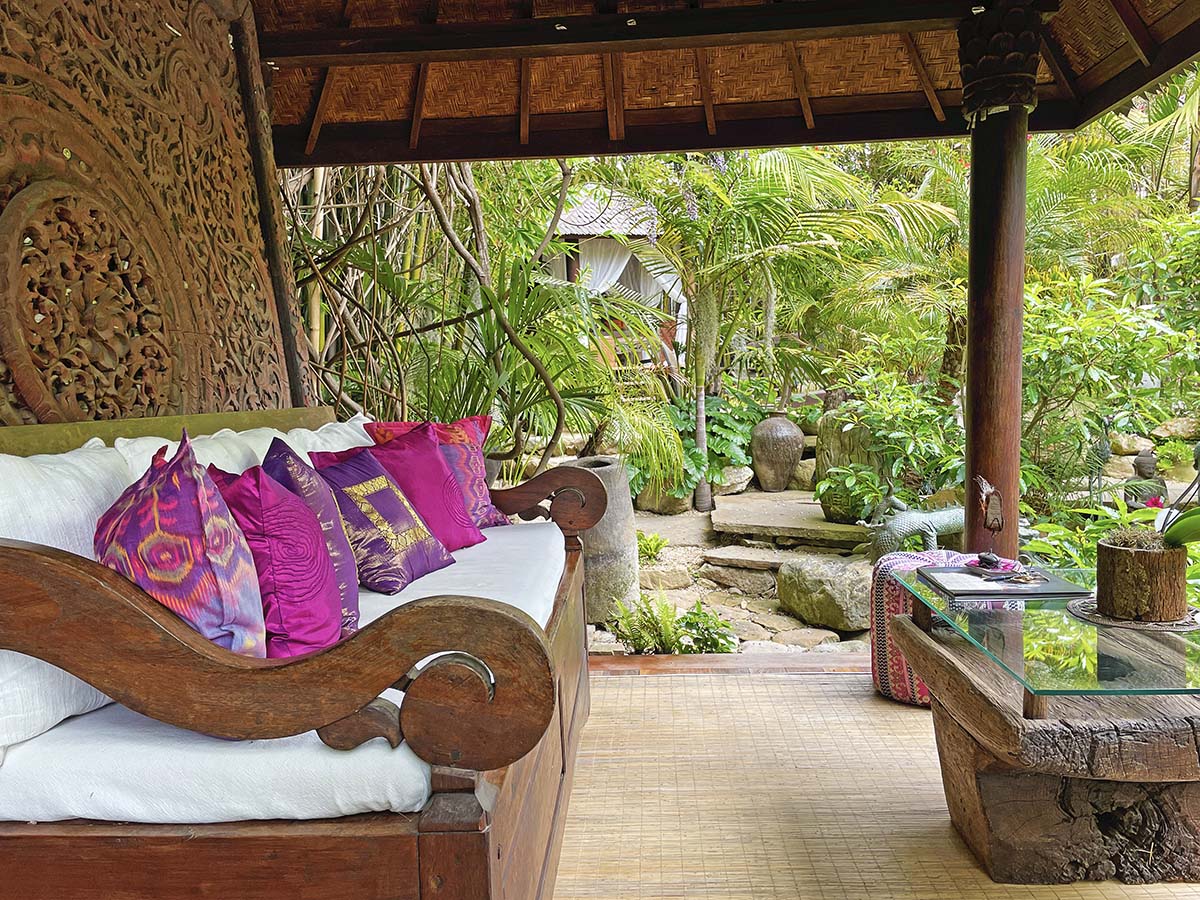 By Gina Thompson
Southern California is filled with hidden gems and eccentric places that many people may not know about. Within the windy roads from the coast to the desert are unique architectural spaces you won't want to miss during your visit.
1. Mosaic Tile House
link
Tucked away in Venice Beach is the Mosaic Tile House. Since 1996, the owners of this eccentric space have placed recycled materials artfully throughout the home. Some spots of the home are reminiscent of Gaudi's work in Barcelona. On Saturdays, tours are offered at $20 a person and kids under 12 are allowed in for free.

2. Bob's Crystal Cave
link
Years ago, a man-made crystal cave was the talk of Yucca Valley. The man behind the vision, Bob Carr, used chicken wire, spray foam, and gems to create this unique piece of art. Bob's Crystal Cave is situated at the Sky Village Swap Meet. Carr died in 2019, so tours inside the cave are rarely offered anymore. Still, you can appreciate the outside artwork at 7028 Theatre Rd.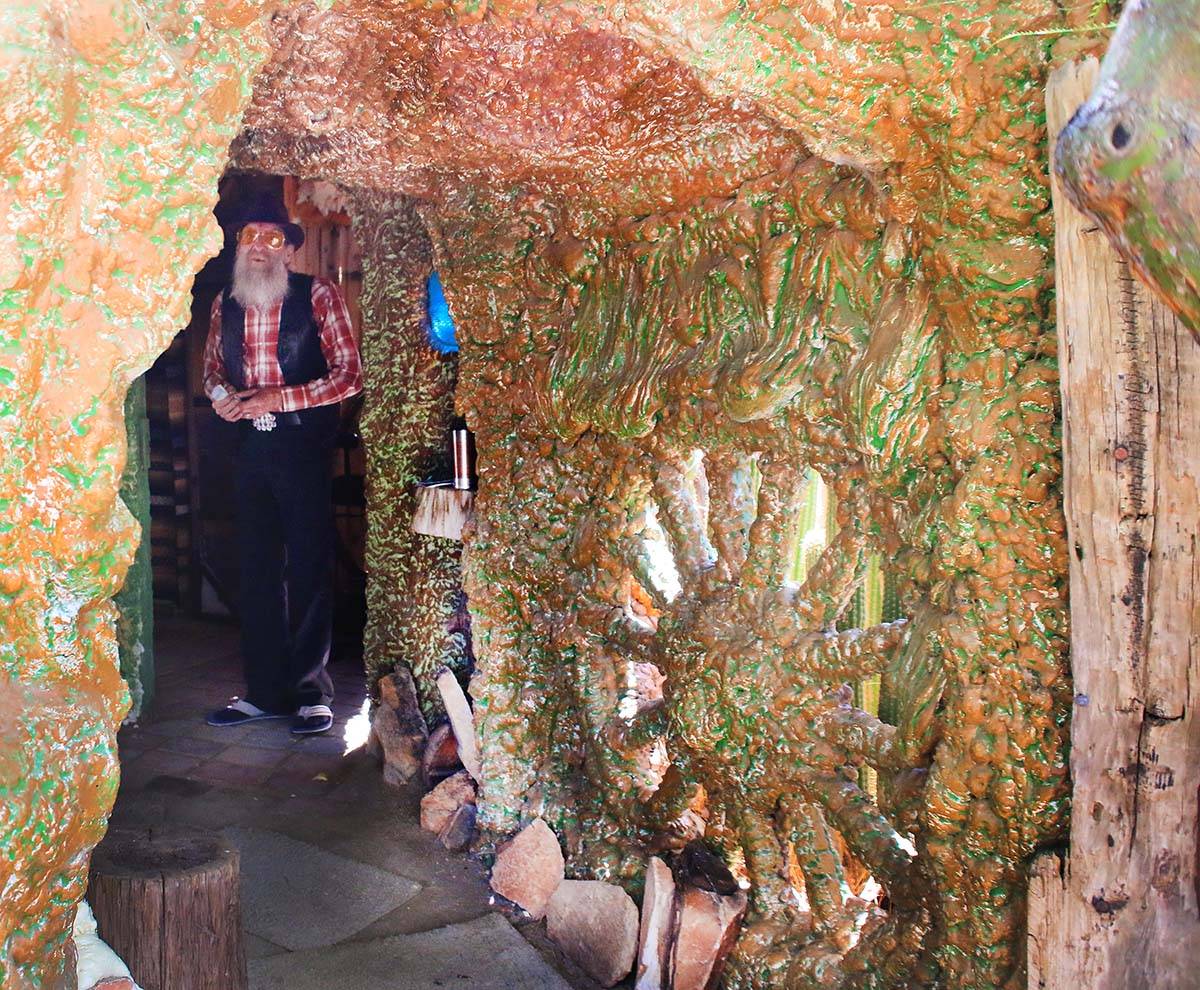 3. Cabot's Pueblo Museum
link
You'll find the Winchester Mansion of the desert in Desert Hot Springs. That is what some people call Cabot's Pueblo Museum. From the outside, it looks like a simple structure with a few odd windows. However, inside you'll discover so many rooms filled with ancient artifacts and artworks –– 35 rooms to be exact. Make sure your phone is charged when you come here!
The tour is self-guided with the help of your smartphone. Regular admission is $13, and opening hours are 9 a.m. to 1 p.m. Tuesday through Saturday.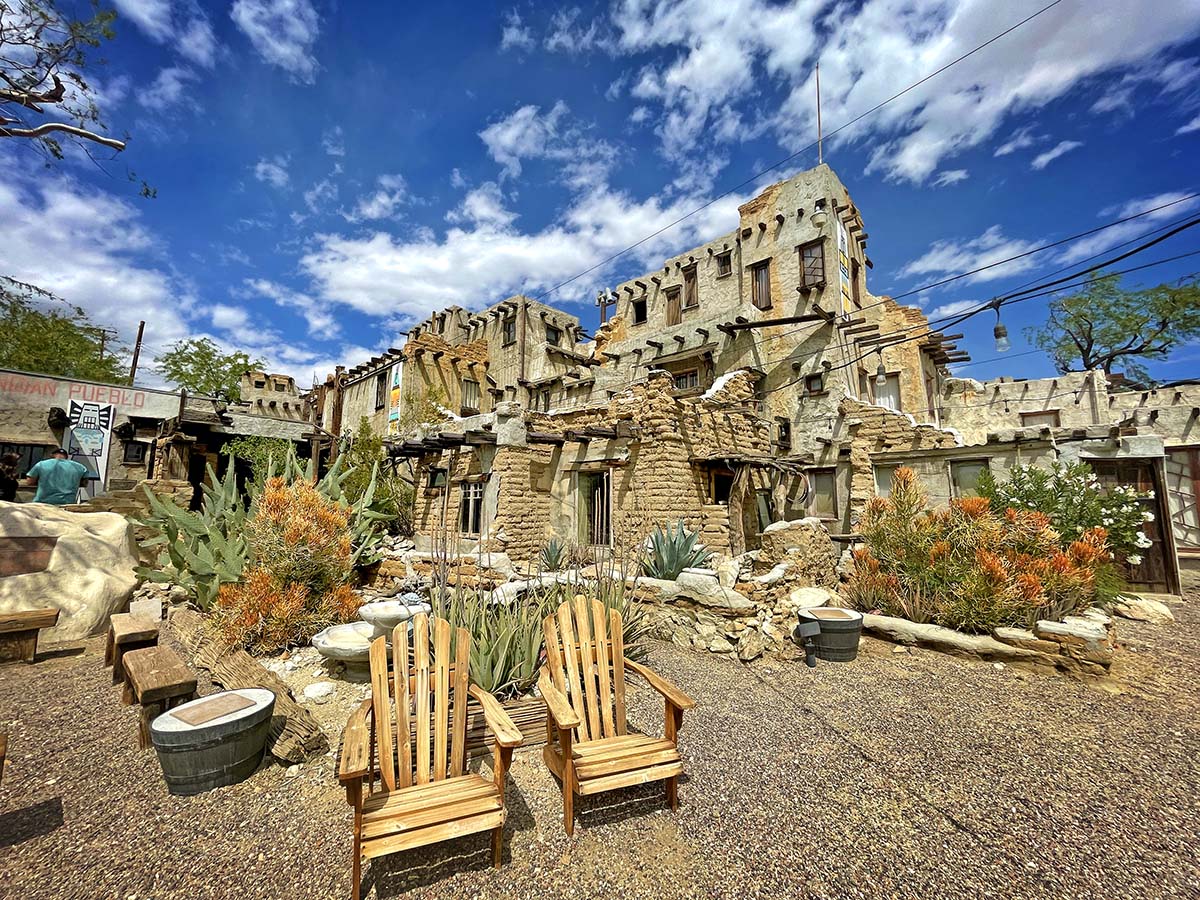 4. Catalina Casino
link
Leave southern California for a quick Spanish getaway to Santa Catalina Island. In Avalon sits the Catalina Casino. Don't expect to find any slot machines here. Instead, you'll find yourself in a theater, painted with blue gazelles and shimmery flowers. Throughout the property, you'll find magnificent Mediterranean Revival and Art Deco architecture and designs.
Old Hollywood stars would retreat to Catalina Casino, and some could still be there today. The casino is said to be haunted, and workers say they often see shadowy figures in the rooms. Plan your trip to Catalina Casino a few months in advance! It's worth the wait.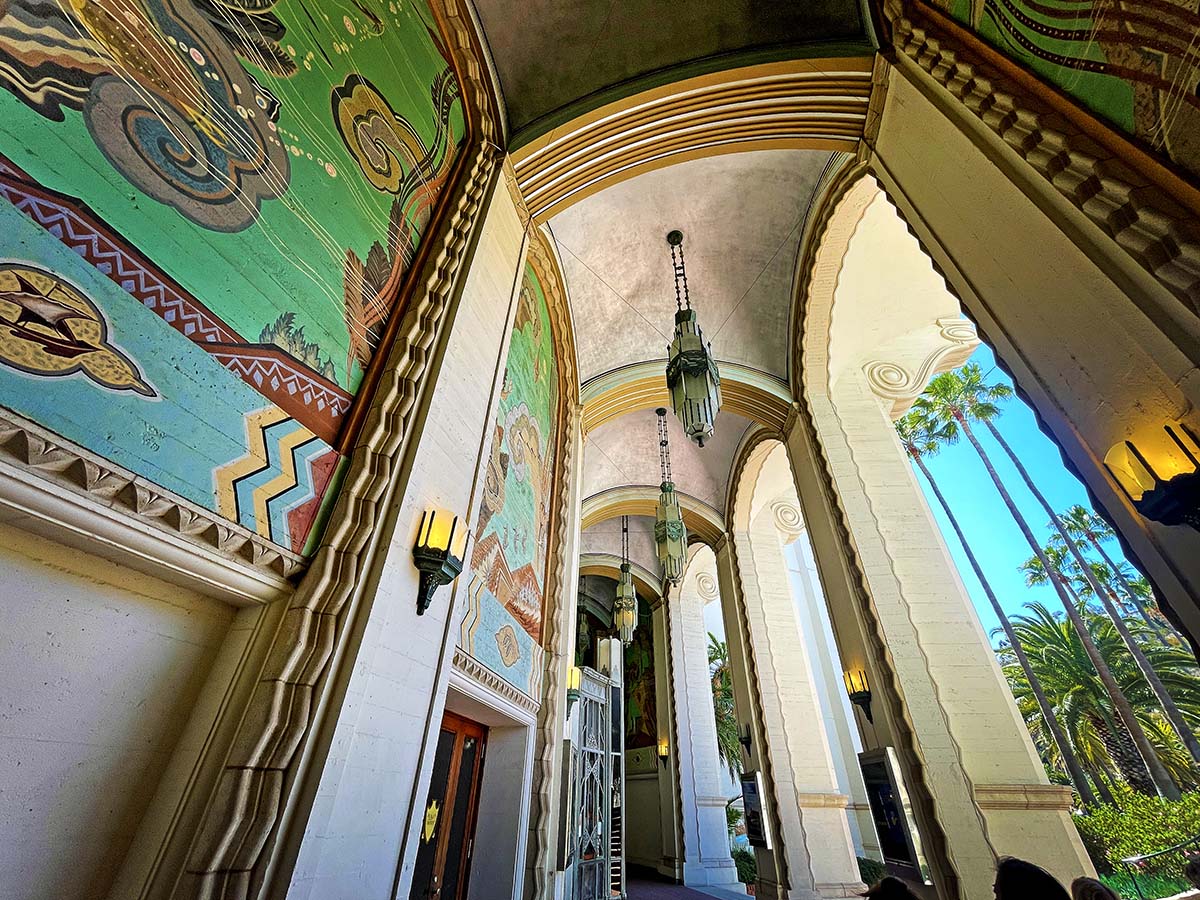 5. Egyptian Building
link
If crossing the Strait of Gibraltar from Spain to Africa is a bit too far of a hike for you, then hop over from Avalon to Chino Hills, for a stop at the Egyptian Building. You can't miss it when driving up 71 near the Commons at Chino Hills Shopping Center.
In the middle of a shopping center is a gateway to an ancient civilization, a replica of the ancient Abu Simbel temples from around the 13th century.
The inside of the building is empty, and rumor has it a restaurant was supposed to open there. Still, this picture-worthy spot is a must-see in Southern California.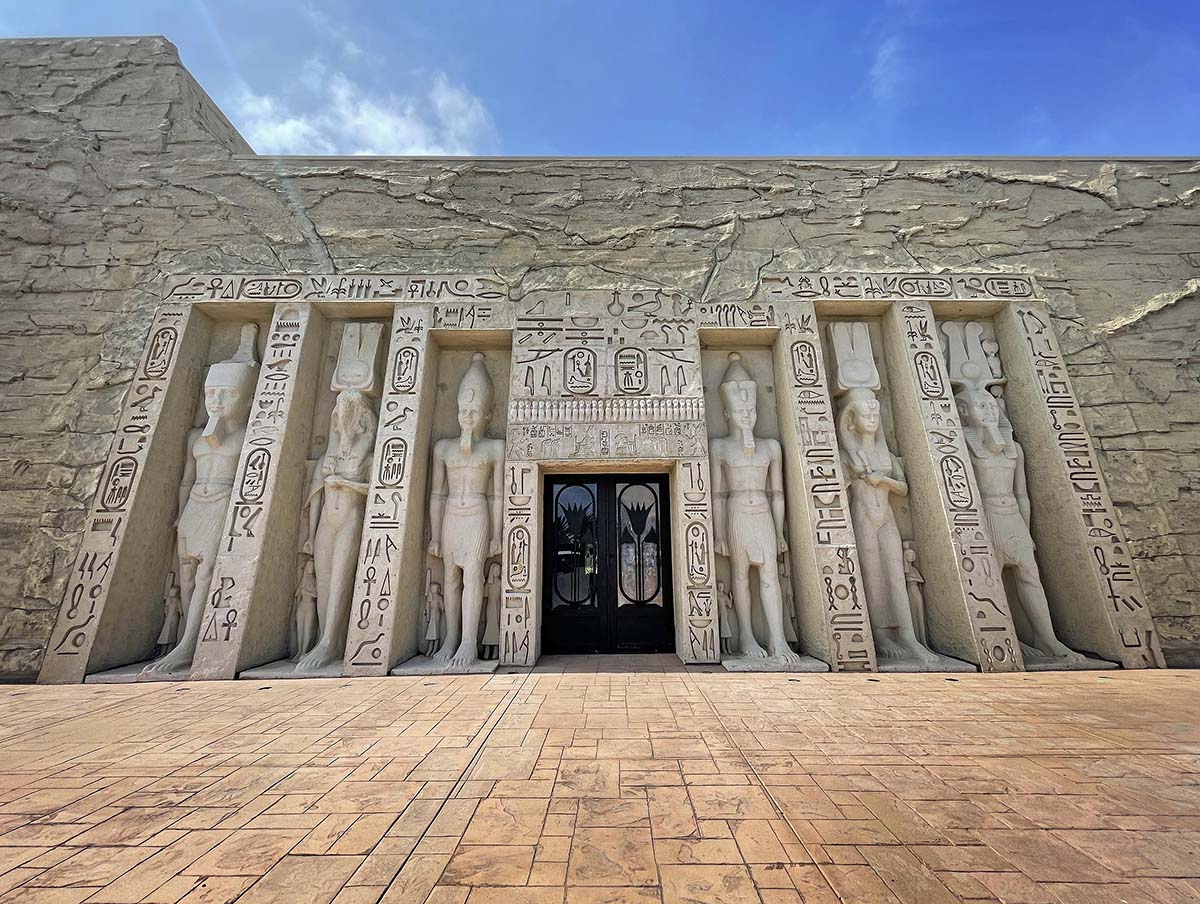 6. Greystone Mansion
link
Back in Beverly Hills, visit the Greystone Mansion. It's located at Doheny Greystone Park, where the city's Parks and Recreation Department operates. The grounds are free and open to the public daily. From the English gardens, you can admire the Tudor Revival architecture of the mansion.
The property was completed in 1928 as a wedding gift from Edward Doheny to his son Ned. Construction totaled more than $3 million. You might even recognize some of the architecture from movies, as big studios use the Greystone estate for filming.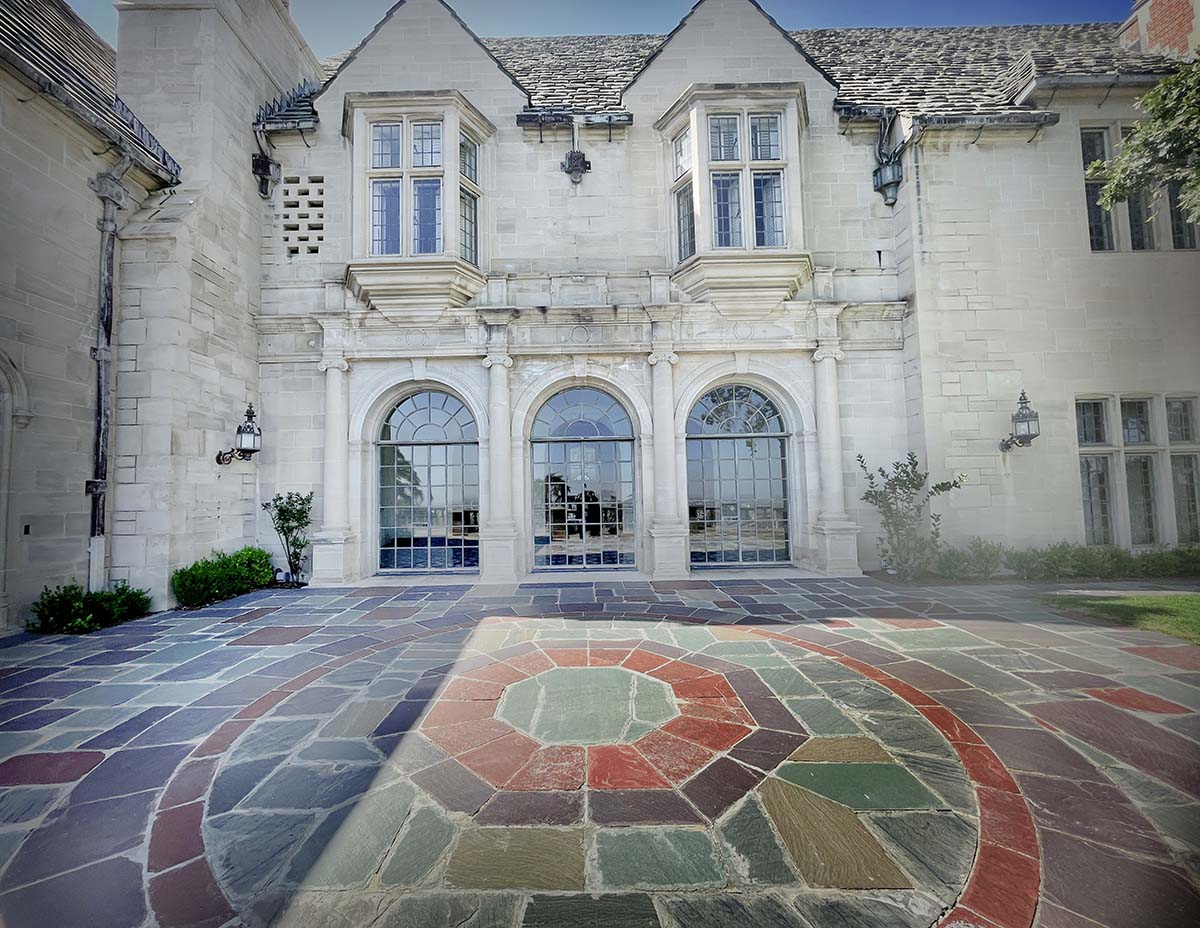 7. Heritage Square Museum
link
Visit eight unique historical structures in one stop at the Heritage Square Museum. You can spot these Victorian houses from the highway in Los Angeles, but if you ever have the chance to stop and pull over here, take it! The grounds are open for exploration every Saturday and Sunday.
Guided tours of the interior of the Heritage Square homes are offered at noon and 3 p.m. for $16 a person. During the tour, the guide will tell you about the people who lived there and what their daily lives were like in California during the Victorian era.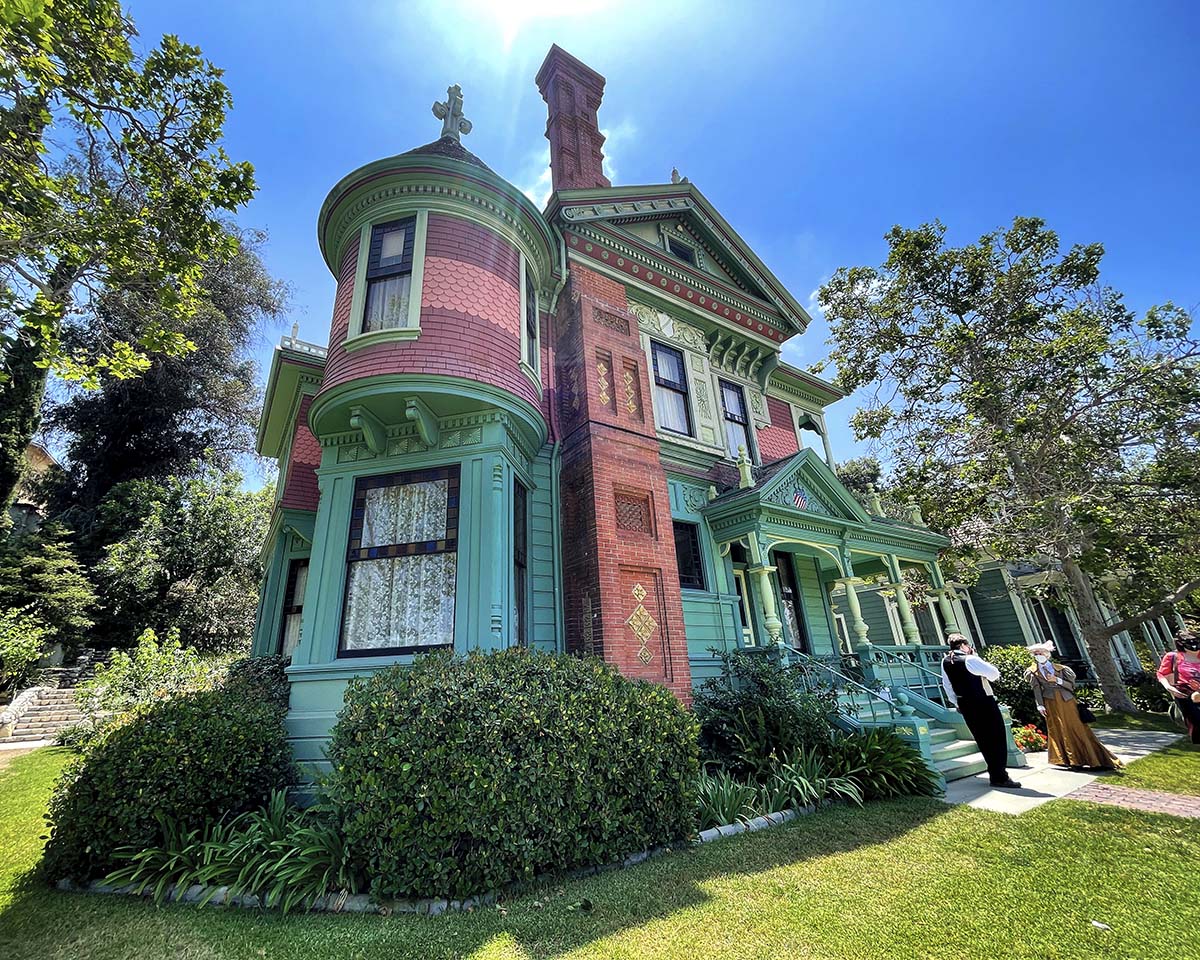 8. Tio's Tacos
link
If you're hungry during your tour of architectural masterpieces in Southern California, stop by artsy and fun Tio's Tacos in Riverside. This is where tasty food and fun aesthetics are combined for the ultimate taco experience.
The restaurant is designed with art installations made with recycled items inspired by the owner's childhood in Michoacán, Mexico.
There's a glass bottle chapel and a wall of dolls. Bikes, keys, and other items embedded in concrete will have your eyes searching for hidden treasure as you cool off with an agua fresca or munch on chips and salsa.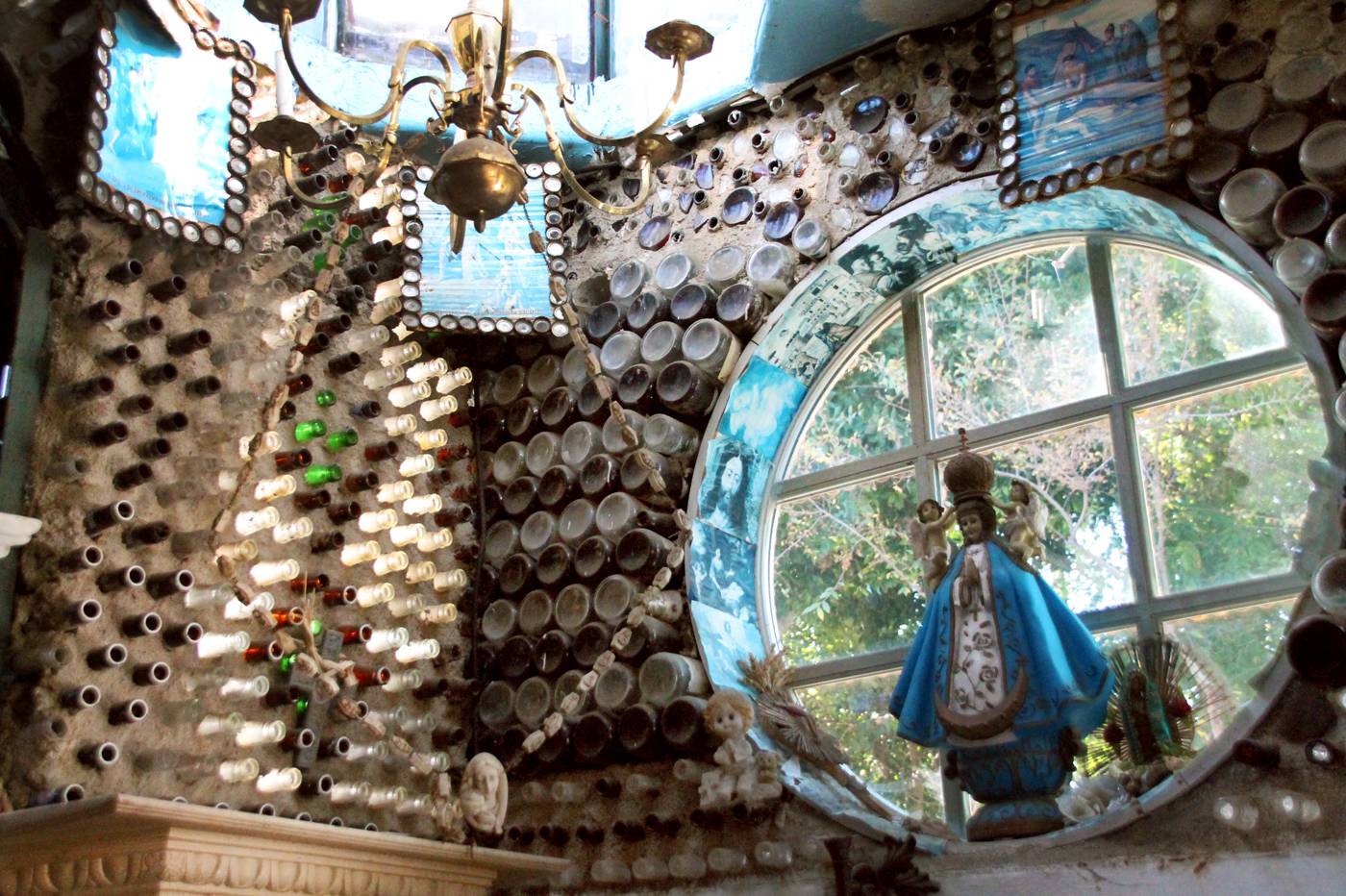 9. Mt. Rubidoux
link
Get your hiking boots ready! At Mount Rubidoux, in the middle of Riverside, stands a cross, a peace tower, and the Friendship Bridge. The hike is less than a three-mile round trip, but getting to the top can be strenuous. Drink lots of water and pace yourself to finish the hike. While you're walking, keep an eye out for anything strange.
The trails at Mt. Rubidoux supposedly have hidden entryways to underground tunnels and a painting from the Paleolithic age. Once you're at the top, huge rocks work as perfect benches to sit on and enjoy the view over the city.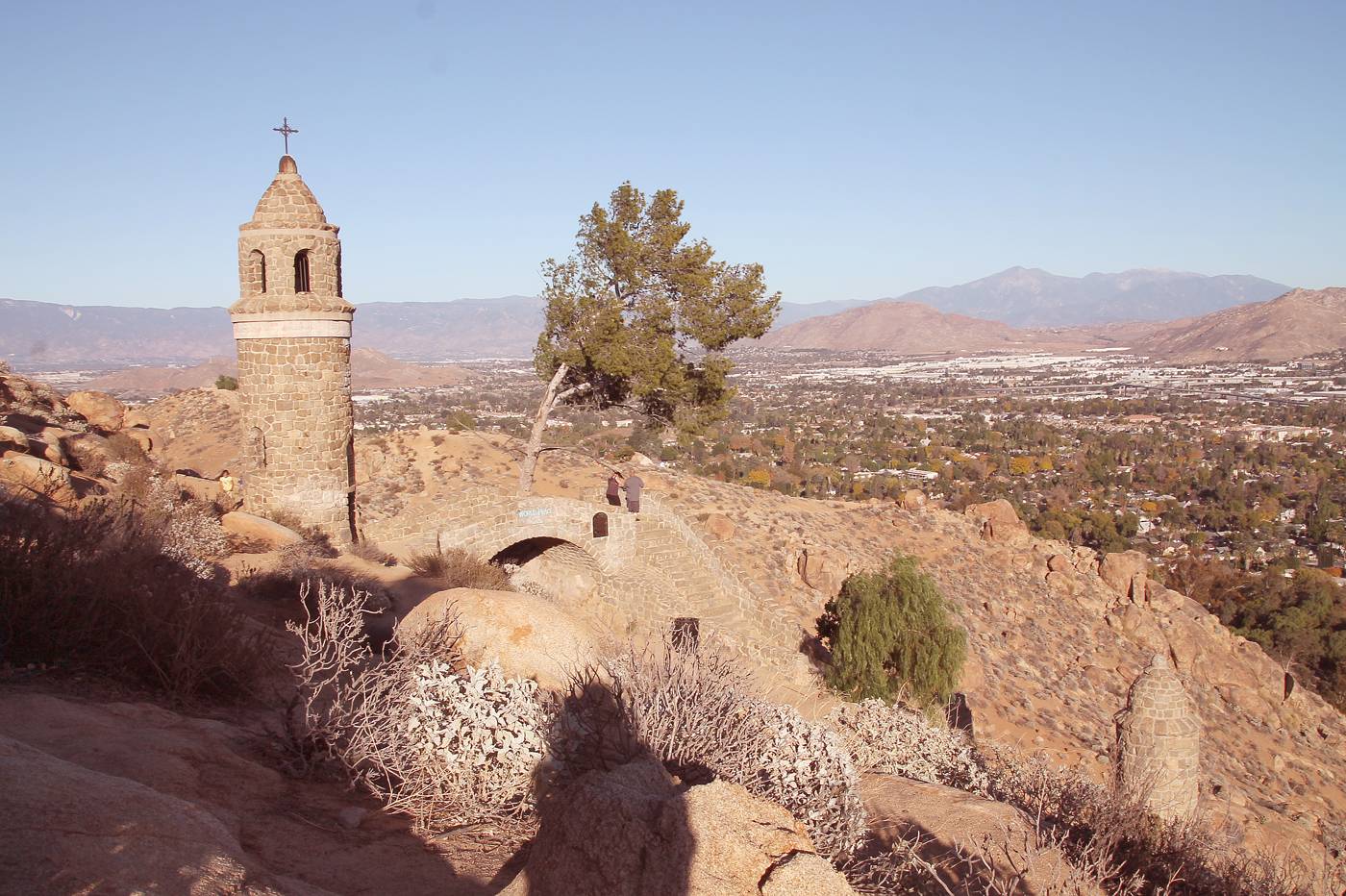 10. Salvation Mountain
link
A different type of mountain in Southern California worth checking out is Salvation Mountain in Niland. This mountain was artist Leonard Knight's love letter to God. The art installation is a man-made mountain that stands over three stories high.
Paint and salvaged materials meld into one to form unique structures and decorations. Visitors often bring paint to add to the cacophony of colors in this forgotten town.
11. Cabazon Dinosaurs
link
You'll find the dinosaurs from Pee Wee's Big Adventure in Cabazon. The famous Cabazon Dinosaurs is a family-friendly attraction in Southern California and is just an hour and a half away from Los Angeles. A gift shop is in the Apatosaurus, and a lookout is at the top of the stairs in the T-Rex.
In the early 2000s, Creationists acquired the property, so don't be surprised if you find more scripture-themed items than dinosaurs in the gift shop. Still, the dinosaurs are fun to explore from the outside. You only have to pay an entrance fee to go inside the museums.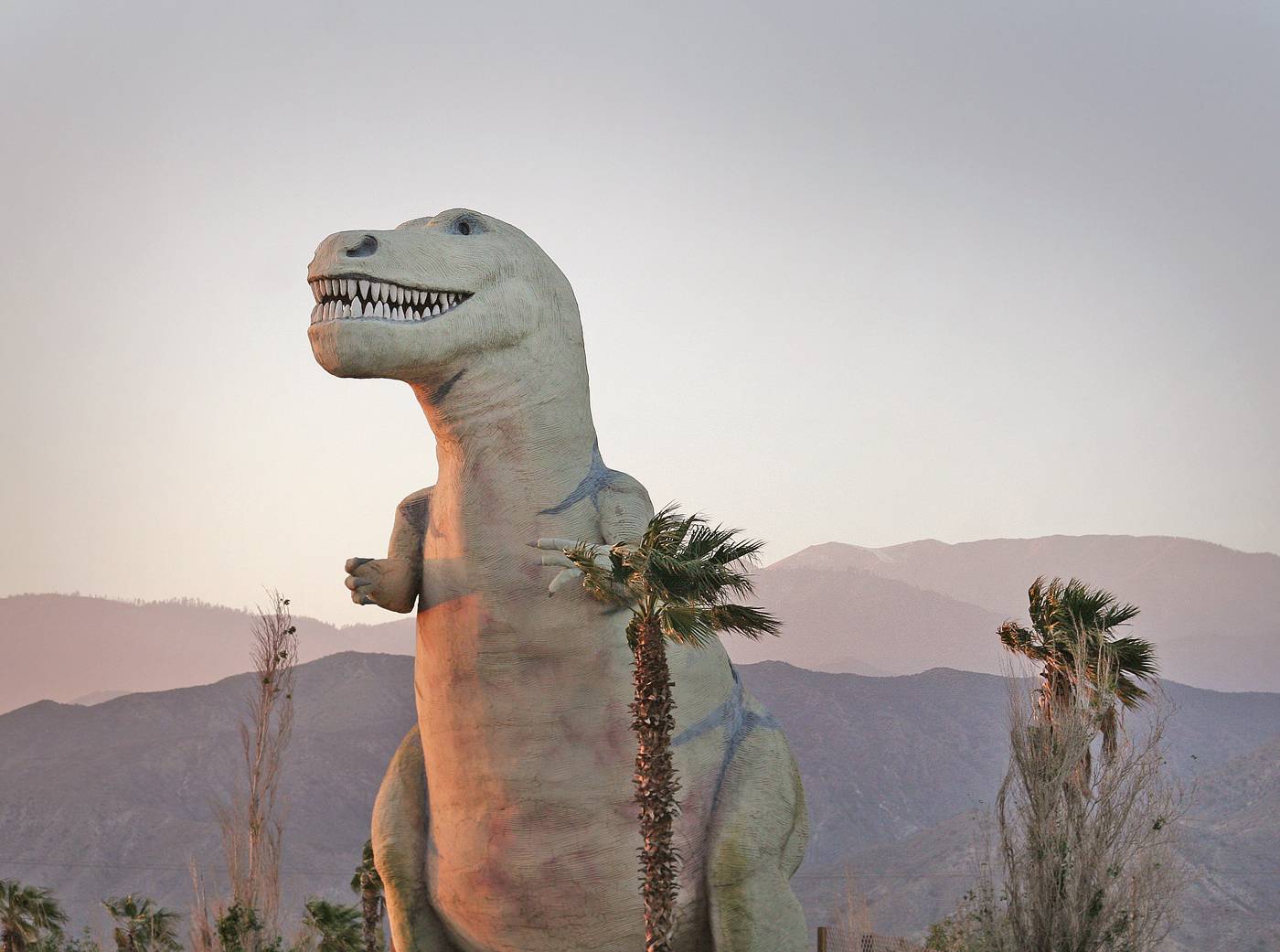 12. Malibu Hindu Temple
link
Hidden in the Santa Monica Mountains is the Malibu Hindu Temple. The temple of the Hindu god Venkateswara was built in 1981 on Las Virgenes Canyon Road between Calabasas and Malibu. The traditional South Indian architecture features white stone pyramids and gold statues.
Hindus from all over Southern California come to the Malibu Hindu Temple for ceremonies and celebrations. This temple is open to the general public, but since priests live on-site, they have strict hours of operation.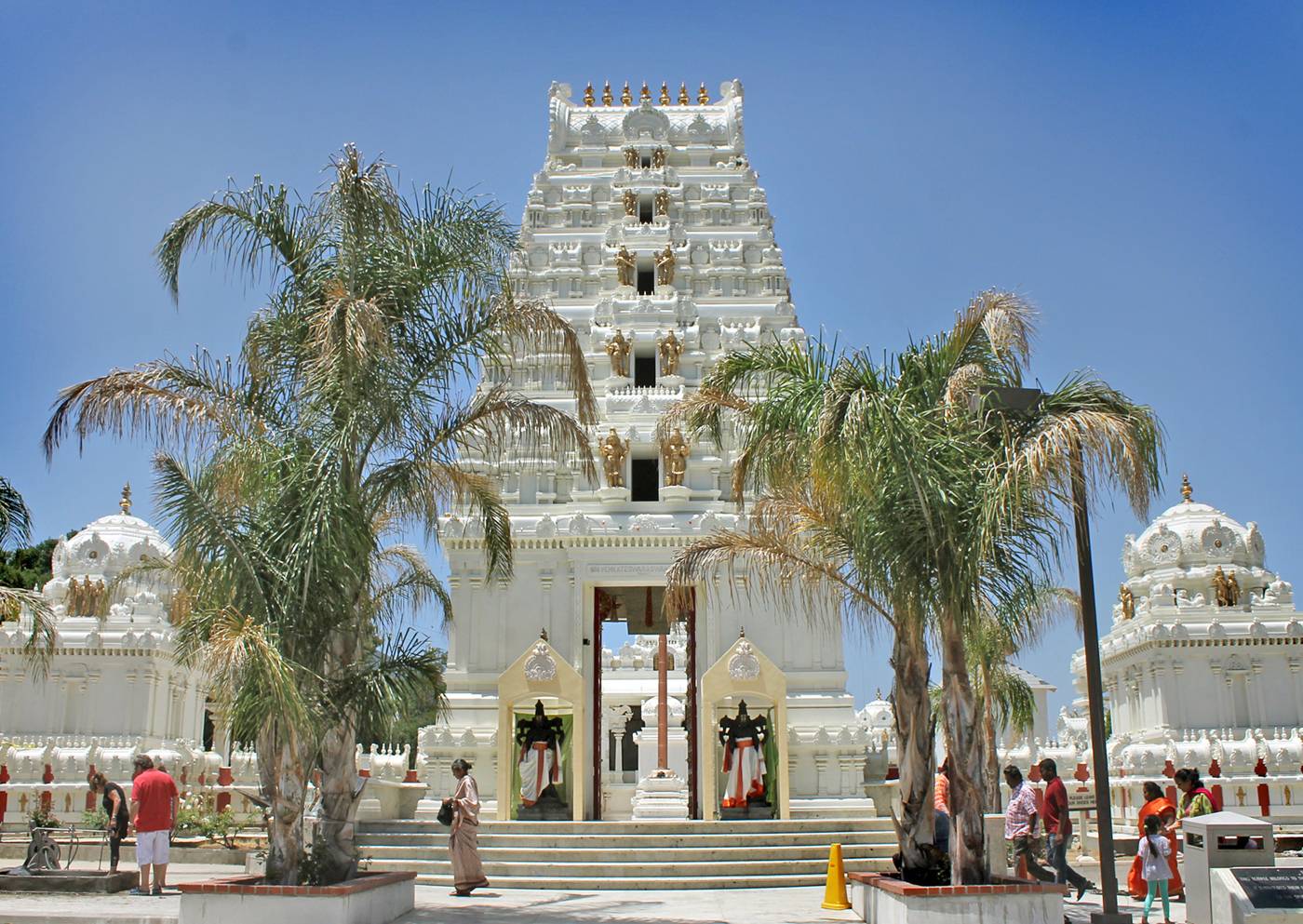 13. Mission Inn Hotel & Spa
link
Back in Riverside, you'll find the historical Mission Inn Hotel & Spa. Constructed in 1876, this resort is styled after Spanish missions in California. Since the inn's opening, it's been home to historical artworks and Christian artifacts.
Now, it's considered a living museum because of the history that lives there, along with the guests who stay a night or two. Underneath Mission Inn are tunnels that were likely used during Prohibition, but one of the tunnels leads to a catacomb.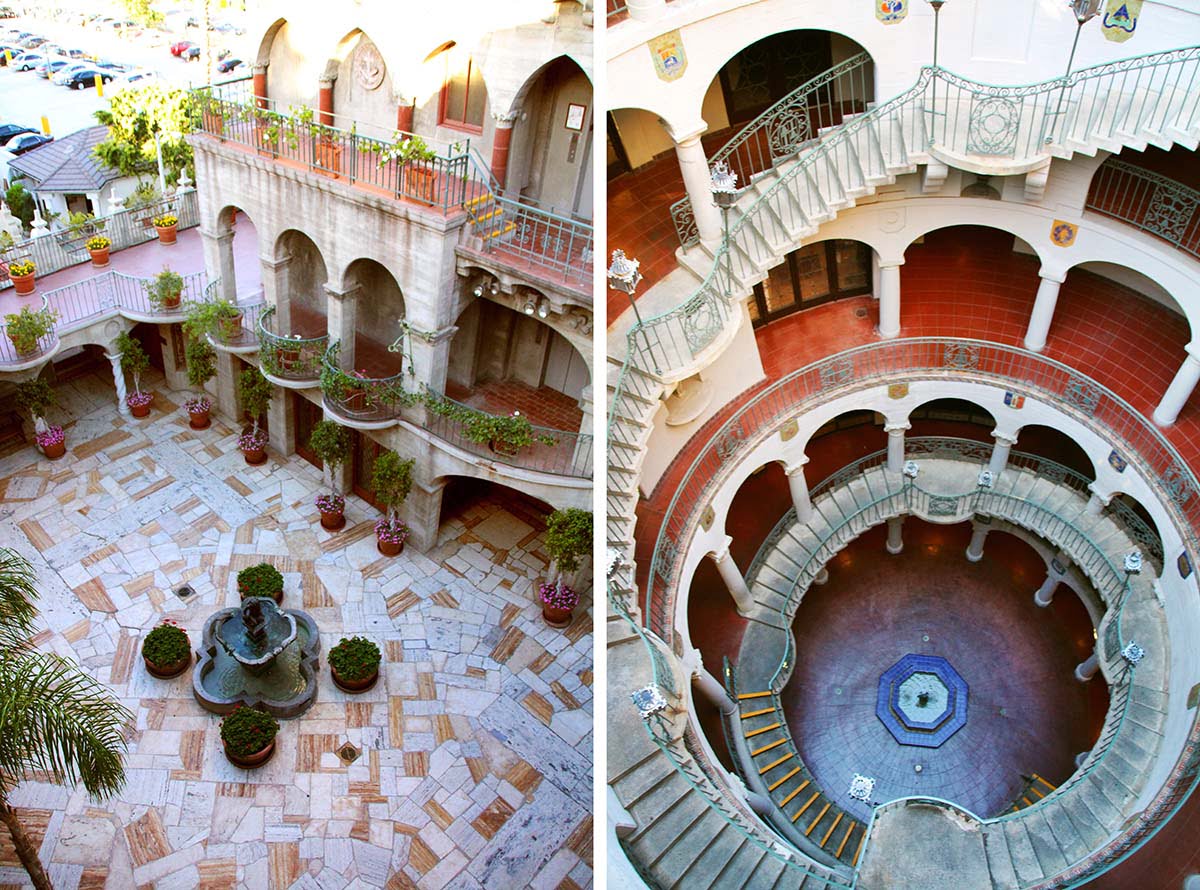 14. Mozumdar Temple
link
In the 1920s, spiritual leader A.K. Mozumdar bought 10 acres of land in the San Bernardino mountains. The guru commissioned the building of Camp Mozumdar. The temple's architecture was inspired by the Taj Mahal, in the Mughal style.
Mozumdar wanted his temple to be a place of worship where people from all religions could gather, but sadly, he died before the temple was completed.
Now, you'll have to admire the beauty of the Mozumdar Temple from the road. However, if you're lucky and in the right place at the right time, you can get a tour from a local historical society.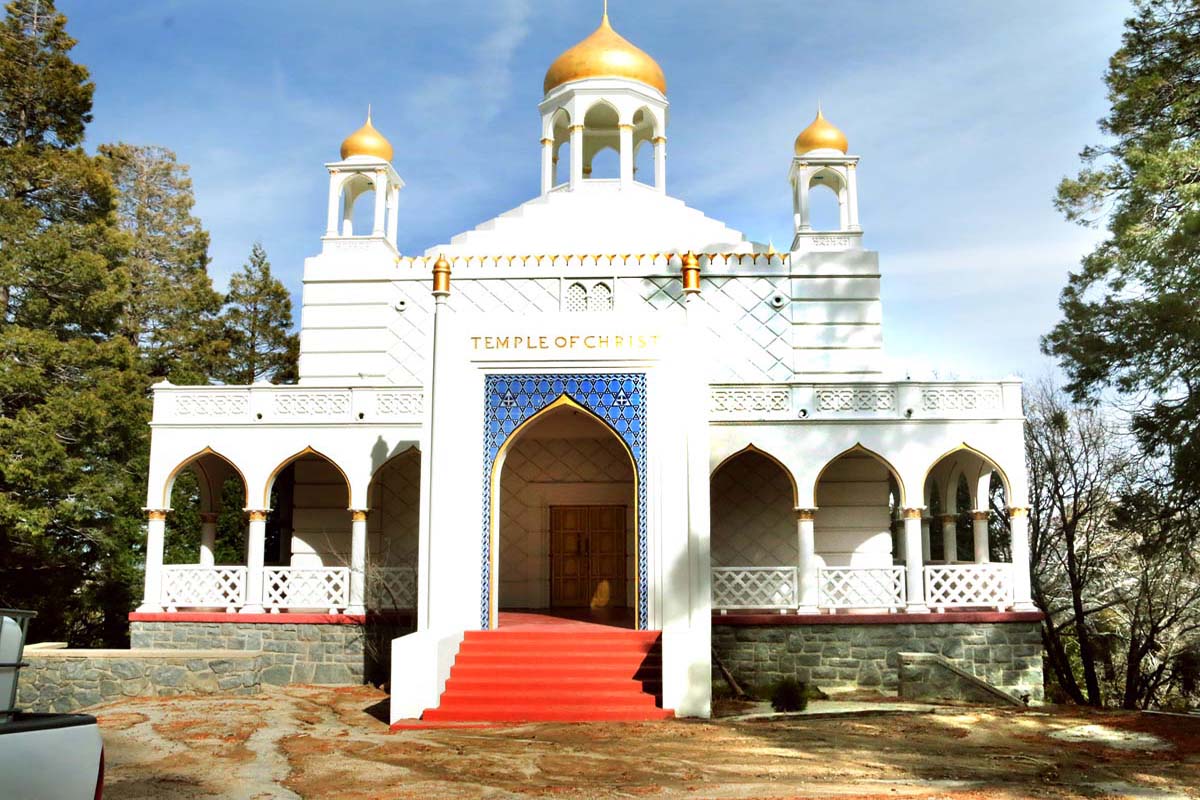 15. Laguna Beach Pirate Tower
link
At the end of a quick five-minute hike from the Laguna Beach shore, you'll find the Laguna Beach Pirate Tower. Be careful when exploring the structure as it can be reached only during low tide. From far away, the pirate tower could easily blend in with the cliffs, but once you get closer, you see that the tower is just one part of a small coastal home.
The mini castle was built in 1926 as a vacation home for California state Senator William E. Brown and his family. Inside the tower is a spiral staircase that was used as a personal beach entrance for the Brown family.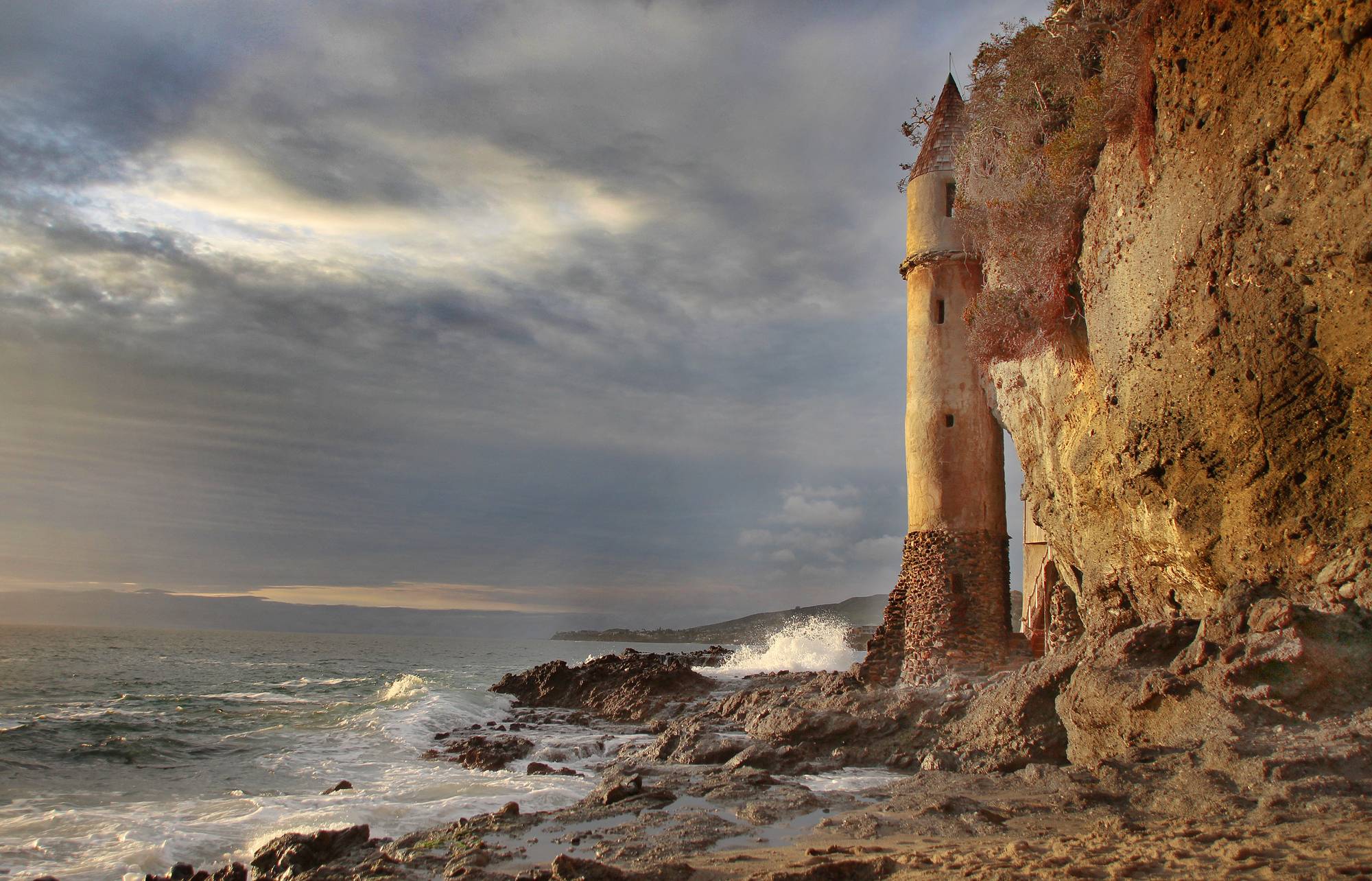 16. Randyland
link
In Echo Park, a unique and eccentric home called Randyland is where you'll find creative inspiration from the many colorful art installations. Since 2000, Randlett King Lawrence has been changing and adding to his front yard with glass, water, and sunlight.
Anyone is welcome to view the pieces at Randyland, but you can also schedule an appointment with Lawrence for a tour and an explanation of his art process.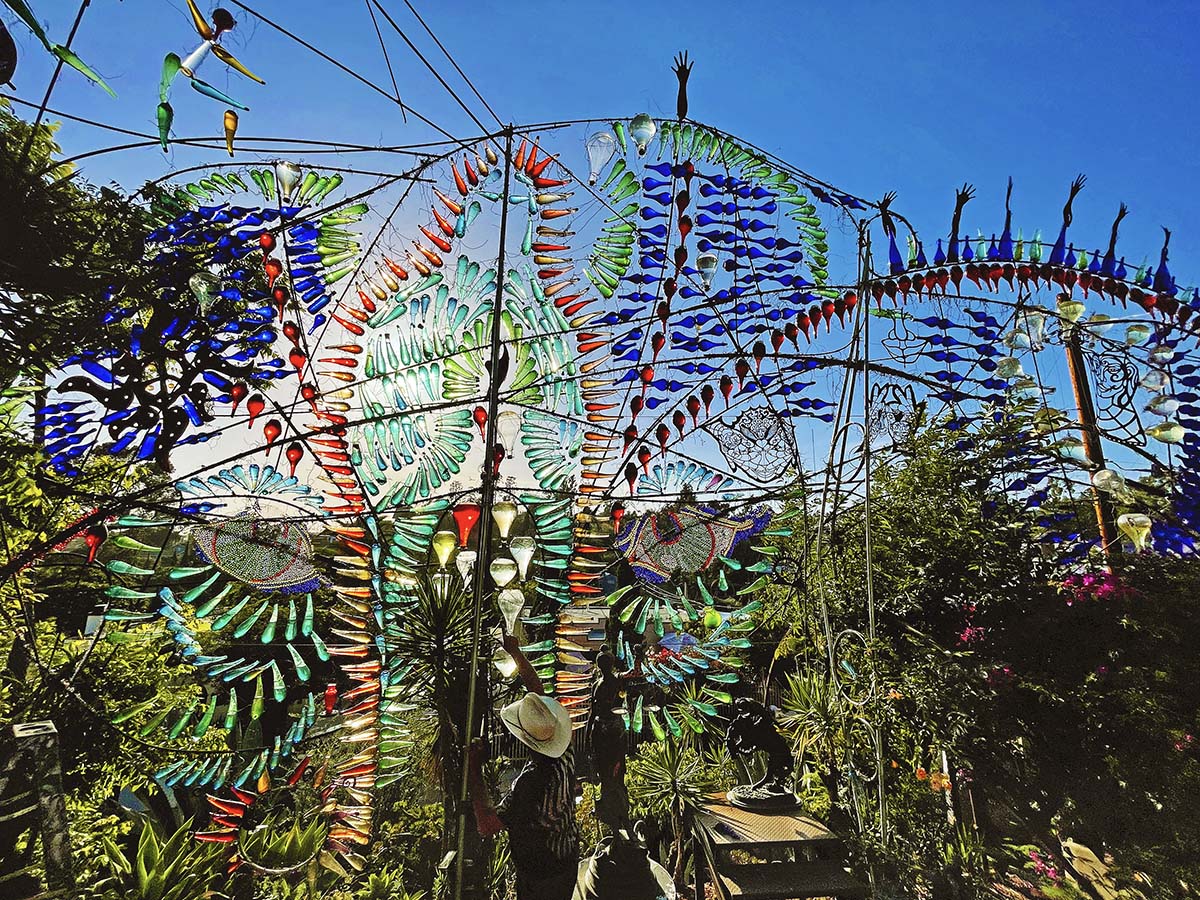 17. Sacred Space
link
Photos don't do The Sacred Space justice. You have to take a trip to Summerland to fully experience the bamboo trees, wisteria vines, and spiritual statues that decorate the gardens. Settle your mind at one of the koi ponds, or meditate at a small waterfall. This place is the perfect spot to relax. Yoga and sound bath sessions are also offered throughout the months.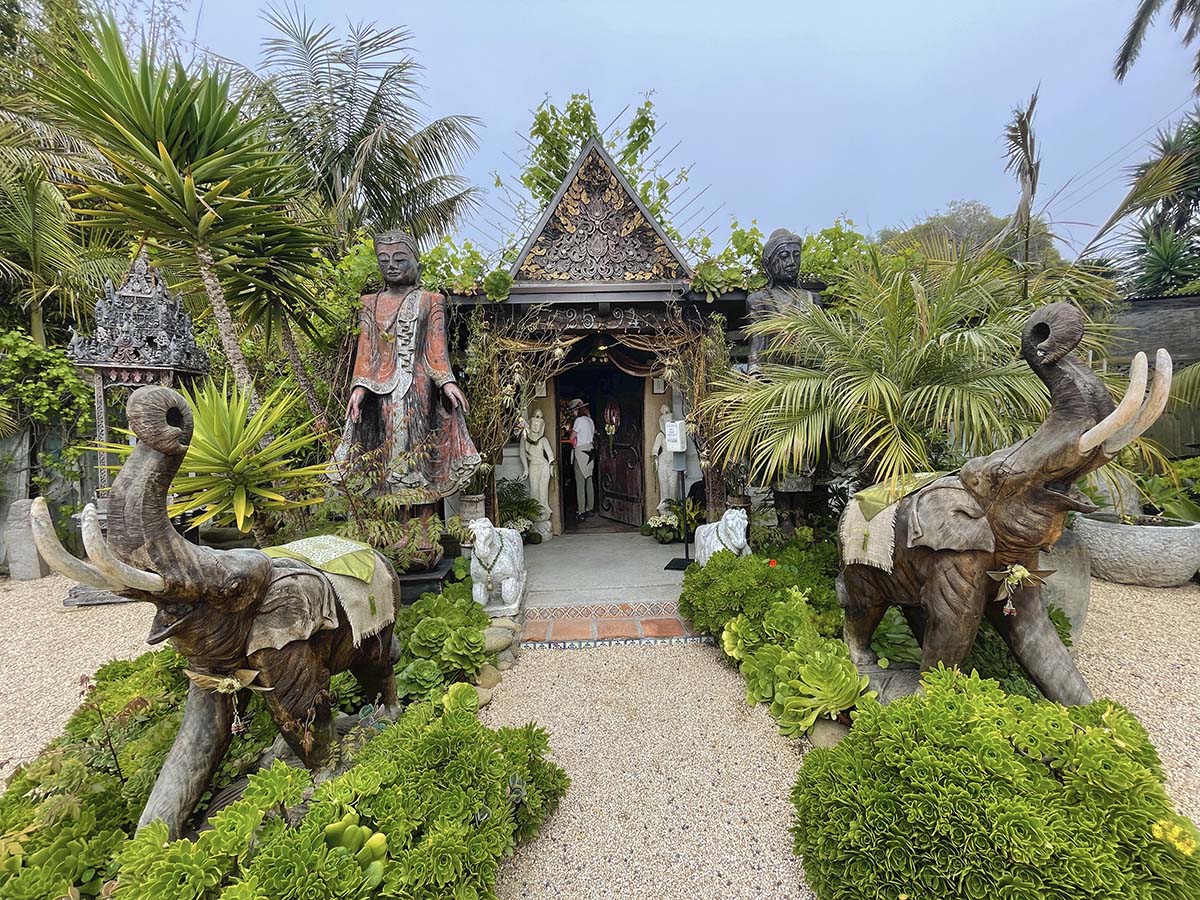 With two of the "most artsy" cities in the country, Southern California is the perfect place to explore architecture and art from across the world. Since the gold rush, people from all over have settled in the desert oases in SoCal, leaving us wonders to explore. From Palm Springs to Malibu, you'll discover endless hidden treasures.
Gina Thompson is an experienced multimedia journalist, producer, and content writer born and raised in Texas. In her spare time, she loves catching a live band, dancing, and finding the next big taco spot. As a writer, she is passionate about making a positive impact on her community by elevating the voices and stories that need to be heard.